CompTIA A+ (220-902)
Vendor-neutral hardware and software technologies29 H 20 M
CompTIA's A+ 902 exam is usually the first certification exam IT professionals take. Learn about hardware, networking, security, and how to pass the test.
This course has a virtual lab
This course has a practice test
Windows Operating Systems

Overview
Features of Windows
Features of Windows Part 2
Features of Windows Part 3
Features of Windows Part 4
Installing Windows
Installing Windows Part 2
Installing Windows Part 3
Microsoft Command Prompt
Microsoft Command Prompt Part 2
Microsoft Command Prompt Part 3
Windows Tools
Windows Tools Part 2
Windows Tools Part 3
Windows Tools Part 4
Windows Tools Part 5
Control Panel Utilities
Control Panel Utilities Part 2
Windows Client Networking
Windows Client Networking Part 2
Windows Client Networking Part 3
Windows Client Networking Part 4
Preventive Maintenance Procedures
Preventive Maintenance Procedures Part 2

Other Operating Systems & Technologies

Mac OS and Linux Features
Mac OS and Linux Features Part 2
Mac OS and Linux Features Part 3
Client-side Virtualization
Basic Cloud Concepts
Networked Hosts Services
Mobile Operating System Features
Mobile Device Connectivity, Email and Syncing
Mobile Device Connectivity, Email, Syncing Part 2

Security

Threats and Vulnerabilities
Common Prevention Methods
Windows Security Settings
Windows Security Settings Part 2
Windows Security Settings Part 3
Workstation Security
Workstation Security Part 2
Securing Mobile Devices
Data Destruction and Disposal
Securing SOHO Networks

Software Troubleshooting

Troubleshoot PC Operating Systems
Troubleshoot PC Operating Systems Part 2
Troubleshoot PC Operating Systems Part 3
Troubleshoot PC Security Issues
Troubleshoot PC Security Issues Part 2
Troubleshoot PC Security Issues Part 3
Common Mobile OS Issues
Common Mobile OS Issues Part 2
Common Mobile OS Security Issues

Operational Procedures

Safety Procedures
Environmental Impact and Controls
Privacy, Licenses and Policy Concepts
Communication and Professionalism
CompTIA's Troubleshooting Theory
CompTIA's Troubleshooting Theory Part 2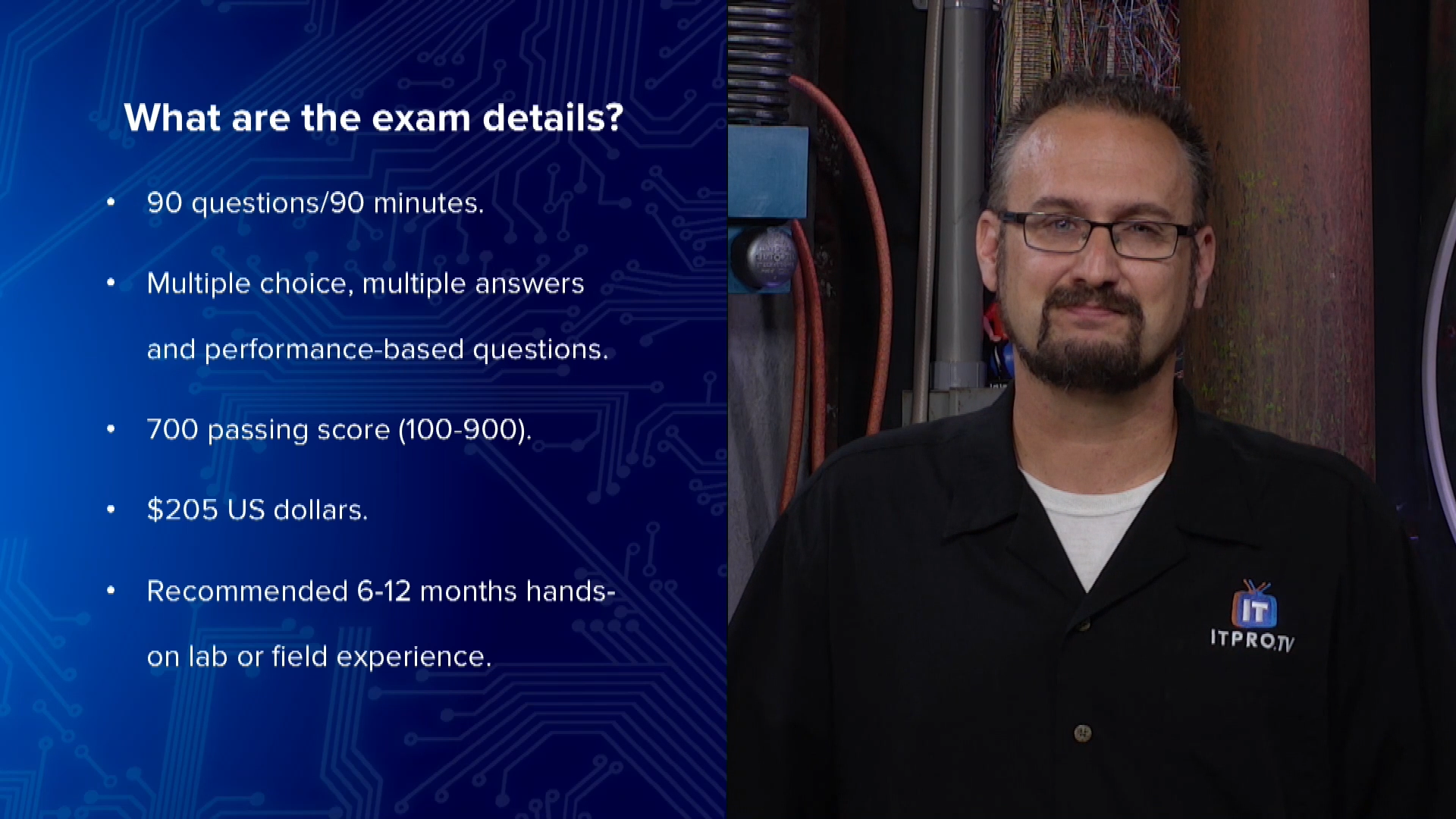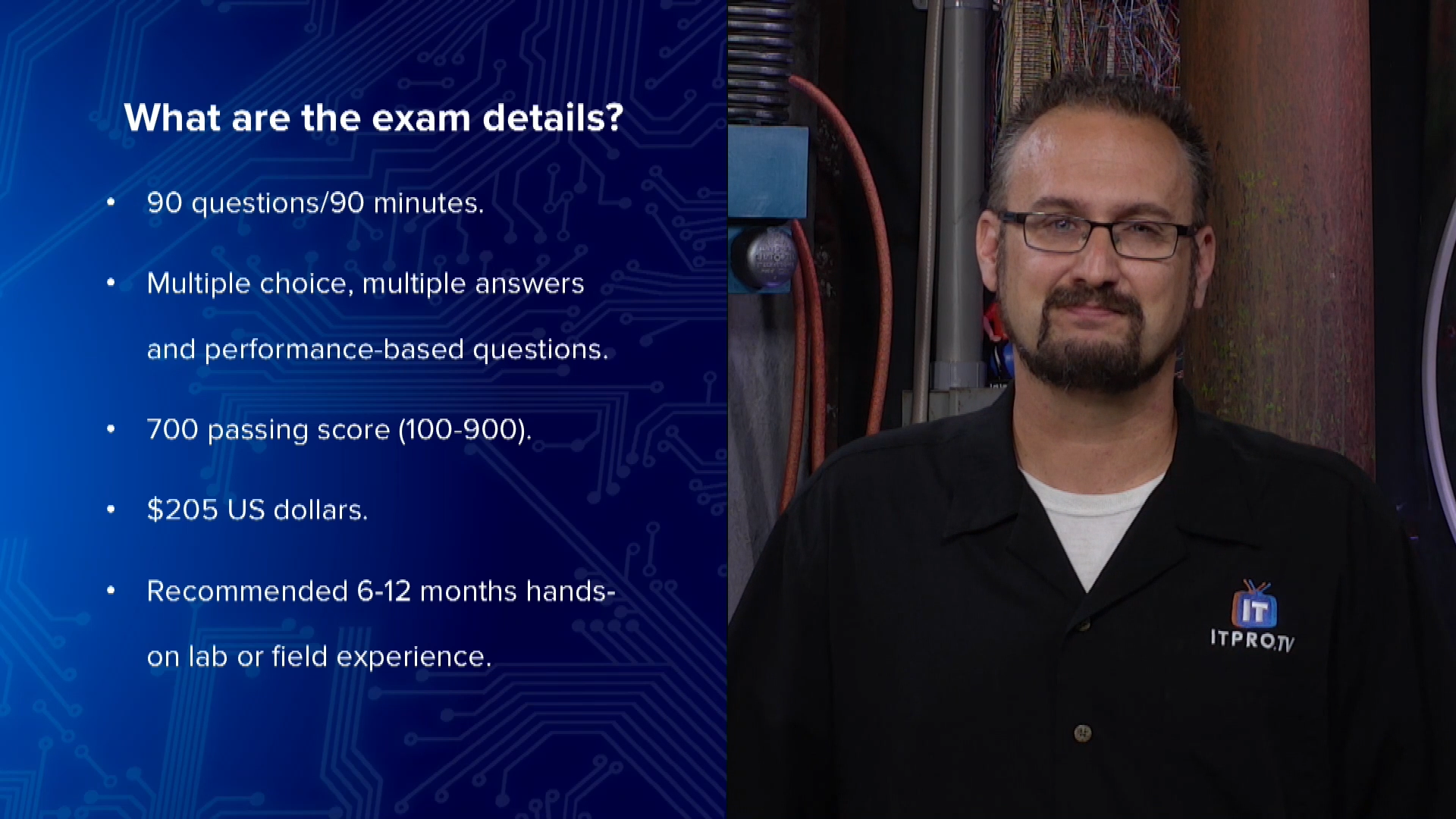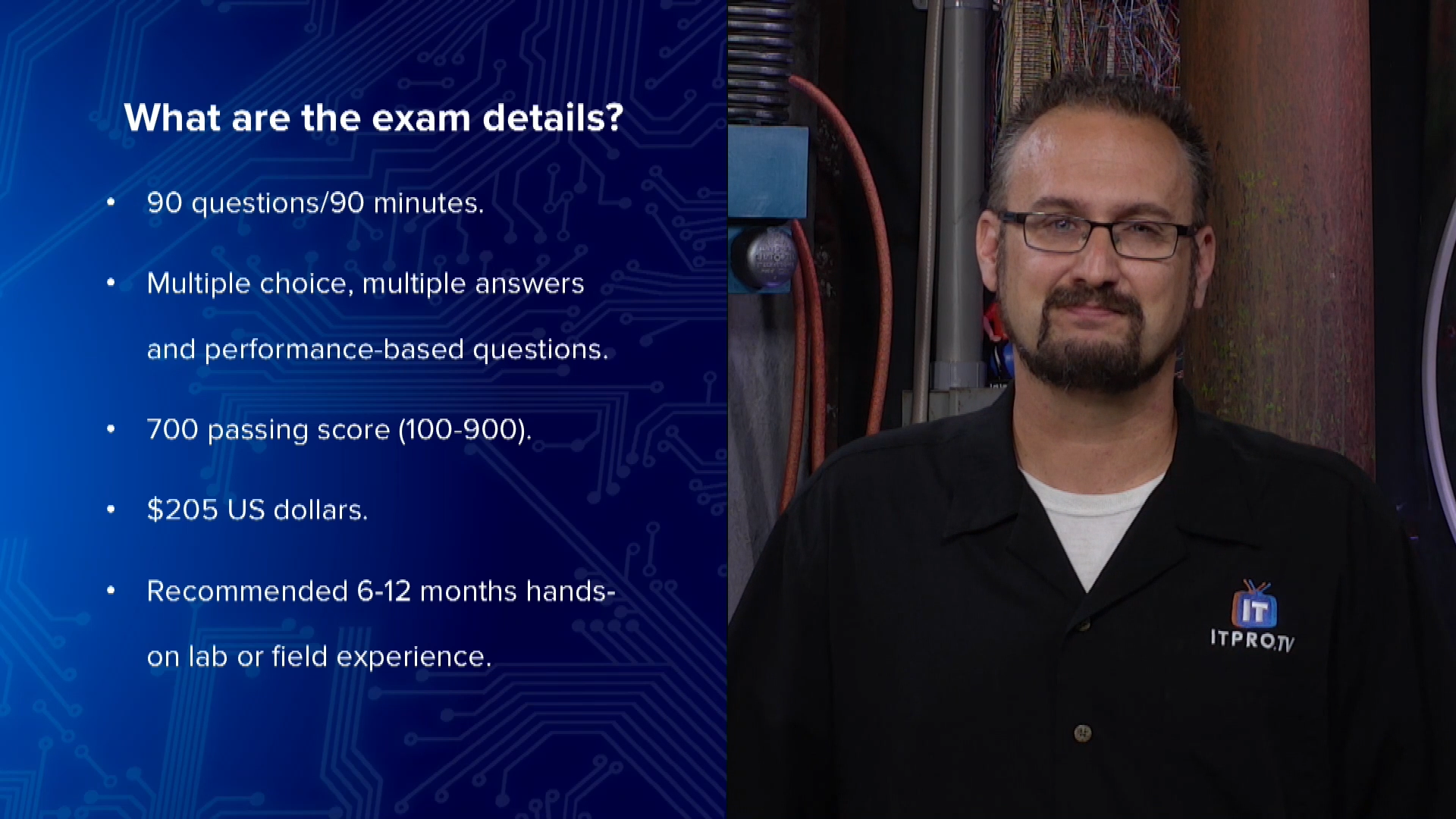 Episode Description
Transcript
Those looking to complete the CompTIA A+ 900 Series certification will find in this course an overview of the process in achieving the certification and details about the two exams required to pass in order to receive the certification. The certification is designed for entry level IT professionals with about a year of experience. Some of the exam objectives include hardware, networking, mobile devices, operating systems, security, and troubleshooting, making it a valuable certification to have especially for one just getting in to the IT career field with no documented experience.
[MUSIC] In the overview we would like to take a moment to tell you what you can expect in the CompTIA's 220-902 course. This is gonna be a follow up to the 220-901 series that we've already produced. Keep in mind that we're gonna talk a little bit about what is the 220-902 exam? What is this course or who is this course for? What will be covered? As well as what are gonna be some of the exam details? So that you can have a little bit better understanding of what you might face when you decide to take the certification exam. Now when it comes to the CompTIA 220-902 exam, please keep in mind to become A+ certified you have to have already passed the 901 exam. Now you can take these in any order, we do want you to understand that, that you can take 902 and you can pass that, and then you can go back and you can take the 901 exam, likewise. But in order to become A+ certified, you do have to have both 901 and 902 passing scores under your belt. This is a vendor neutral certification. It's also a worldwide accreditation. One of the things that CompTIA strives to do is not be focused, really, on any one individual vendor, but understanding a broad range of concepts. So that you can take these skills and you can apply them to a lot of different pieces of software and a lot of different operating systems too. As well as, when you do get certified doesn't matter if you're here in the United States, where we're filming this episode, or if you're in Barcelona, Spain, or may be you're in Australia as well, that you're certifications are gonna be just as valid. Now if you are here in the States, understand that this is also endorsed with a compliance standard for the Department of Defense and that is 8140 or 8570.01-m. So it does fall in those compliance if that is what you are seeking. Now who is this course for? Please understand that this course is for any candidate that requires a validation of the common software and troubleshooting skills that you can see with inside of small office, home office networks and even entry level inside of corporate networks, too. Candidates will need, if you need an understanding of the Windows Operating System then this course is definitely for you. Any candidate that needs to be able to perform trouble shooting on Windows Operating Systems or other operating system technologies and some of the utilities and tools that you will see inside of those various operating systems. Candidates who are preparing to take the 220-902 exam, should definitely have this course under their belt. Other things what's gonna be covered what can you expect to see as we progress through the 220-902 course? Well, the objectives for exam code, A+ 220-902. Fundamental Windows Operating Systems and the tools and utilities that you see within inside those operating systems. Basic professionalism and communication skills and the different techniques that you can implement. Fundamental operational procedures and safety procedures as well. As well as, the fundamentals of troubleshooting the Windows Operating System. Last but not least, what are some of the exam details? What can you expect when you do decide to take this exam? Well, we want you to understand that the 220-902 follows a lot of the same format of the first 220-901 exam and the fact that it has 90 questions and it's gonna be 90 minutes. You will have questions that are multiple choice. You will have some questions that require multiple answers, which means that you will be required to have more than one answer to represent a complete solution to get the question right. Understand as well you will also have things like simulations on the exam too. Where you're gonna have to have a practical application of the concepts that you're learning throughout the 902 series. As well as performance based questions that do things like for instance drag and drop. So where they ask you and they give you a list of potential answers and you have to drag and drop them in the right order to complete whatever the scenario is requiring you to accomplish. Now the passing score is a little bit more than the 901, 901 was 675, in this one we're gonna be looking at 700. 700 is the minimum passing score and that is a range from 100 to 900. At the time of this recording, the CompTIA A+ 220-902 exam, required here in the US, the US dollars, $205 US. Now the recommended experience, understand that it is recommended but it is not required and there's no prior certification requirements if you will, in order to sit and take the 902 exam. But it is recommended that you have 6 to 12 months on hands on labs within any kind of software virtualization environment where you have hands on lab. Where you're again learning the technologies and having some kind of practical application. Or it's also recommended that you have anywhere from to 12 months field experience that helps you to be better prepared for the exam. If these seem like something that you, as a candidate, potential candidate for the CompTIA A+ 220-902 exam will require and this series is for you. [MUSIC]
Just you? Training a whole team? There's an ITProTV plan that fits.
With more than 4,000 hours of engaging video training for IT professionals, you'll find the courses you and your team need to stay current and get the latest certifications.