ACSP macOS Support Essentials 10.13
Apple Certified Support Professional17 H 26 M
Validate your macOS systems knowledge by passing the Apple Certified Support Professional (ACSP) exam. Watch these training videos to become an Apple support pro.
Installation and Configuration

Overview
Getting Prepared
Installing macOS High Sierra
OS Recovery
Initial Configuration
Initial Configuration Part 2

User Accounts

Managing User Accounts
Managing User Accounts Part 2
Multiple User Accounts
User Account Security

File Systems

File Storage
File Storage Part 2
Securing Data
Securing Data Part 2
File Permissions
File Permissions Part 2
File Permissions Part 3

Data Management

Managing Files
Managing Files Part 2
Archives and Images
Time Machine

Applications and Processes

Managing Applications
Application Data
Application Data Part 2
Application Support
Application Support Part 2
Application Support Part 3

Network Configuration

Network Configuration
Network Configuration Part 2
Network Configuation Part 3
Advanced Network Configuration

Network Services

Sharing Resources
Sharing Resources Part 2
Using iCloud

System Management

Peripheral Devices
Supporting Printers
System Troubleshooting
System Troubleshooting Part 2
System Troubleshooting Part 3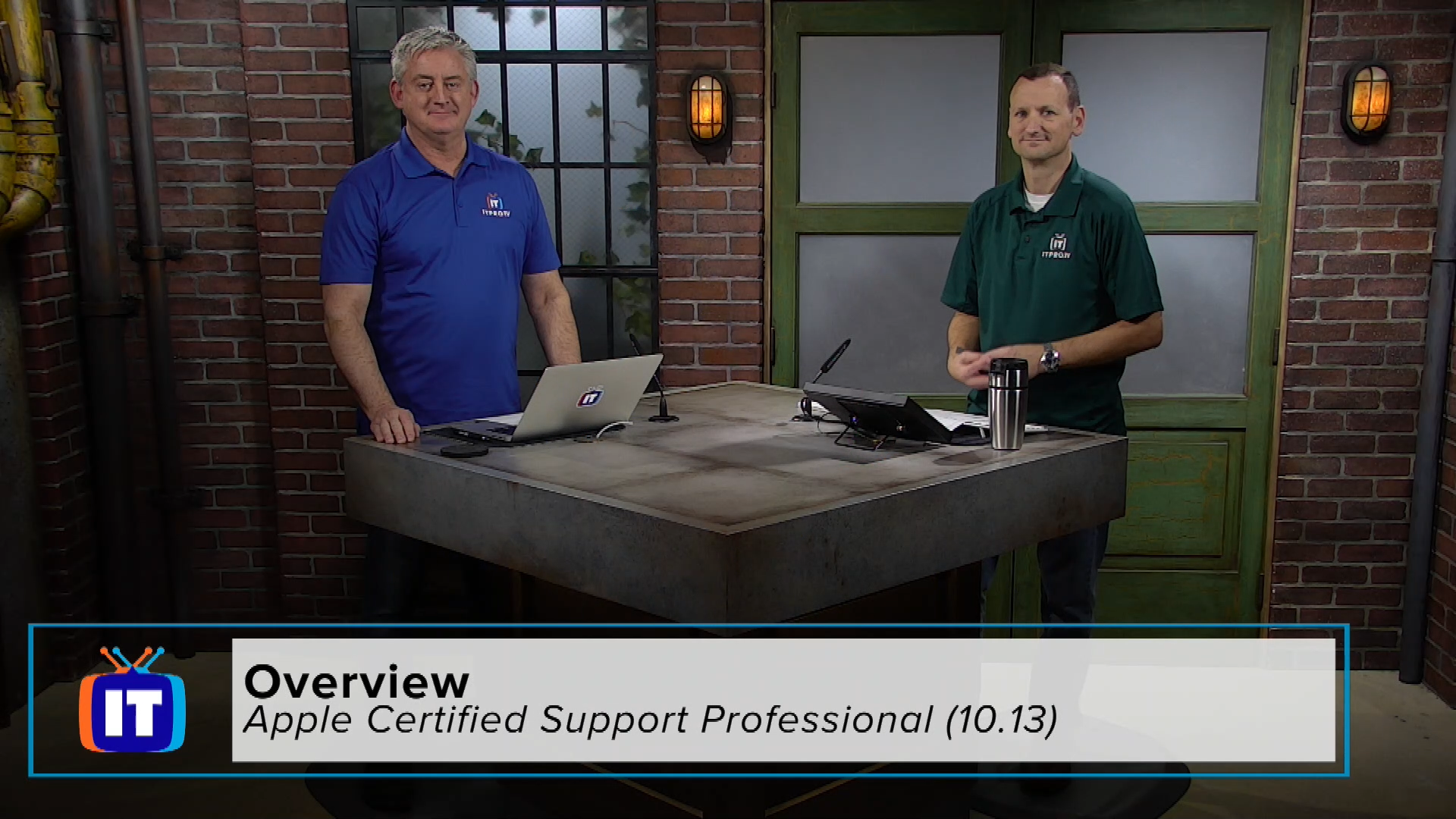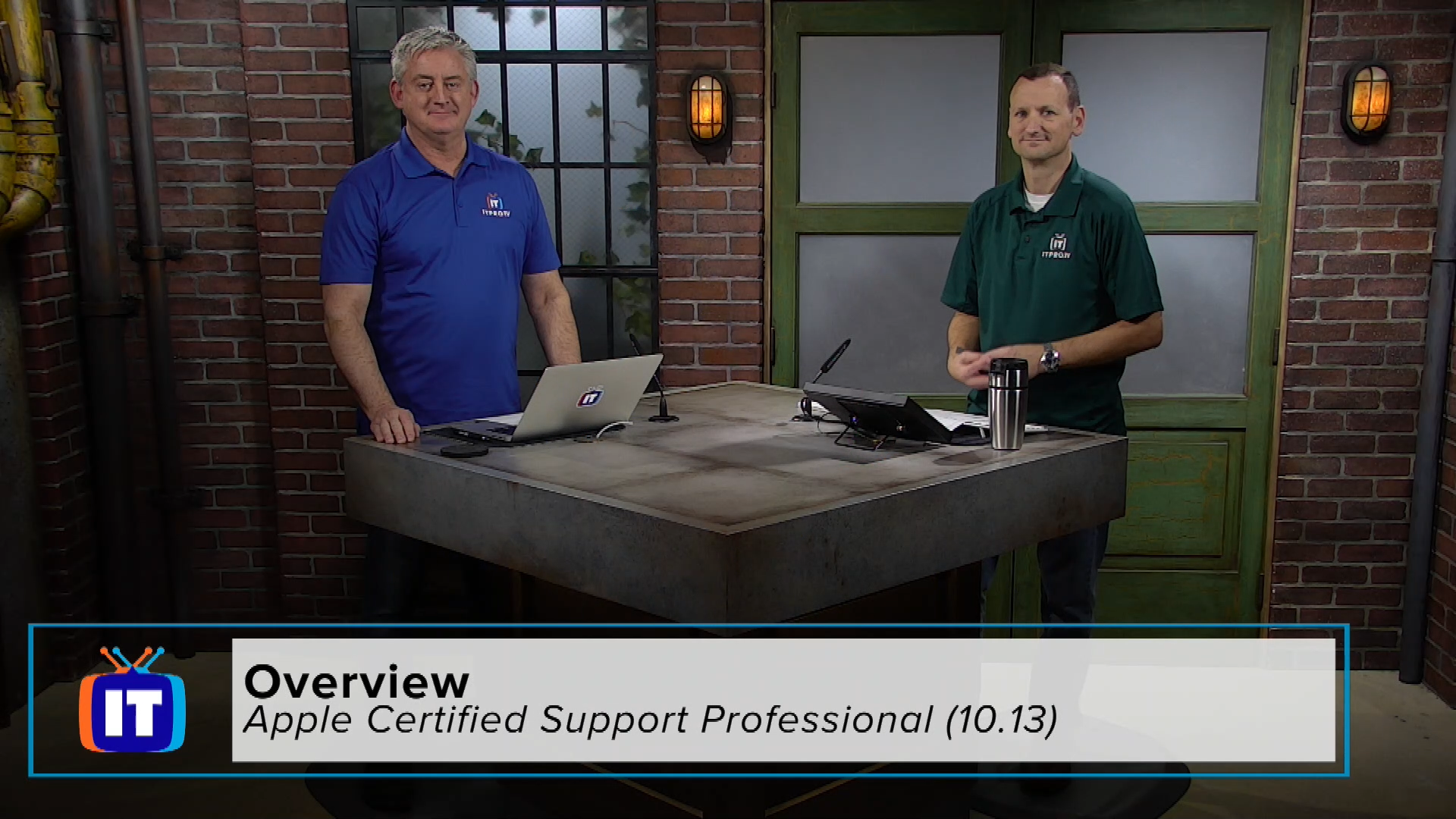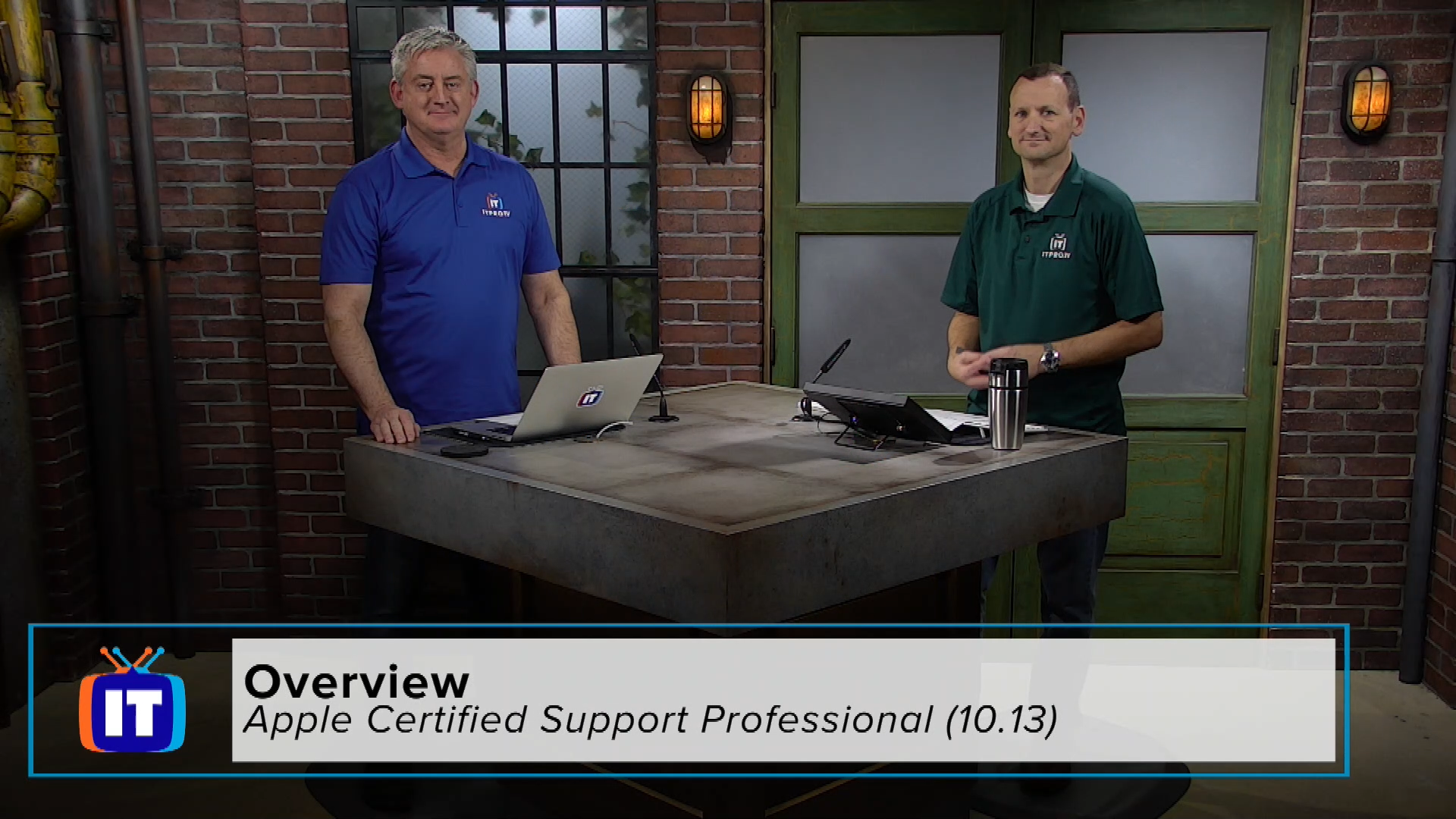 Episode Description
Transcript
Apple Certified Support Professional (ACSP) certification confirms the candidate's understanding of macOS's core functionality as well as having the ability to configure key services, perform basic troubleshooting, and support multiple users with essential macOS capabilities. Candidates for this course may be in a role of help desk professional, technical coordinator, or power user who supports macOS users, manages networks, or provides technical support for the Mac.
[MUSIC] Hello, and thank you for watching ITPRO.TV. We're talking about the show Apple Certified Support Professional, with Don Pezet. Don, can you tell us what the course is all about? >> All right, well the Apple Certified Support Professional is designed to basically introduce or not so much introduce but to help people that are working in environments where you support Apple computers, right. And we were specifically talking about macOS systems, not so much iOS, like iPads and iPhones but people that are supporting iMacs, Mac Minis, MacBook Pros, MacBook Airs, those type of devices they all run the macOS operating systems. And if you're the one responsible for helping those people, you need to know the ins and outs, different services and software that are part of it and the ways to be able to maintain, manage, and troubleshoot those systems and that's what this series is really all about. >> Now you already mentioned a few people, but who else is the show targeted towards? >> Well, so the main target audience are for people that are already working in IT, that are supporting networks in that have Macs, but I find that it actually works out well for a lot of other people as well. It's great for people that are just getting started with macOS. I know it's targeted to people that are already in IT but honestly, our first episodes are going to be how to get macOS installed and we're gonna walk through that process. And we will do simple things like how to change the wallpaper background or whatever, but that's the most people are able to figure out on their own. So, if you're an IT enthusiast and you wanna get into professionally supporting Mac networks this is a great place to do it. It's also good for Windows system administrators, maybe you work in a Microsoft environment and a couple of your employees now have Macs or a lot of your employees now have Macs, right. That how it works, they kinda get a foothold and start to grow and now you find yourself in a situation where you are very use to Windows administration but you've got Macs you need to support as well. We tackle that here and in fact we have another course is called, Mac Integration Basics, that really helps with getting Macs to play nice with Windows but in this show we're focused entirely on macOS and so it can help really a large audience. >> Is there a certification available for the course? >> Absolutely, right, so the title of the course is the Apple Certified Support Professional, which is ACSP and that directly aligns with Apple's ACSP certification. Now there used to be two different ACSPs that you could get, there was one for the, back then it was called OS 10, so there's the OS 10 support essentials and OS 10 server essentials. Well Apple did away with server essentials, now there's just one and OS 10 got renamed macOS and now we just have macOS Support Essentials and you'll hear some people still refer to it that way. If you take the official course at an Apple training center they call it macOS Support Essentials, but we're tailored towards that certification, the Apple Certified Support Professional. You take this course you learn all the material, you can go to an Apple training center, and from there you can get the certification. >> So, in depth now what topics are covered in the course? >> The course covers a lot of stuff I mentioned that we install macOS, right, so we would kind of start off there. And I know some of you are probably thinking, boy, that's really easy just installing it but there's actually a number of different ways that macOS can be installed and a lot of different things that we need to think about as we're doing that installation. So we get a chance to see that, we'll also see how to support user accounts and multiple user accounts. How to configure networking, how to configure network sharing and exchanging information between our Macs. We'll see system troubleshooting, we'll talk about some of the other services that are kinda hidden away in the background that we might use as part of the administration. We'll take a good look at iCloud, because that's become so important. We'll take a good look at Time Machine, the ways that we can back up our Macs and restore them very easily and ways that we can even centrally manage that beyond what a normal consumer would have we can actually set up a Time Machine server. So, we get a chance to see a lot of the different tools that are available for our Macs and keeping it up and operational and running nice and smoothly. And then we kind of end the series talking a little bit more about troubleshooting, troubleshooting hardware that we've added and other resources on the system. Lastly, I just wanna mention that we do highlight security really all throughout the series there's all sorts of security features built into macOS that we need to be aware of and we'll learn about them right here. And I keep saying macOS, we're actually focused on macOS High Sierra, this is the version that's focused on macOS 10.13. If you've watched a previous version of this show, we've done it for each of the versions before, there's always new features that get snuck in and so while we don't call out the new features specifically, they're kinda sprinkle throughout the series things that are unique to High Sierra. >> Thanks Don, now if Apple Certified Support Professional sounds like a show you'd be interested in and you should be, make sure you check out all the episodes in the course library. And thank you for watching ITPRO.TV, it is binge worthy. [MUSIC]
Just you? Training a whole team? There's an ITProTV plan that fits.
With more than 5,800 hours of engaging video training for IT professionals, you'll find the courses you and your team need to stay current and get the latest certifications.