AWS Certified Cloud Practitioner
Getting Familiar with Amazon Web Services7 H 29 M
The Amazon Web Services Certified Cloud Practitioner exam and test prep course outlines the fundamentals of the services available with Amazon Web Services.
This course has a practice test
Cloud Concepts

Overview
What is Cloud Computing
Global Infrastructure and the AWS Advantage
Sign Up for AWS

Technology

IAM: Access Management in AWS
S3: Durable and Available Storage
S3: Create a Static Website
EC2: VMs in the Cloud
EC2: Create and Manage Instances
EC2: Use a Load Balancer
Lambda: Serverless Compute
Elastic Beanstalk and CloudFormation
Databases in AWS
Create an RDS Database
Route53: DNS with Options
CloudWatch and CloudTrail

Security

Compliance and the Shared Responsibility Model
Protection Services

Billing and Pricing

Consolidated Billing and Organizations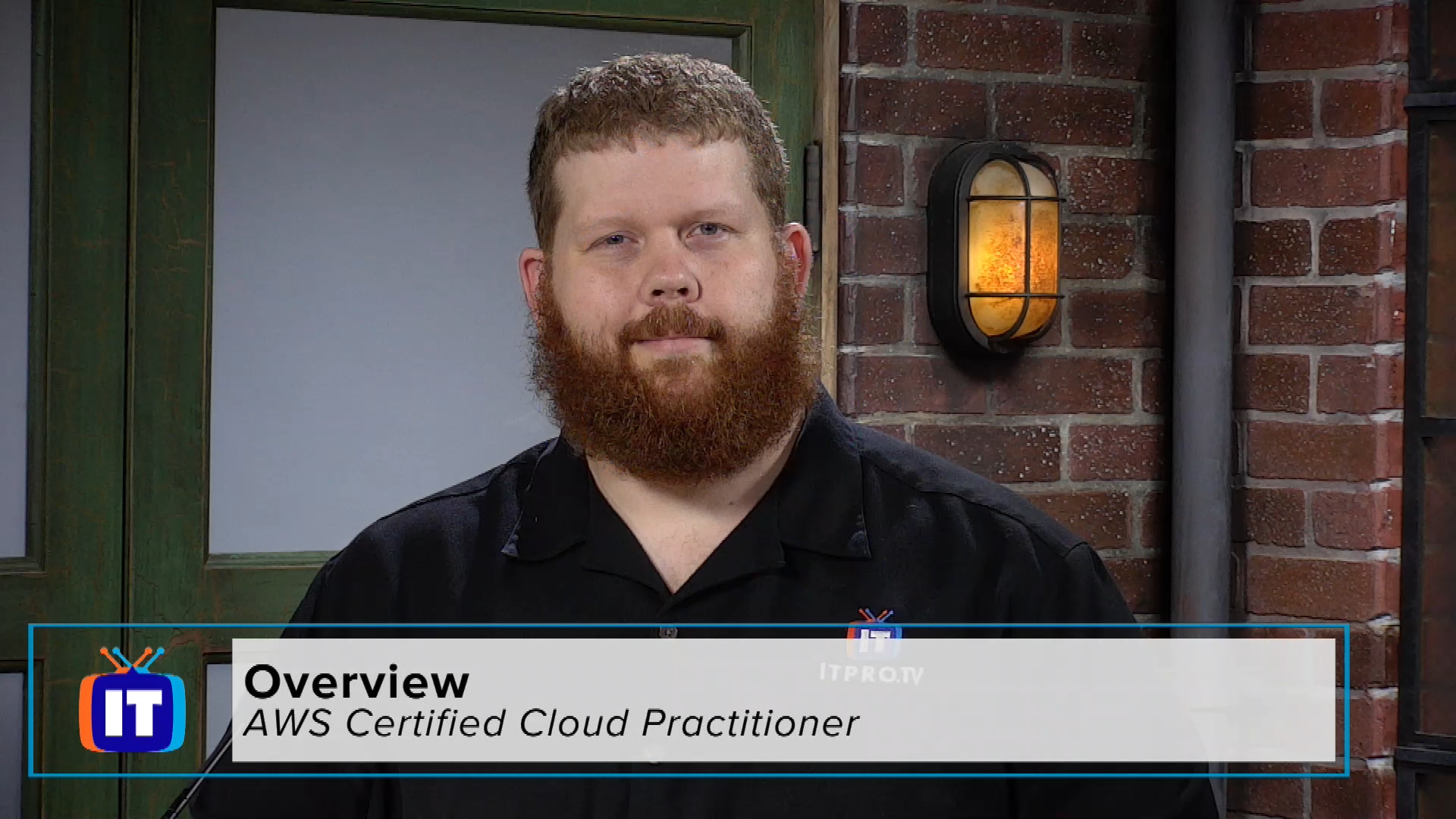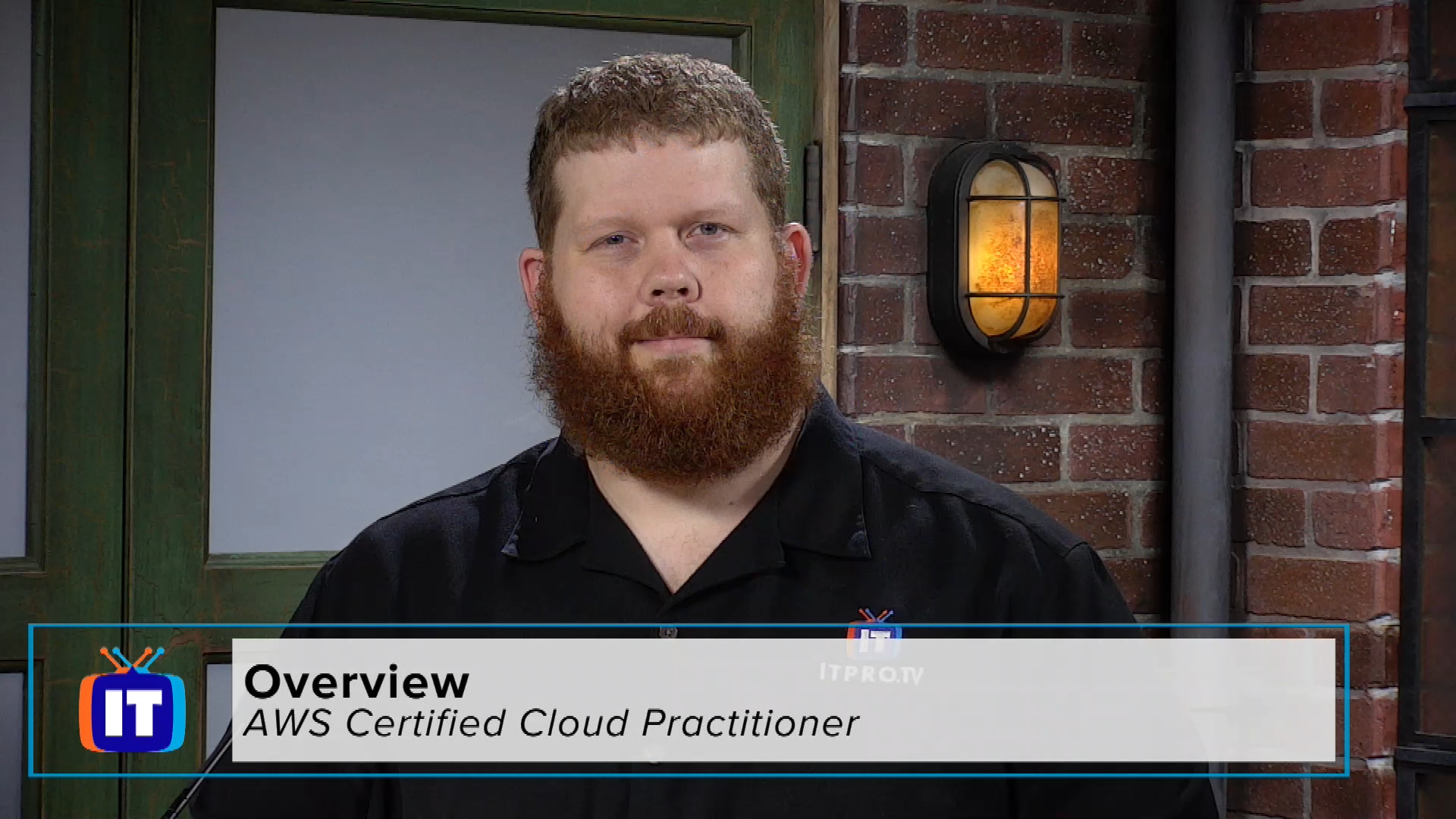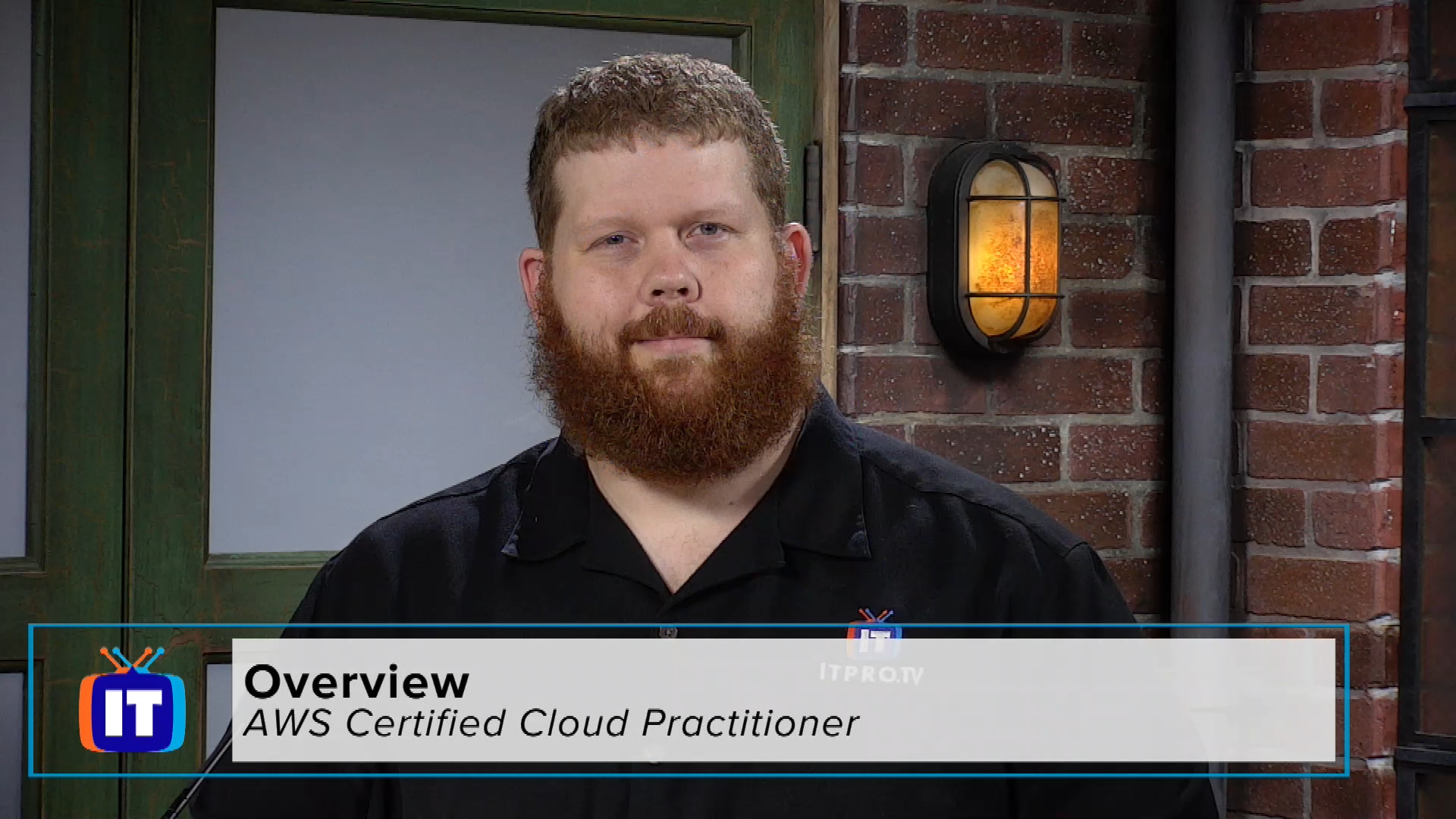 Episode Description
Transcript
The Amazon Web Services Certified Cloud Practitioner Exam is an fundamental look into the services available with Amazon Web Services. The purpose of this course is to make you aware of AWS services such as EC2, RDS, Elastic Beanstalk, S3, and more. Additionally, this is a great way for sales, managers, developers, and admins alike to become familiar with AWS. If you are looking to get started with Amazon Web Services, then we will see you there!
[MUSIC] >> Greetings, I'm glad you could make it. In this segment we're gonna be taking a look at the AWS Certified Cloud Practitioner exam and all that entails for the upcoming series. Now this is one of those exams where if you're just getting started on the AWS platform, whether you're sales, managerial, or a budding IT professional/developer, this is a great place to dip your toes, feel a little more confident, and start making your way down the certification progression, as far as AWS is concerned. Now with that said, let's go ahead and take a look and see what that entails. Now, what I recommend is coming to this awsamazon.com/certification website. This is actually a certification website for all of the AWS certifications, but if you scroll down here you get kind of the certification roadmap, and you'll notice that right here on the bottom, Cloud Practitioner is suggested though optional, it's not necessarily required, starting point for a great number of the learning paths. Whether you're gonna be an architect, a developer, or in operations, Cloud Practitioner is a great place to start. Now, I can tell you from my point of view one of the best things that I utilized this exam for was to boost my confidence, make sure that I had a pretty good foundation on the core services that were available in AWS, as well as the AWS patterns and thought processes that go along with the platform itself. Now, with that said, what we're gonna do is we're gonna scroll back down here a little more, and the first thing you'll see is Cloud Practitioner. If you click this register now button, it'll take you to the registration page, and actually if I click that, and open it up, it brings me, hey, you've gotta sign into your AWS Certification account. Sign up, get things squared away. There's typically a local testing center. You have to look for your testing center for your respective locale. It has changed if you're just now getting into AWS. These go through PSI examination centers, so you have to look up a local one for your area. But we don't wanna go there, we actually wanna see what is on the exam, how much does it cost, what should I know? So this little learn more link will actually bring you over to this page. This is specific to the certified cloud practitioner, and if you scroll down this gives you an overview, it's actually the exact same thing that's in the exam guide, okay, so here's an exam guide right here. If you open that up, that's the PDF. Now I'm gonna look at the PDF. It's very similar to the previous page, but I find it a little easier to read, there's not as much graphics, things aren't squished as much, and really, what is this testing us on? We need to know what the AWS cloud is. What are some of the architectural principles, like how do we build solutions in AWS, why would we use AWS, and what are some of the key services that we'd utilize to either start using cloud or migrate to the cloud? Now, if you're not going to be an AWS developer, you're not gonna be someone who's managing infrastructure, but you need to be able to talk to those individuals, this is also a great certification to get started with. What is EC2, what is S3, what is RDS? Why would I care about billing, how does billing work? Those are things that are gonna be addressed in the upcoming series. So this is a great way to get at least a conversational knowledge, even if you're not going to go on for the other certs or continue building an IT career within the context of AWS. Identify sources of documentation and technical assistance. This is a great place to start reading light papers, at least, a high level overview, and then what are some of the core characteristics of deploying and operating in the AWS cloud? How do I deploy there, how do I operate my infrastructure in the cloud when I've always been used to having it in-house? Those white papers are actually linked inside of this document. Just an overview, a great one to read, I would definitely recommend reading all five of these white papers, cuz they're gonna give you an overview of how pricing works, what their core services are, what are some of the best practices, and assessing the total cost of ownership of web applications, or non-ownership, I guess in the parentheses, as well as some support plans. Maybe you don't need a lot of support, but if you need quick turnaround time, which support plan is going to best assess your needs, or suit your needs rather? All right, now as far as the exam is concerned, you're gonna have multiple choice or multiple response. Now multiple response are like multi-select, pick the ones that are true, or pick all of the steps you would need to take. Those are a little more demanding cognitively, but by and large, again, this is about knowing basics, fundamentals of AWS platform. Be comfortable with those two types of questions and everything will be good to go. Now, this exam is pass or fail. You will get a score from 100 to 1,000, and a 700 is passing, it's right there in this first line. That scaled score shows how well you've performed. If you get a 700, you still passed, but maybe there's some that you need to address. If you get a 950 then you probably have a pretty good understanding. But, with a basic competency, you should be able to have a conversation and start engaging inside of the AWS ecosystem. Now how is the content divvied up within this exam? You have four domains. The first one is Cloud Concepts, where what is AWS, and why should we use it, as well as why is it economical to use AWS, and then what are some of the architectural design principles that we should be aware of? Security, define the AWS Shared Responsibility Model, like what is AWS responsible for, as well as what are you responsible for when it comes to security, and what are tools, or capabilities that are provided to you in order to secure your platform? And then billing, and technology. Technology is the core services, EC2, S3, RDS, those core services and well, how are they laid out as far as AWS infrastructures is at, where do they reside, how do you create an EC2 instance, how do you create an S3 bucket, what are the limitations, and then along with that, how much are you gonna pay for those? How are you gonna billed for those, how can you manage billing if you have a large infrastructure versus a small infrastructure? These are all the things that you could be tested on as far as the cloud practitioner exam is concerned. Now, if we come back over here to this other page where I got the examination guide from right here, it's actually behind my head, there we go, right there. If you scroll down here, all that same information is kind of condensed from the PDF here. It's gonna cost you $100, okay, $100 US. You have 90 minutes to complete the exam. Well, how many questions are there? We come back over here, and you scroll down a little more, there's nothing there. Let's go back up here, there are two types of questions, and notice you don't really get a number of questions. Okay, you're gonna get some variability, that's fine, and part of that is, actually, let's see, yep. Part of that is those may change as time goes on, okay? The exams may change as with all cloud platforms. Now, if we come back to this other page, and you scroll up a little bit, what are the questions gonna look like? AWS does give you some sample questions. These are not meant to be an exhaust of study guide, but, if we open those and you see the types of questions that you may have, and they have answers below. If you wanna get a quick glimpse of, well, do I know anything about AWS? Should I continue on in this course, how do I feel? This a nice little snapshot, again, it is not exhaustive, but they're free, you should give them a check out, and see how things go. Now, in the upcoming course we're gonna cover all of that, and probably a little bit more to get you ready for the AWS Certified Cloud Practitioner exam. Now along that, the ultimate goal is to continue to progress, either through your sales or managerial career so you can interface with people who are technical, or to prepare you for the CIS Ops, solution architect, developer exam, and hopefully for some of the professional exams that are offered by AWS. Remember, as the questions you know, keep moving forward, flag the ones for review that you don't know and everything should be good, and hopefully we'll see you on the other side. [MUSIC]
Just you? Training a whole team? There's an ITProTV plan that fits.
With more than 5,800 hours of engaging video training for IT professionals, you'll find the courses you and your team need to stay current and get the latest certifications.