AWS Certified Solutions Architect - Associate
Designing distributed applications on AWS platform17 H 40 M
Take your Amazon Web Services systems knowledge to the next level with AWS Certified Solutions Architect Associate exam training for AWS developers.
This course has a practice test
Introduction to AWS

Overview
Introduction to AWS
Introduction to AWS Part 2

Amazon S3 and Glacier Storage

Amazon S3 Basics
Amazon S3 Basics Part 2
Amazon S3 Advanced Features
Amazon S3 Advanced Features Part 2
Amazon Glacier

Amazon EC2 and EBS

Amazon EC2 Basics
Amazon EC2 Basics Part 2
Amazon EC2 Basics Part 3
Amazon EC2 Basics Part 4

Amazon Virtual Private Cloud

Virtual Private Cloud
Virtual Private Cloud Part 2

ELB, CloudWatch and Auto Scaling

Load Balancing and Auto Scaling
Load Balancing and Auto Scaling Part 2
Load Balancing and Auto Scaling Part 3

AWS Identity and Access Management

Identity and Access Management
Identity and Access Management Part 2

Databases and AWS

Amazon Relational Database Service
Amazon Relational Database Service Part 2
Amazon Redshift
Amazon Dynamodb

SQS, SWF, and SNS

Amazon Simple Queue Service
Amazon Simple Workflow Service
Amazon Simple Notification Service

DNS and Amazon Route 53
Amazon ElastiCache
Additional Key Services

Storage Services
Security Services
Analytics Services
DevOps Services

Security on AWS

Security on AWS
Account Security
Cloud Service Specific Security
Cloud Service Specific Security Part 2
Cloud Service Specific Security Part 3

AWS Risk and Compliance
Architecture Best Practices

Architecture Best Practices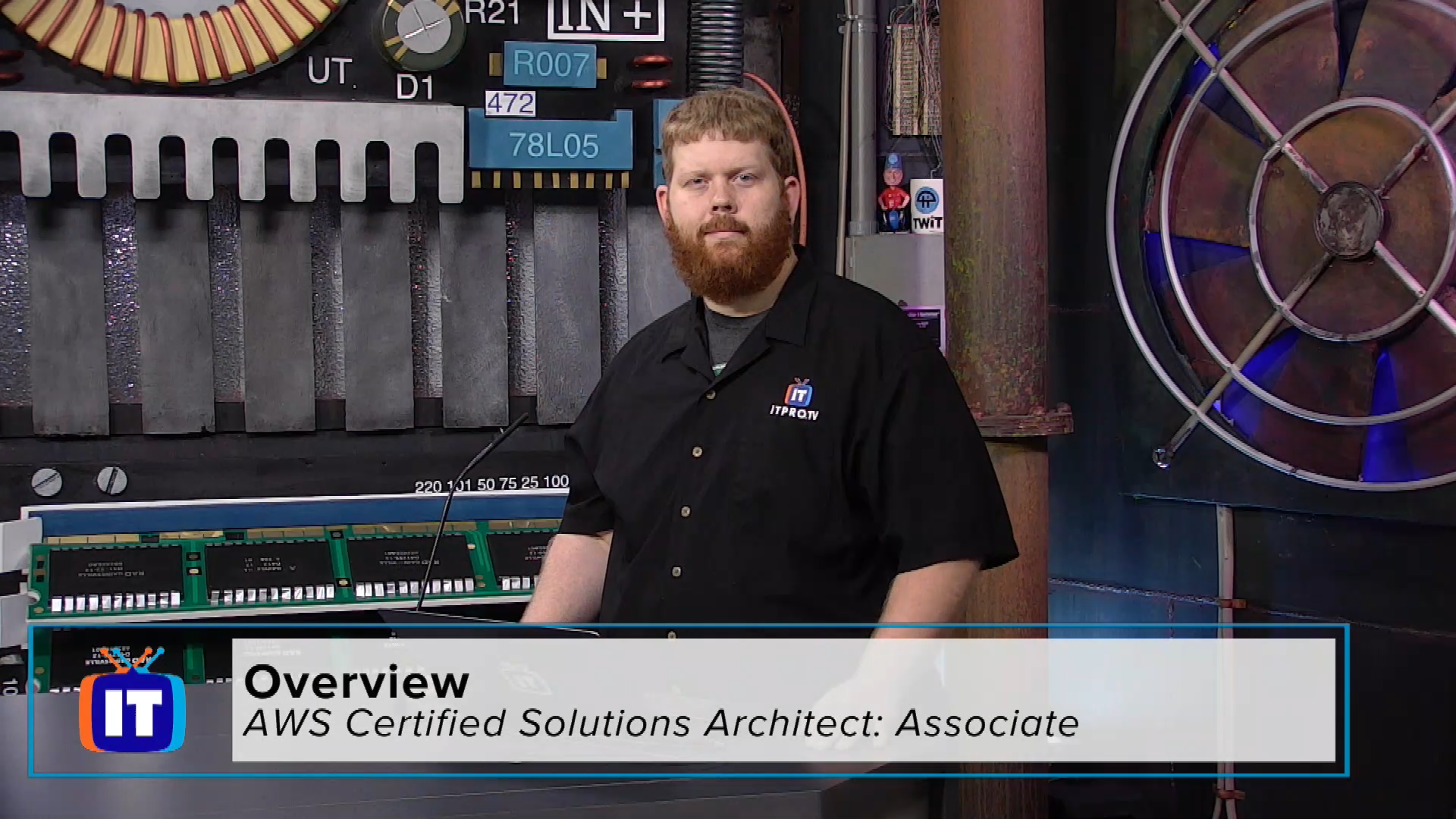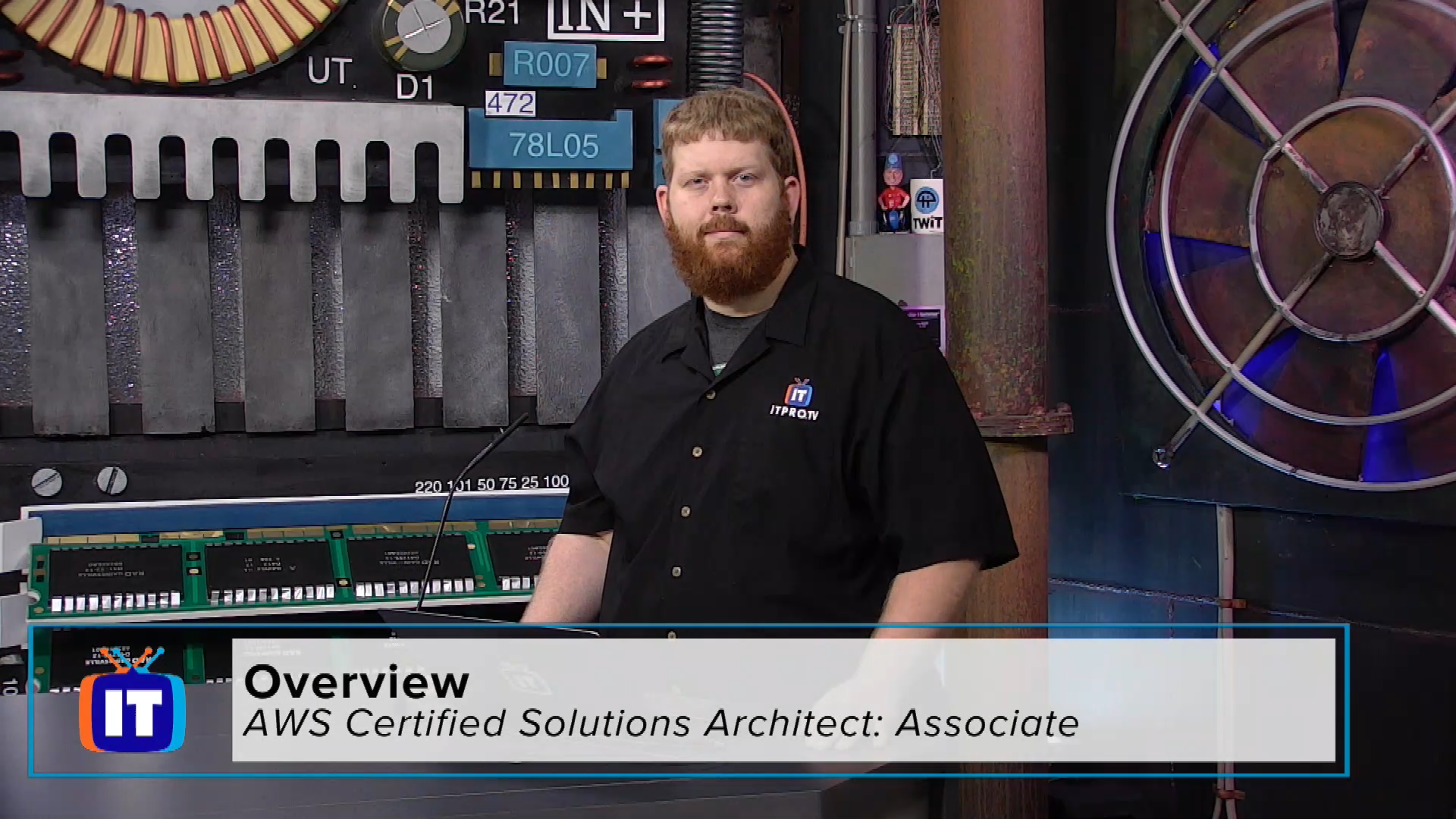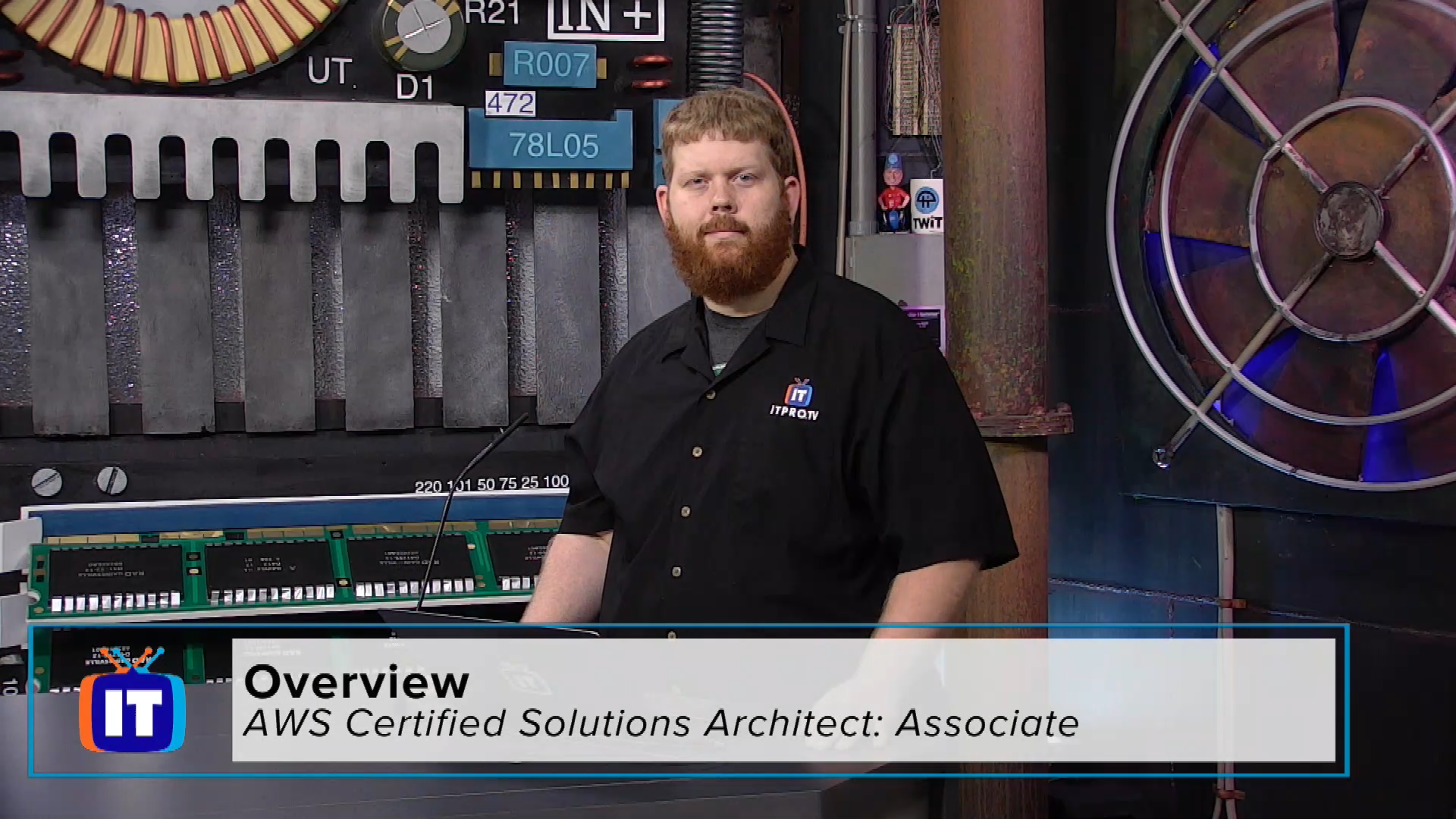 Episode Description
Transcript
AWS Certified Solutions Architect Associate exam is intended for individuals with experience designing distributed applications and systems on the AWS platform. Exam concepts you should understand for this exam include designing and deploying scalable systems on AWS, lift and shift of an existing on-premises application to AWS, ingress and egress of data to and from AWS Selecting the appropriate AWS service based on data, compute, database, or security requirements, identifying appropriate use of AWS architectural best practices and estimating AWS costs and identifying cost control mechanisms.
[MUSIC] In this segment, we're gonna take a look at our upcoming AWS Certified Solutions Architect. Well, the associate level exam. And well, what particularly are we gonna be talking about? We're gonna take a look at the exam, such as the format. How much it cost, and how do I sign up? But also, we're gonna dive a little bit deeper into the topics that we're gonna cover in the upcoming course well, that correspond with the exam. And then I'm gonna show you some resources that you can use as you prepare for the exam. And well, as always, you like what you see, definitely join us for the next episode. But with that said, let's go ahead and take a look at that exam and take a look at my screen here. The very first thing over the recent years, the AWS portal has changed. They've kind of rebrand this for the training and certification platforms. Currently, if you go to aws.training then you come to something similar to hear, I'm already long dance so you long doing experience will be a little bit different. You go to my account, log in, and then you'll get to this dashboard. Now if you click on Certification, it's gonna take you here. And if you do not already have a certification account, that AWS training account is linked eventually, but it kinda gets a little iffy, click on go to your account. It'll bring you to the cert metrics portal which cert metrics is where you keep your exams. Who are you? How many exams have you passed? What kind of announcements do they have for you? Those things, now once you get here this is where you can sign up for the exam, all right? Now signing up for the exam can be a little iffy. The training or the examination provider for AWS has changed used to be Webassessor. Then it went to PSI Exams, and actually PSI Exams, which if I'm not mistaken also administer like FAA exams, pilot testing exams, they're still available. But as of recent Pearson VUE is now also going to deliver the exams. I'm not entirely sure how that's gonna play out with PSI, if that's still gonna be a, we're just trying to make it more widespread. But Pearson VUE has also been entered. The interfaces are a little bit different, but the general kind of feel is the same. Now when I manage Pearson VUE Exams, or manage PSI Exams, I can click on those. But if I want to schedule an exam, I'll just click on Schedule New Exam, right? And it takes you to this screen. Now I can go directly to schedule the exam, right? Manage my PSI Exams, or manage the Pearson VUE Exams. But from here, well, which ones do I need? Well, we're looking for the Amazon Certified Solutions Architect- Associate. We're gonna come right over here, and then you pick your provider. Now I'm just going to pick PSI. The flows a little bit different for Pearson VUE but PSI is been around for awhile. That's where I've taken many of my exams, and well, you're gonna load the screen, and at this point it's kind of confusing. And this actually happened in the Pearson VUE when I was playing around with it, it asks you, what exam do you wanna take? I'm gonna zoom in just a little bit, and scroll down, you actually have to pick your examination again. So even though I've clicked that, all it did was take me to the Manage PSI Exams. Or I click on that original button, that's where I'm going. Now right here is the AWS Certified Solutions Architect- Associate. Be careful there is a professional level exam, and well, that's not what we're talking about here. You gonna schedule your exam, and it says some exams have more than one version. If there is a beta exam, or exams getting ready to transition to a new version. Be very, very careful they will be labelled as such. Don't sign up for the wrong exam, if you've prepared for either the old one or the new one. At this time, that's not the case, but do be aware of that. So if I hit Continue, it says, okay, well, what language do you want? Well, I'm gonna get English, and you can see we have Chinese, simplified Mandarin, and Korean. Excuse me, simplified Mandarin, Japanese, and Korean in addition to English. But at that point you have to look for your testing center. Now if you've allowed this, it'll look up your current location, and you can just click Search Exam Center. Now this is April 2019, if I search, it's going to show me exam centers that have available dates within that month. Sometimes you have to move forward a month just to see, hey, do I have available dates for May? This exam center's open in May that is closer to me, cuz currently for PSI Exams, some of these have changed recently. I used to have a closer one, but the closest one now is Jacksonville, we're in Dansville, Florida. Well, if I go to the Pearson VUE one, there's three in town for Pearson VUE. S check both providers, because that's a 60 mile drive, that's a fairly long time, right? And then you're gonna be sitting for an exam, and well, that brings me, how much is this gonna cost me? And how long is this gonna take? Now I'm not gonna continue filling this out, cuz it's just payment information after that. Come over here, and what I did is I just typed into my favorite search engine, Certified Solutions Architect- Associate. And we're looking for this aws.amazon.com/certification/certified-so- lutions-architect-associate, with dashes in between there. And what I get is an overview of the exam. I click schedule exam, it actually takes me where we just were, I scroll down, it tells me about the exam, all right? This is a little clear than it has been in the past. Exam Format, multiple choice, multiple answer, right? Now multiple choice, A, B, C, D, E, right? You gotta pick one. Multiple answer, it's gonna tell you to select a certain number from a possible set of answers, right? So pick two, pick three, those tend to be a little more difficult because they're either a list of steps that you would need to take. Or it is possible alternate solutions, or it could be many other things, like, which one of these does not work? Now the reason I tell you that, these tend to be a little more difficult than these. Now at the associate level, that's the case, which it does remind you you're an associate level exam. You get 130 minutes, and a cost $150. Now that's US dollars, depending on where you are, you may have a difference. That's some kind of conversion factor there. That it doesn't tell you how many questions there are right here. Well, we're gonna dive in a little bit more into that. And there are some recommended courses that you can take for AWS, but hey, you're already here we got you covered. There's two other resources, it says download the exam guide and download the sample questions. The sample questions are a great way to get a kind of a baseline metric, I think there's about ten. And if you click on that it actually takes you over to a PDF document that's hosted on Amazon, good thing. And you can answer these questions, kind of do a self assessment. And at the very end, it gives you the answers. Now these are the same types of questions you're gonna find. The format is gonna be a little bit different, because you're gonna be taking this on a computer based, it's computer based test. So A, B, C, D, maybe not A, B, C, D for a multiple select, it may just be check boxes, all right? Now okay, you do your assessment, this is not exhausted. If you get a 100 on this, that does not necessarily mean that you are completely prepared for the upcoming examination. And well to see that, lets take a look at the AWS Certified Solutions Architect exam guide. And it gives you some recommended AWS knowledge, right? You need hands on experience with compute, storage, networking, data base, AWS services, essentially you need a fair amount of AWS experience, right? You can get there, you can start building things maybe you've been playing around. Maybe it hasn't been an AWS but you have, I know about a network and storage. You can translate those over, but there is an AWS way, and to some extent the solutions architect exams are about doing it the AWS way. What's the AWS way? I need highly available, cost-efficient, fault-tolerant, and scalable systems. And okay, well, how do I know about this? During your preparation, you're watching us, you're following along with us. I do recommend reading the white papers that are listed in this exam guide. These whitepapers architecting for the Cloud, AWS Best Practices, and AWS Well-Architected, this actually takes you to a web page with additional whitepapers. I would read this, now do you have to study them inside now? Probably not, but it gives you a great overview. As a matter of fact, I'm gonna take us to that web page. And I come over here, and this is the Well-Architected solution. Okay, well, it tells me about the Well-Architected Framework. This Framework says, this is how you make things highly available, fault tolerant, scalable, cost efficient. And these are the pillars of kind of this Well-Architected solution. We're gonna be covering those in upcoming episodes. So read those, follow along with us. You're gonna get it attached in multiple ways which will pair you for the examination. Now if you come down here, and the reason there's not necessarily how many questions you get. I wanted to highlight this because sometimes things are a little different. This goes into how they determine passing scores depending on the exam, exam version, those type things. Sometimes have unscored content. Actually, let me hop up here. Unanswered questions are wrong, you should never leave a question blank. There's no penalty for guessing, so you don't get points deducted. I've actually taken exams where if you get a wrong answer, they actually deduct a quarter to a half point. Which means you can get a negative score, which is really crushing to your soul, but that's not the case here. So always select an answer. If it says select two answers, select two answers. If it says select three, select three. Leaving it blank is an absolute wrong. But there is all unscored content, your examination may include, doesn't say it will may include unscored items that are placed on the test to gather statistical information. For instance, is this question of appropriate difficulty. How is this question kind of being scored across multiple candidates? So you may have some wiggle room there. And well, your score is scaled from 100 to 1,000, and you need a minimum of 720. That does not mean that you get a 72%, actually, that's a 900, so it's a little more than 72%. 720 scaled score because there's statistical analysis and statistical validity applied to these exams. It's really hard to say you have 60 questions, you need this many. Because it can vary depending on difficulty, current, like whether they throw questions out based on. Maybe it's just a poorly worded question, so do keep that mind. Most of the time, you get your scores immediately. Says hey, good job will see you later, so do keep that in mind. Now that brings me to the final set of things I wanna show you in this exam guide, right? That Well-Architected Framework, those whitepapers also cover these topics. But there's five domains, design resilient architectures, fault tolerance, right? Define Performant Architectures, design and define are different things, right? Design says you need to be able to do this. Define you need to know about these things. You need to really say, this is what's performing, why is this performing? Specify Secure Applications and Architectures. And you know about security, resilience, performance, security, cost optimization whereby it was designed for that, right? And operational excellence, that's actually the pillars if you go to that Well-Architected website, those are those are major topics there. And within that you have sub domains like picking a appropriate storage, picking appropriate decoupling of mechanisms, you need a multi-tiered approach. And how do you design for high availability and/or fault times, all right? And we do cover that in the upcoming episodes. The same thing for performance, security, cost optimization, and cost optimization is a lot of times just compute and storage. Sometimes that's a little convoluted, for instance, if I have a database solution, I may have this convoluted a little bit. Because I need storage, but I also need computation depending on my work loads. Do you notice sometimes this would be together in a sense. And then operational excellence, that enable operational excellence alone. What's that mean, let's kind of an out-there thing, right? What is that? Focuses on running and monitoring systems to deliver business value. You're designing systems that are for your customer, or for your own business then allow you to run and monitor, and provide value to your business. That one's kind of a very abstract thing, but keep that in mind as you look through those other domains. And well, I think this is a good place to let you think about this information, decide whether you wanna continue on, we hope you do. And well, if you do, definitely get started and we'll see you there. [MUSIC]
Just you? Training a whole team? There's an ITProTV plan that fits.
With more than 5,800 hours of engaging video training for IT professionals, you'll find the courses you and your team need to stay current and get the latest certifications.