Business for Technologists (B4T)
Business for Technologists (B4T)3 H 49 M
Learn what it takes to turn your technology idea or prototype into a reality with quick tips on how to start, run, and sell your great ideas.
Business for Technologists (B4T)

Overview
The Technology is only worth 5 percent
Product Creation
Operational Status
Business Development
Sales Management
Exit Strategies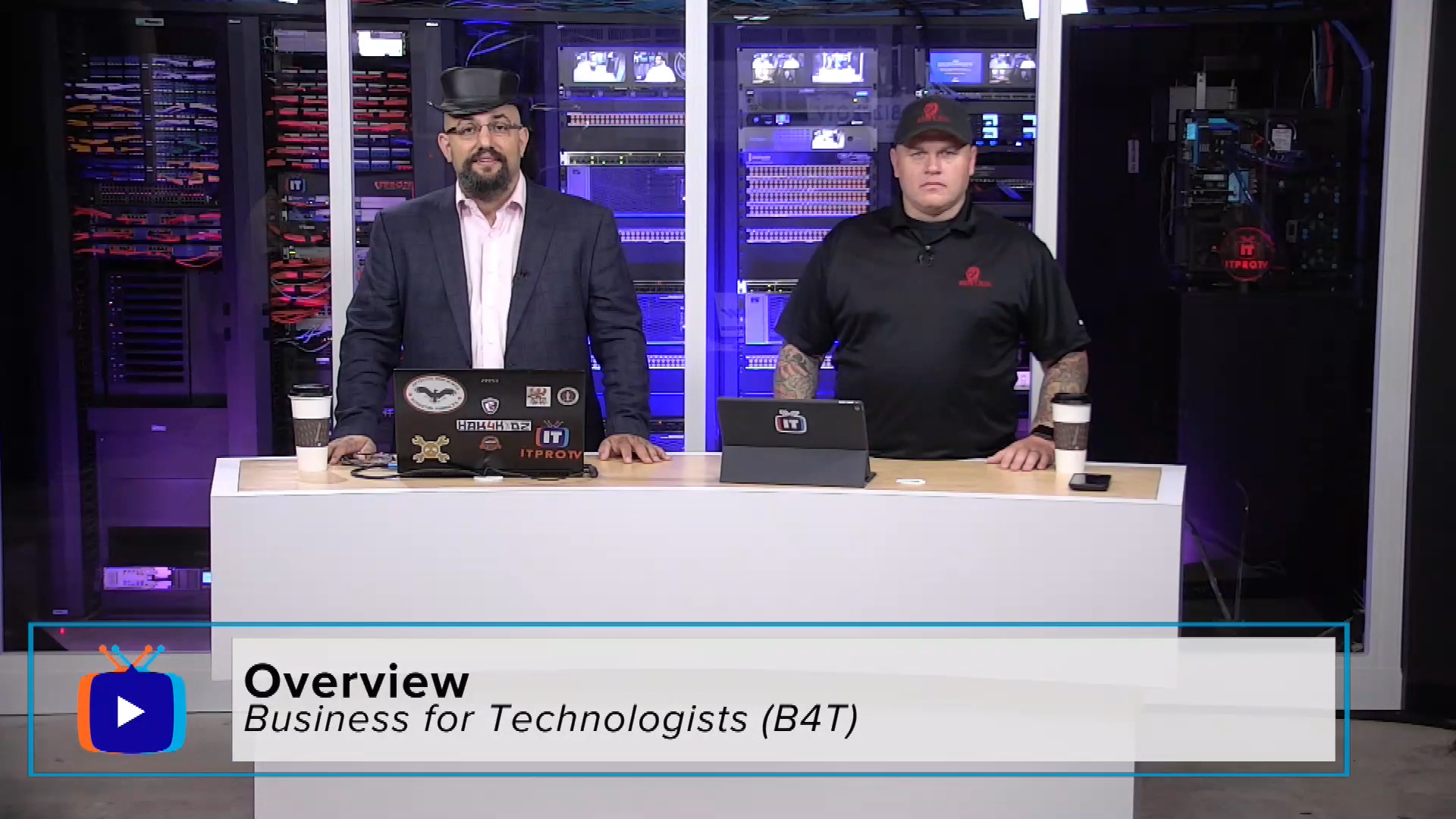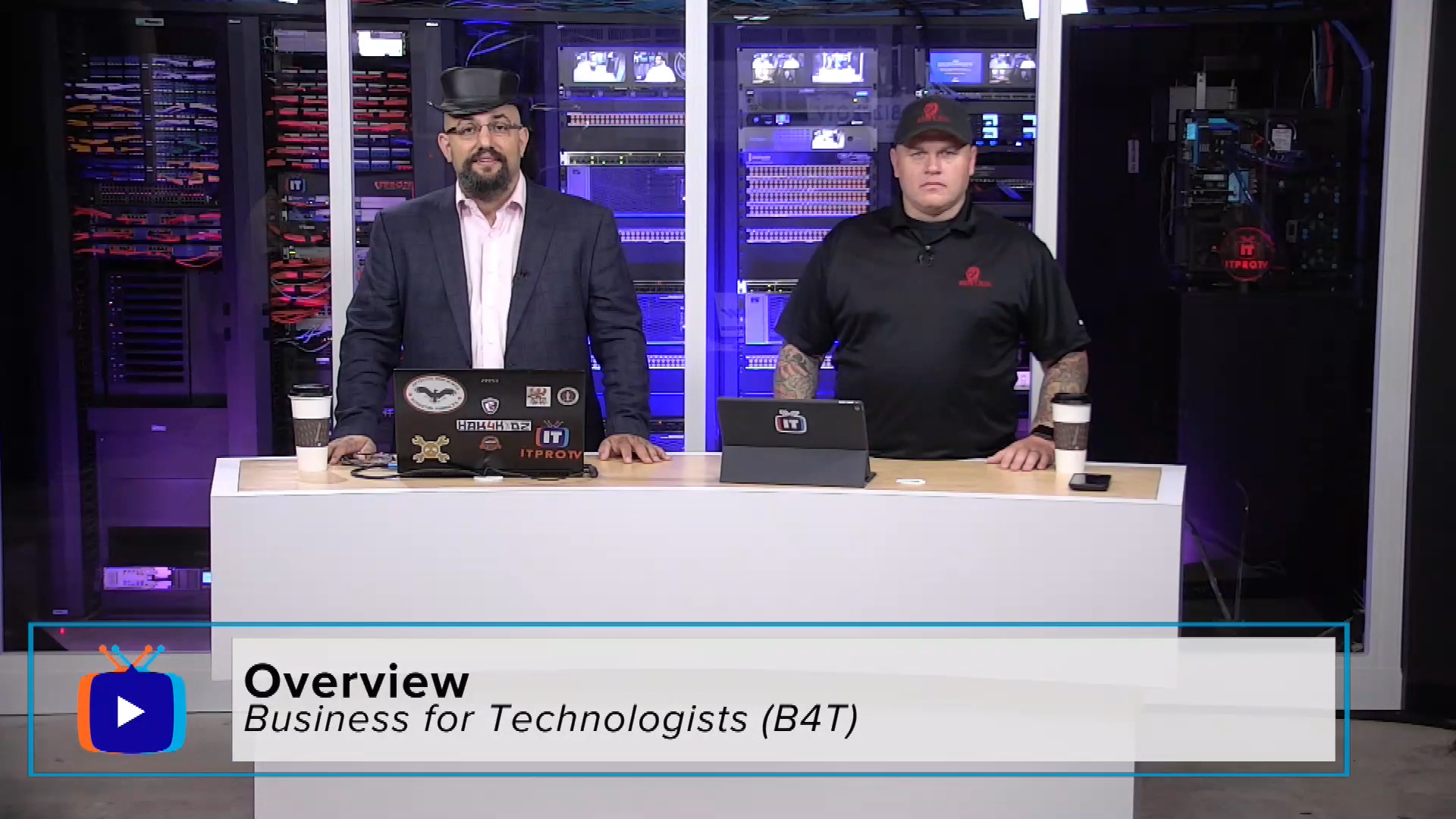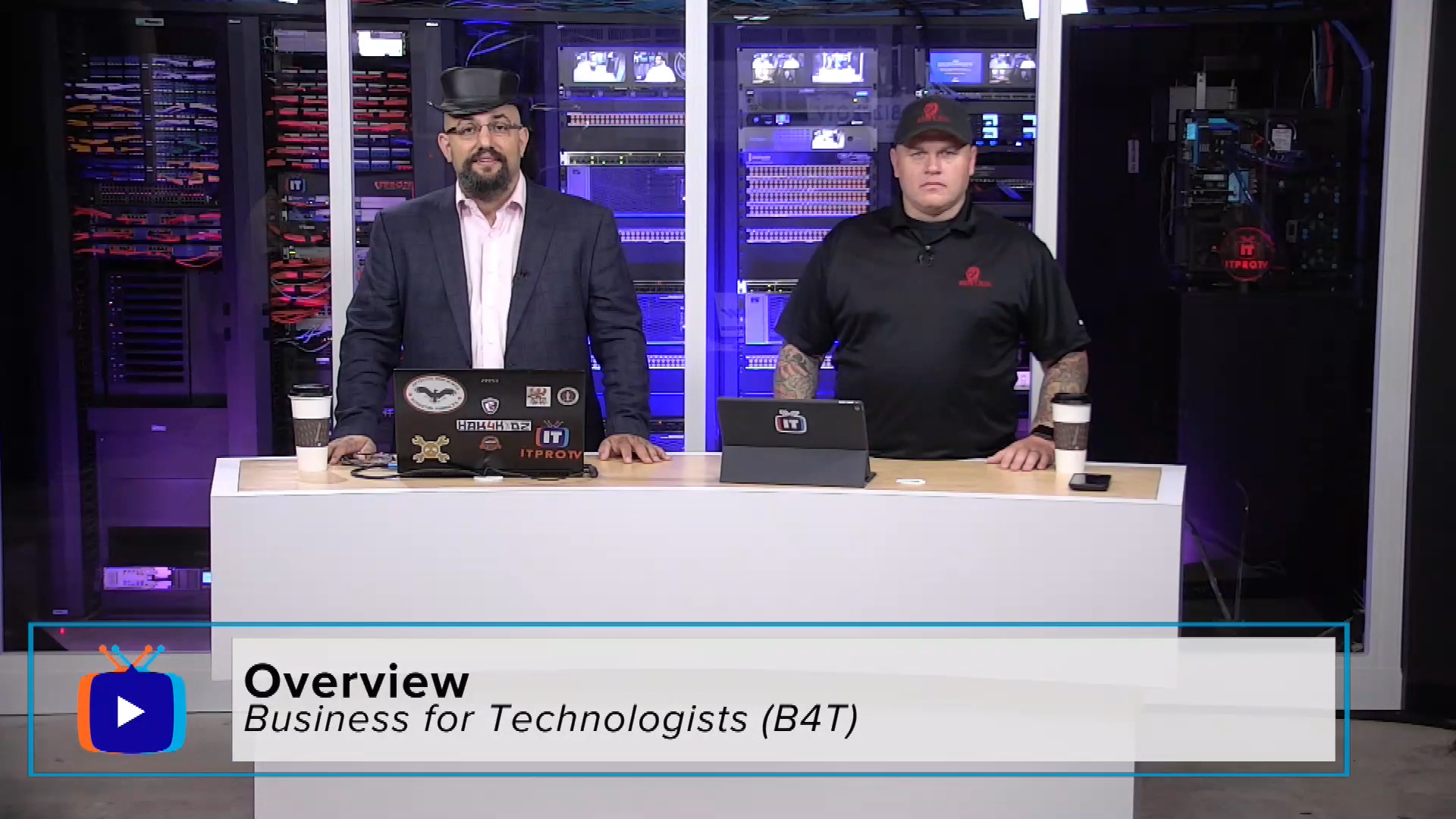 Episode Description
Transcript
Overview
[MUSIC] >> Hi, I'm Josh Marpet and welcome to the Business for Technologists talk series here at BizPro.tv. With me is Scott Lions, we're the Chief Operating Officer and Chief Executive Officer of Red Lion. And we're gonna be talking about all sorts of things about starting a business, running a business, and eventually exiting a business. But first, let me tell you who we are. Scott, why don't you start? >> Sure. Thanks, Josh. I am the CEO of Red Lion, I'm a graduate of the school of business hard knocks. I have assisted in multiple B-Side events, both as a goon and as a regular attendee. I am part of the peer review board for SNAC, which is a journal of information security, which is coming out later. I do hold certifications in information security. I won't say which. And my real passions are people and business. >> And I'm Josh Marpet. I'm the CO of Red Lion. I've been around the block more than once. I'm an ex-cop, an ex-fireman, an ex-horse dentist. That's not a joke, I swear. I'm, let's see. Good lord, I'm a former board member of Hackers for Charity, Las Vegas, the Cloud Security Alliance, Delaware Valley. I'm one of the primary organizers of security B-Sides Delaware. Scott and I run multiple companies and occasionally, we sleep. it's an amazing thing. So let's talk about Business for Technology. The Business for Technologists series is literally about if you're a technologist with an idea, a product, a prototype or whatever but I wanna bring it to commercial success. How do I get there, and what obstacles am I gonna see on the way? Scott, why don't you talk about the talks we are going to be giving. >> Sure thing. So, in this series, what we're really trying to do is to say here's how you start a business, to here's how you end the business. So we want to cover everything from product creation, to sales management, to business development. And everything in between, talking about the pitfalls, what to look out for, how to move things forward and really understand how to make the deal. >> Yeah, basically it's a compilation of wisdom and failures [LAUGH] that we have had and problems that we've encountered. Remember, you learn from failure. Well, I'd prefer that you learn from our failures rather than your own. This is a way for you to get an idea of what pitfalls are in the way. Everything from I've got an idea, how much money do I need to bring it to creation, to fulfillment, to a prototype, to a minimum viable product? What do I need to do? How do I get validation? Everything from how do I start it, what's the paperwork I need to do it, to what kind of ways can I get out of this business, how do I exit hopefully with a lot of money in my pocket and a successful entrepreneurship on my belt? In that fashion, we're gonna go through a series of talks, talking about all these different stages. Now there is a series of six talks that are the primary core of the B-for-T curricula, but there's gonna be additional talks as well. Things about that business paperwork. Short talks about what types of tools you can use for a very low cost. There's going to be talks about what type of exits there are and all sorts of different topics. I think it's gonna be a fantastic time and we hope you'll enjoy it with us. Scott, anything else? >> Yeah, really for this series, Josh, what we want people to be able to take away from this, you as the viewer, is to be able to sit back and say okay I have a product. I know where to go to put my business together, and then how do I run the business? And that's the real meat behind the takeaways for you as the viewer to be able to understand business for technologists. >> Thank you, I think that covers pretty much it. If you'd like to watch the series, just click below and you can sign up with an account for BizPro.tv or ITPro.tv and then you can watch the entire set of videos from us as well as from all the other amazing content creators here at BizPro, on ITPro.tv. Thank you. [SOUND]
Just you? Training a whole team? There's an ITProTV plan that fits.
With more than 5,800 hours of engaging video training for IT professionals, you'll find the courses you and your team need to stay current and get the latest certifications.