CCNA Cyber Ops (210-250 SECFND)
Cisco Cybersecurity Fundamentals25 H 34 M
This Cisco cybersecurity fundamentals show covers the exam objectives for the SECFND 210-250 exam, the first exam you need to pass to become CCNA CyberOps certified.
This course has a practice test
Network Concepts

Overview
Describe Network Models
Describe Network Models Part 2
Describe Network Models Part 3
Describe Basic Networking Protocols
Describe Basic Networking Protocols Part 2
Describe Basic Networking Services
Describe Basic Networking Services Part 2
Describe Networking Devices Operations
Describe Networking Devices Operations Part 2
Describe Network Security Systems
Describe Basic Network Addressing
Describe Basic Network Addressing Part 2
Describe VLANS and Data Visability
Describe ACL Usage on Interfaces
Describe ACL Usage on Interfaces Part 2
Compare Different Filtering Methods
Compare Packet Capture Methods
Compare Packet Analysis Output
Compare Packet Analysis Output Part 2
Identify Traffic Loss from Packet Analysis

Security Concepts

Describe Defense in Depth Principles
Define Security Concepts and Terms
Define Security Concepts and Terms Part 2
Understand Access Control Models
Compare Security Admin Terms
Describe Security Management Concepts

Cryptography

Describe Crypto Algorithm Usage
Describe Crypto Algorithm Usage Part 2
Describe Digital Signature Creation
Describe PKI Operations
Describe Key Exchange Security
Describe SSL TLS Components
Describe SSL TLS Components Part 2
Describe Hashing Algorithms
Encryption Algorithms and Protocols
Encryption Algorithms and Protocols Part 2

Host-Base Analysis

Define Windows Terms
Define Linux Terms
Define Linux Terms Part 2
Describe Endpoint Security Monitoring
Interpret OS Log Data
Interpret OS Log Data Part 2

Security Monitoring

Identify Data Types
Identify Data Types Part 2
Identify Data Types Part 3
Describe NSM Data
Describe Monitoring Context
Describe Monitoring Context Part 2
Describe NGIPS Events
Monitor Protocols
Monitor Protocols Part 2

Attack Methods

Describe Security Attack Concepts
Describe Network and Web App Attacks
Describe Network and Web App Attacks Part 2
Describe Attacks and Evasion Methods
Describe Attacks and Evasion Methods Part 2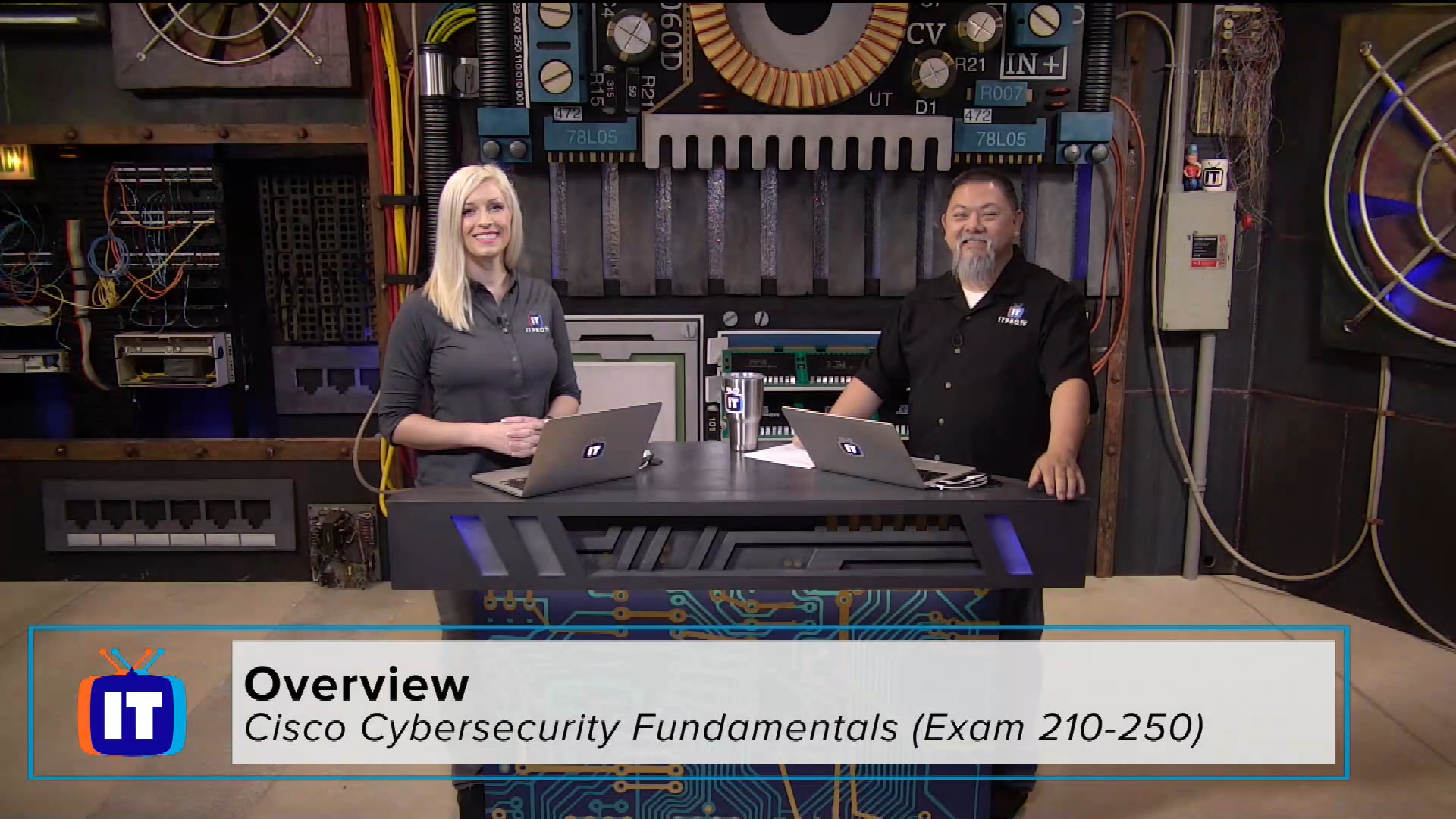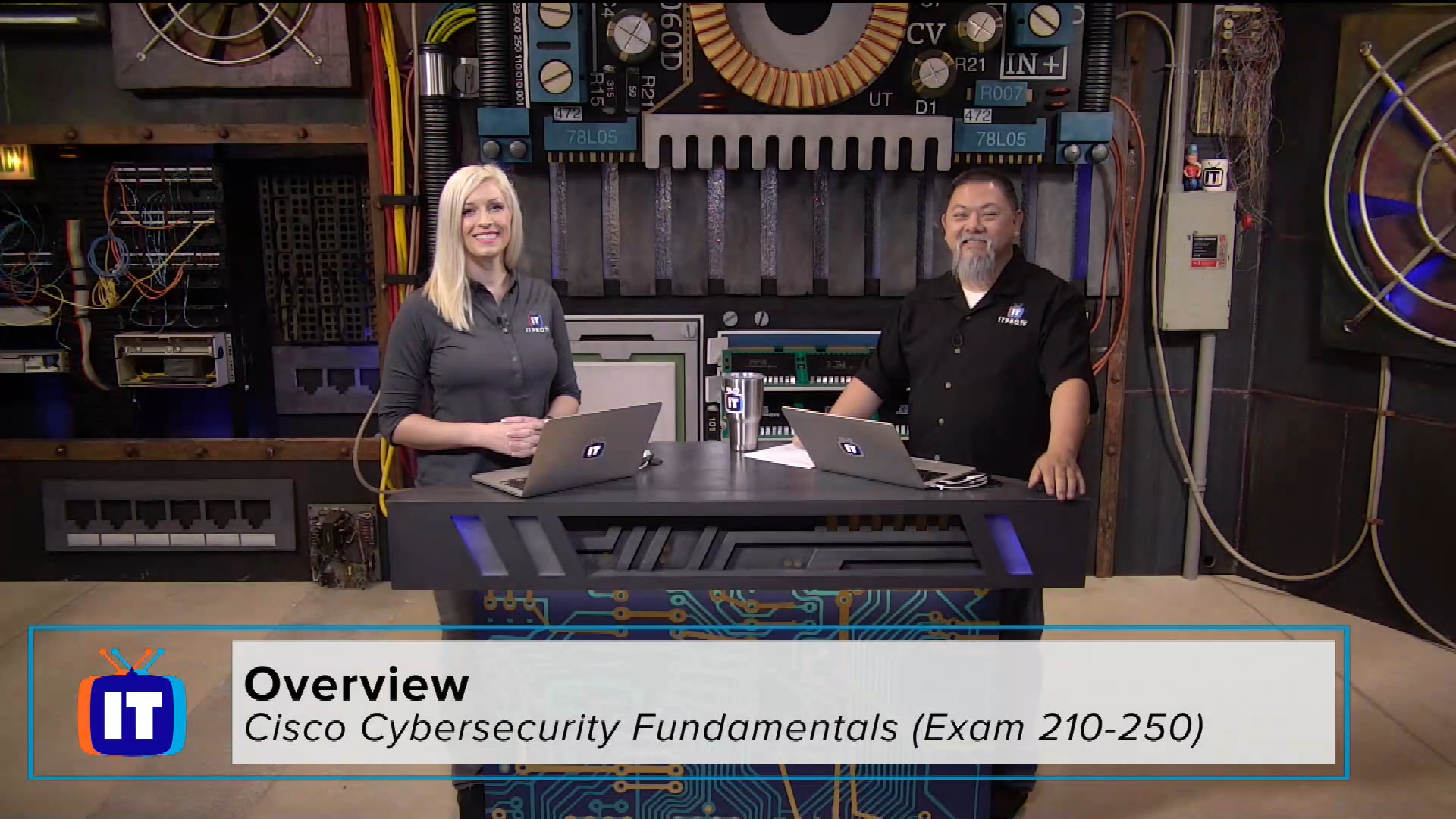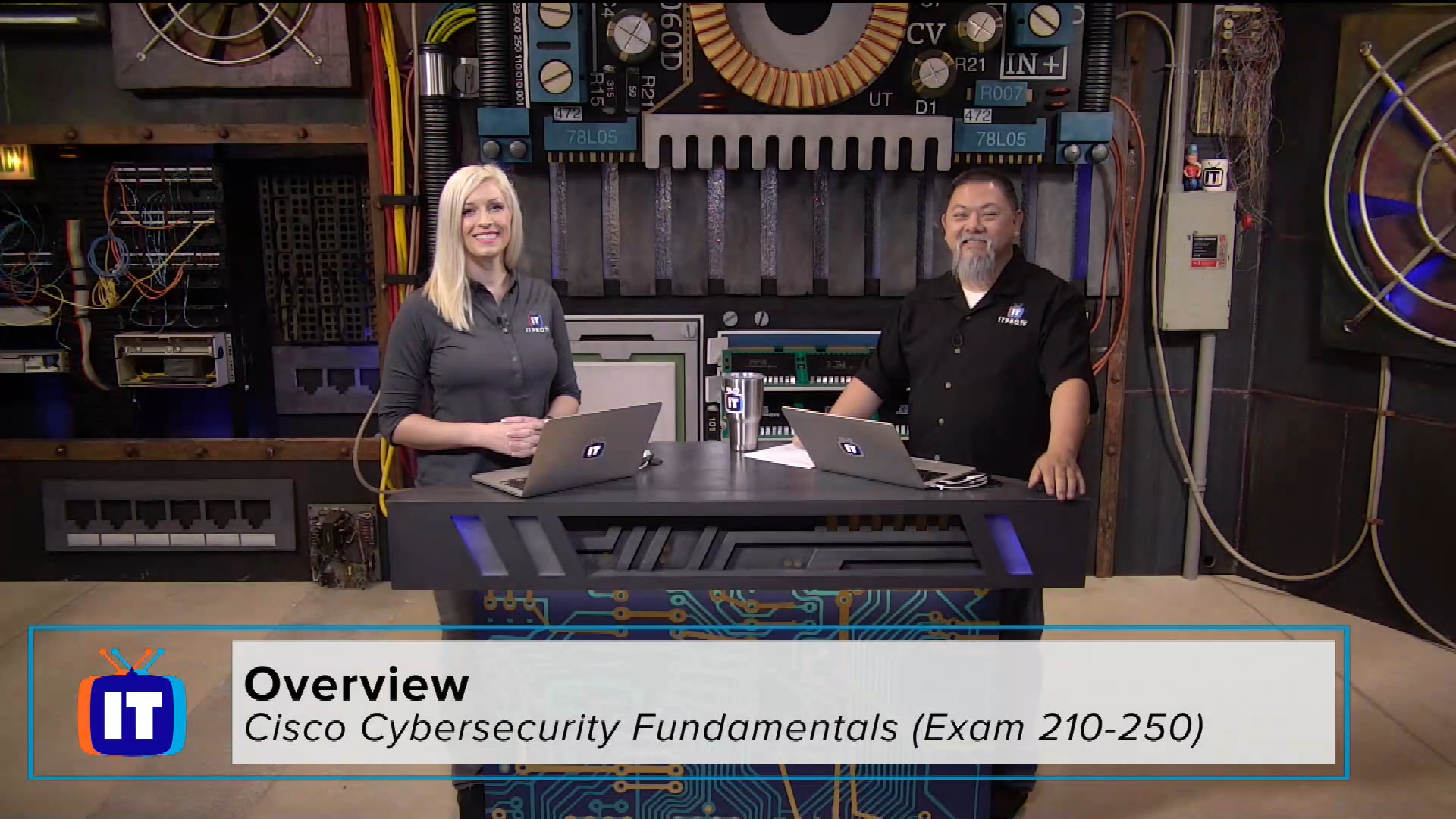 Episode Description
Transcript
The Cisco Cybersecurity Fundamentals show is based around the released exam objectives for SECFND Exam 210-250. The show will cover every exam objective to help prepare those interested in becoming CCNA CyberOps certified. The show aids those preparing for the first of two exams leading to that certification by helping understand cybersecurity basics, foundational networking and security knowledge and develop skills needed in preparation for the second (SECOPS) exam.
[SOUND] Hi, we're here to do an overview for the Cisco Cybersecurity Fundamentals show. If you're studying to obtain your Cisco CCNA Cyber Ops Certification, then you're in the perfect place. So let's take a moment to talk about what you should expect before taking your exam. If we can take a look at my screen, I'd like to pull up some information from Cisco's website. Now, just so you're aware, this is actually going to be a certification that requires two exams that you need to pass. So the first exam that we'll be focusing on is going to be the 210-250 SECFND, which I have pulled up in this other tab here. And this is what we're focusing about for this particular show. Now, this is going to run about 90 minutes for the particular exam. And, I know it says here on my screen 55 to 60 questions, but we found some conflicting information on Cisco's site that also states it could be up to 70 questions. So just be aware of that. Now, if you're thinking about cost, it's probably going to run you about $295 for this particular exam. But you might wanna just check locally to verify that price. And if you're wondering, well where can I go and take that exam? If you click on this hyperlink, it'll navigate you to the Pearson View website and you'll be able to schedule your exam and find the nearest Pearson View testing center so that you can complete this exam. Now, what about the details of the exam? What is gonna be covered? What should you know before you get into that booth? Well, maybe Ronnie Wong can help us with that. Ronnie, what do you think? >> Well as we get started in taking a look at the Cybersecurity Fundamentals Show We're pretty much gonna take the exam objective outline and cover all the topics that are right there on the exam objectives. As well as add in some personal details that should help you out as you get ready for the Cybersecurity Fundamentals. Remember that the goal here is about fundamentals of cybersecurity. So we're not really getting super in depth into a lot of the information, but we need to have at least a basic coverage of it. And that's what we'll do right here. So, let's take a look at my screen again. And that way we'll actually be able to show you a few different things. As you go to the Cisco learning website, remember that you can always use your favorite browser and just type in the Cisco Cyber Ops and that should lead you to a link. And from there you can click on the 210-250 on the SECFND. Once you have that, you can then go to where it says exam topics. And I do recommend that you do this as you go through our show as we start to film that as well, because you'll see that what we'll do is we'll cover all the topics listed right here. And there are different details behind it and you can see how the exam breaks down and the different percentages. To make it easier, of course, they have the ability for you to download a complete list of the topics in a PDF format, to make it easier for you to print out. So that you can also go back and ensure that you're covering everything that you need to. Once you have that where you download it, here's what it ends up looking like. And what will follow in the format of our show is also going to kind of really directly come from, well, these fundamentals right here and these exams, okay. So according to the official exam list, remember that this is exactly what Cherokee was saying. It's about a 90 minute exam, 60 to 70 questions. You can say between 55 to 70 if you want to. It's gonna be about $295 US. So if you're in a different area in the world, make sure you check your prices, don't go just by what I said because prices can change after time. So make sure you understand that, but download a copy of this. We're gonna spend a good bit of time right here in the networking concepts themselves. Even though the CCNA Cyber Ops Certification doesn't really require you to have any networking background. Well they do question you about it, where they have 12% of the exam. And we'll talk about the basic networking concepts and we'll spend a good bit of time in there, because it is fundamental knowledge for you to be able to do any type of network monitoring. You have to at least understand basic protocols as well as the devices on the network. And we'll go ahead and we'll make sure that we cover a lot of these different just basic networking concepts to ensure that we have a good foundation for where we will begin our cyber ops training with, okay. We'll also take a look, of course, at various security concepts here. Well, we'll talk about the basics of security. We'll talk about risks, threats, as well as vulnerabilities. We'll take a look, of course, at different terms that we need to understand and encounter, especially in the business world and the networking world as well. We'll also, of course, talk about some of the different ways that we control access into our networks. And then various terms that we've come across even without having to go to the level of what we call cybersecurity training today as well, and we'll see that. Then we'll spend a little bit of time here in the area of cryptography. And what you'll have to also remember because this is one of their newest certifications that are out there, you'll end up finding that some of these particular exam topics that you'll see, they are very vague. And this is where hopefully our show is going to help you out to be able to reduce that definition down. For example, right here in this particular exam objectives, as you see it, where it says describe how the success or failure of cryptographic exchange impacts a security investigation. Well, that is pretty vague, and if you're not exactly sure what the question actually means, well, that's why you need help. And that's why I show what we're going to be doing is gonna help you to focus in on what they're really pinpointing on and getting ready for this type of exam as well. And also of course, getting ready to be someone that goes into the cybersecurity realm in your career. We're also gonna take a brief bit of time here to talk about host-based security. We'll take a look at both Windows as well as Linux domains and computers, so that we understand the good differences in monitoring utilities, and of course, different security utilities that we have access in. And lastly, we'll talk about network security monitoring. And actually next to last, I should say the penultimate addition here is the idea of security monitoring, talk about different types of data that we're looking for as well as some of the different tools that we need to be familiar with. And also of course, what we're normally monitoring for on the network in terms of traffic. We'll also briefly take some time and introduce you to the concepts of the Cisco Firepower Management Center, as well as the Cisco Fire Site Management Console as well. So that you can take a look at this idea of the next generation IPS events types. So we'll be able to show you all those different aspects that should help you out as well as you start seeing more and more of this in today's world. Lastly, we'll round out everything that we'll do by spending a good bit of time and taking a look at attack methodology. Now a good fifth of the entire exam is based on methodologies here, so 21% of the entire exam is right here. But the great thing about this, and I know this is gonna sound a little bit unusual that I say it's great. But a lot of this is more memorization, it's understanding the basic concepts. Even though we show you and we explain to you some of the attacks, this one is really about memorization of a lot of these concepts. So make sure that you understand that. But we'll go through every single one of these exam objectives to ensure that we get a good, proper coverage of everything that you actually end up finding on the SECFND exam, that 210-250. That way you'll make sure that you go into the exam prepared. Make sure you also do your own studying here. There is nothing else that will prepare you better than the content that you'll get right here at ITProTV, but as well as putting your own study and your own time and effort into learning about these different concepts. So if you're ready for your challenge and entry into the, really, next generation of all security in the IT world, which is gonna be cybersecurity, this is the perfect place for you to begin. And we're glad that you're actually ready for it, and we'll see you on the first show. [SOUND]
Just you? Training a whole team? There's an ITProTV plan that fits.
With more than 4,000 hours of engaging video training for IT professionals, you'll find the courses you and your team need to stay current and get the latest certifications.