Implementing Microsoft Azure Infrastructure - 70-533
This course has a practice test
Introduction to Microsoft Azure

Overview
Introduction to Microsoft Azure
Introduction to Microsoft Azure Part 2
Introduction to Microsoft Azure Part 3
Introduction to Microsoft Azure Part 4
Introduction to Microsoft Azure Part 5

Implement Virtual Networks

Azure Virtual Network Overview
Azure Virtual Network Overview Part 2
Azure Virtual Network Overview Part 3
Creating a VNet Part 2
Creating a VNet
Load Balancers
Load Balancers Part 2
Load Balancers Part 3
Load Balancers Part 4
Application Gateways
Application Gateways Part 2
Web Application Firewalls (WAF)
Azure DNS
User Defined Routes (UDR)
User Defined Routes (UDR) Part 2
User Defined Routes (UDR) Part 3
Direct Server Return
VNet Peering
Configuration Management with Puppet
Create Load Balancer and VNet in Azure CLI
Create Load Balancer and VNet in Azure CLI Part 2

VM Configuration

Configure a VM with a Static Public IP
Configure a VM with a Static Public IP Part 2
Configure a VM with a Private IP
VMs and Network Security Groups
Virtual Machines and Application Gateways
Virtual Machines and Application Gateways Part 2

VPNs

Point to Site VPN
Point to Site VPN Part 2
Site to Site VPN
Forced Tunneling
VNet-to-VNet VPN Gateway
VNet-to-VNet VPN Gateway Part 2
Configure ExpressRoute connectivity

Create and Manage ARM VMs

Identifying Worklods for Azure VMs
Deploy and Run Workloads for Azure VMs
Create and Connect to VMs
Create and Connect to VMs Part 2
Create and Connect to VMs Part 3
Create and Connect to VMs Part 4
Create and Connect to VMs Part 5
Create and Connect to VMs Part 6
Create and Connect to VMs Part 7
Manage ARM VM Availability
Manage ARM VM Availability Part 2
Manage ARM VM Availability Part 3
Plan Storage Capacity and Create VMs
Plan Storage Capacity and Create VMs Part 2
Plan Storage Capacity and Create VMs Part 3
Disk Caching, Redundancy and Geo-Replication
Disk Caching, Redundancy and Geo-Replication Pt.2
Disk Caching, Redundancy and Geo-Replication Pt.3
Shared Storage with Azure File Service
Configure Azure File Share Snapshots
Encrypt Disks
Encrypt Disks Part 2
Encrypt Disks Part 3
Blob Level Tiering and Storage Encryption Keys
Deploy Bring Your Own License (BYOL) Images
Deploy Bring Your Own License (BYOL) Images Pt.2
Create and Deploy ARM VM Scale Sets (VMSS)
Create and Deploy ARM VM Scale Sets (VMSS) Pt.2
Create and Deploy ARM VM Scale Sets (VMSS) Pt.3
Perform Configuration Management
Perform Configuration Management Part 2
Perform Configuration Management Part 3
Monitor ARM VMs
Monitor ARM VMs Part 2
Monitor ARM VMs Part 3
Manage with Azure Container Services (ACS)
Manage with Azure Container Services (ACS) Part 2
Manage with Azure Container Services (ACS) Part 3
Manage with Azure Container Services (ACS) Part 4
Manage with Azure Container Services (ACS) Part 5
Manage with Azure Container Services (ACS) Part 6
Manage with Azure Container Services (ACS) Part 7
Manage with Azure Container Services (ACS) Part 8

Design and Deploy ARM Templates

Implement ARM Templates
Implement ARM Templates Part 2
Implement ARM Templates Part 3
Control Access
Control Access Part 2
Control Access Part 3
Control Access Part 4
Control Access Part 5
Design Role-Based Access Control

Design and Implement a Storage Strategy

Implement Storage Blobs and Files
Implement Storage Blobs and Files Part 2
Implement Storage Blobs and Files Part 3
Implement Storage Blobs and Files Part 4
Implement Storage Blobs and Files Part 5
Implement Storage Blobs and Files Part 6
Implement Storage Blobs and Files Part 7
Diagnostics, Monitoring and Analytics
Implement Azure StorSimple
Implement Azure StorSimple Part 3
Implement Azure StorSimple Part 2
Implement Storage Encryption
Implement Storage Encryption Part 2

Manage Azure Security and Recovery Services

Create and Import Encryption Keys with Key Vault
Create and Import Encryption Keys with Key Vault 2
Azure Security Center
Manage Data Protection and Security Compliance
Manage Data Protection and Security Compliance Pt2
Implement Recovery Services
Implement Recovery Services Part 2
Implement Recovery Services Part 3
Implement Recovery Services Part 4
Implement Recovery Services Part 5
Implement Recovery Services Part 6

Manage Azure Operations

Enhance Cloud Management with Automation
Enhance Cloud Management with Automation Part 2
Enhance Cloud Management with Automation Part 3
Enhance Cloud Management with Automation Part 4
Enhance Cloud Management with Automation Part 5
Enhance Cloud Management with Automation Part 6
Enhance Cloud Management with Automation Part 7
Enhance Cloud Management with Automation Part 8
Working with data in cloud and on-prem
Working with data in cloud and on-prem Part 2
Working with data in cloud and on-prem Part 3
Working with data in cloud and on-prem Part 4
Working with data in cloud and on-prem Part 5
Working with data in cloud and on-prem - ITSMC

Design and Implement Azure App Service Apps

Deploy and Configure Web Apps
Deploy and Configure Web Apps Part 2
Deploy and Configure Web Apps Part 3
Define Deployment Slots
Define and Use App Settings
Web Apps and App Service Plans
Web Apps and App Service Plans Part 2
Web Apps and App Service Plans Part 3
Select Appropriate Deployment Methods
Authentication and Authorization for Web Apps
When to use App Service Environment
When to use App Service Environment Part 2
Diagnostics, Monitoring and Analytics
Diagnostics, Monitoring and Analytics Part 2
Diagnostics, Monitoring and Analytics Part 3
Diagnostics, Monitoring and Analytics Part 4
Diagnostics, Monitoring and Analytics Part 5
Diagnostics Monitoring and Analytics - OMS
Configure Web Apps for Scale and Resilience
Configure Web Apps for Scale and Resilience Pt.2

Manage Azure Identities

Manage Azure Active Directory
Manage Azure Active Directory Part 2
Manage Azure Active Directory - AD Connect Tool
Manage Azure Active Directory - AD Connect Tool 2
Manage Azure Active Directory - AD Connect Tool 3
Manage Azure Active Directory - AD Connect Tool 4
Manage Azure Active Directory - ADDS
Manage Azure Active Directory - ADDS 2
Manage Azure Active Directory - Domain Join
Manage Azure Active Directory - Graph API
Manage Azure Active Directory - Linux Domain Join
Manage Azure Active Directory - Password Reset
Manage Azure Active Directory - AD B2B
Manage Azure Active Directory - AD B2C
Manage Azure Active Directory - AD B2C 2
Manage Azure AD - Enterprise State Roaming
Manage Azure AD - Managed Service Identity
Manage Azure AD - Privileged Identity Management
Manage Azure AD - Azure Identity Management
Manage Azure AD - Azure Identity Management Pt.2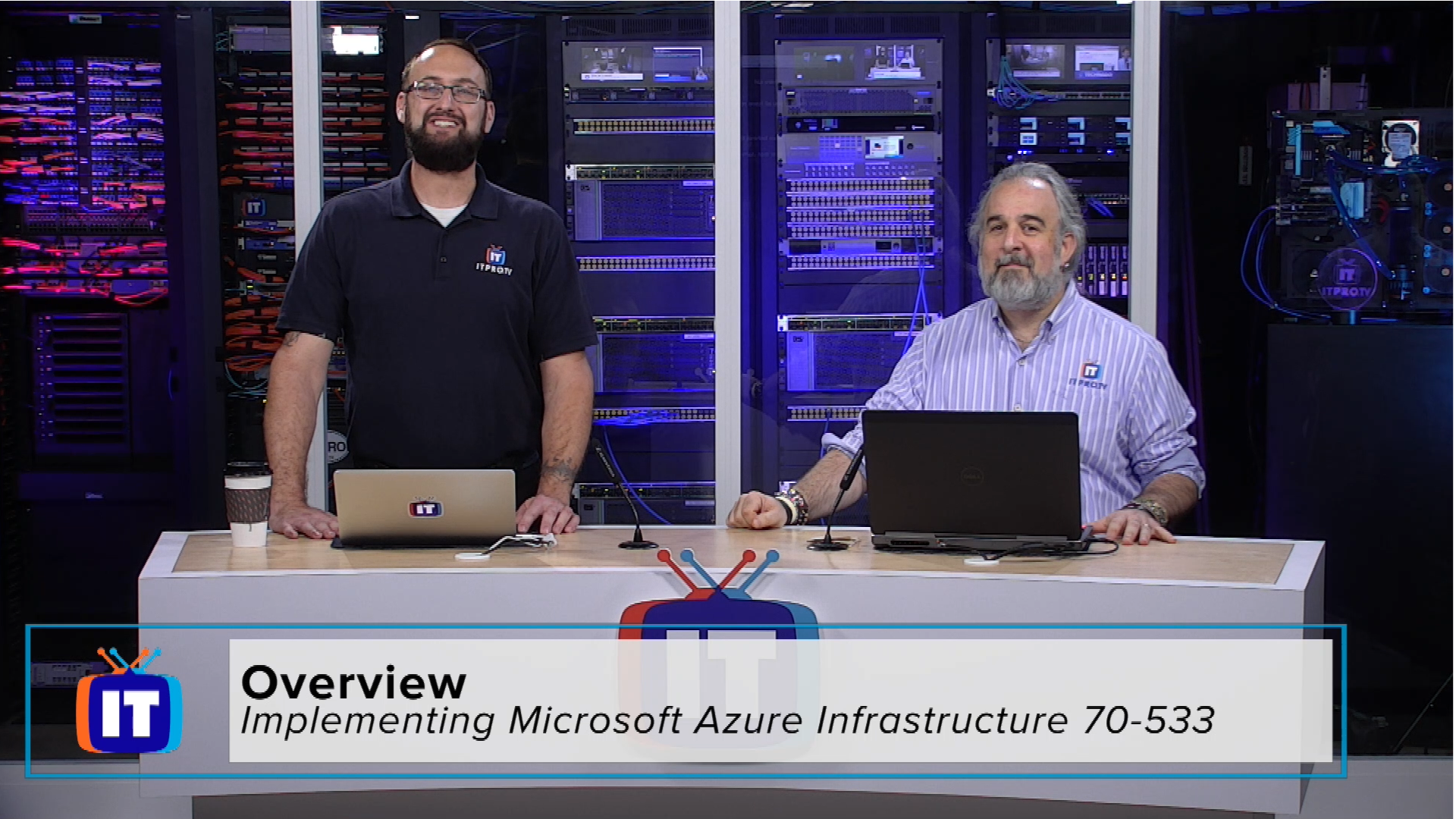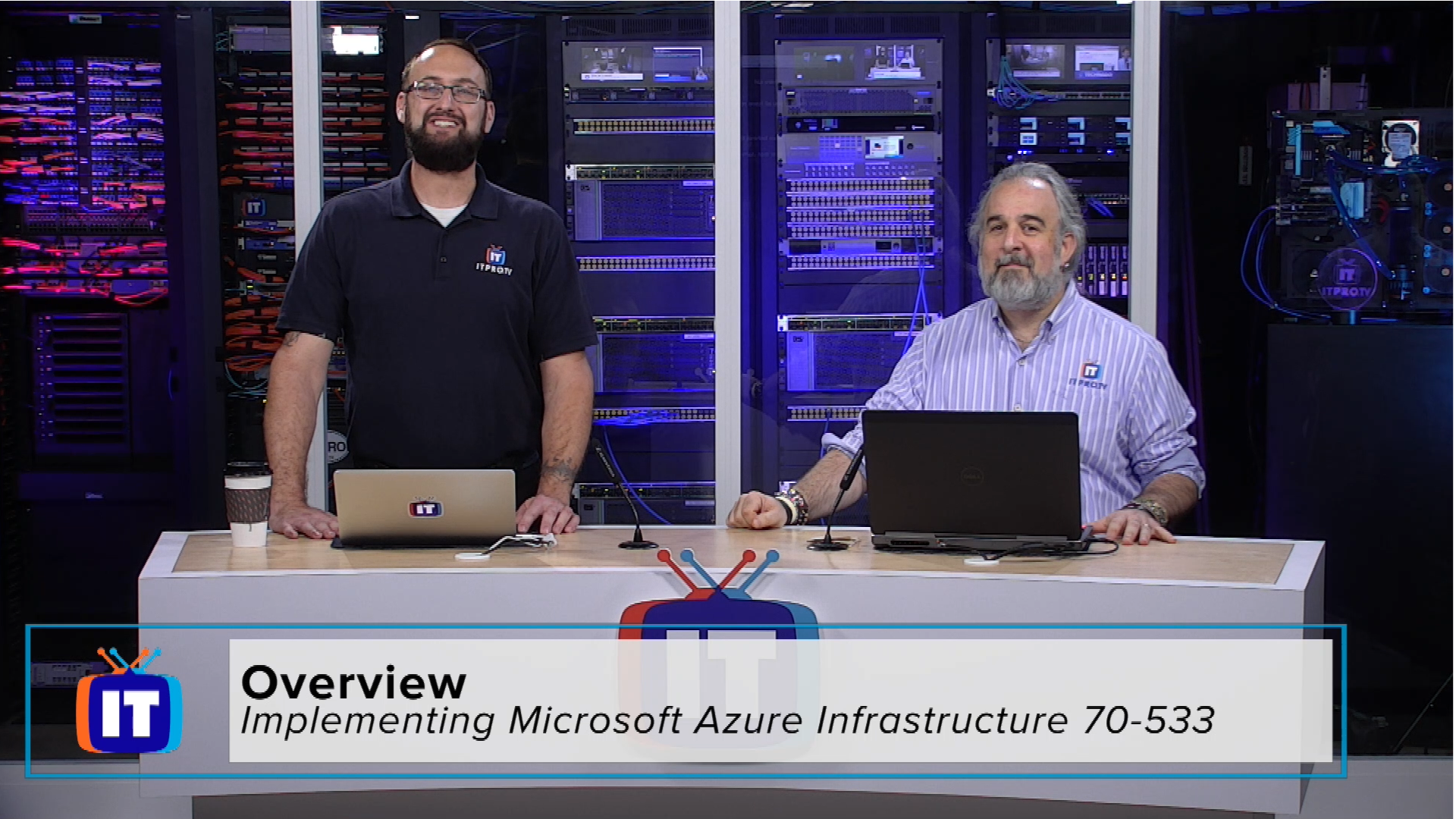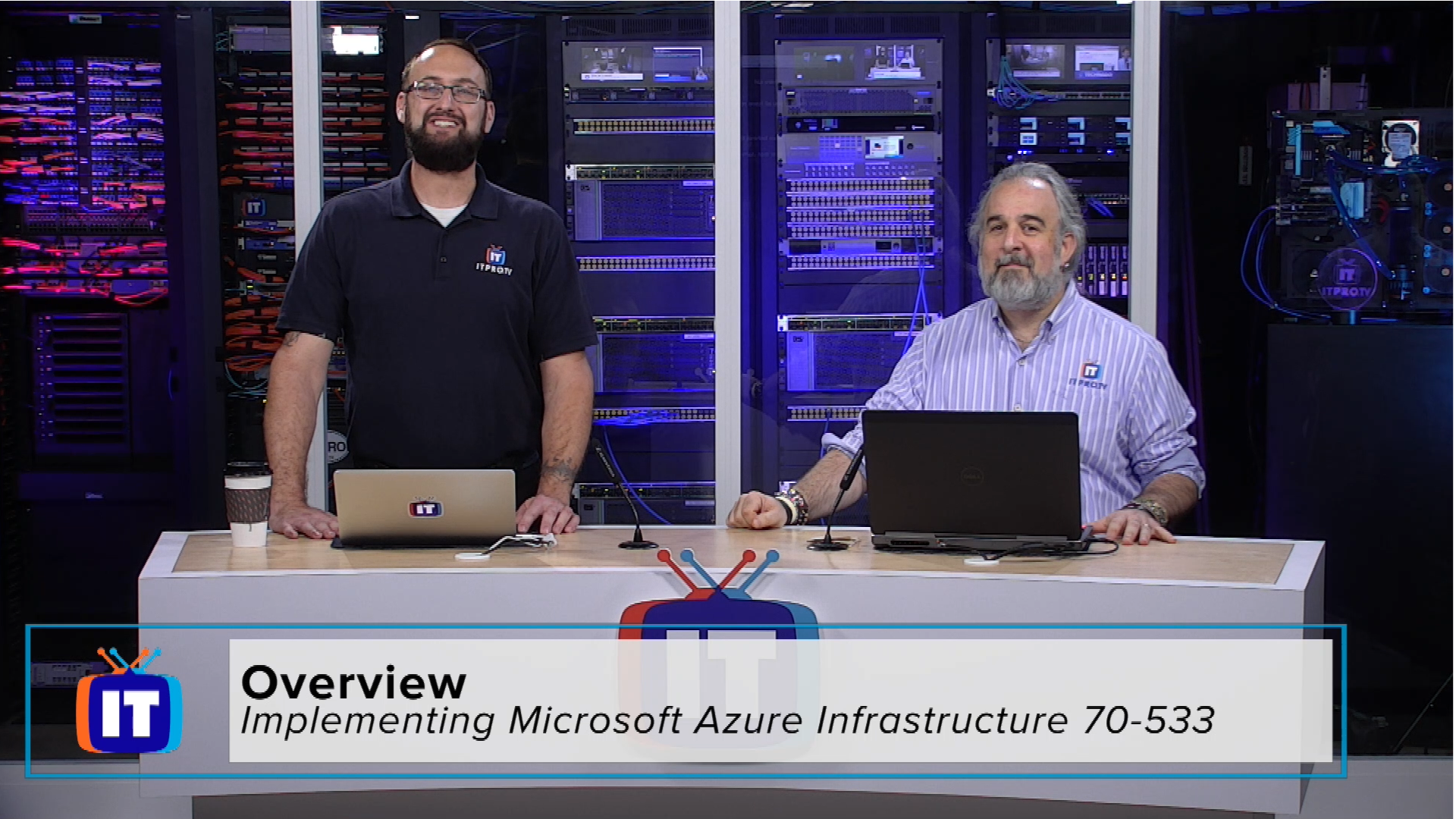 Episode Description
Transcript
This course teaches IT professionals how to provision and manage services in Microsoft Azure. You will learn how to implement infrastructure components such as virtual networks, virtual machines, containers, web and mobile apps, and storage in Azure. You will also learn how to plan for and manage Azure AD, and configure Azure AD integration with on-premises Active Directory domains.
[MUSIC] In this episode we'd like to take a few moments to show you what you can expect in an upcoming 7533 series. That's right, the implementing Microsoft Azure Infrastructure Solutions and here to tell us a little more is Adam Gordon. >> Hey everybody. So we're looking forward to spending time with you and going through all of the rich and detailed complexity. And I'm not kidding about that. You'll see in just a minute what I mean, with regards to implementing Microsoft Azure Infrastructures Solutions. Join me here. Take a quick look at what we're gonna expect and what we're gonna be doing. We spend our time together. So, let's scroll down here. And we have and there's quite a number of them as you can see. Eight exam objective categories all up that make up the body of knowledge for this exam. We'll be going in depth into each of them. Designing and implementing Azure App Service apps, everything web app service related. Creating and managing Resource Manager Virtual Machines. ARM, as we say, Azure Resource Manager. ARM VMs, everything you ever wanted to know and probably a bunch of stuff you don't care to know about how you spin up virtual machines. Notice that is up to 20 to 25% of the overall exam. Very, very big topical area. Designing and implementing a storage strategy, everything about storage services, the four kinds of storage services we have, the two kinds of storage accounts that we can create. Implementing virtual networks also very detailed, very important. Everything about V-Nets, subnets VPNs, express route, user defined routes, etc., as we set up our connectivity to communicate both within the Azure data center and between the Azure data center and potentially are on OnPrem environment. Designing and deploying ARM Templates. We're gonna talk about how we can automate the deployment of resources using Azure-based resource templates that are in a JSON format, Javascript Object Notation form. Managing Azure Security and Recovery Services. Up to 25% to 30% of the overall exam. The single largest exam objective by weight over all. We're gonna take a look at the Azure Security Center. Talk about recovery capabilities and BCDR and high availability solutions throughout the platform. Managing Azure operations and managing Azure identities. 5 to 10% each, small in terms of just the number but deceptively so. Quite a bit of very detailed and useful and important information and concepts that are gonna stitch together our ability to use all those other topics and understand them. So a lot of stuff to come, ultimately probably well over episodes of information that you'll be able to access and go through. You're gonna see Wes, among many other hosts join me here for this voyage. We're gonna have Cherokee doing some stuff with us, Mike doing some stuff with us, Daniel and Ronnie doing some stuff with us, along with Wes. I think we've got just about every host in the building coming in for one or more of these episodes. We're bringing everybody in trying to make it as great as we can and all encompassing. Also keep in mind that this episode, I'm gonna go back to my screen for just a minute. Microsoft does update from time to time the exam objectives especially in a cloud related service such as Azure. You could say and indeed see the same thing in the Office 365 shows with Ronnie. The 346 and 347 exams, you could say and see the same thing in Windows 10, in server 2016 area. But especially in the Windows 10 area as it starts to verge into services related to Azure in the 7697 and 7698 exams. And the shows that are aligned with those that Mike and Cherokee and Ronnie and, perhaps Wes and others may do over time in the library. We're trying to update them and keep them relevant and aligned with the exam objectives whenever Microsoft does update them, as we do with all of our vendor information. Microsoft most recently as of March 29th of 2018 did announce new exam objective updates meaning not the overall 8 categories, but topical information within those categories has been updated. There is an exam change document that lists those updates, I'd encourage you to take a look. In case you haven't seen it the way that you read that document when you download it of course and open it up, is that you will see, if we can get it to come up, there we go, try that one more time. That you will find aside from the red header that tells you when it's effective. That Microsoft, may cross out something and say that was create and something and now it's a and, those are minor, you don't care about those changes. Configure apps instead of web apps, same thing, you don't care about that. But when you see something that is added in either in purple like it is here and or in red as it is here. Those are changes that have been made and additions that have been made by topical area. And you can see as you go through there are quite a number of them in some areas, some areas have had no changes as you can see. And we go through and address all these changes for you. And the reason we're pointing this out, is that this set of episodes, this show, has been shot and updated to include all those changes that were announced late in March, early in April of 2018. We've put together this content over several months, the most recent additions that are in that document are being shot and put together for you up to and including right into the end of May of 2018 as all these features have gone live and become available. We've scaled them in as necessary. So this set of shows, you're gonna look at both here and in 7535 show if you choose to go there for architecting, have been made up to date and are the absolute most recent Azure content you can access, given most recent exam objective changes. So just be aware of that, make sure you pay attention to everything as we go through. We look forward to seeing you in those episodes and hope at the end of this process you are successful at certifying either as an MCSA and or an MCSC in Microsoft Cloud. [MUSIC]
Just you? Training a whole team? There's an ITProTV plan that fits.
With more than 4,000 hours of engaging video training for IT professionals, you'll find the courses you and your team need to stay current and get the latest certifications.