CompTIA CASP+ (CAS-003)
Theory & Hands-On Skills for infosec professionals63 H 55 M
This course has a virtual lab
This course has a practice test
Supporting IT Governance and Risk Management

Overview
So You Want To Setup a Lab
Begin at the Beginning - Confidentiality
Begin at the Beginning - Integrity
Begin at the Beginning - Availability
Governance and Risk Management: Overview
Governance and Risk Management: Risk Vocabulary
Governance and Risk Management: Risk Management
Governance and Risk Management: Risk Analysis
Assess Risks: What is a Security Framework
Assess Risks: ESA Framework Assessment Process
Assess Risks: System Specific Risk Analysis
Assess Risks: Risk Determination
Assess Risks: Guidelines for Assessing Risk
Risk Mitigation: What is a Aggregate CIA Score
Risk Mitigation: What are the CVSS and CVE
Risk Mitigation: Risk Responses
Risk Management Documentation: Best Practices
Risk Management Documentation: BCP
Risk Management Documentation: What is a BIA
Risk Management Documentation: Downtime
Risk Management Documentation: Documents
I.T. Governance and Risk Management - Key Points

Leveraging Collaboration to Support Security

Collaboration: GRC and Controls
Collaboration: What is an SCA
Collaboration: Solutions
Leveraging Collaboration - Key Points

Using Research and Analysis to Secure the Enterprise

Research and Analysis: Industry Trends
Research and Analysis: Artificial Intelligence
Research and Analysis: Requirements for Contracts
Analyze Scenarios to Secure the Enterprise
Using Research and Analysis - Key Points

Integrating Advanced Authentication and Authorization Techniques

Authentication and Access Control
Authentication Factors and Controls
Authentication Types
Centralized Remote Authentication Services
Deep Dive: RADIUS
Deep Dive: 802.1X
What is Authorization/OAuth2.0
What is XACML
Trusts Models and Kerberos
Trust Models and Kerberos Part 2
Directory Services and LDAP
Hands On: Establishing Peer Trusts
Authentication and Authorization Review Questions
Advanced Identity Concepts and Vocabulary
Identity Federation Methods
Advanced Identity Review Questions
Authentication and Authorization: Key Points

Implementing Cryptographic Techniques

Encryption
Hashing
Digital Signatures
Blockchain and Bitcoin
Hands on: Configuring a Blockchain
Public Key Infrastructure PKI - Design
Public Key Infrastructure PKI - Concepts
Cryptography Concepts
Stream vs. Block Ciphers
Implement Cryptography
Implementing Cryptographic Techniques - Key Points

Implementing Security Controls for Hosts

Host Concepts and Vocabulary
Product Evaluation Models - TCSEC
Product Evaluation Models - ITSEC
Product Evaluation Models - Common Criteria
What is a Trusted OS
Types of Security Models
Bell-LaPadula
Biba
Clark-Wilson and Others
Access Control Concepts
Role-Based Access Control (RBAC)
Other Access Control Models
Endpoint Security
Host Review Questions
Hardening Hosts Concepts and Vocabulary
Peripherals
Full Disk Encryption
Hands-on: Hardening Windows Hosts, AppLocker
Virtualization Concepts and Vocabulary
Common VM Vulnerabilities
Hands-on: Creating Securing VM using Virtualbox
Boot Loader Concepts and Vocabulary
Hands-on: Protecting Boot Loaders
Implementing Security Controls Hosts Key Points

Security Controls for Mobile Devices

Mobile Deployment Models
MDM Concepts and Vocabulary
MDM Concepts and Vocabulary Part 2
Storage
Concepts and Vocabulary
Concepts and Vocabulary Part 2
Security Controls for Mobile Devices - Key Points

Implementing Network Security

IDSs vs IPSs casp
What is a SIEM system
Network Security Concepts and Vocabulary
Hands-On Deploy Network Security Platform OPNsense
SoC, BASs, ICS and SCADA
Network-Enabled Devices Review Questions
Remote Access and IPv6
Network Authentication
Network Topologies and SDN
Optimizing Resource Placement
Advanced Network Design Review Questions
Network Security Controls Concepts Vocabulary
VLANS and Network Data Flow
DPI and HTTPS Inspection
Network Device Configurations
NAC and Alerting
Hands on: Implementing Network Monitoring ntopng
Implementing Network Security - Key Points

Implementing Security in the Systems and Software Development Lifecycle

What is the Systems Development Life Cycle SDLC
Development Methodologies
What are the SDLC Phases
Security Requirements Traceability Matrix SRTM
Common Software Development Approaches
Common Software Development Methods
What about Validation and Acceptance Testing
SDLC Review Questions
Secure vs Insecure Direct Object References
Error Exception Handling Try...Catch Statements
What is Privilege Escalation
Overflows and Canaries
Memory Leaks
Races and Exhaustion
What is SQL Injection
What is Session...
What is a Cross-Site Scripting XSS Attack
Cross-Site Request Forgery XSRF/CSRF Attack
What about Clickjacking and Cookie Hijacking
What is security by...
Input Validation Fuzzing Application Sandboxing
WS-Security DAM and Software Assurance Tech
Implementing Security in the SDLC - Key Points

Integrating Assets in a Secure Enterprise Architecture

Integrate Best Practices in Enterprise Security
Technical Deployment Models: What is a Model
Technical Deployment Models: What is Cloud
Cloud Security Services in the Enterprise
Secure Design: Vocabulary and Concepts
Secure Design: Vocabulary and Concepts Part 2
Secure Design: Review Questions
Data Security: Owners, Processors and Sovereignty
Data Security: Data Flow Security
Data Security: Data Remanence
Data Security: Provisioning and Deprovisioning
Data Security: Review Questions
Enterprise Applications: What are They
Enterprise Applications: Directory Svcs, DNS
Enterprise Applications: Directory Svsc, DNS Pt.2
Enterprise Applications: Hands on with DNS RRs
DNSSEC, Zone Transfers and TSIGs
DNSSEC, Zone Transfers and TSIG Part 2
DNSSEC, Zone Transfers and TSIG Part 3
Hands on With DNSSEC
Enterprise Applications: Configuration Management
Enterprise Applications: Review Questions
Integrating Assets - Key Points

Conducting Security Assessments

Security Assessments: Types
Security Assessments: Application Code Review
Going Deeper: Vulnerability Scanning
Going Deeper: Testing Software
Software Testing Types
Software Testing Types Part 2
Logs, Memory and Debugging
Social Engineering
OSINT, Self-Assessments and Teaming
Security Assessments - Review Questions
Vulnerability Scanner (Nikto)
Port Scanner (Zenmap)
Protocol Analyzer (Wireshark)
Network Enumerator (Zenmap)
Password Cracker (John the Ripper)
Using a Fuzzer in Kali Linux
HTTP Interceptor (Burp Suite)
Exploitation Framework (Social-Engineer Toolkit)
Log Analysis in Kali (grep and cut)
OpenSCAP
Reverse Engineering (strace)
Conducting Security Assessments - Key Points

Responding to and Recovering from Incidents

Concepts and Vocabulary
Incident Response Facilitators
Incident Response Facilitators Part 2
e-Discovery
Incident Response Review Questions
What is COOP
CSIRTs and Common Tools
Evidence Collection and Handling
Types of Evidence
Five Rules of Evidence 5 B's
Principles of Criminalistics
Investigation Process
Forensic Analysis of Compromised Systems
What is the Order of Volatility
Conducting Forensic Analysis with Autopsy
Responding to Incidents - Key Points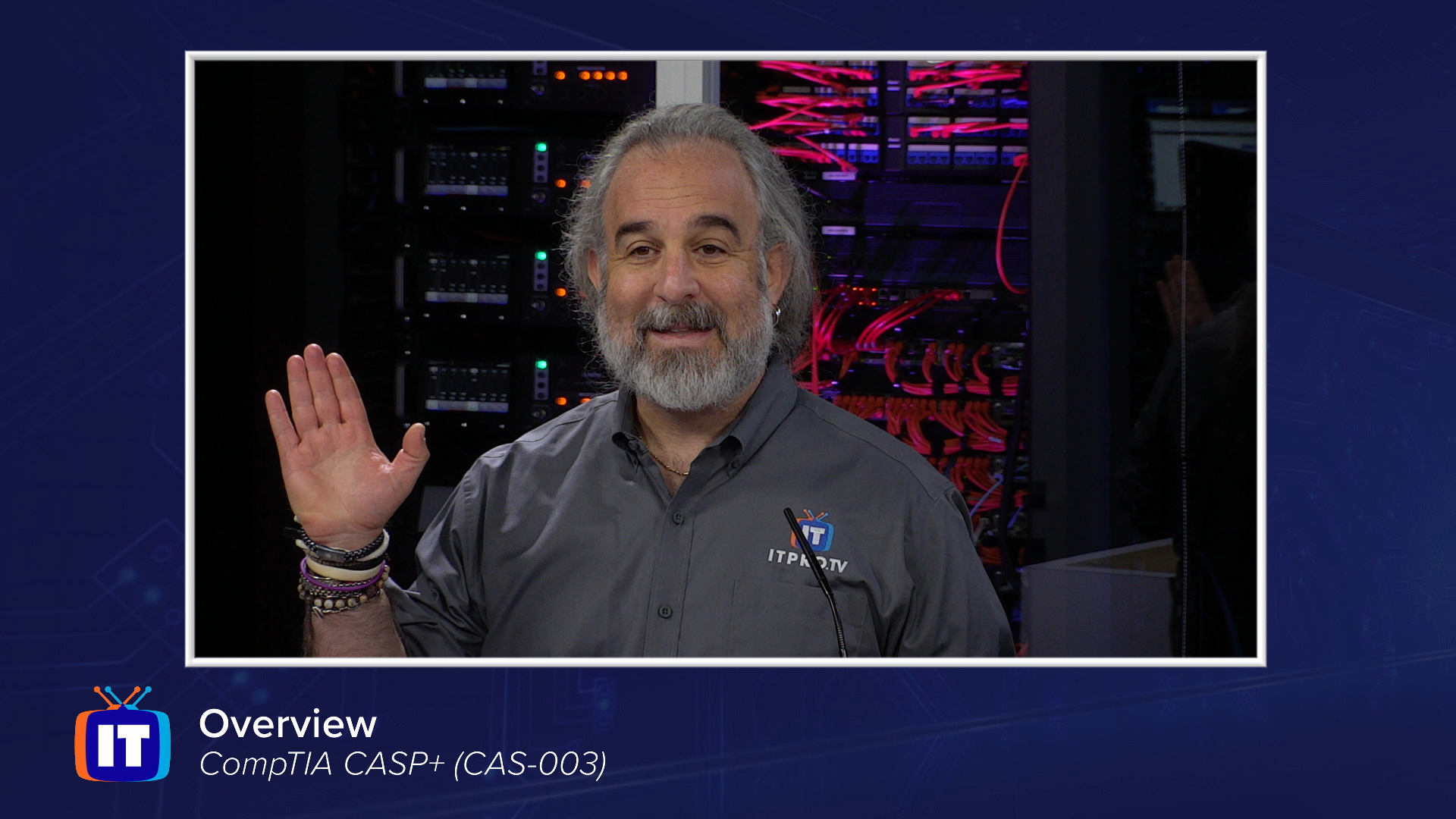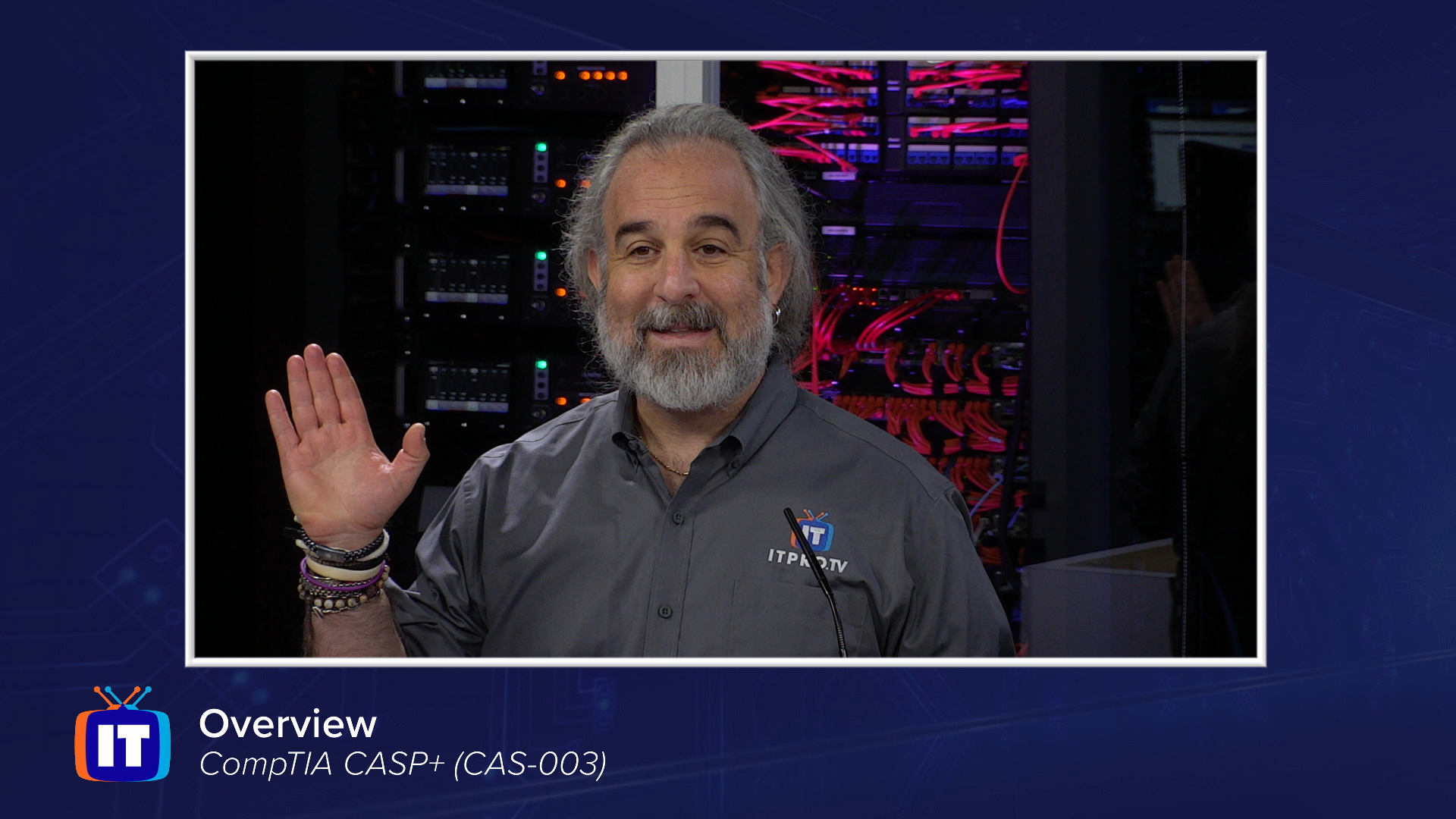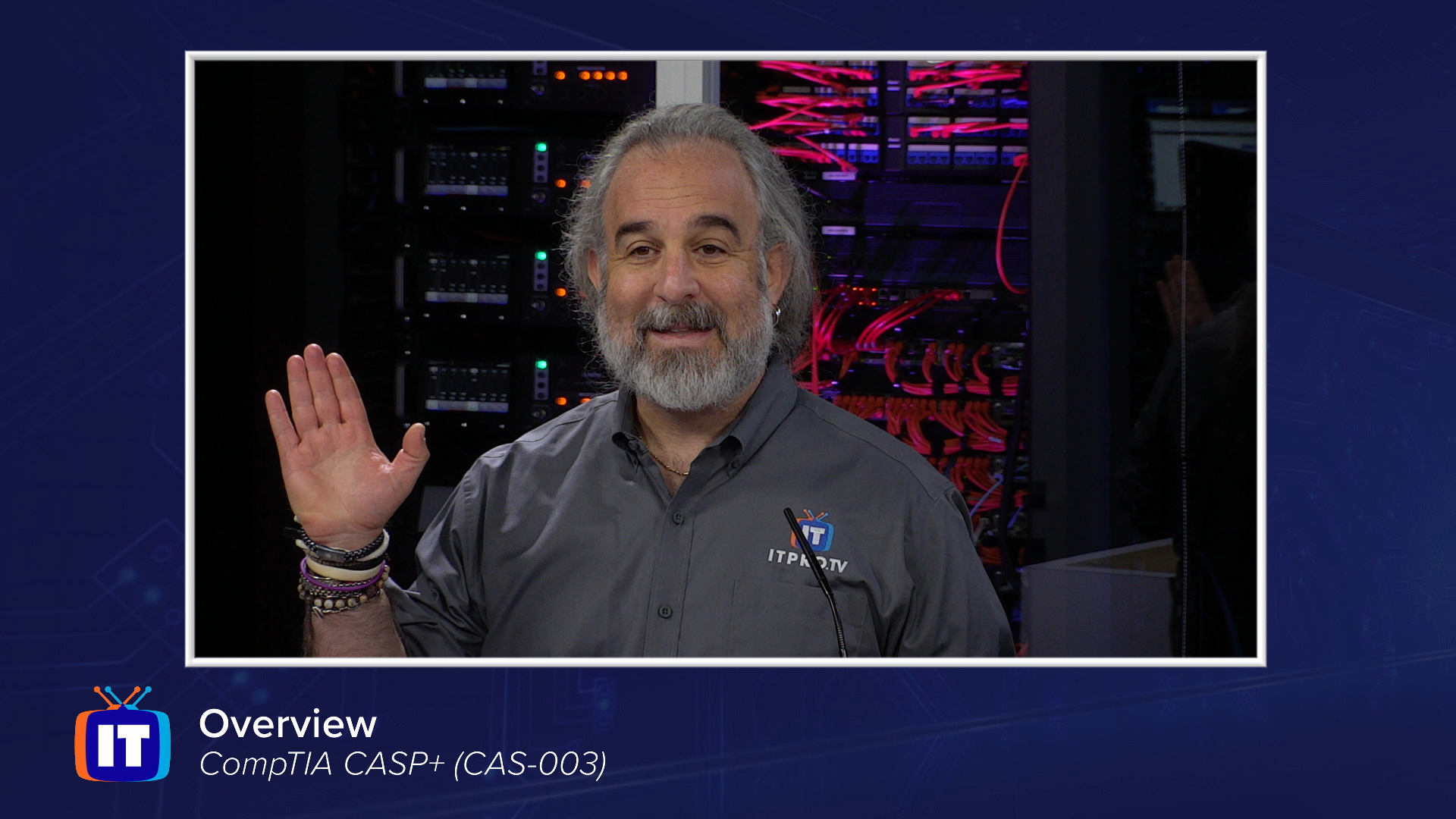 Episode Description
Transcript
Those looking to complete the CompTIA Advanced Security Practitioner (CASP+) certification will find in this course an overview of the process in achieving the certification and a brief amount of details about the exam required to pass in order to receive the certification. The CASP+ covers the technical knowledge and skills required to conceptualize, design, and engineer secure solutions across complex enterprise environments.
You're watching ITProTV. [MUSIC] >> Hello and welcome to the CompTIA Advanced Security Practitioner Show. We're gonna be spending a lot of time with you in this show talking about all the knowledge elements and the things you need to do to be successful in order to take and pass the CASP+ exam. Join me here if you will, we're on the CompTIA's website specific to the CASP certification. I encourage you, by the way, to go take a look at this web page, not just now as you're going through the overview, follow along and, obviously, see what I'm about to talk about, but if you have questions about how to take any of the certifications for CompTIA, how to go in and set up your testing and all the things necessary to be successful, you can find that all right here. We're gonna scroll down real quickly and I'm just gonna show you maybe a little preview of the skills we're gonna be focusing on as we get into the show. We've taken the risk management, as you can see, enterprise security architecture, enterprise security operations, technical integration of enterprise security, and also research development and collaboration, main topics, and broken them out into an outline that you'll see at the beginning of every episode. That way you know where we are and what areas were focusing on. And all of those sub topics listed below any of those major elements are also noted. So every episode will focus in on a key aspect of one of these areas. We'll have a total of 12 topics to go through overall. And as we go through them, we'll be providing to you a wealth of resources. Always available for you are my show notes, the diagrams we may use to illustrate a point, got a hands on lab environment that we're gonna be using to demonstrate a lot of the skills necessary for you to be successful on the exam. We're also gonna have our key points episodes as we summarize all the elements in a topic, reminding you in one succinct episode how to prepare for and study for them with the highlights on things you want to know about. And often sprinkled throughout many of those discussions, we'll have review question episodes where we give you review questions, provide to you the right answers, but really focus on breaking down the methodology associated with how to answer the question types correctly if you see them on the exam. It's gonna be a lot of fun. I look forward to spending time with you. You'll see a variety of different hosts popping in from time to time to spend time with us, so that way you're gonna hear from a lot of different perspectives as we go through the material. Can't wait to get started. I hope you're as excited as I am. Get going, start watching those episodes, we've got a lot of work to do. See you soon. >> Thank you for watching ITProTV.
Just you? Training a whole team? There's an ITProTV plan that fits.
With more than 5,800 hours of engaging video training for IT professionals, you'll find the courses you and your team need to stay current and get the latest certifications.