CompTIA Linux+ (XK0-004)
Tools and skills for Linux systems administrators22 H
This course has a virtual lab
This course has a practice test
Performing Basic Linux Tasks

Overview
Introduction to Linux
Linux Command Line

Managing Users and Groups

Super User Privileges
Managing Users
Managing Groups

Managing Permissions and Ownership

Managing File Permissions
Advanced Permissions

Managing Storage

Partitioning Disks
Linux File System
Logical Volume Manager (LVM)
Filesystem Hierarchy Standard (FHS)

Managing Files and Directories

Editing Files with vi
Editing Files with vi Part 2
Working with Files
Locating Files
Searching with grep
Manipulating Text

Managing Kernel Modules
Managing the Linux Boot Process

Managing the Linux Boot Process

Managing System Components

Graphical User Interfaces
Managing Services with Systemd
Managing Services with SysVinit
Troubleshooting Services
Troubleshooting Services Part 2

Managing Devices

Configuring Hardware
Supporting Printers

Managing Networking

Understanding TCPIP
Configure Networking
Troubleshooting Network Connections

Managing Packages and Software

Managing Software with Apt
Managing Software with Yum/DNF
Building from Source

Securing Linux Systems

Linux Security Best Practices
Linux Security Best Practices Part 2
Securing Apps with SELinux
Securing Apps with AppArmor
Filtering Traffic with Firewalld
Filtering Traffic with iptables
Backup and Restore Data

Working with Bash Scripts

Configuring Bash
Writing a Bash Script

Automating Tasks

Scheduling Tasks
Scheduling Tasks Part 2
Version Control with Git

Installing Linux

Installing CentOS
Installing CentOS Part 2
Installing Ubuntu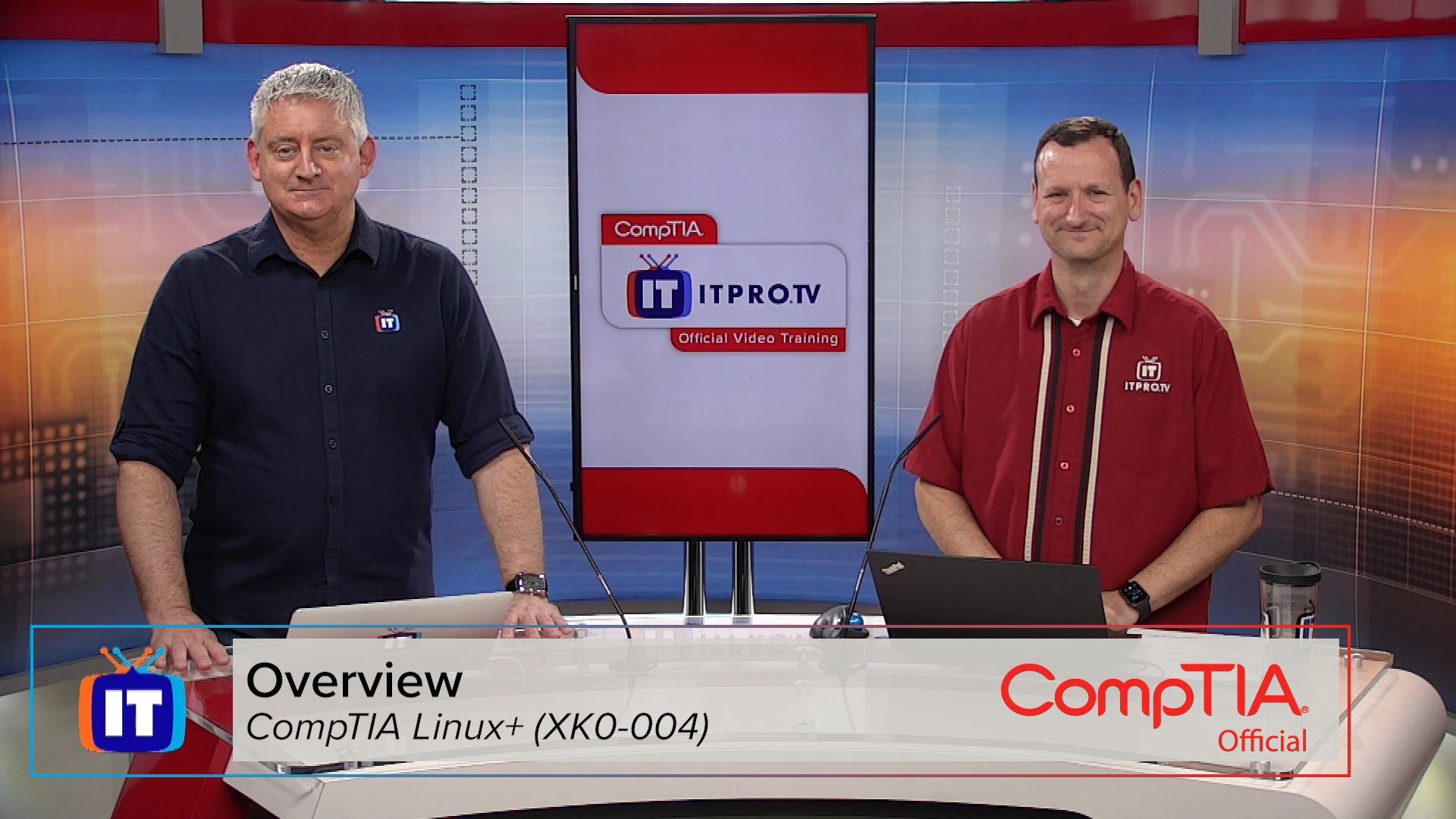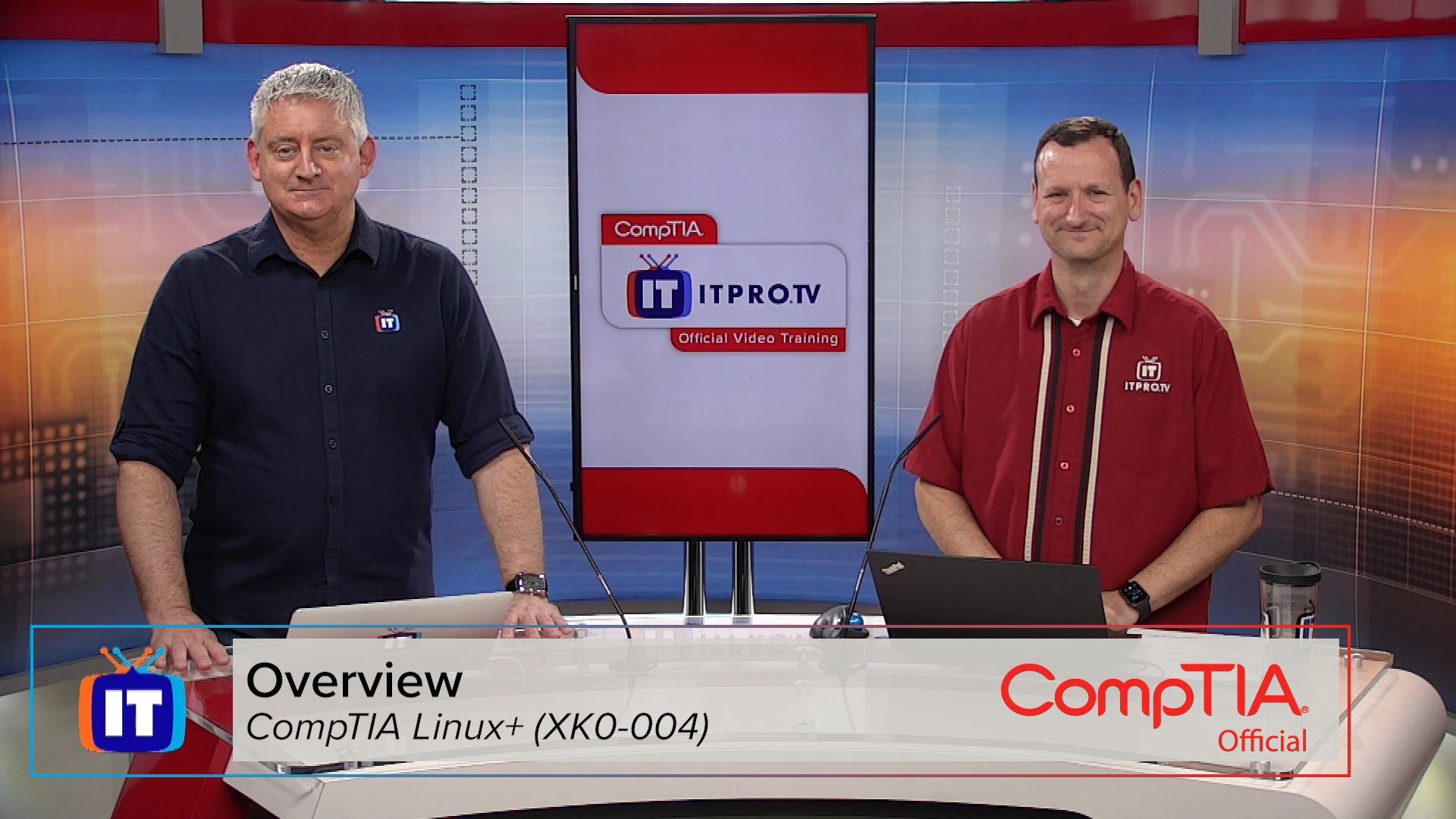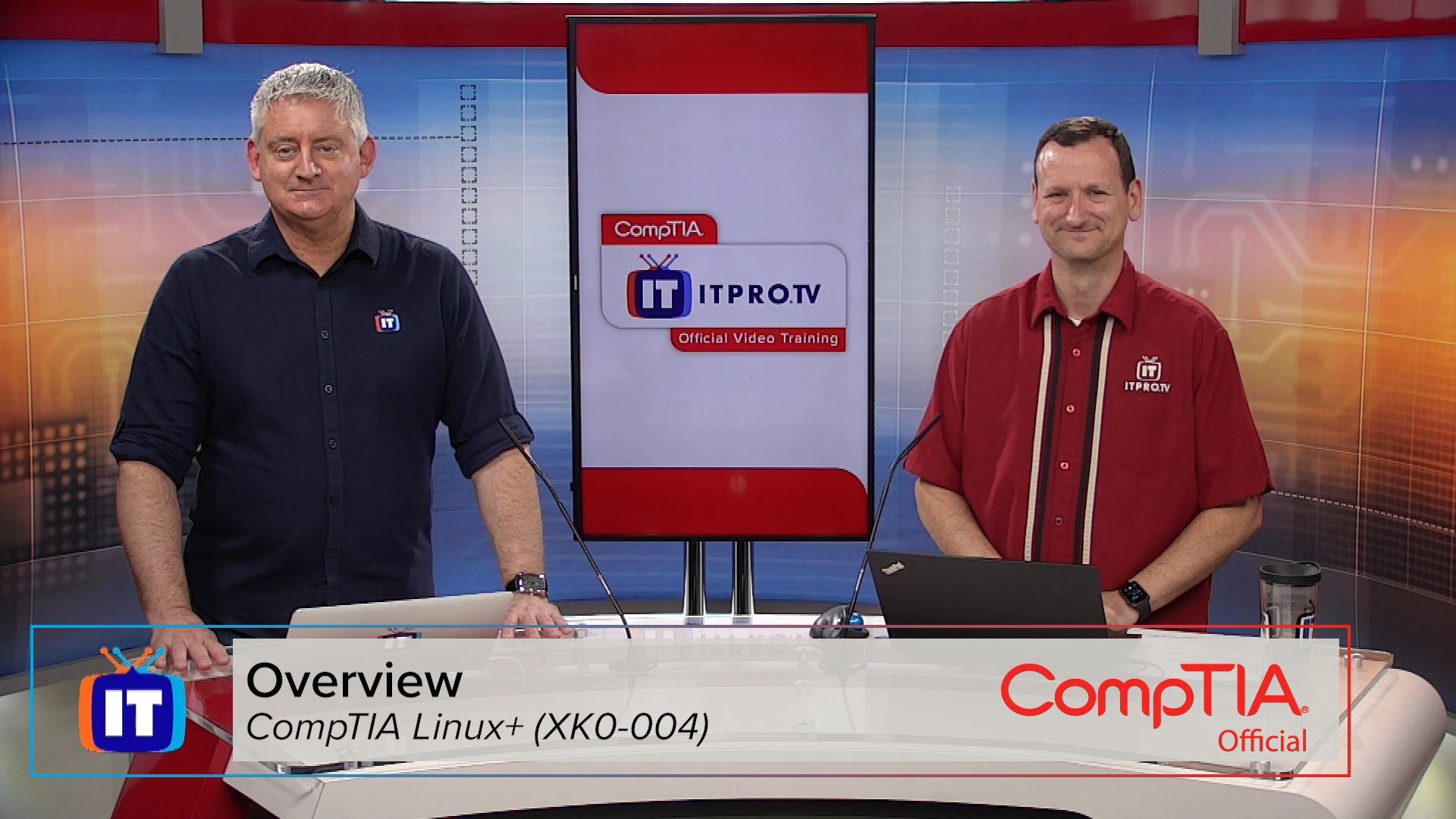 Episode Description
Transcript
The CompTIA Linux+ certification is designed to introduce viewers to the tasks required to support Linux in the workplace. The course covers topics ranging from installing software, troubleshooting hardware, managing disk volumes, hardening servers and more. Each of these topics are presented in a distribution agnostic manner suitable for Debian, Ubuntu, Red Hat, CentOS, Fedora and others.
[MUSIC] >> Hello, and thank you for watching ITProTV, we're talking with Don Pezet about CompTIA Linux+. Don, what is CompTIA Linux+, what is the course about? >> Well, most people are familiar with the Linux operating system and all the various distributions that go around it. That's what CompTIA Linux+ is designed around. If you are running Red Hat, CentOS, Debian, Ubuntu, Linux Mint, all the various distributions of Linux that are out there, they're all built around the same core. And the CompTIA Linux+ is designed to show that you are familiar with how to operate that core when you run the operating system. It's an alternative to Microsoft Windows or Mac OS and it is a free open source operating system which uses no barrier to entry. Anybody can download and install and run it, and if you're gonna be using it in a workplace, you need to prove that you have that knowledge that's exactly what the CompTIA Linux+ does. >> Who's to show targeted towards? >> Well, it's targeted technically, I mean anybody who wants to learn Linux. You might not know anything about Linux, never used it a day in your life. You can come in, watch the Linux+ show and you're gonna learn everything, I shouldn't say everything, but the tools that you need to operate Linux in a workplace, right. Linux is incredibly powerful. There are so many options. Nobody can learn everything about the operating system because it changes every single day. But the court tasks that are required by a systems administrator or a desktop support engineer are all covered by Linux+. So if you're somebody who's responsible for supporting Linux machines in the workplace, you definitely want to do Linux+. But even if you're just a hobbyist or just for you, yourself, you want to learn Linux, this is a great place to learn it. So that's kind of where the target audience is designed for the CompTIA Linux+. >> Thanks, Don. Now, is there a certification available for the course? >> Absolutely. We're gonna basically build this course around the exam objectives for the XK0-004 exam, which if you can't remember that, don't sweat it. You can go to CompTIA's home page, I'm on it right now. And they've got all the various certifications that are linked right there. And you'll find Linux+ right under their infrastructure section. So you can go and find the latest version of the exam number. Notice that there is actually two different sets of exams right now. The older exams which are the LX0-103 and the LX0-104, those are being replaced by the XK0-004. That's the newer exam and that's what this course is built around. So you wanna make sure you're studying for the correct exam. When you take that exam and pass it, you will now be CompTIA Linux+ certified. So you will have proven that you have the knowledge required to manage and maintain Linux workstations and servers. >> So what topics are covered in CompTIA Linux+? >> Well, if you want to pull up the full list, you can pull up the exam guide right on CompTIA's website. So the CompTIA Linux+ certification exam objectives, and they break down all the different things that are covered. For our content, we're actually following the official exam objectives and the textbook. The CompTIA's released were following the same order to make sure that we cover every single objective in there. But in a nutshell, it boils down the five domains. And those five domains, each relate to a different area of how you manage Linux. We've got hardware and system configuration. How do you get Linux up and running in the first place and keep it running? Then we do a system operation and maintenance, right. How do we install software, remove software, how do we do system updates, how do we work with the file system? All routine activities. In domain three, we've got security. Linux is actually a fairly secure operating system right out of the box. But there's always things we can do to improve and tighten security. Servers are gonna be configured differently than workstations. So we get a chance to see how that works. Also, domain four is Linux troubleshooting and diagnostics. When something isn't going right, how do you fix it? And that's usually one of the biggest obstacles to somebody trying Linux, they'll install it, run it for a few days and the first time they run to a problem, they don't know how to figure out what's going wrong. And then they go and switch back to some other operating system. We're gonna learn how to troubleshoot and figure out what that issue is and fix it and keep going. And then lastly in domain five, we do automating and scripting. Linux has a powerful programming interface, it's whole command line interface is built around programming. You don't have to be a programmer to use Linux but if you know some basic scripting commands, you can write scripts that automate a ton of tasks and activities. And so we'll get a chance to learn that. You're not gonna be a full fledged developer by the end of this series, but you will know how to automate things like backing up files and checking service status and so on. It's all done right through the CLI, inside of Linux. So those are all different topics, each of these breakdown into a huge amount of subtopics. So if you go to CompTIA's website, you can pull the full list and you'll see all the different things that are covered inside of each of those domains, it's a massive set. And it may seem a little intimidating at first, but stick with it, you'll find that there are certain tools that you rarely used and there's other ones you used every single day, and they become second nature before you know it. So all of that is what we're gonna be taking to look at right here in this course. >> Well, thanks Don. And if CompTIA Linux+ sounds like something you would be interesting in and you should be. Make sure you watch all the episodes in our course library. Thanks for watching. Remember, ITProTV is binge-worthy. [MUSIC]
Just you? Training a whole team? There's an ITProTV plan that fits.
With more than 5,800 hours of engaging video training for IT professionals, you'll find the courses you and your team need to stay current and get the latest certifications.