CompTIA Network+ (N10-007)
Network concepts, technology and troubleshooting37 H 36 M
Official CompTIA online IT training. The Network+ course goes over all you need to know about managing devices on a network for the IT certification exam.
This course has a virtual lab
This course has a practice test
Networking Concepts

Overview
Ports and Protocols
Ports and Protocols Part 2
OSI Model
OSI Model Part 2
Network Traffic Properties
Network Traffic Properties Part 2
Switching Technologies
Routing Technologies
Routing Technologies Part 2
Network Performance Concepts
IP Addressing
IP Addressing Part 2
IP Addressing Part 3
IP Addressing Part 4
Classless IPv4 Addressing
Classless IPv4 Addressing Part 2
Classless IPv4 Addressing Part 3
Classless IPv4 Addressing Part 4
IP Address Assignments
IPv6 Addressing
IPv6 Addressing Part 2
Network Topologies
Network Topologies Part 2
Wireless Technologies
Cloud Concepts
Network Service Functions
Network Service Functions Part 2
Network Service Functions Part 3
TCP/IP Model
TCP/IP Model Part 2

Infrastructure

Cabling Solutions-Copper
Cabling Solutions-Copper Part 2
Cabling Solutions-Copper Part 3
Cabling Solutions-Fiber
Cabling Solutions-Fiber Part 2
Network Devices
Advanced Networking Devices
Advanced Networking Devices Part 2
Virtualization and Network Storage
Virtualization and Network Storage Part 2
WAN Technologies
WAN Technologies Part 2
WAN Technologies Part 3

Network Operations

Network Diagrams and Documentation
Business Continuity and Disaster Recovery
Business Continuity and Disaster Recovery Part 2
Scanning, Monitoring and Patching
Remote Access Methods
Remote Access Methods Part 2
Remote Access Methods Part 3
Policies and Best Practices
Policies and Best Practices Part 2

Network Security

Physical Security Devices
Authentication and Access Control
Authentication and Access Control Part 2
Basic Wireless Network Security
Common Networking Attacks
Common Networking Attacks Part 2
Network Device Hardening
Network Device Hardening Part 2
Common Mitigation Techniques
Common Mitigation Techniques Part 2
Common Mitigation Techniques Part 3

Network Troubleshooting and Tools

Network Troubleshooting Method
Network Troubleshooting Tools
Network Troubleshooting Tools Part 2
Network Troubleshooting Tools Part 3
Network Troubleshooting Tools Part 4
Network Troubleshooting Tools Part 5
Common Wired Network Issues
Common Wireless Network Issues
Common Network Service Issues
Common Network Service Issues Part 2
Common Network Service Issues Part 3

Subnetting

Subnetting Step-by-Step
Subnetting Step-by-Step Part 2
Subnetting Step-by-Step Part 3
Subnetting Step-by-Step Part 4
Subnetting Step-by-Step Part 5
Subnetting Step-by-Step Part 6
Subnetting Step-by-Step Part 7
Subnetting Step-by-Step Part 8
Subnetting Step-by-Step Part 9
Subnetting Step-by-Step Part 10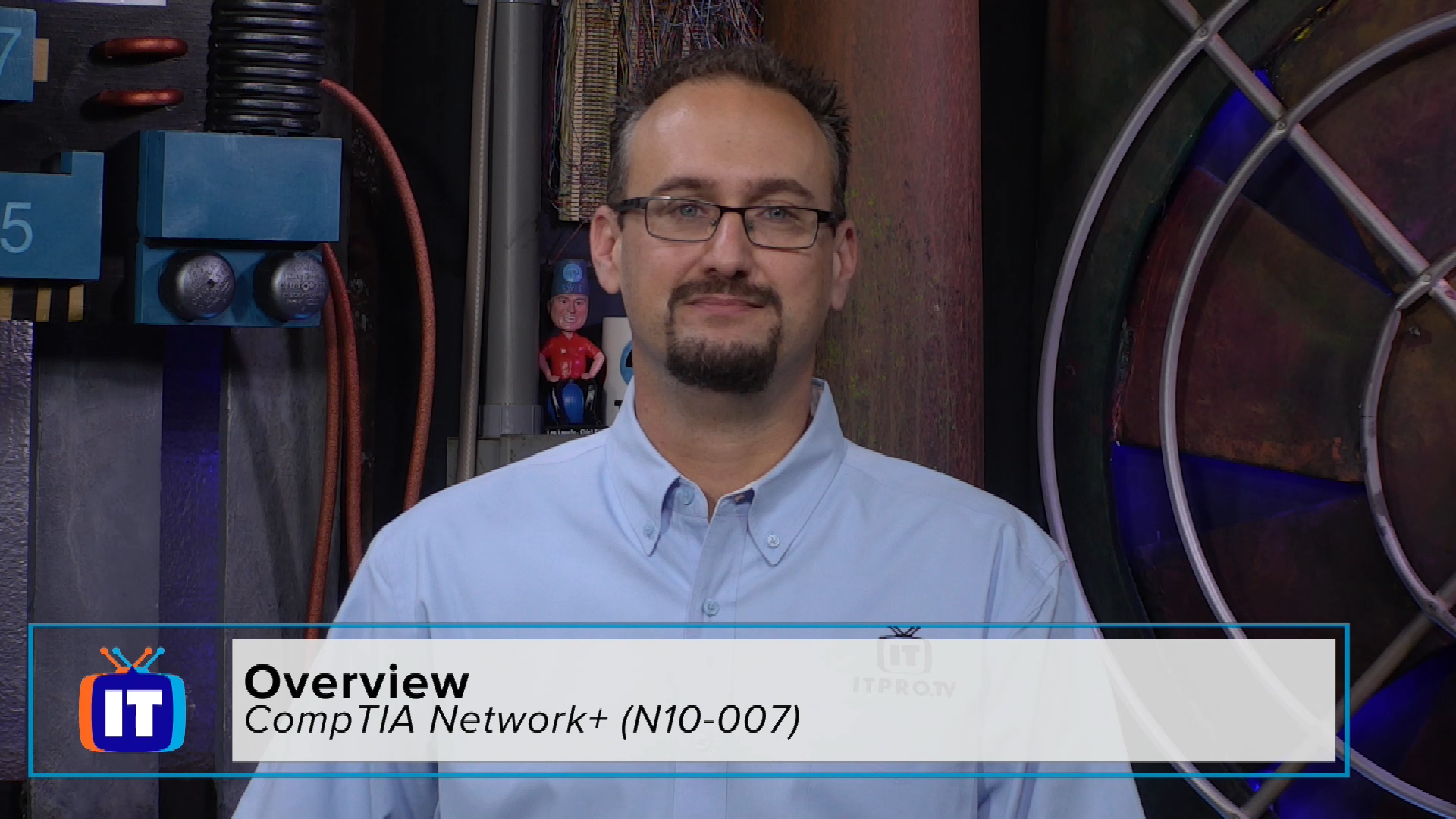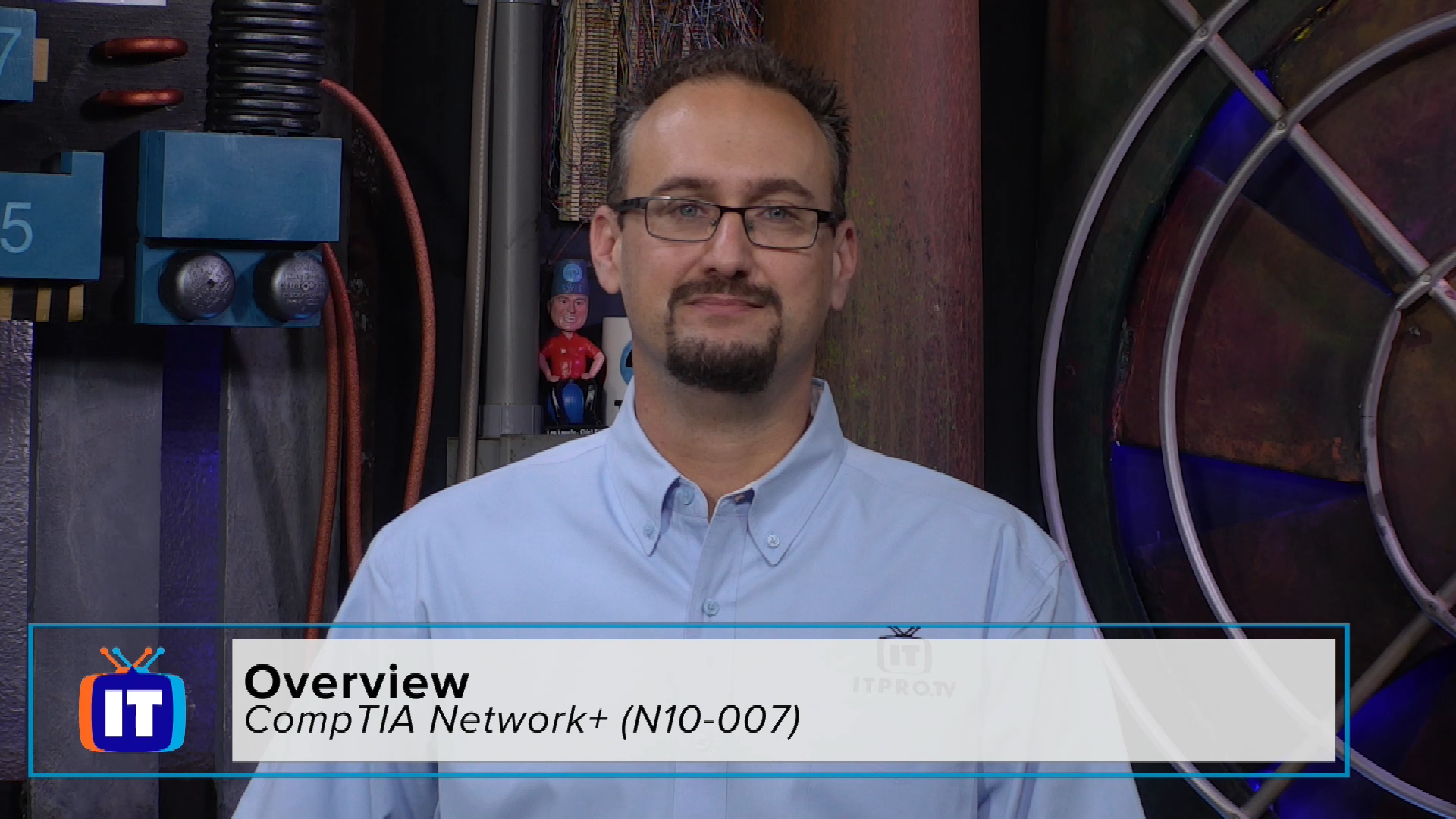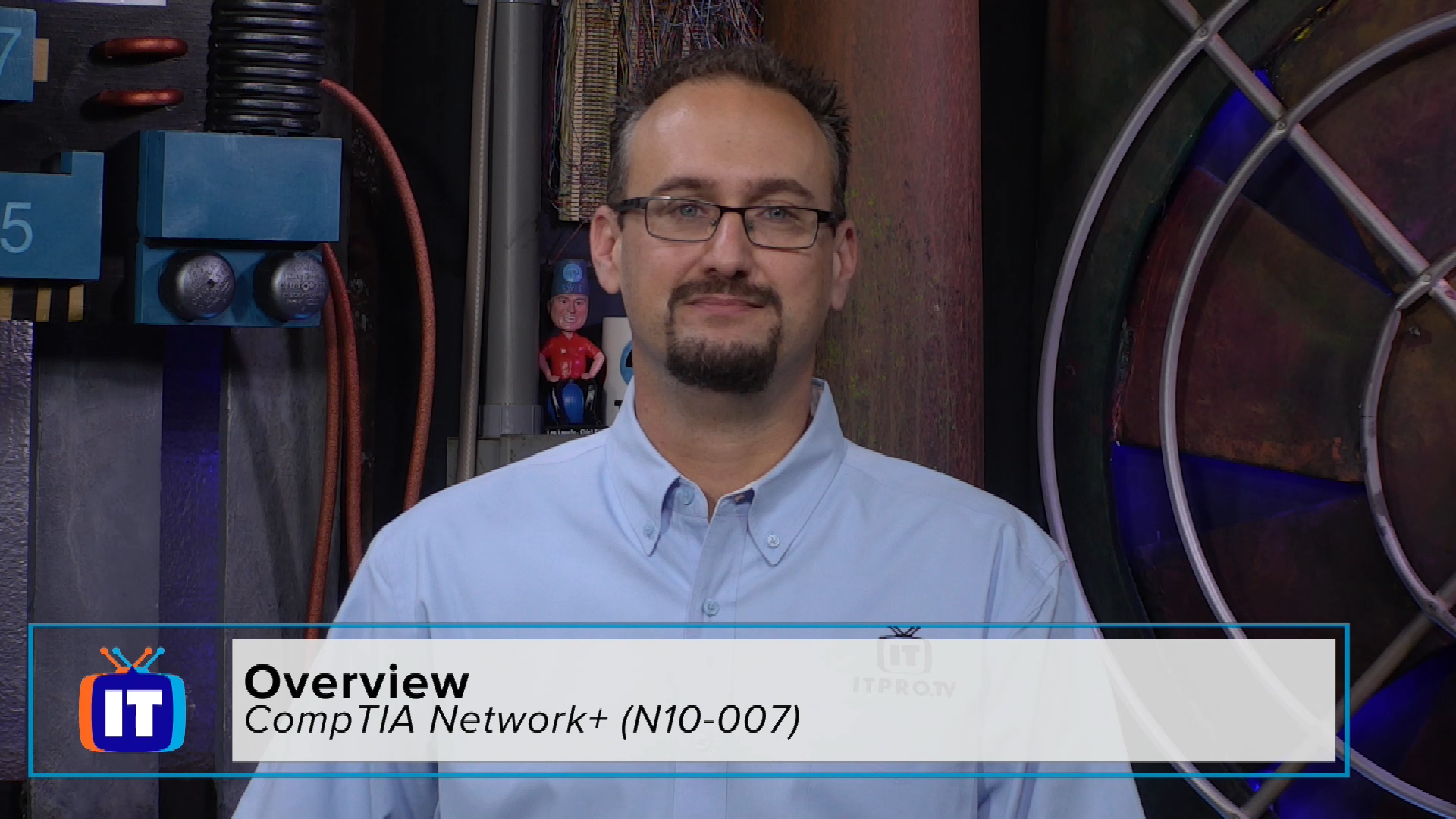 Episode Description
Transcript
The Network+ certification was introduced by CompTIA in 1999 and was designed to do for Network Technicians what the A+ certification did for Computer Technicians. Obtaining Network+ certification shows that the holder possess the same knowledge and skills of someone who has worked for nine months as a Network Technician. The Network+ exam covers topics ranging from theory (terminology, topology and design) to hardware (routers, switches and cabling) and provides users with a broad, vendor neutral perspective on the topics required to work in the field of Network Administration.
[MUSIC] Welcome to ITProTV. In this series, we're gonna be looking at CompTIA's Net+ exam. We'll be looking at, well, what is Network+? Who is this course for, what will be covered, and what are some of the exam details, should you decide to sit For your certification exam. Let's go ahead and let's dive right in and talk about well, what is CompTIA's Net+? Well, it's actually a benchmark for entry level network technicians. It's also accredited as a 17024 certification by your International Organization of Standardization. It's also FISMA compliant as well and it is a worldwide accreditation. Meaning that it doesn't matter if you're here where we are at ITPro.TV in the United States. If you get certified here, your certification is recognized, well, let's say in Barcelona, Spain or if you're maybe in the UK and you get certified there. Well, guess what? If you move or travel over here to the states, your certification will be valid there. So it's worldwide recognization, if you will. Worldwide recognized. Now, the next part is well, who is this course for. Well, candidates that require certification. We're gonna go heavy into the exam objectives and following by those exam objectives, we will be covering those topics. Candidates that need to understand the basic concepts of setting up and maintaining network communications or candidates that are going to take the exam that is based on CompTIA's Net+ N10-007 exam objectives. So what will be covered here? Like we said, the objectives for specifically exam code N10007. We'll be looking at things like the fundamental networking concepts. The knowledge that you need to establish, maintain and to troubleshoot your network connections. We'll also be looking at establishing a basic understanding of enterprise level technologies and that conclude anything from small networks, large networks to cloud and virtualization technologies likewise. We'll also be looking at the basis for network security and access control. Likewise, you're gonna learn an understanding of the common communication protocols and the network connection models and standardizations and specifications that we need when setting up and understanding networks. So what are some of the exam details? Well, when you do decide to sit the CompTIA Net+ 007 exam, you're gonna have 90 questions and right around 90 minutes. This is gonna be a multiple choice or performance and performance-based questions. We say, multiple choice. That means you can choose one of the answers. It'll also have multiple answer questions. In the performance-based questions, you might see where it says, choose two. Each of these two answers represents or each of these two answers represent a complete solution. Performance-based questions can also be things like simulations where they ask you to perform some kind of functionality in order to get the answer right. It could be things like drag and drops where they give you a list of items that you can drag from one column, and put them in the right order in another column. You could see things like even diagrams that ask you to solve a networking question. So keep that in mind that it is not just going to be multiple choice. When you sit this exam, the exams that CompTIA offers have a scoring range of 100 to 900. And for the Net+ exam or Network+ exam, you're gonna have to achieve a 720 or higher in order to pass this exam. At the time of this recording, the exam price was $294. Always keep in mind, check out CompTIA's website to ensure that you have the latest update at pricing information. Now it is recommended, but not required that you have A+ certification and somewhere between 9 to 12 months of IT networking experience. Let's go ahead and take this a little further and look at how the domains break up for our Net+ exam, and here are our domains. As you can see, we have five domains total. You can see that we have networking concepts comprised 23% of the overall exam. We will be looking at things like infrastructure as well at 18% of the exam. Likewise, you'll see that there are network operations. Domain 3.0 comprised of 17% of your overall exam. We also have network security. It's gonna be important to keep those networks secure. That comprises over 20% of your overall exam. And then last, but certainly not least, what's always on everybody's mind when the network is the network troubleshooting and the tools that help assist troubleshooting and that is going to be 22% of your overall exam for a total of 100%. So these are some of the domains that you could see on your exam. If this interests you and you are looking to sit a pass and take that Netwrok+, N10007 exam, then stay tuned. Cuz we got a lot more CompTIA Network+ coming up. [MUSIC]
Just you? Training a whole team? There's an ITProTV plan that fits.
With more than 5,800 hours of engaging video training for IT professionals, you'll find the courses you and your team need to stay current and get the latest certifications.