MTA Networking Fundamentals - 98-366 (UPDATE 2018)
Networking Fundamentals11 H 12 M
You only need to pass one exam to get the MTA designation and the Microsoft Network Fundamentals is a great certification to earn when you're just getting started.
Understanding network infrastructures

Overview
Understand the OSI Networking Model
Understand the OSI Networking Model Part 2
Understand the OSI Networking Model Part 3
Understand Addressing: Binary
Understand Addressing: MAC Address
Understand Addressing: IPv4 Address
Understand Addressing: IPv6 Address
Understand Network Services
Understand TCP/IP Tools

Understanding network hardware

Understand Switches: Hardware
Understand Switches: Functionality
Understand Routers: Functionality
Understand Routers: Configure a Router
Understand Network Media
Understand Network Media Part 2
Understand Network Media Part 3
Understand Network Media Part 4

Understanding protocols and services

Understand Technologies and Topologies
Understand Technologies and Topologies Part 2
Understand Technologies and Topologies Part 3
Understand Infrastructure: LAN
Understand Infrastructure: WAN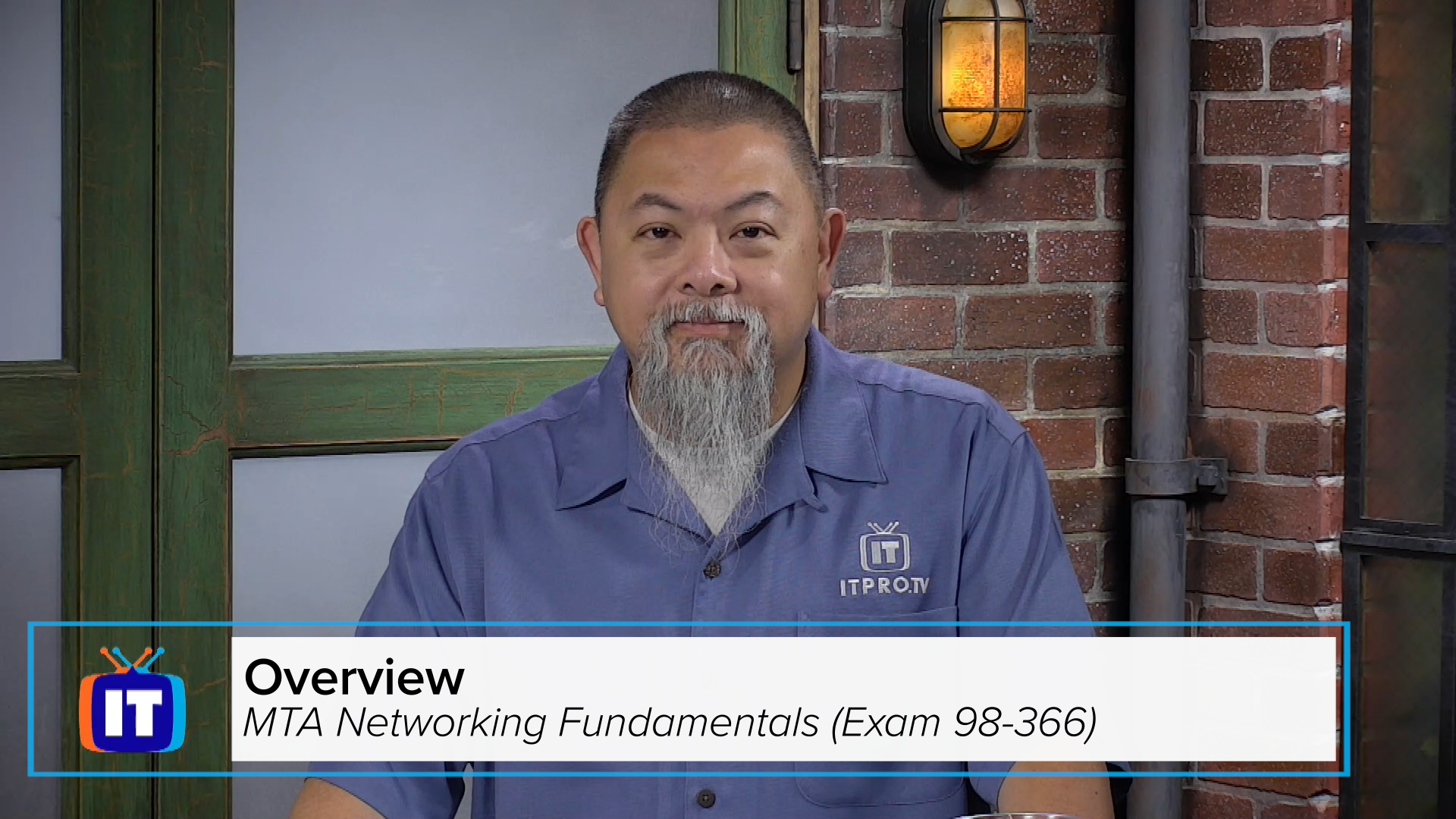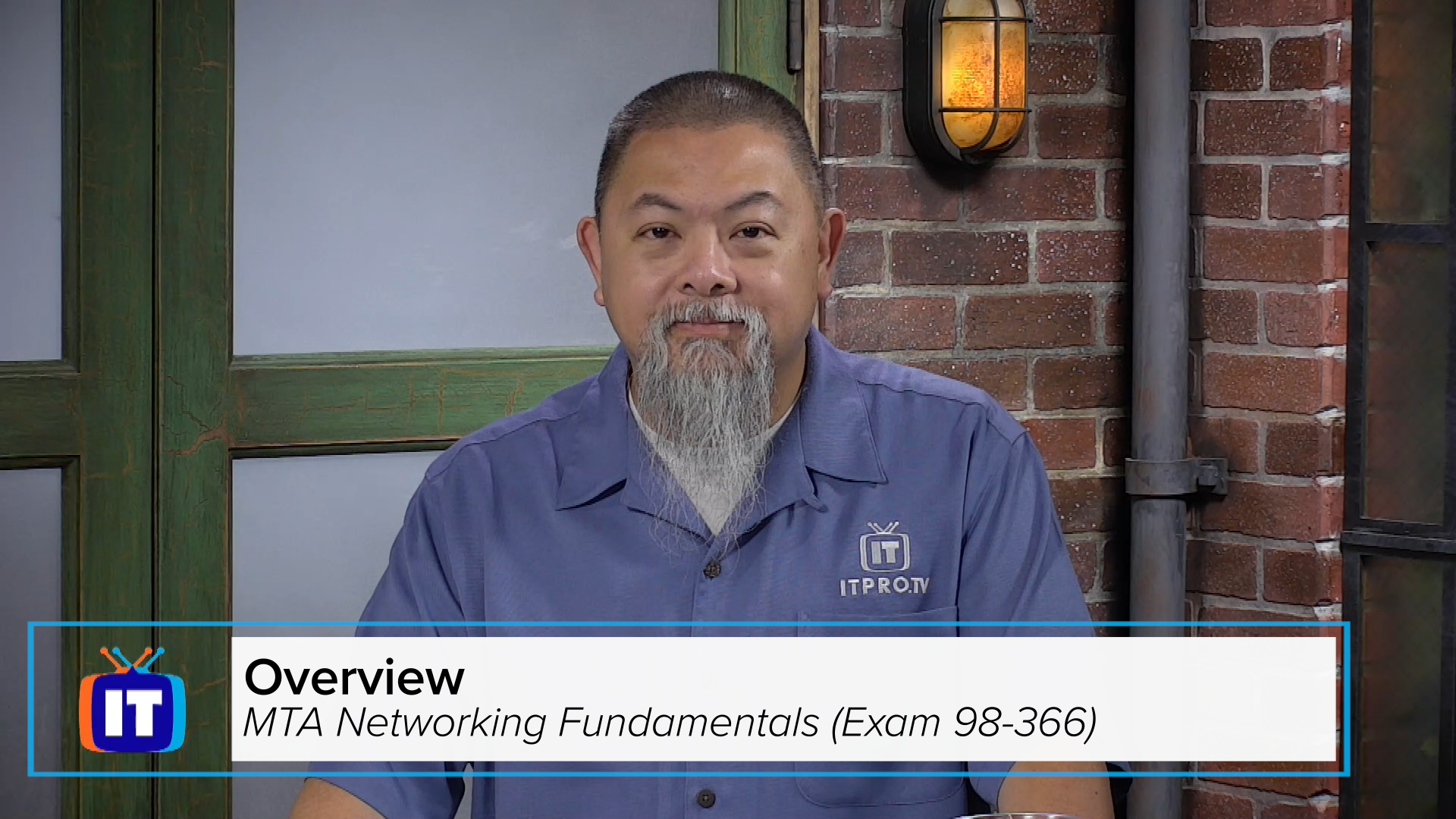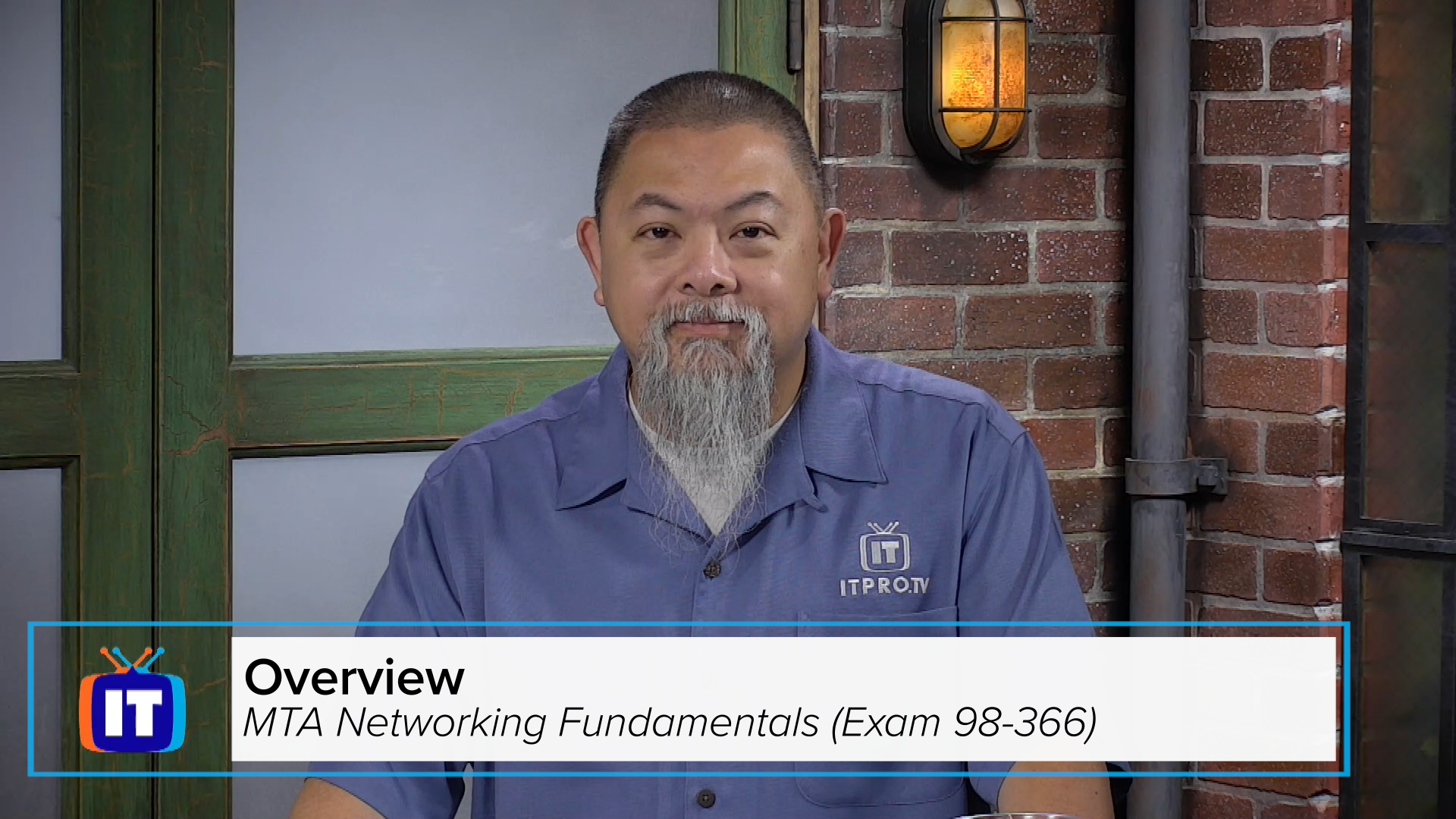 Episode Description
Transcript
The Microsoft Technology Associate (MTA) validates building-block technology concepts and helps students explore, discover and pursue successful careers in Information Technology (IT) in an exciting and rewarding way! As the first step in the Microsoft Technology Certification Series, this new, entry-level certification provides students with confidence, credibility, and differentiation while focusing on the knowledge required for the 98-366: MTA Networking Fundamentals Exam.
[MUSIC] Hello and welcome to the overview for the MTA Networking Fundamentals for Exam 98-366. If you're looking for a career in networking, but you have no networking experience, you're in the right place. This is where we will talk about some of the basic fundamental concepts that you need to have at least knowledge of as you go into a career in networking. So this show will help you out, if you are actually preparing for that. So the way that we'll actually cover this, of course is based on the official exam objectives found from the Microsoft website that has details about the exam. It'll also help you to get ready for the exam too. So let's go ahead and take a look at that website. Now I pulled this up by simply in my favorite search engine, typing in exam 98-366. This exam has been around for a while as you can see. But over here on the right-hand side, this is kinda the most important part is that if you're actually right here in the US, it'll cost you about $127. If you're outside the United States, make sure you click on this link. That will, of course, tell you what the price is gonna be for wherever you'll be scheduling the exam. When you're ready after your studying to prepare to take the exam, you can schedule a Certiport or Peasron VUE from this website. You can click on it and find out details about what you need to do, and get registered for that exam as well. You'll make sure that you have to, of course, pay the actual fee for the exam as well as understand their instructions and be there in plenty of time. Make sure that everything is actually going to be what you need. Now during our show, what we are going to be covering is gonna be underneath the skills measured. So this website will help you to be able to do that. Now even though they list a bunch of different things that we'll be covering, well, this one's a little bit unusual in the very the fact that they've updated the exam objective a little bit of time ago. If I scroll in on the last paragraph right before, it tells you that there have been updates as of January 31st, 2018. So that means what you'll actually get is this, click on this link. And when you click on this link, it'll download for you a PDF and that PDF will have the exam objective update. So the way that outlook, of course is now when you take a look at it, you will end up seeing that you will get a, you'll downloads a document that would look like this. And then it will give you all of the different topics and different technologies that would be covering in the networking fundamentals, as well. So the way that we cover this is out of order. A more logical order here and I start off with understanding protocols, and services. We'll be taking a look at the OSI model, as well as the IP addressing that you'll be using and the two different versions that are out there right now. The understanding of name resolution and why it's so important to us as well as different services you're likely to encounter in a business-like environment, and what those things actually do for you, too. And then of course, the basic protocol of the internet itself which is TCP/IP. We'll take a look at the tools that are actually there for us, so that we can do a little bit of troubleshooting on our own in terms of network. In that point, we will also end up addressing networking hardware. Networking hardware will allow us to understand more about switches and what they do, and some of the different details on how they end up working as well as routers. And of course, media types that you'll encounter as you usually do networking. Now to wrap everything up with all of the different concepts that we've been talking about as well as the network hardware, we would then, we'll tie that all together in understanding network infrastructures. We'll talk about LANS and WANS as well as internet, externet and internet concepts that are out there. Understand a little bit more about wireless networking, as well as this idea of the different network depologies and access methods. So if you are actually ready to take your first step forward towards learning more about networking and a networking career in IT, this is the right place and it begins with your very next click on the first episode. [MUSIC]
Just you? Training a whole team? There's an ITProTV plan that fits.
With more than 5,800 hours of engaging video training for IT professionals, you'll find the courses you and your team need to stay current and get the latest certifications.