Accredited Management of Risk® Foundation
Accredited Management of Risk® Foundation23 H 1 M
Management of Risk® Foundation

Overview
The MoR® Foundation Exam
MoR® Terms and Definitions
MoR® Terms and Definitions Part 2
MoR® Terms and Definitions Part 3
MoR® Terms and Definitions Part 4
What is Management of Risk®
Benefits of MoR®
Barriers to Success
Overcoming Barriers to Success
Corporate Governance
Corporate Governance Part 2
What are MoR® Principles
MoR® Principle: Aligns with Objectives
MoR® Principle: Fits the Context
MoR® Principle: Engages Stakeholder
MoR® Principle: Provides Clear Guidance
MoR® Principle: Informs Decision Making
MoR® Principle: Facilitates Continual Improvement
MoR® Principle: Creates a Supportive Culture
MoR® Principle: Achieves Measurable Value
Reporting on MoR® Principles
Supporting factors to MoR® Principles
MoR® Successive Principles
The MoR® Approach and MoR® Products
The Risk Management Policy
The Risk Management Process Guide
Risk Management Strategies mor
The Risk Register
The Issue Log

MoR Processes

The Management of Risk® Process
Benefits, Success Factors for the MoR® Process
Barriers to the MoR® Process, Communication
MoR® Process Definitions
Defining a Process Activity
Communication in the MoR® Process
MoR® Process Activity: Identify
Identify Activity: Context
Context Techniques: SWOT
Context Techniques: PESTLE Analysis
Context Techniques: RACI
Context Techniques: Stakeholder Mapping
Context Techniques: Horizon Scanning
MoR® Process Activity: Identify the Risks
Risk Identification Technique: Checklists, Prompts
Risk Identification Technique: Ishikawa, Analyses
Risk Identification Technique: Group Techniques
Outputs from Identify the Risk Activity
MoR® Process Activity: Assess
MoR® Prcess Activity: Estimate Assessments
MoR® Process Activity: Evaluate
MoR® Process: Plan
Risk Responses: Threat Responses
Risk Responses: Opportunity Responses
MoR® Process: Implement
Planning Roles and Techniques
Implement Techniques

Embed and Review

Goals and Success Factors of Embed and Review
The Health Check Process
The Maturity Model
Building Awareness of MoR®

MoR Perspectives

Introduction to Management of Risk® Perspectives
The Strategic Perspective
The Programme Perspective
The Project Perspective
The Operational Perspective
Risk Responsibilities

Common Terms and Techniques

Common Terms and Risk Responses
Techniques: PESTLE, SWOT, Horizon Scanning
Stakeholder Analysis, Influence and RACI Matrix
Probability Impact Grid, Summary Risk Profile

Risk Specialisms
Sample Exam

MoR® Foundation Sample Paper
MoR® Foundation Sample Paper Part 2
MoR® Foundation Sample Paper Part 3
Book Your Exam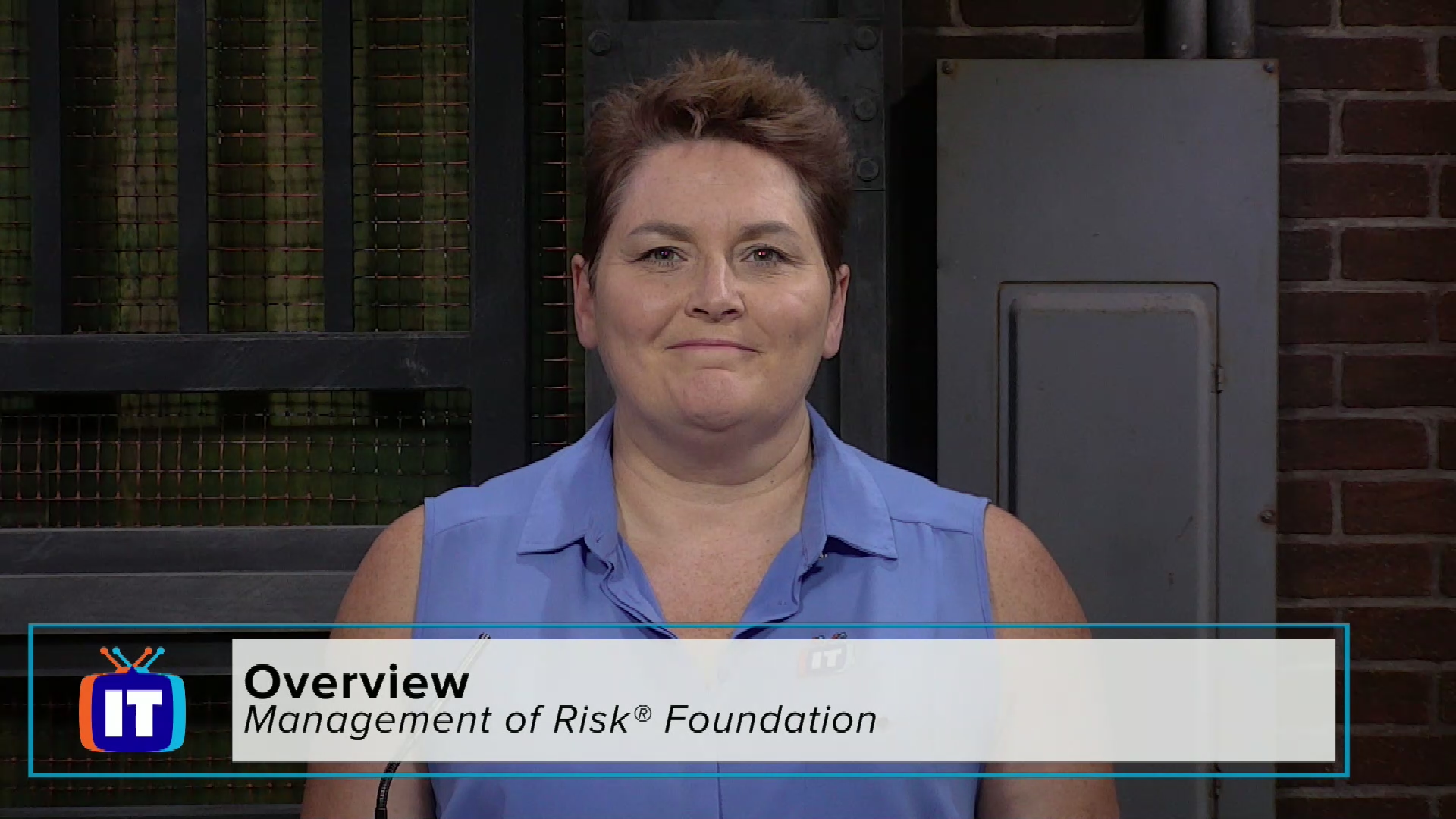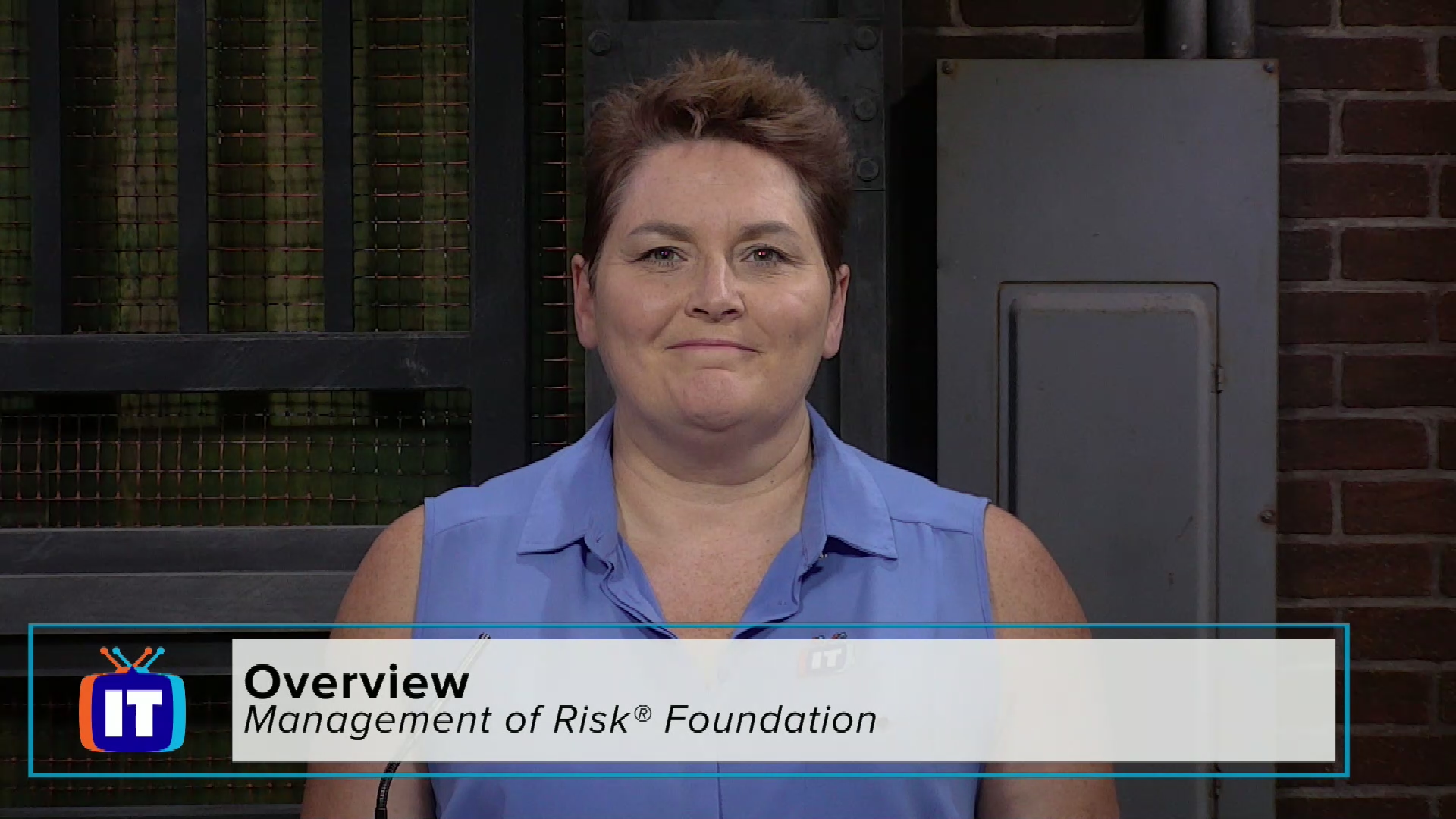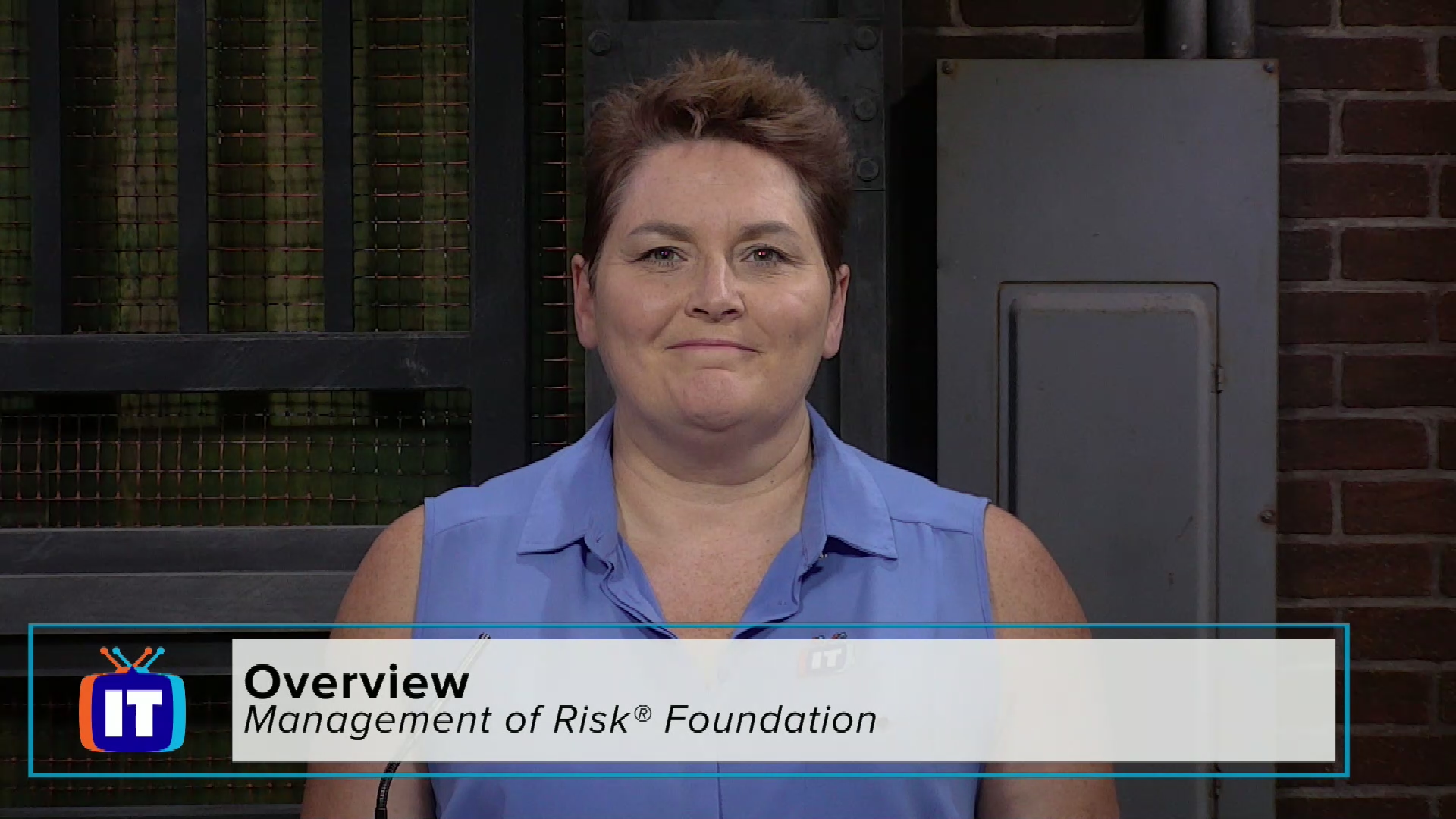 Episode Description
Transcript
Based on AXELOS M_o_R® material. Material is reproduced under license from AXELOS. All rights reserved. M_o_R® is a registered trademark of AXELOS Limited, used under permission of AXELOS Limited. All rights reserved. Management of Risk (M_o_R)® is a route map for risk management. It can help organizations identify, assess and control risks and put in place effective frameworks for making informed decisions.
[MUSIC] Hi, I'm Jo Peacock here with ITProTV, and welcoming you to our Management of Risk Foundation series. In this series we are going to be setting the foundation for the management of risk foundation exam and also for the management of risk practitioner series. This particular series, along with practitioner, is based on the Axelos management of risk guidance. And of course the examinations, as always with Axelos, the examinations are administered by PeopleCert, that's peoplecert.org. So this series will guide you through the basics of management of risk. So we will be looking at perspectives, we will be looking at definitions, we'll be looking at what a risk is, whether it's positive or whether it's negative. What is the difference between a threat and an opportunity? And how can we mitigate against threats and how can we exploit opportunities? We're going to be looking at risk analysis, we're looking at prioritizing risk, and overall will be looking at embedding risk management into your organization. Now as I said, this is our foundation series, and our foundation series is very much looking at the theory of risk management. And as we move into the practitioner theories, we will be also, the practitioner series we will be building on this foundation. And we will be looking at adding context and case studies and exercises to the foundation material. So this is your first step on your management of risk certification route. So I'm gonna invite you to join me and also our host Vonne Smith on our Management of Risk Foundation series, and I hope to see you then. [MUSIC]
Just you? Training a whole team? There's an ITProTV plan that fits.
With more than 5,800 hours of engaging video training for IT professionals, you'll find the courses you and your team need to stay current and get the latest certifications.