CISM (2019)
Certified Information Security Manager24 H 30 M
This course has a practice test
Information Security Governance

Overview
Information Security Governance Structure
Information Security Governance Structure Part 2
Information Security Governance Structure Part 3
Information Security Manager Role
Information Security Manager Role Part 2
IS Standards, Frameworks, and Best Practices
IS Standards, Frameworks, Best Practices Pt. 2
IS Standards, Frameworks, Best Practices Pt. 3
Information Security Governance - Key Points

Information Risk Management

Risk Management Concepts
Risk Management Concepts Part 2
The Risk Management Lifecycle
The Risk Management Lifecycle Part 2
The Risk Management Lifecycle Part 3
The Risk Management Lifecycle Part 4
The Risk Management Lifecycle Part 5
The Risk Management Lifecycle Part 6
The Risk Management Lifecycle Part 7
The Risk Management Lifecycle Part 8
Operational Risk Mangement
Operational Risk Management Part 2
Information Risk Management - Key Points

Information Security Program Development and Management

Information Security Programs
Information Security Programs Part 2
Information Security Programs Part 3
Audits, Audits, Audits
Audits, Audits, Audits Part 2
Audits, Audits, Audits Part 3
Security Program Operations
Security Program Operations Part 2
Security Program Operations Part 3
Security Program Operations Part 4
Security Program Operations Part 5
Security Program Operations Part 6
Security Program Operations Part 7
Security Program Operations Part 8
Security Program Operations Part 9
Info. Security Program Dev. Mgmt - Key Points

Information Security Incident Management

Incident Management Overview
Incident Response Procedure
Incident Response Procedure Part 2
Incident Responses Procedure Part 3
BCP and DRP
BCP and DRP Part 2
BCP and DRP Part 3
BCP and DRP Part 4
BCP and DRP Part 5
Information Security Incident Mgmt - Key Points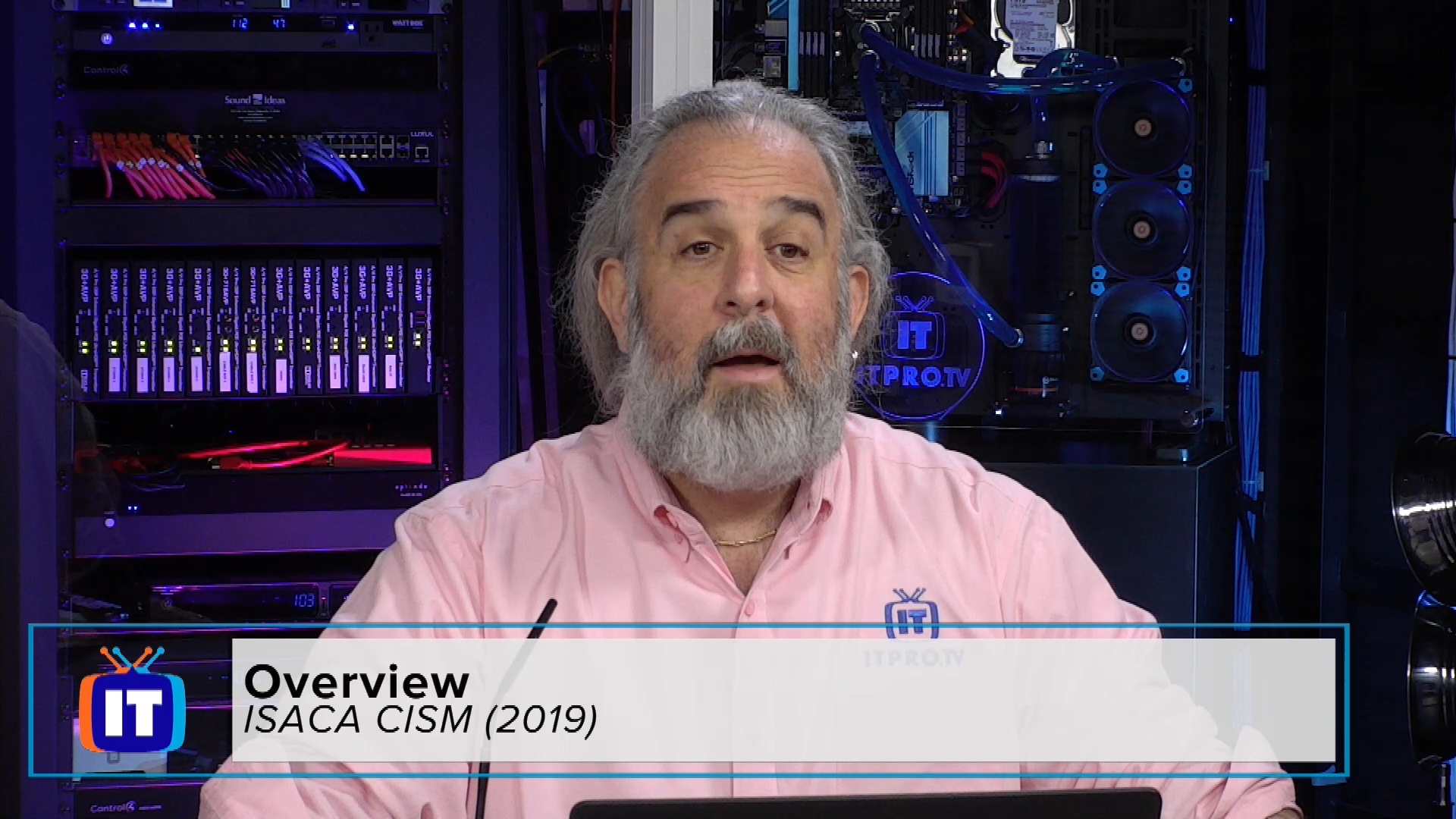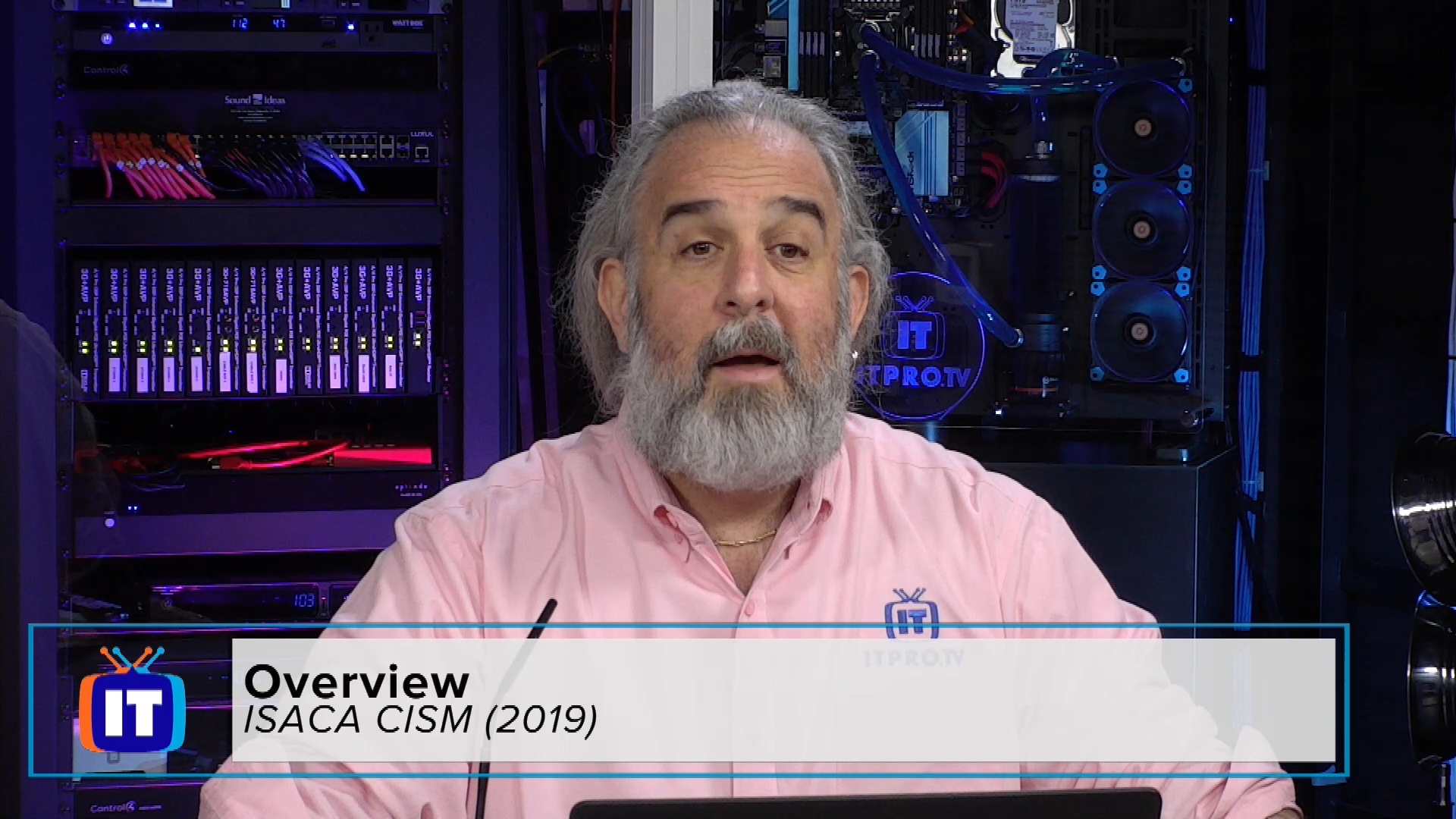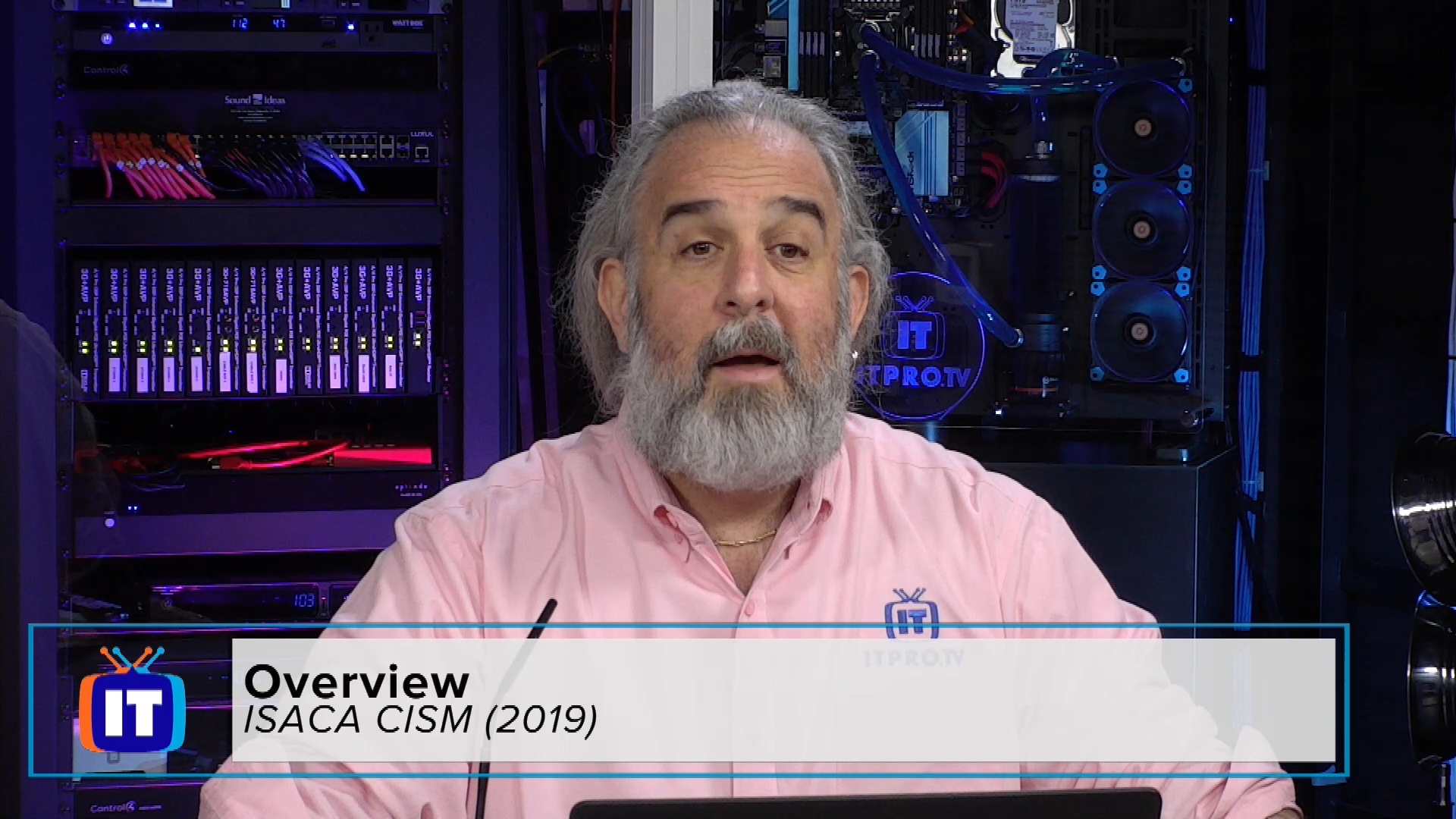 The Certified Information Security Manager certification course is designed for those individuals seeking to enhance their skills, and be recognized for their expertise in Information Security Management. The course promotes the best in security practices from around the world and identifies the individual's knowledge and expertise in this area. The course is intended for individuals seeking to demonstrate mastery of security management skills in a global environment and prepare them for roles in advanced security management. The material contained covers all four of the Domains and associated Task and Knowledge Statements to adequately prepare the individual for passing the CISM exam.
Just you? Training a whole team? There's an ITProTV plan that fits.
With more than 4,000 hours of engaging video training for IT professionals, you'll find the courses you and your team need to stay current and get the latest certifications.