IC3 Living Online
Global Standard 53 H 10 M
IC3 Living Online

Overview
Internet, Navigation and Web Browsing
Licensing
Email Clients
Calendaring and Social Media
Digital Principles and Ethics
Communications, Conferencing and Streaming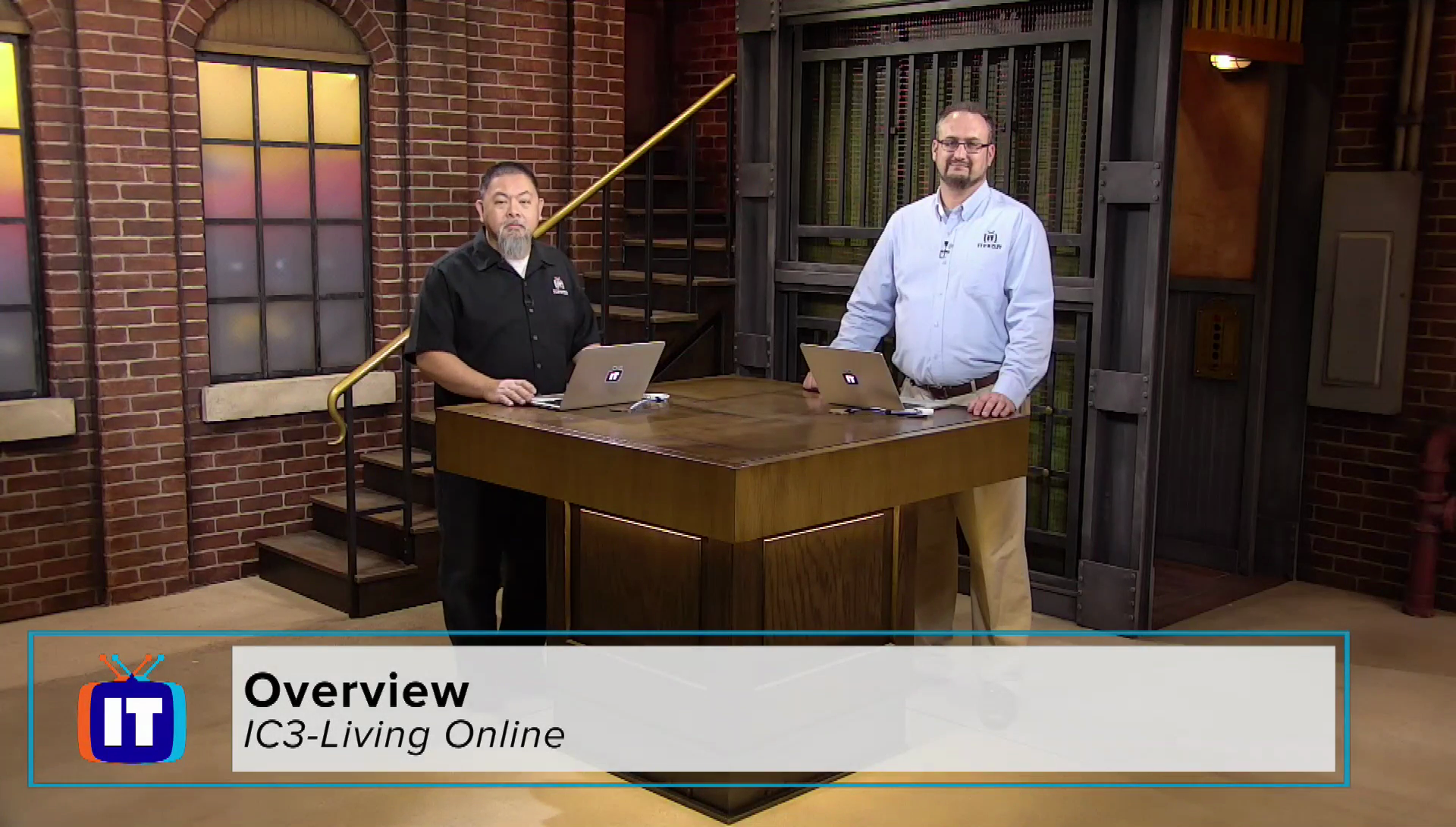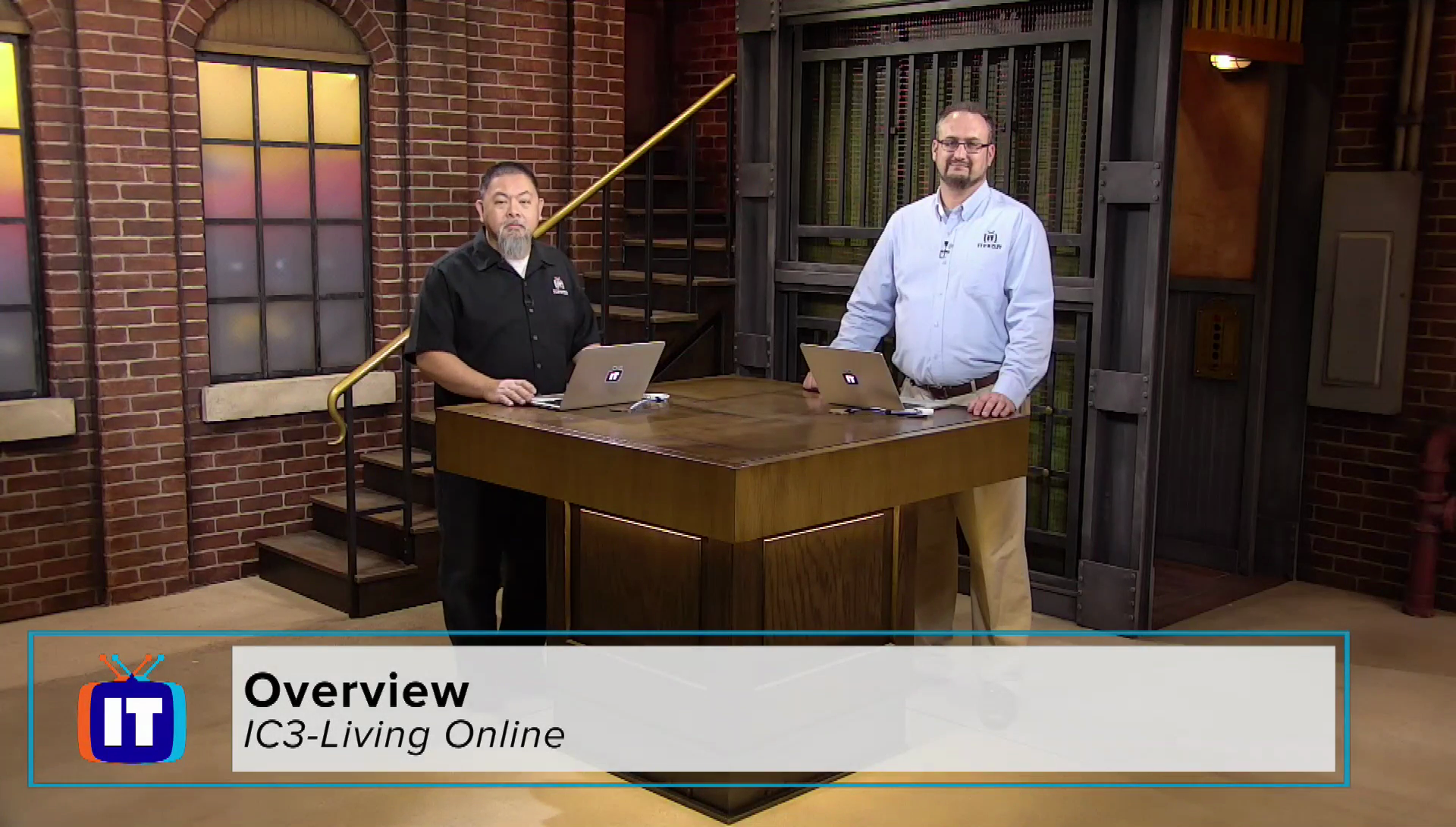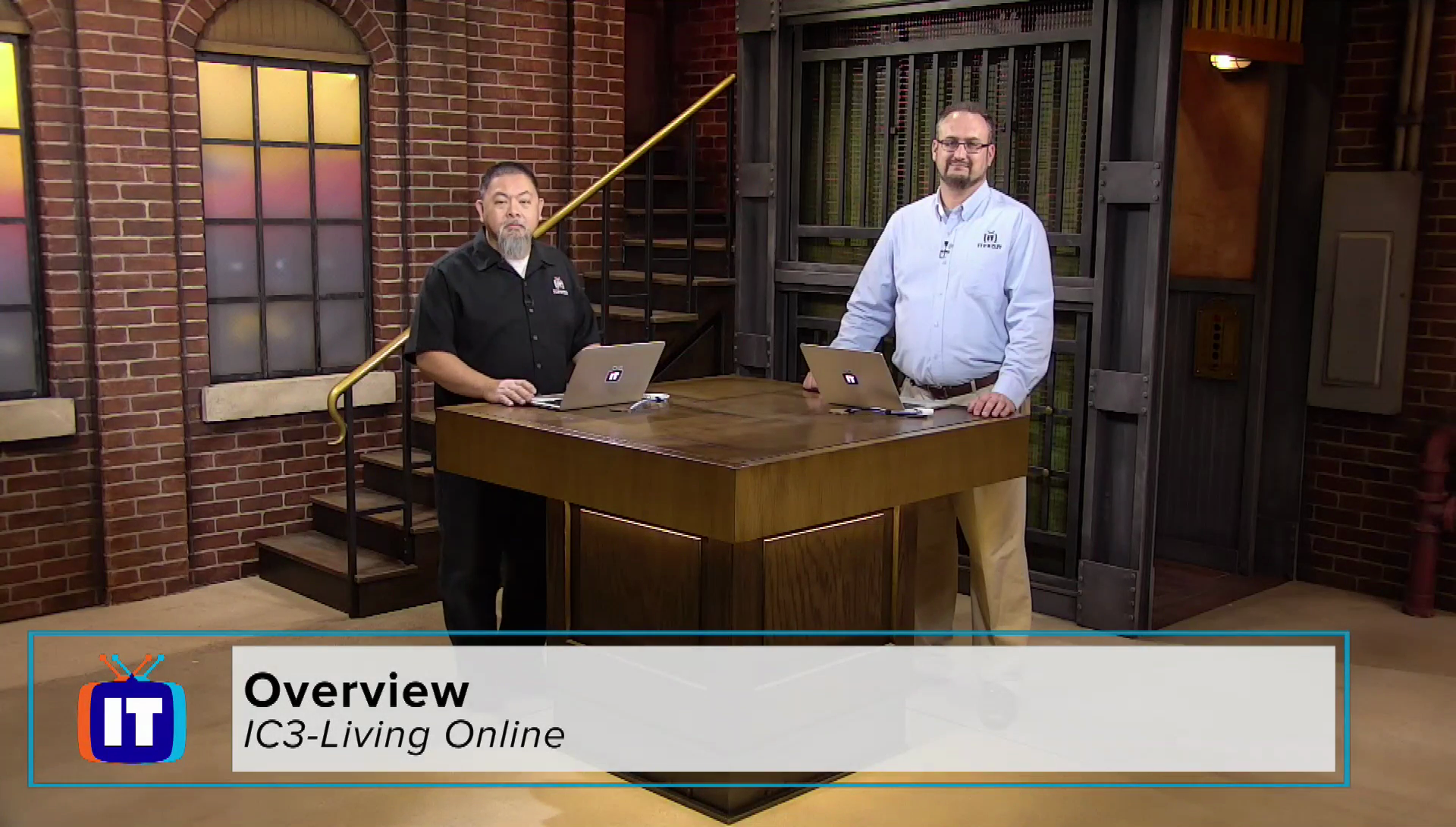 Episode Description
Transcript
In this series the viewer will be introduced to terms and the concepts related to one digital presence today on the Internet. The viewer will learn about online concepts such as WiFi, email, web browsers and how to utilize them, digital ethics, citizenship and more.
Hello, we're here to introduce you to the new IC3-Living Online Show that we're about to begin recording. This particular show is actually designed for, well, a lot of different people. And here to help use understand that better is gonna be Mr. Wes Bryan. Wes, who is the show for, and what topic are we really covering? Well, when it comes to the IC3-Living Online, this is for anybody that's really seeking a foundational knowledge in digital literacy skills, that basically make you more successful. And communicate effectively and productively inside of your work environment or maybe home environment, or maybe your youngsters, students out there, in some kind of grammar schooling, you need to learn a little bit more. So when we look at this, this is gonna really just be based around some of these basic foundational skills that you need, to be competent inside of an online type of environment and connected into networks. And that's one of the things that we're gonna talk about and many things that we're gonna talk about inside of this tech skill as well go through it. Skills ranging from communication networks and the internet. And some of the ways that we can even connect to those networks and connect to the internet out there in general foundational communication technologies. What are some of those technologies that we use today? Well, things like email. Email is a very, very important Important communication technology that you should have a basic understanding inside of work, home, school, the office. However you would like to say that. Other things too like social media. Social networking sites. Some people maybe already have a lot of knowledge in this. But, if you are one of those ones that is just starting out, regardless of what your skill level is, entry level, this might be something that you would consider taking a look at. Other things like messaging services, we're gonna look at things like calendaring and how that helps us in everyday, day to day activities as well as things like sharing calendars with other people, and subscribing to calendars. So you can keep Interconnected with your communications that way. We'll look at things, concepts like online conferencing, which is a very, very prevalent thing out there across the Internet and communication networks, whether you're connected to the Internet or not. And we're gonna show you some of the basics around that. So if you are confronted with those technologies, at least you'll have a running understanding of them. We also look at things like streaming what is streaming media? What does that mean for us and what other ways that we can obtain, we can consume, we can create that content if we need to. And what that means for us in our day to day lives? We will talk every two about web browsing. Web browsing to some might be easy, but if you are just standing out this is gonna be a great place to learn some of those basic concept around the web browsing concept technologies. That allows you to create you to create, locate, and even evaluate the content that you might find online. We'll also look at things like, for instance, the ethical impact of online internet, browsing if you will, or interactions. We'll look at things if you will, like the Internet ethics, and what that means. You might hear concepts like netiquette, and what does that mean for me? If I am one of those ones that is, that are using some of these technologies, and what is my impact on society if you will as a whole, or an individual. So we've got a lot of those coming up, and a lot of that kind of technology and concepts in store for us. >> Wes I know that this is Textco Show, but is there any type of exam that is also associated with this? >> There is an exam that it says it's associated with it. However, we're not gonna be focused really on the certification exam. This is something that if you did want the certification, you didn't wanna look into it. You can look at Certiport. Certiport is one of the one's that provides these standards. The digital literary library, if I can say that. >> Literacy library. >> That's right and if you go up to the Certiport website, you can find a Certiport authorized testing center if you do pursue a certification. However, keep in mind that when it comes to our tech skill here, we're not gonna really be focusing on the certification. If these are some of the technologies that you think you're interested in and would like to know more, join us because we've got more IC3-Living Online coming up. [SOUND]
Just you? Training a whole team? There's an ITProTV plan that fits.
With more than 5,800 hours of engaging video training for IT professionals, you'll find the courses you and your team need to stay current and get the latest certifications.