Accredited ITIL® Intermediate - RCV
Release Control and Validation8 H 11 M
The ITIL® Release, Control, & Validation show centers around the 7 processes within ITIL® Service Transition. It provides a framework for managing transitional changes.
Accredited ITIL Intermediate - RCV

Overview
Review and Orientation
Review and Orientation Part 2
Service Transition Overview
Change Management
Change Management Part 2
Change Management Part 3
Service Asset and Configuration Management
Service Asset and Configuration Management Part 2
Service Asset and Configuration Management Part 3
Service Validation and Testing
Service Validation and Testing Part 2
Release and Deployment Management
Release and Deployment Management Part 2
Release and Deployment Management Part 3
Request Fulfillment
Change Evaluation
Knowledge Management
Technology and Implementation
Sample Paper Review
Sample Paper Review Part 2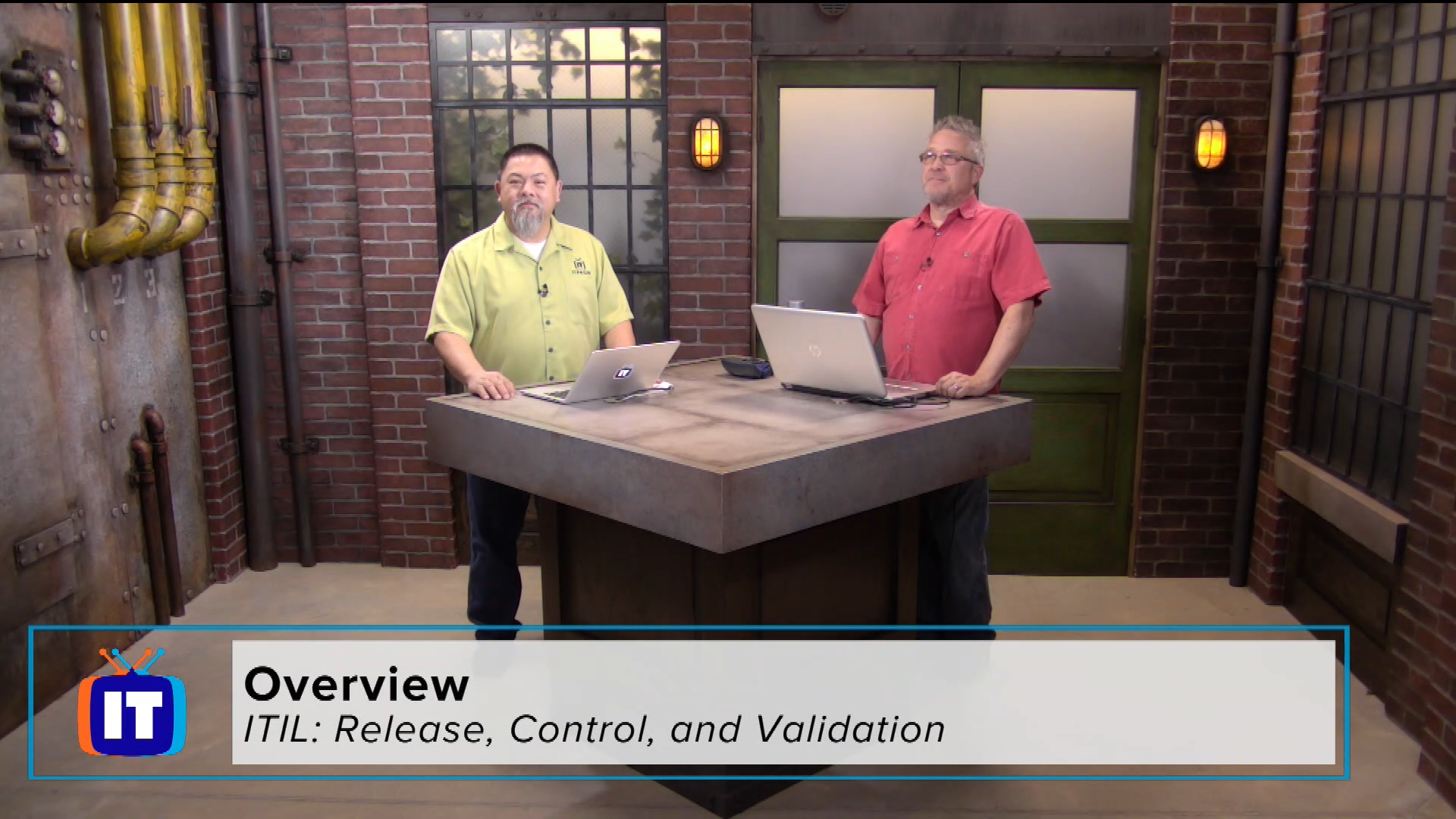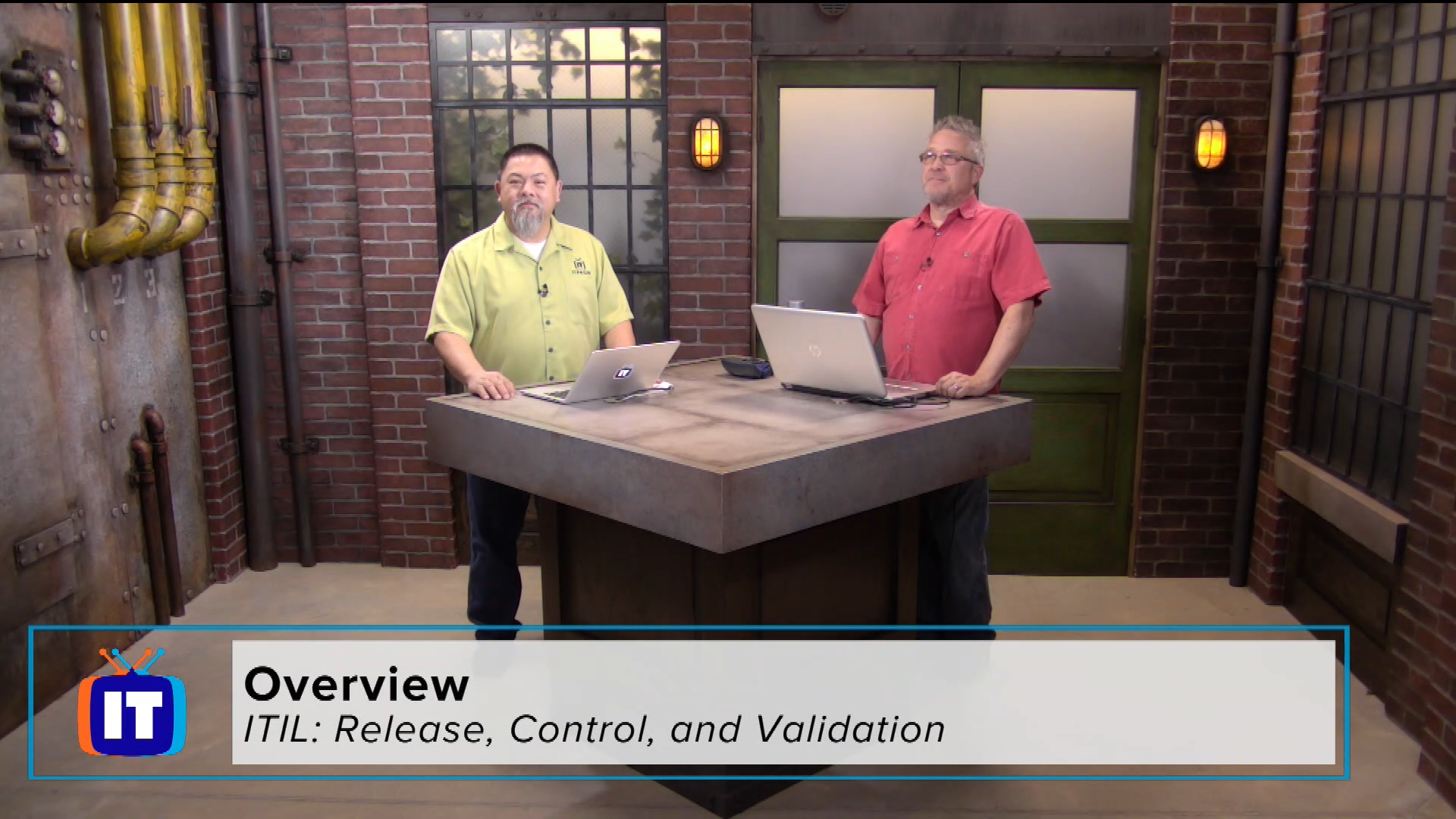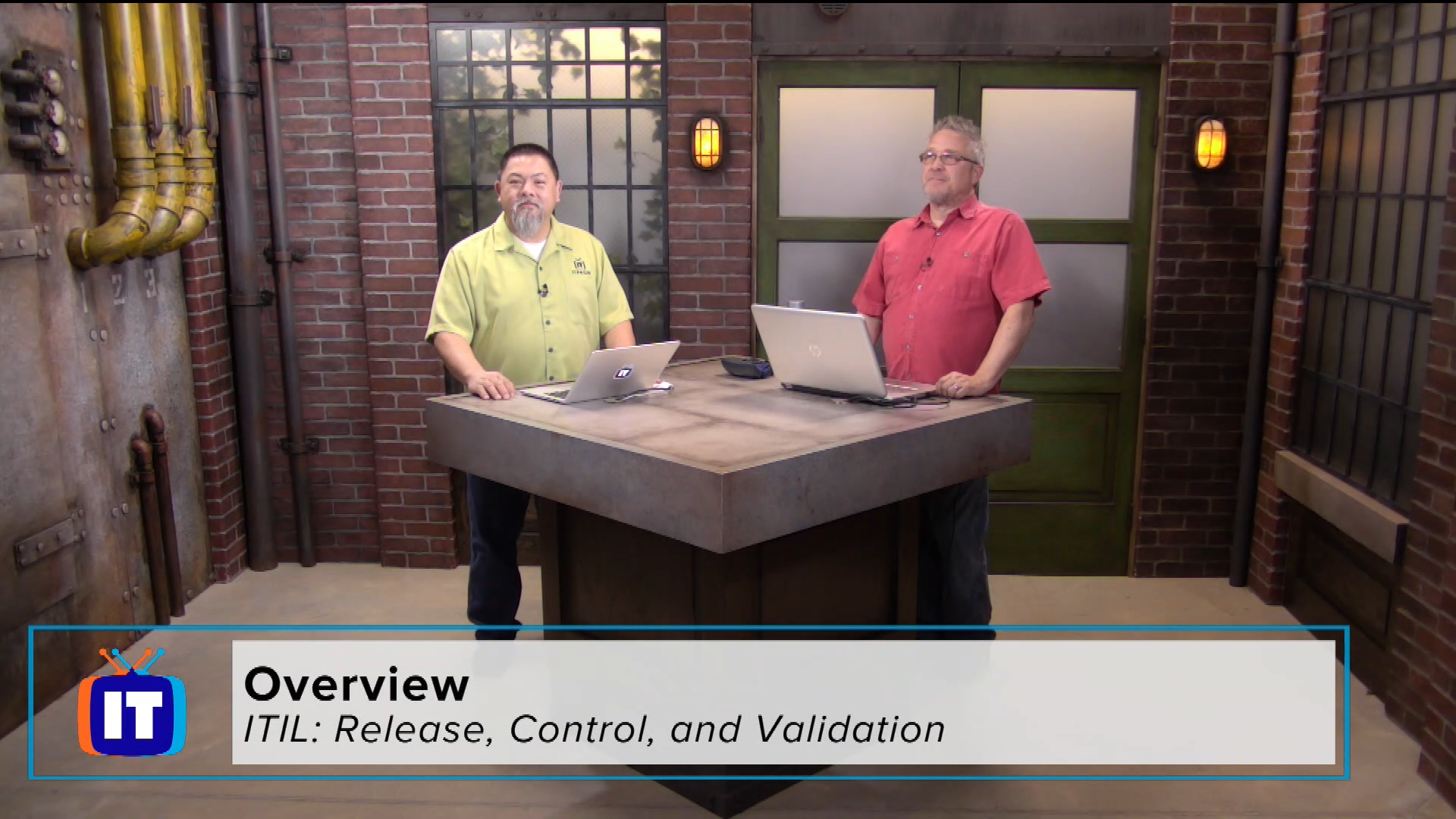 Episode Description
Transcript
The ITIL:Release, Control, & Validation show centers around the 7 processes within the ITIL Service Transition Publication. ITIL RCV is based on practically apply the RCV processes that enable successful planning, testing and implementation of service management that brings business values to an organization. The goal of the show is to provide framework for managing transitional changes, validating service management and helping organizations release & deploy the required service management lifecycle for an organization.
[SOUND]. Hello, we're about to launch into a new show on ITIL: Release, Control, and Validation. We wanna make sure that you have an understanding of what's going on, and here to help us understand not only some exam details but also what we'll be covering in this new show is gonna be Mr. Terry Decker. So, Terry, tell us what we're actually gonna be taking a look at. >> Well, this is an intermediate level course, release, control, and validation. And if you've had foundation, that's actually a prerequisite for this course, you will have taken a survey of all the topics in ITIL at a very superficial level. And you need it to know some things and memorize some things. This one's gonna dive deeper and actually make you apply knowledge to pass the exam. So just take a look here at some of the graphical treatments of this. First of all, the expectation of this is that certainly you're gonna learn from the episodes. I'm going to be giving lots of real world examples in these upcoming episodes and make sure you understand conceptually how these things apply in the real world and how this knowledge can be applied in an exam setting. But there's going to be some self-study. There's also a lot of value engaging in discussion forums. There you can ask questions of other experts, other students. And there's also some practice exams available as downloads as well. That is probably the most valuable single download in this suite of downloads. All right. The analysis that you need to provide is not just providing knowledge. You're going to have to apply this knowledge. It falls on this continuum of learning called Bloom's taxonomy. And you'll see it's not just remembering things. That's what foundation was. It was remembering and understanding. We've moved up the Bloom's taxonomy scale a little bit to Level 3 and Level 4, where you analyze and then apply this information. So it's gonna be a deeper dive and actually going to be applying this knowledge, not just regurgitating it, right. So to do that, you're gonna be listening to me, take part in the discussions, and absolutely critical that you look at the exercises and follow through with the practice exams. All of these are available for downloads, okay? So how does this fit into the qualification scheme of ITIL? Well, first of all, I'm an accredited trainer. I had to go through and pass muster as an ITL Expert. That's an official title. And that was given to my by following through with appropriate training and exams through an accredited training organization. I'm representing PassionIT Group as an ATO, an authorized training organization. And here working with the affiliate ITProTV to deliver this training in an accredited fashion, right? The exam institutes, PeopleCert, EXIN, they are actually the organizations that accredit these training schemes, right? So the course materials I'm presenting to you in lecture have been reviewed by the accrediting agency, they've been blessed by the accrediting agency as being valid, and map to the official syllabus as owned by AXELOS, you'll see there at the bottom of the pyramid. So AXELOS is the parent and AXELOS is the one that enable these other parts of the accreditation scheme to work, okay. This is the exam scheme, these are the various exams you could be taking. If you look in the green area there, you'll see lifecycle stages. They're abbreviated, service strategy, service design, transition, operations, and continual service improvement. Over here on the right, you'll see OSA, PPO, RCV, that's this course, Release Control and Validation. They give you a few more credits. What RCV does is it takes from multiple books on the left and creates a course that's operationally relevant, right. So Release, Control, and Validation is this collection of topics that point to the value of delivering high quality services through appropriate Release, Control, and Validation processes. We're gonna be looking at those seven processes in the upcoming episodes, right. Another certification path you could be on, is toward expert, where you collect these credits, right? So if you get two credits for foundation, you can get three credits for practitioner. Three credits for the ones there in the green, which are called the lifecycle modules. The capability modules gives you four credits. So passing this exam is going to give you four credits toward the accreditation as an ITIL expert. Once you have 17 credits in your pocket, you're eligible to take the course called Managing Across the Lifecycle. You see it there in green, near the top of this house. That gives you five credits. 17 plus the 5 give you the 22 credits you need to be deemed an ITIL expert. If you're so inclined, you could also consider an ITIL Master certification. This one is very hard to get in that you have to write and have basically a thesis, have a good command of all the principles of ITIL and show that you have that command in your paper, right? A lot of pretty pictures, lot of pretty graphs. You send that good 20 page paper or so off to the accrediting agencies along with a check for $5,000. And then you can have people snatch the pebble from your hand and be called an ITIL master, okay. So that's the exam scheme of things. Again, you're just one going into the intermediates here with RVC. You'll see the other ones. In upcoming episodes here at ITProTV, we'll be tackling some of these other topics as well, okay. So moving forward then is again this recognition that you need to be providing some solid information, right. We're looking here at the lifecycle modules. We're in capabilities in RCV. The exam itself is only eight questions, so the margin of error is kind of small. And you'll see that there's also gradient scoring. What that means is that for these eight questions on the exam, you're going to be analyzing a scenario and then answering a question based on that specific scenario. If you pick the best answer out of the four choices, you'll get a 5. If you pick the next best answer, you'll get 3, a 1, and a 0, etc. So if you do the math here, you gotta do eight questions, the max you can get on each question is 5, so the total you could score of 100% is getting 40, right? Your score would be 40. Passing is 28, 70% of all available marks, right? If you do the math on that, across eight questions, that means if you got six three point answers for 18 plus two 5 point answers for 10, that would be the sweet spot of 28 out of 40. Of course, as you do the math on that, picking a zero answer, of course is going to mean you're going to have to find some more five answers later on, on the exam. So they are challenging. They are fair. But they certainly are challenging as they try to test your ability not just to regurgitate knowledge, but to apply knowledge, which is an interesting trick on an exam. Again, very challenging, also very fair. And the good news is, you have some resources at your fingertips, right? These resources include practice exams themselves, and you can download these. There's a case study, there are exercises associated with that case study. And there's also a glossary available for download. This download is available to you within the episodes themselves to subscribers. And you can download those that are available throughout the entire show, right? I highly encourage you to rely on those resources and use them as self study tools as you're taking the episodes. A great approach would be, watch an episode, do some review, watch an episode, do some review. The discussion forums are also a valuable place to turn to. ITProTV provides a discussion forum, you can engage with other students, you can also engage with experts. I'll be there to answer some questions, other experts in the field will be there to answer your questions. A very great way to learn and get over on this challenge of mastering the topics of RCV. The exam itself is available through an online format. You can take it in the comfort of your home. You don't have to go to a Sylvan Prometric site for instance. You don't have to take the course in a classroom and have a live instructor there proctoring your exam. You can take the exam online. As long as you have sufficient bandwidth through your network and have a camera on your laptop so they can see that you're not cheating, you show them your desk with your camera and everything so you don't have any materials on your desk, you can do the course online at your convenience at a time of your choosing. Right, so that's pretty cool. The exam vouchers themselves are available through PassionIT Group, the organization I'm representing today. The PassionIT Group, the instructions for that are available in the download for how you can get your voucher and redeem that. And actually, through ITProTV, they're offering a discount for those vouchers, which is also very powerful, okay. Those practice exams, I can't reinforce just how valuable those are. Of all the downloads, and they're all valuable, of all of those downloads, the practice exams themselves are very valuable. They give you an idea to get inside the head of the test maker while also practicing your skills and applying this knowledge. That's what you'd expect to find in terms of exams. Over the course of all the episodes within this series, you're going to dive deep into many processes related to [INAUDIBLE] validation. I look forward to seeing you in those episodes. [SOUND]
Just you? Training a whole team? There's an ITProTV plan that fits.
With more than 5,800 hours of engaging video training for IT professionals, you'll find the courses you and your team need to stay current and get the latest certifications.