Accredited ITIL® Intermediate - PPO
Planning, Protection and Optimization6 H 58 M
The ITIL® Planning, Protection and Optimization module focuses on the practical application of PPO to ensure services are adopted to the users' needs.
ITIL Intermediate - PPO

Overview
Setup, Logistics and Expectations
Foudation Refresher
Foundation Refresher Part 2
The Service Design Context of PPO
Capacity Management
Capacity Management Part 2
Availability Management
Availability Management Part 2
Availability Management Part 3
IT Service Continuity Management
IT Service Continuity Management Part 2
Information Security Management
Demand Management
Technology and Implementation Considerations
Sample Paper Review
Sample Paper Review Part 2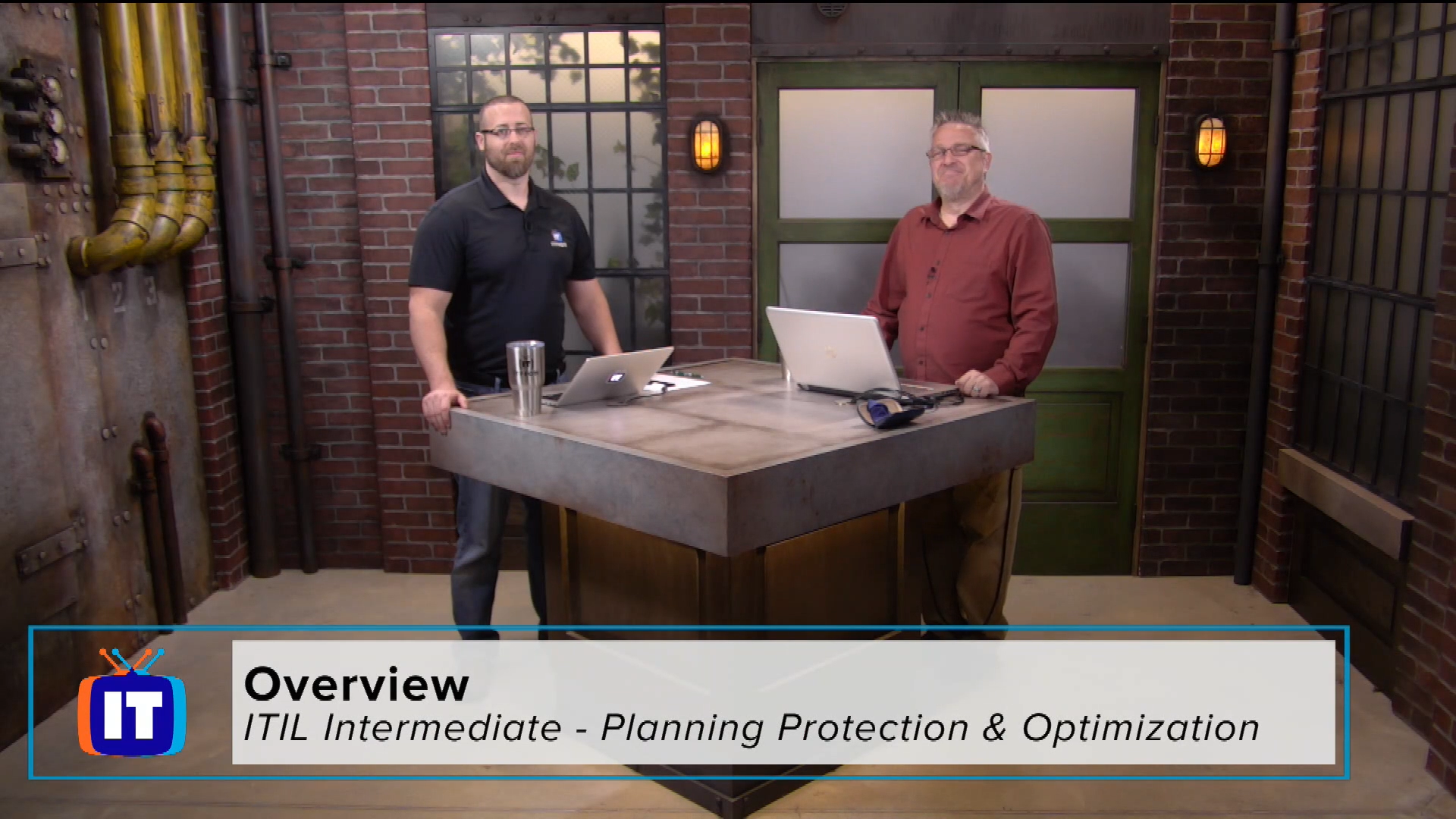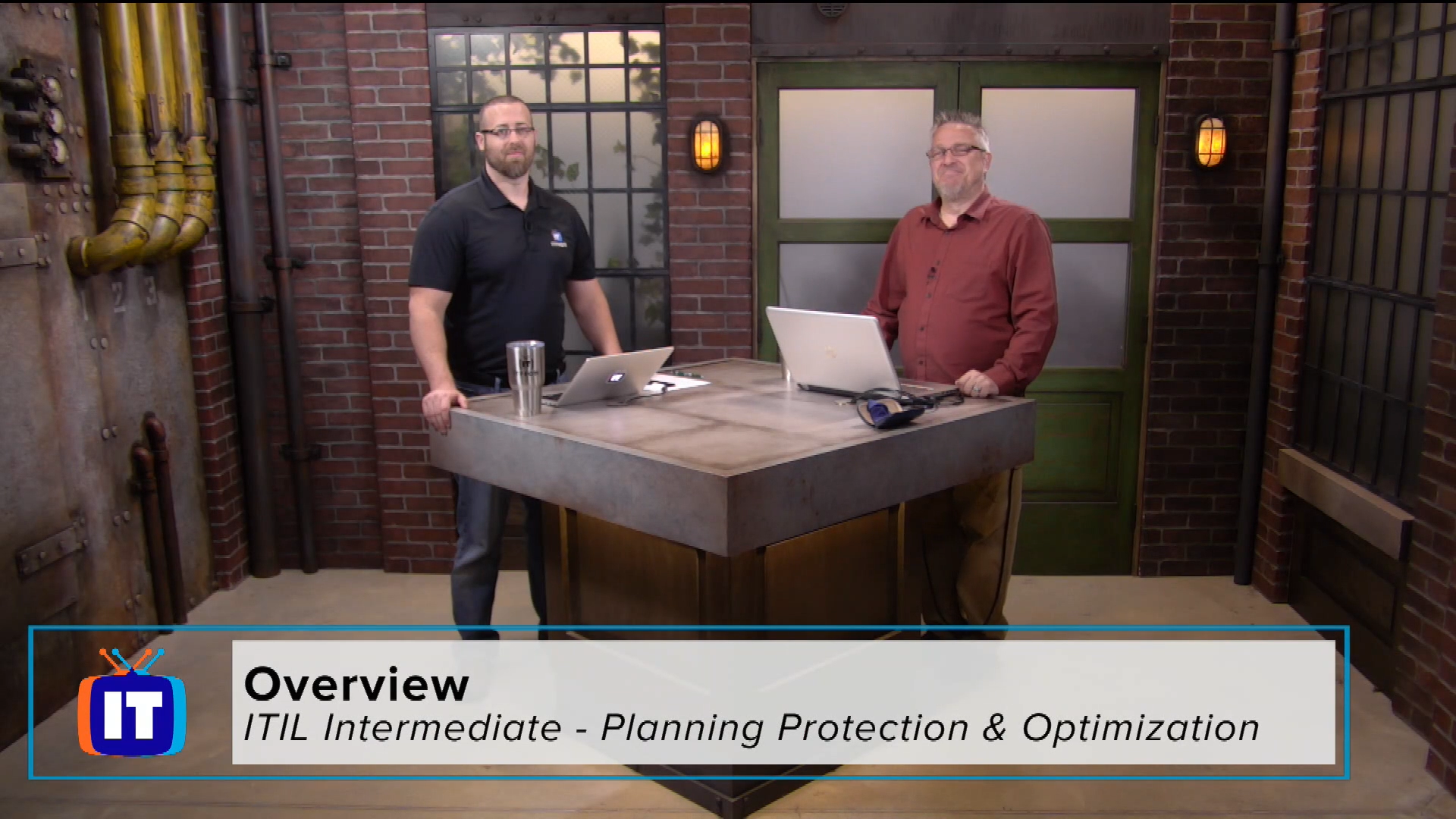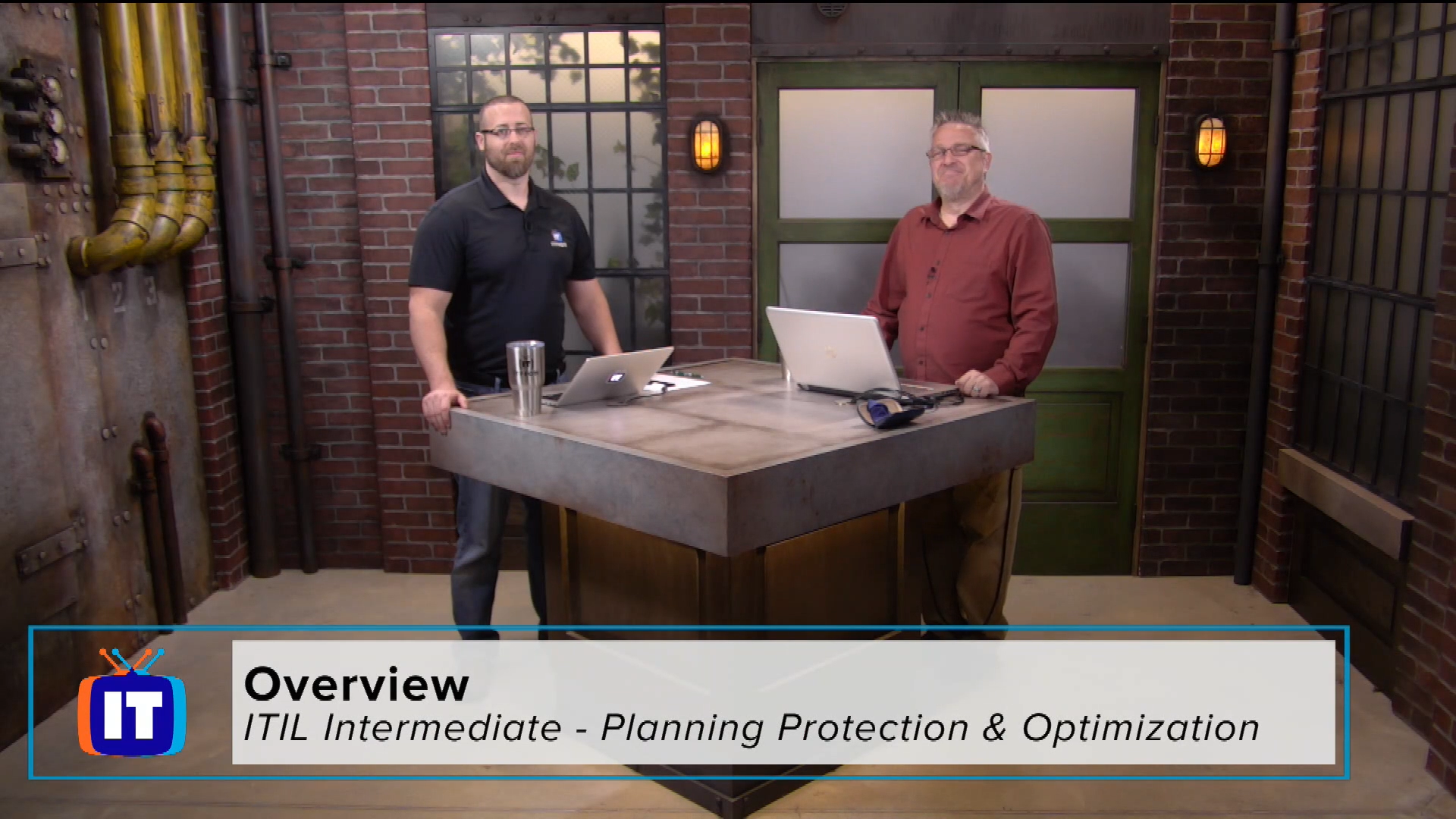 Episode Description
Transcript
In this episode, Daniel and Terry give a general overview of what to expect in the upcoming ITIL PPO series. They cover topics like who is the intended audience, what the scope of the series will cover, and what are some specific topics that will be addressed.
[SOUND] >> In this segment, we're gonna take a brief look at what you can expect from our upcoming ITIL PPO series, and joining us in the studio is Mr. Terry Decker. Terry, can you give us a brief introduction or just an overview of what we can expect in that series? >> Well, PPO, Planning Protection & Optimization is one of the capability modules designed by the ITIL accredited curriculum and it focuses on five processes. Capacity management, availability management, continuity management, security management and demand management. Those five processes, four of them that is, come from service design, one of them comes from service strategy. And it looks at those in a combined way; how they interact with each other, and dives deep into the specific activities of each of those processes. >> Excellent, now, could you give us an idea of who the intended audience for this exam would be? Well, one, yeah, one key audience member is going to be someone perhaps on the path of getting their ITIL expert credential. This is a capability module, it's worth four credits, so if you pass that exam you get four credits toward the collection of credits you need to sit the Capstone exam which is called, Managing Across the Life Cycles. So four credits await with successful completion of the exam and operationally speaking, the audience is gonna be those that are involved in strategic and design activities for the IT service organization. So demand management plays out in strategy, the other four play out in design as relates to planning, protection and optimization, you really are trying to build effective services that are resilient to change, and are capable of growing with the business. So business focus, service designed activities is the primary focus of PPO. >> Excellent, and now we have an idea of who might be watching this. Obviously, there's exam takes who are part of that group. When it comes to the exams, could you give us an idea of what is like to get registered or just what it's gonna be like to take the exam. >> Well, I'm here, I represent PassionIT Group which is a portal passionitgroup.com you can go there and get information about exams at a very specific level, you can order your exam vouchers there at a discount and through PassionIT Group, you also get access to other resources like course materials. As you sign up for this course, as you're taking the curriculum, there is a wealth of information in a zip file that has exam prep, activities, knowledge check activities, as well as specific instructions for how you get those vouchers ordered and how you get your exam scheduled. The exam itself is a little bit different than the foundation exam If you've had an intermediate Excel book exam before you'll find it very similar. They're scenario based questions, only eight of them, and they're gradient scoring, meaning that one answer will give you five points of value. Another answer will give you three, other answers will give you less, right? So you've got to pick a better answer. You're analyzing things. So these intermediate level exams are not rote memorization, they are taking knowledge and applying it, which make it pretty fun actually. >> Very, very cool. Well Terry, we do thank you for that information and if that sounds like something that might interest you, we look forward to seeing you in the up coming series. [SOUND]
Just you? Training a whole team? There's an ITProTV plan that fits.
With more than 5,800 hours of engaging video training for IT professionals, you'll find the courses you and your team need to stay current and get the latest certifications.