Accredited ITIL® Intermediate - CSI
Continual Service Improvement9 H 43 M
The ITIL® Continual Service Improvement module focuses on how organizations or individuals can strategically review the products and services they have produced.
Accredited ITIL Intermediate - CSI

Introduction to ITIL Intermediate
ITIL Foundation Refresher
ITIL Foundation Refresher Part 2
CSI Scope and Objectives
CSI Scope and Objectives Part 2
CSI Principles
CSI Principles Part 2
7 Step Improvement Process
7 Step Improvement Process Part 2
7 Step Improvement Process Part 3
7 Step Improvement Process Part 4
CSI Techniques - Assessments
CSI Techniques - Benchmarks
CSI Techniques - Service Measurements
CSI Techniques - Scorecard, SWOT and ROI
CSI Techniques - CSI and Availability Mgmt
CSI Techniques - CSI and Lifecycle Processes
Organizing for CSI
Technology Considerations for CSI
Implementation and Communication
Challenges, CSFs and Risks
Exam Review Introduction
Exam Review
Exam Review Part 2
Introduction to ITIL Intermediate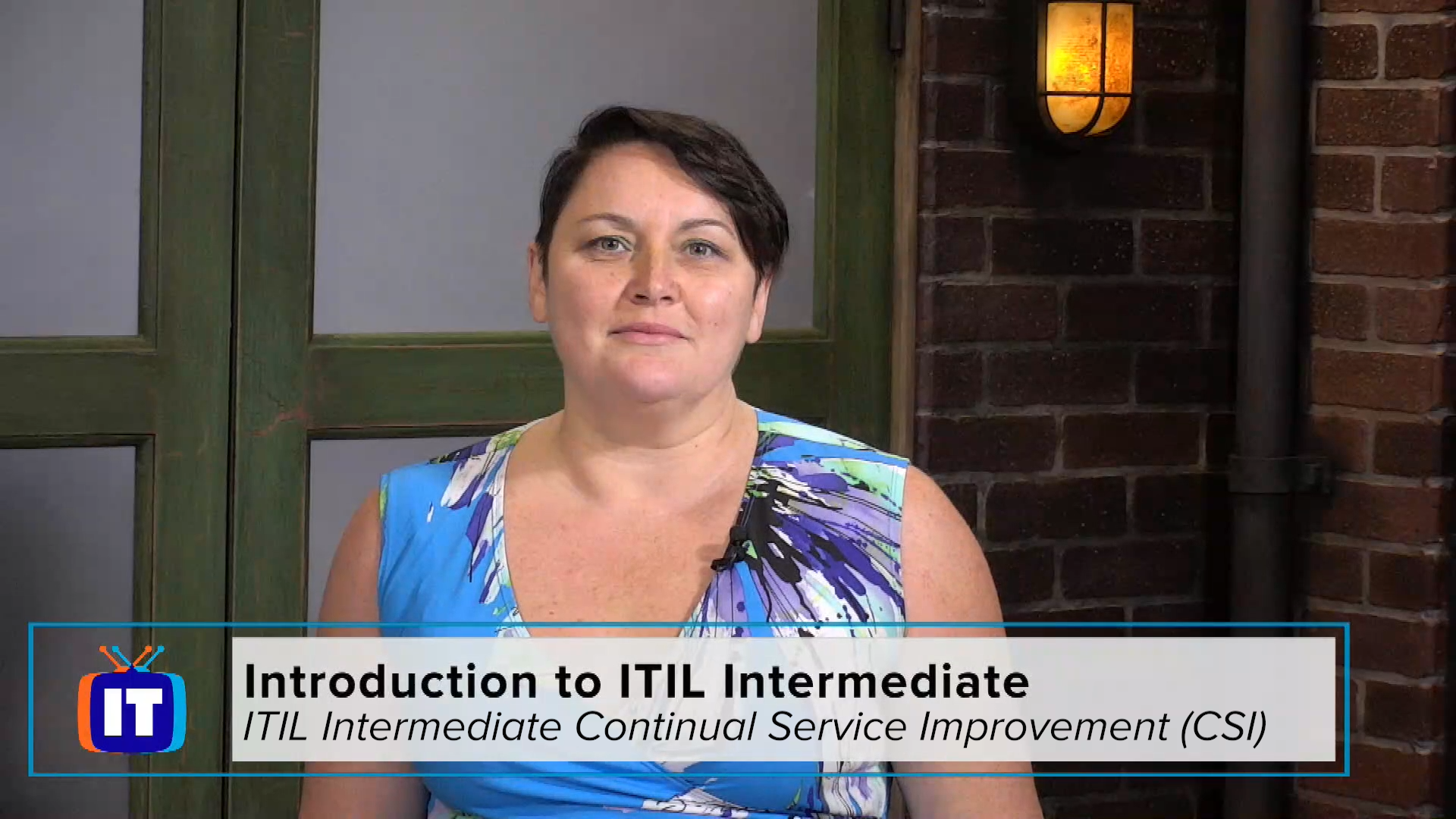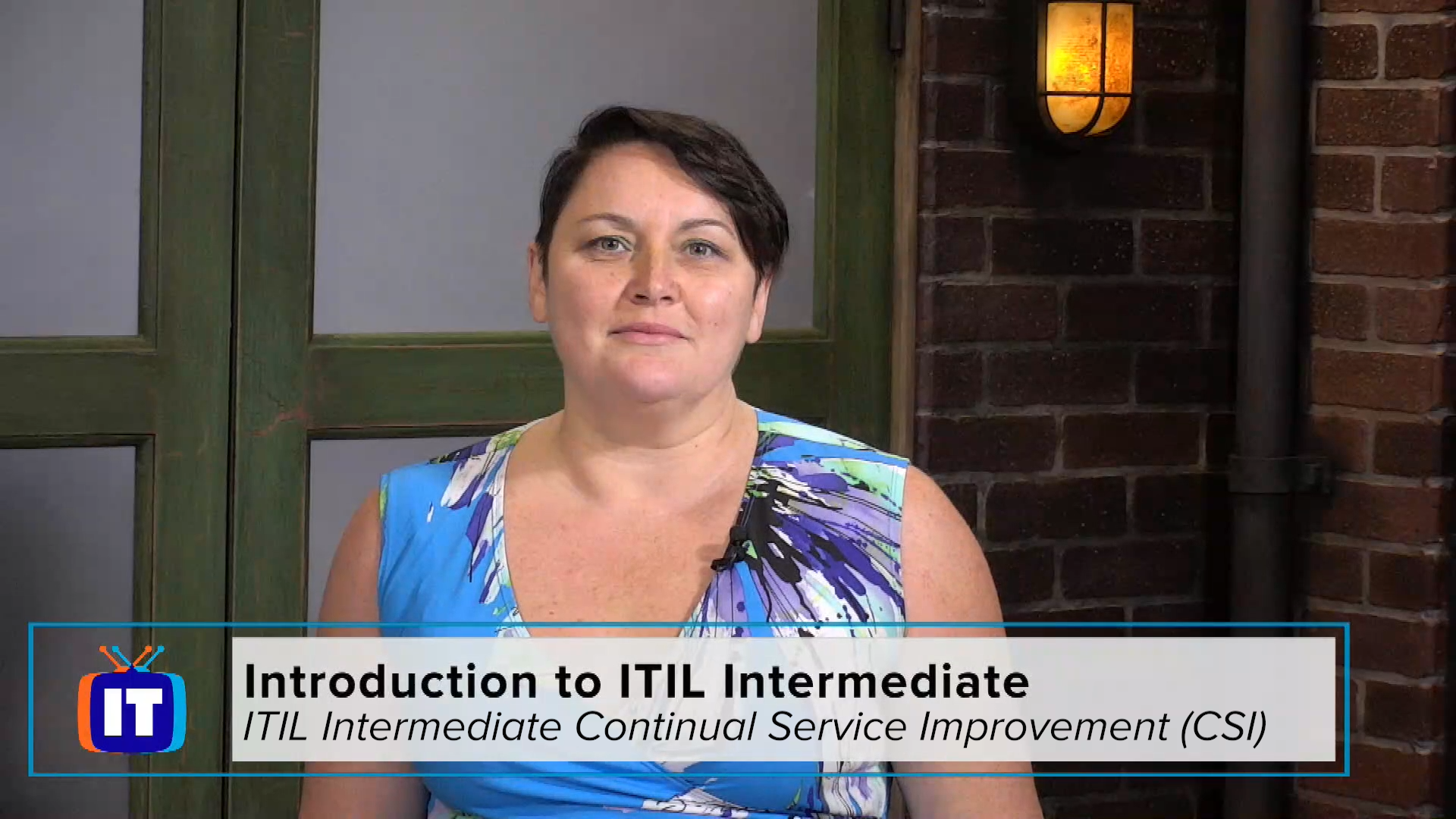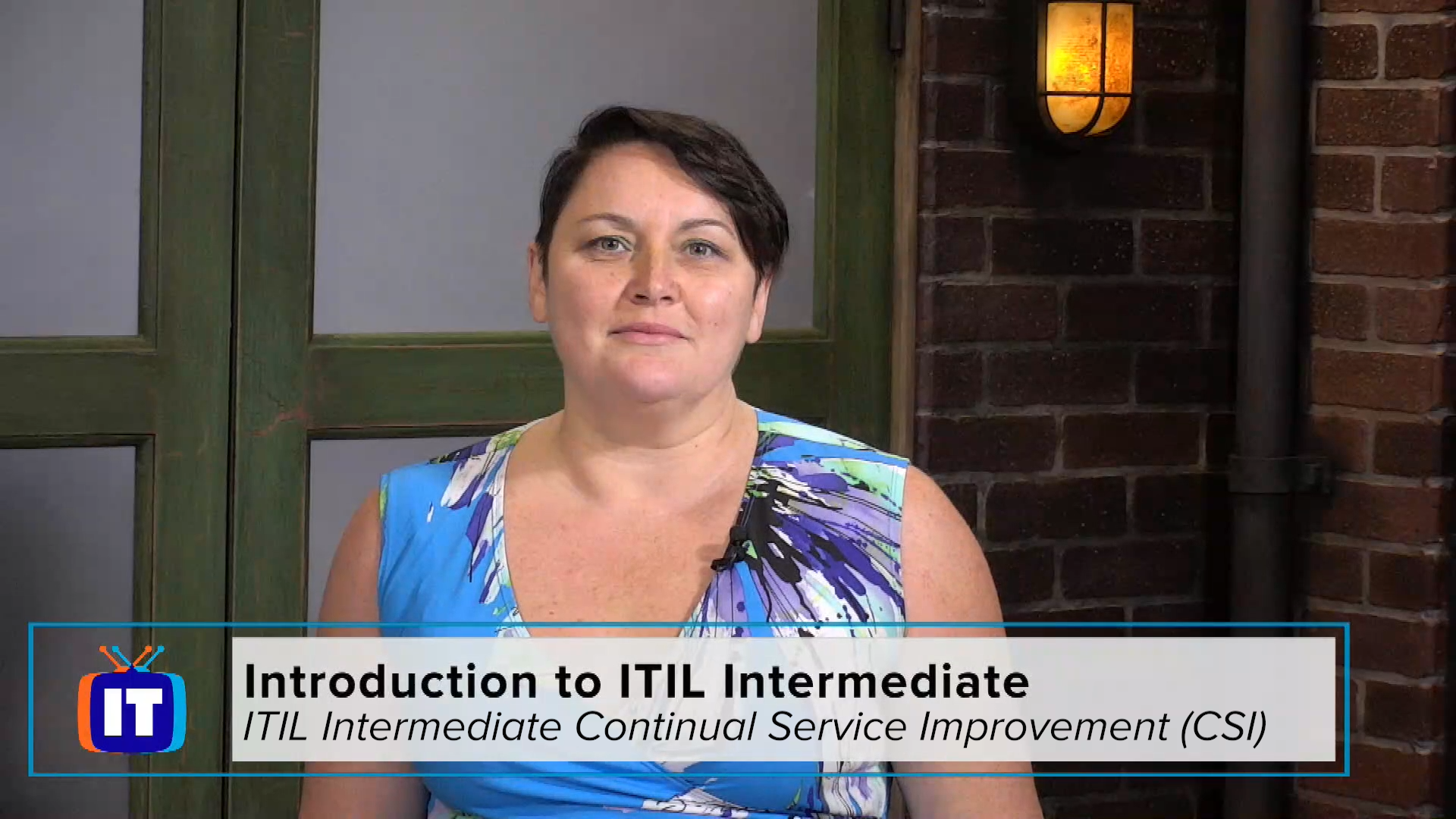 Episode Description
Transcript
Based on AXELOS ITIL® material. Material is reproduced under license from AXELOS. All rights reserved. ITIL® is a registered trademark of AXELOS Limited, used under permission of AXELOS Limited. All rights reserved. The Continual Service Improvement module focuses on how organizations and individuals can strategically review the products and services they have produced following the strategy, design, transition and operation stages of the IT Service Lifecycle and offers guidance on how this process should be organized and executed. It also includes guidance on the tools and technology that can be used to support CSI activities as well as how to evaluate risks and critical success factors.
[SOUND] Hi and welcome to ITPro.TV. My name is Jo Peacock and I'm going to be taking you through an introduction to your ITIL intermediate. So let's take a look then at our first slide here coming up. And we have our introduction to our intermediate class and exactly what content is going to be found in this upcoming intermediate class. You will see what we will cover is an introduction to the class followed by the principles and the processes of the lifecycle phase. Then we'll take a look at organizing for that lifecycle phase and also the technology considerations. Especially those that we need when we're implementing the phase itself. Then we'll take a look at the challenges and the critical success factors and all of the risks that are associated with that particular lifecycle phase. And most importantly, of course, for you, is that preparation for the exam that's going to be coming up when you have completed your class. Okay, so let me take a look now then and how we're going to approach this particular intermediate class. We're going to be doing some presentation work, obviously you're going to be watching us on-screen both myself and my colleagues, and we're going to be taking you through the course materials for the class. And then there are going to be some discussions and some exercises that are going to be based primarily in our chat rooms and also in our forums as well. And we're also available if you want to undertake any of the assessments, then please feel free to come back to us via the forums and we will be able to help you out in any way we can. Also provided in the course material, which is available for you to download, are mock tests or exams if you prefer to use that word. And we will be conducting a run through of that mock exam for you. So, where are we then at ITIL intermediate level? Well, you'll see in using Bloom's Taxonomy that we are actually at Level 4 Analyzing. In other words, we've done foundation level, we've done the remembering and the understanding of those concepts within ITIL. And we're actually moving through applying those concepts to analyzing those concepts. And being able to apply the ITIL processes, and also the concepts at a real world level, in a real world situation, okay? So where does ITIL come from then? Well let me give you a little bit of a background. It's actually owned by a company called Axelos and it was first published in the mid 1980s, by the UK government. And the Office of Government Commerce owned ITIL for a very, very long time. And we developed ITIL right the way back from the 1980s, through its version 2 in the 1990s, mid 1990s, to version 3 which was released in 2007. And then there was an update to version 3 in 2011, which is exactly where we are right now. It is copyright, it is trademark protected, it's a framework for managing services. And as such, it is a flexible framework, a framework that we would expect any organization to adopt as a framework, but then to adapt it to suit your needs, okay? ITIL was born right the way back in the 1980s, out of a desire to be able to demonstrate value for money and efficiency for the use of taxpayer's money within the UK. Way back in the 1980s these things started appearing on desks and quite frankly, we didn't know how to manage these in an unbiased, in an impartial and in an efficient and effective way. And thus ITIL was born, and ITIL was born from a group of industry experts that went out into the big wide world and analysed various organizations, from various different industry sectors, not just government but we're talking finance, we're talking retail etc. And they came back with a set of best practices, best practices that they observed in the real world for managing our IT services. And thus, we have ITIL and as I've already said we've had subsequent revisions and now we're up to version 3, 2011. So we work on the understanding that we have a life to every single service. And we start off with a concept in service strategy and then we take that concept and we design it and then we develop it. And we deploy it as a service into a live environment which is where we operate and where we maintain it. And we continually seek to ensure that we are aligned with the needs of the organization in CSI. So you're attending this class because you probably want to achieve an ITIL Intermediate Qualification. So you can that, if we were to start off right at the very, very top, you'll see where I am. I am an accredited ITIL trainer, working with an accredited training organization. I'm also an accredited examiner, and proctor, or invigilator for these exams. And work very, very closely with the official ITIL accreditor and also Axelos who owns the ITIL copyright. Now in terms of ITIL, where can you go with your qualification level? Well, we start off with ITIL Foundation. And ITIL Foundation would traditionally be a three day classroom experience where we learn the foundations of ITIL. And we learn all the terminology, and all of the definitions to that terminology. There's roughly around about 75 that we learn within the ITIL Foundation class. And then, as we move through we can either take an ITIL practitioner class which can be taken at any point in time, throughout the progression of your career within ITIL. Because ITIL practitioner focuses on the implementation of ITIL, okay? Whereas if we take a look at the more advanced intermediate classes, you are at this moment in a Lifecycle Modules. And those Lifecycle Modules consist of service strategy, service design, service transition, service operation and continual service improvement. And that's where we focus on those lifecycles that we've just looked at previously. Okay, and on the right hand side then we have our capability modules, and these capability modules really focus on specific areas within ITIL. Such as, RCV which focuses on release control and validation. And these classes, you will notice that every single one of these classes has got a score right beside each one. So we've got a number 2 for ITIL Foundation and we've got a 3 for Lifecycle Modules and we've got a 4 for our Capability Modules. Now what we need to do is ensure that we have achieved a minimum of 15 credits at both either lifecycle or capability module level. In order to be able to qualify to sit the Managing Across the Lifecycle class and therefore subsequently the test that goes along with that class. So we need to take two from the ITIL Foundation, that's a prerequisite, we have to do the foundation. And then we need to add in another 15 scores from either, as I've said, the lifecycle or the capability stream. Now you can interchange, you can mix and match, you do not have to stick to one stream or the other. Once you've got that 17 in total scores that are needed to be able to sit Managing across The Lifecycle. You're perfectly able to sit that lifecycle class and to be able to take that test afterwards. And as soon as you've take that test, you will be awarded those 5 credits, which will mean that you have achieved ITIL Expert. Now, ITIL Expert is allocated as soon as you have passed the Managing Across the Lifecycle test and have achieved 22 credits. Both of those must happen in order for you to achieve ITIL Expert. Now, we have the ITIL Master qualification, and the ITIL Master is a completely different beast. The ITIL Master is a two-year qualification, and during that two years you will be expected to submit various white papers on specific topics within the ITIL qualification scheme. So these could be topics on activities within ITIL, these could be topics on processes within ITIL, these could be topics on implementation of various aspects of ITIL. But you will be required to sit a number of white papers or submit a number of white papers over the period of two years. At the end of those two years, once you have submitted the prerequisite white papers then you will be asked to attend a panel interview. And during that panel interview, you will be assessed not only on your white papers, but also on your experience within the IT service management arena. And at the end of that panel interview, then if successful, you will be awarded the status of ITIL Master. So the qualification scheme, I'm going to take this back now to Bloom's Taxonomy then and just very, very quickly look at the fact that in ITIL Foundation. And I know that I've already covered this on a previous slide, we just looked at understanding, understanding the terminology and the concepts of ITIL Foundation. And then in the Lifecycle Modules we're looking at implementing those processes contained within ITIL. And in Capability we're looking at actually undertaking those process and managing those processes. Whereas Managing Across the Lifecycle, this is for senior management, this is at CIO level, and its senior management level. And in MALC, as we like to abbreviate it to, you're concerned with leading IT service management. So I mentioned right at the very beginning of all of this that we had a test to go along with every single lifecycle phase, and there is. And we will be conducting a session to go over this particular test or at least a sample of these tests, just to give you some preparation for the actual test itself. So your test is conducted online, it's conducted virtually. It is an 8 multiple choice question test, it's complex multiple choice. You get an hour and a half for this particular test. And with every single question, you will be given a scenario and then you will be given four possible options, four possible answers for the question that is posed along with that scenario. You get 5 points for the best fit answer, now it mentions up there the most correct. I always call it the best fit, because every single question asks what is the best answer given the scenario and given the question? Don't be alarmed if you don't see an answer that you think is 100% correct, because the question is asking you for the best fit. And for that best fit you're gonna get 5 points, for the next best fit you're gonna get 3, for the next one which we've considered to be the least correct you're gonna get 1. And for the next one you're gonna get a 0, now it mentions up on that slide there that the next one is 0 marks for incorrect. We like to call that in the industry, us in the know, we call that the distractor. And we call it the distractor for a reason, cuz it distracts. And quite often what you will find is, with your distractor, a lot of the words in the terminology that are taken straight out of the ITIL books, straight out of the publications, and are input into that 0 pointer because it's there to distract. And it sounds great, but more often than not, that distractor has absolutely no relevance to the scenario or to the question. So you have to be incredibly careful with that, it's so easy to be distracted. You have to get 28 out of a possible 40 in order to be able to pass and achieve accreditation at any lifecycle test, okay? If English is not your first language you are allowed a paper dictionary, but you will be asked to show that to the proctor at the time that you take your test. And as I've already said, you have to have an ITIL Foundation in version 3 or version 3 2011, or an ITIL version 2 Foundation Bridge to version 3, okay? I will be very, very honest with you, there are not that many people that have attained the version 2 to version 3 Bridge. And most people will have the version 3 or 2011, sorry, ITIL Foundation certificate. You will be required to upload that certificate to the examining board prior to sitting your lifecycle test. So be prepared with that, you will need to have it to hand and saved as a PDF as well. So when we come to the end of every single lifecycle class, we will be going over and this one's no exception, we'll be going over a sample test for you. And during that sample test I'll be giving you lots of hints and tips on how to select that best fit possible answer. And also how to ensure that you read the full question, how to relax and to make sure that you approach it with an open mind, but you consider relevance in every single answer. Ultimately, we wanna get you past the test just as much as you want to achieve that accreditation. So just to sum up, what we will be doing over the next few shows is encouraging you to take your ITIL lifecycle intermediate classes. And feel free to join us in the forums for any questions that you may have. [SOUND]
Just you? Training a whole team? There's an ITProTV plan that fits.
With more than 5,800 hours of engaging video training for IT professionals, you'll find the courses you and your team need to stay current and get the latest certifications.