Accredited ITIL® 4 Foundation
ITIL 4 Foundation16 H 16 M
The new ITIL® 4 qualification scheme was introduced in early 2019. Start earning your qualifications with the ITIL® 4 Foundation exam prep show taught by Jo Peacock.
This course has a practice test
ITIL 4

Introduction to ITIL 4 Foundation
The ITIL 4 Foundation Exam
Background to ITIL
Service Management Principles
Service Management Principles Part 2
Service Management Principles Part 3
Service Management Principles Part 4
ITIL Guiding Principles
ITIL Guiding Principles Part 2
ITIL Guiding Principles Part 3
ITIL Guiding Principles Part 4
Four Dimensions of Service Management
Service Value System
Service Value Chain
Service Value Chain Part 2
Introduction to ITIL Practices
Information Security Management
Relationship Management
Supplier Management
Availability Management
Capacity and Performance Management
IT Asset Management
Service Continuity Management
Monitoring and Event Management
Service Configuration Management
Deployment Management
Release Management
Key Practices: Continual Improvement
Key Practices: Continual Improvement Part 2
Key Practices: Change Enablement (Control)
Key Practices: Incident Management
Key Practices: Incident Management Part 2
Incident vs. Problem
Key Practices: Problem Management
Key Practices: Service Request Management
Key Practices: Service Desk
Key Practices: Service Level Management
ITIL 4 Sample Paper 1
ITIL 4 Sample Paper 1 Part 2
ITIL 4 Study Tips
Introduction to ITIL 4 Foundation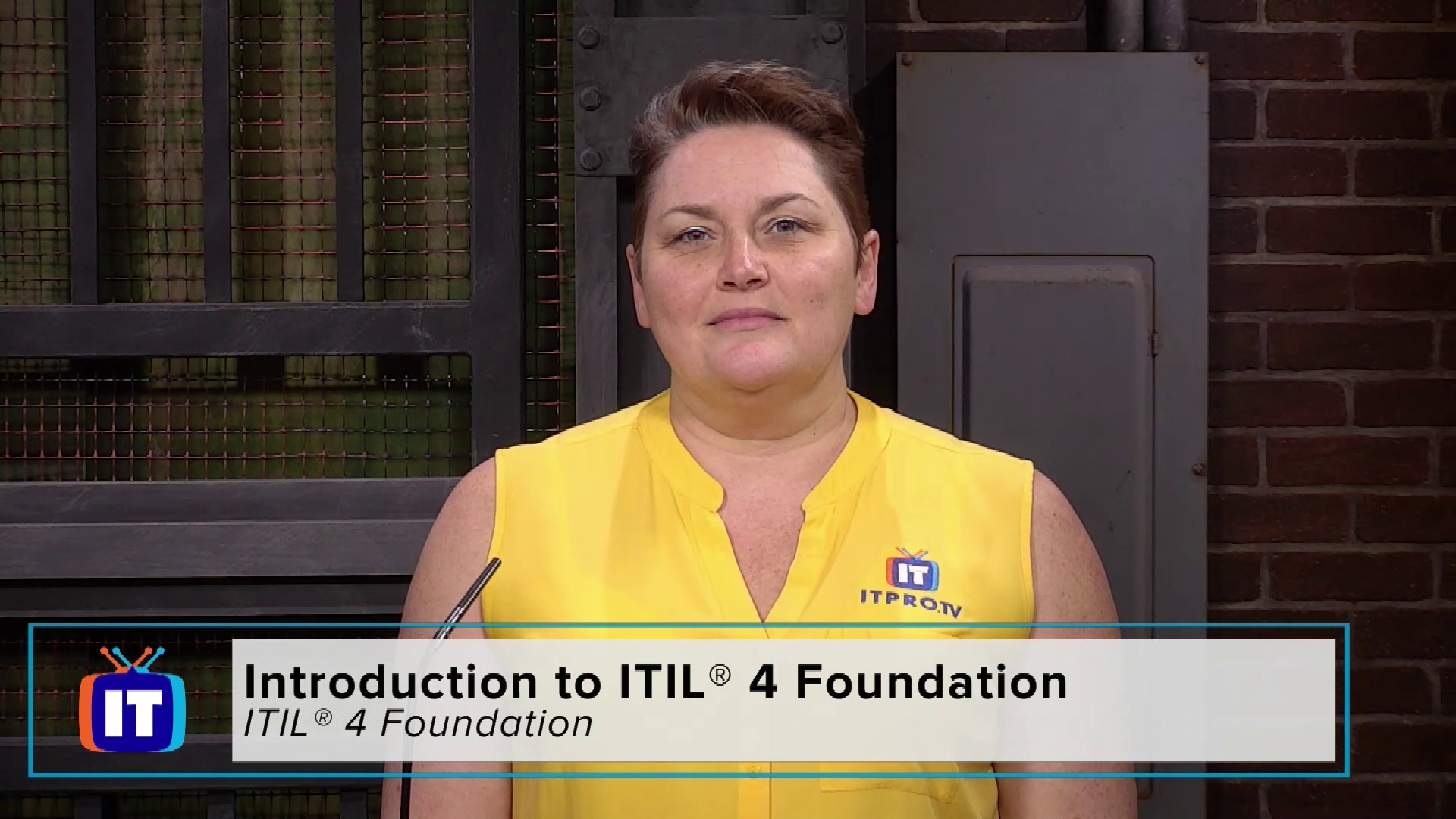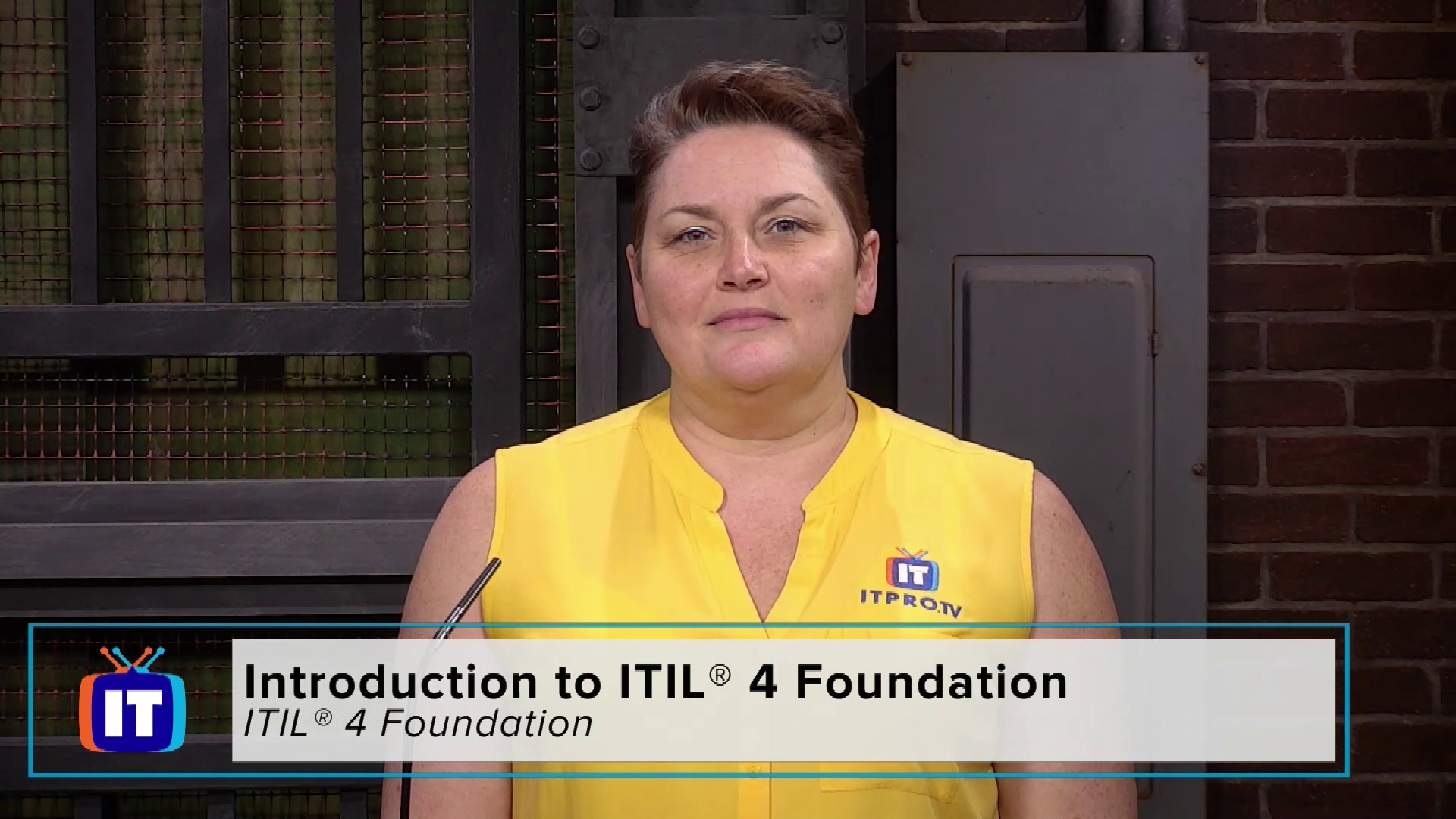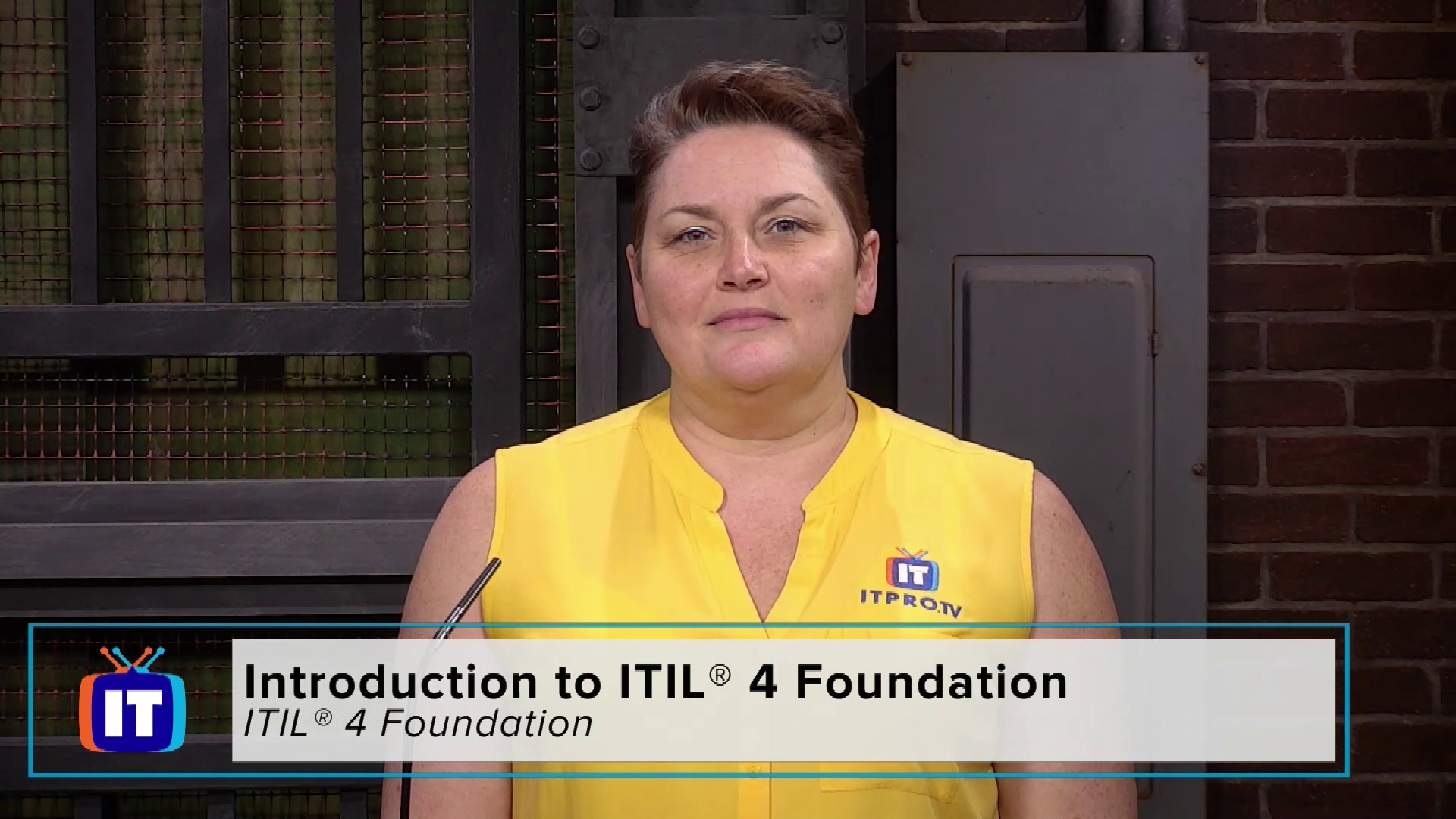 Episode Description
Transcript
Based on AXELOS ITIL® material. Material is reproduced under license from AXELOS. All rights reserved. ITIL® is a registered trademark of AXELOS Limited, used under permission of AXELOS Limited. All rights reserved. This series covers the Foundation syllabus for ITIL 4
[MUSIC] Hi, I'm Jo Peacock with ITPro.TV, and I wanna welcome you to the ITIL 4 Foundation series. In this series, we're going to be looking at the principles of service management, particularly in relation to ITIL. We're also going to take a look at the ITIL guiding principles. We're going to be taking a dive into the service value system and also the service value chain, and then we'll be looking at the ITIL practices themselves. So we'll be taking a deep dive into practices such as incident management and problem management and change control. So I'm going to invite you to join me in this series as we take a look at ITIL 4 and prepare you for the ITIL 4 Foundation examination and certification at the end of it. So I hope to see you in our series. [MUSIC]
Just you? Training a whole team? There's an ITProTV plan that fits.
With more than 5,800 hours of engaging video training for IT professionals, you'll find the courses you and your team need to stay current and get the latest certifications.