Architecting Microsoft Azure Solutions - 70-535
This course has a practice test
Cloud Design Patterns

Overview
Cloud Design Patterns - Availability
Cloud Design Patterns - Availability Part 2
Cloud Design Patterns - Data Management
Cloud Design Patterns - Data Management Part 2
Cloud Design Patterns - Data Management Part 3
Cloud Design Patterns - Design and Implement
Cloud Design Patterns - Design and Implement Pt2
Cloud Design Patterns - Design and Implement Pt3
Cloud Design Patterns - Design and Implement Pt4
Cloud Design Patterns - Messaging
Cloud Design Patterns - Messaging Part 2
Cloud Design Patterns - Manage and Monitor
Cloud Design Patterns - Perform and Scale
Cloud Design Patterns - Resiliency
Cloud Designs Patterns - Resiliency Part 2
Cloud Design Patterns - Resiliency Part 3
Cloud Design Patterns - Security

Design Compute Infrastructure

Solutions Using VMs - Azure Batch and Batch AI
Solutions Using VMs - Azure Batch and Batch AI Pt2
Solutions Using VMs - Azure Batch and Batch AI Pt3
Solutions Using VMs - Azure Batch and Batch AI Pt4
Solutions Using VMs - Cloud Migration Strategy
Solutions Using VMs - Cloud Migration Strategy Pt2
Solutions Using VMs - Cloud Migration Strategy Pt3
Solutions Using VMs - Backup and Site Recovery
Solutions Using VMs - Backup and Site Recovery Pt2
Solutions Using VMs - Backup and Site Recovery Pt3
Solutions Using VMs - Backup and Site Recovery Pt4
Solutions Using VMs - Backup and Site Recovery Pt5
Solutions Using VMs - VM Scale Sets
Solutions Using VMs - Availability Sets...
Solutions Using VMs - Use Web App for Containers
Solutions Using VMs - Using Reserved Instances
Solutions Using VMs - Using Accelerated Networking
Solutions Using VMs - Designing a DevTest Lab
Solutions Using VMs - Designing a DevTest Lab Pt2
Serverless Computing - Azure Container Instances
Serverless Computing Azure Container Instances Pt2
Serverless Computing - Azure Logic Apps
Serverless Computing - Azure Logic Apps Pt2
Serverless Computing - Azure Logic Apps Pt3
Serverless Computing - API Management
Serverless Computing - Event Driven Actions
Serverless Computing - Event-driven Actions Pt2
Serverless Computing - Data Storage Solutions
Serverless Computing - Event Grid and Bots
Solutions Using Microservices - Container Based
Solutions Using Microservices - Orchestration
Solutions Using Microservices - ASF and API
Solutions Using Microservices - ASF and API Pt2
Solutions Using Microservices - Migrate vs Deploy
Create, Deploy an ASF Container Application
Create, Deploy an ASF Container Application Pt2
Create, Deploy an ASF Container Application Pt3
Design Web Applications - App Service Web Apps
Design Web Applications - App Service Web Apps 2
Design Web Applications - Custom Web API
Design Web Applications - Secure Web API
Design Web Applications - Secure Web API Pt2
Design Web Applicaitons - Scalability, Performance
Design Web Applications - Multi-region HA
Design Web Applications - App Service Plans
Design Web Applications - Business Continuity
Design Web Applications - App Service Isolated
Design Web Applications - API Apps
Design Web Applications - Web Apps on Linux
Design Web Applications - Use a CDN
Design Web Applications - Azure Redis Cache
Compute Intensive Applications
Compute Intensive Applications Part 2
Compute Intensive Applications Part 3
Compute Intensive Applications Part 4
Exam Resources

Design Data Implementation

Design for Azure Storage Solutions
Design for Azure Storage Solutions Part 2
Design for Azure Storage Solutions Part 3
Design for Azure Storage Solutions Part 4
Design for Azure Data Services
Design for Azure Data Services Part 2
Design for Azure Data Services Part 3
Design for Azure Data Services Part 4
Design for Azure Data Services Part 5
Design for Azure Data Services Part 6
Design for Relational Database Storage
Design for Relational Database Storage Part 2
Design for Relational Database Storage Part 3
Design for Relational Database Storage Part 4
Design for NoSQL Storage - Azure Redis Cache
Design for NoSQL Storage - Azure Table Storage
Design for NoSQL Storage - Azure Data Lake
Design for NoSQL Storage - Azure Search
Design for NoSQL Storage - Time Series Insights
Design for NoSQL Storage - Recurring Jobs
Design for CosmosDB Storage

Design Networking Implementation

Azure Virtual Networks - Networking Services
Azure Virtual Networks - Networking Services Pt2
Azure Virtual Networks - DNS, DHCP and IP
Azure Virtual Networks - Load Balancing
Azure Virtual Networks - Load Balancing Pt2
Azure Virtual Networks - Load Balancing Pt3
Azure Virtual Networks - Application Gateway
Azure Virtual Networks - Application Gateway Pt2
Azure Virtual Networks - VNet Service Endpoints
Design External Connectivity
Design External Connectivity Part 2
Design External Connectivity Part 3
Design External Connectivity Part 4
Design External Connectivity Part 5
Design External Connectivity Part 6
Design Security Strategies
Design Security Strategies Part 2
Design Security Strategies Part 3
Design Security Strategies Part 4
Connectivity for Hybrid Applications
Connectivity for Hybrid Applications Part 2
Connectivity for Hybrid Application Part 3
Connectivity for Hybrid Applications Part 4
Connectivity for Hybrid Applications Part 5

Design Security and Identity Solutions

Design an Identity Solution
Design an Identity Solution Part 2
Design an Identity Solution Part 3
Design an Identity Solution Part 4
Design an Identity Solution Part 5
Design an Identity Solution Part 6
Design an Identity Solution Part 7
Design an Identity Solution Part 8
Secure Resources Using Identity Providers
Secure Resources Using Identity Providers Part 2
Secure Resources Using Identity Providers Part 3
Design a Data Security Solution
Design a Data Security Solution Part 2
Design a Data Security Solution Part 3
Design a Data Security Solution Part 4
Design a Data Security Solution Part 5
Design a Data Security Solution Part 6
Design a Data Security Solution Part 7
Design a Data Security Solution Part 8
Design a Data Security Solution Part 9
Design a Data Security Solution Part 10
Design a Data Security Solution Part 11
Design Governance and Policies for Resources
Design Governance and Policies for Resources Pt.2
Design Governance and Policies for Resources Pt.3
Design Governance and Policies for Resources Pt.4
Manage Security Risks
Manage Security Risks Part 2
Manage Security Risks Part 3
Manage Security Risks - AD Identity Protection
Manage Security Risks - Advanced Threat Detection
Manage Security Risks - Endpoint Protection

Design Solutions Using Platform Services

Artificial Intelligence Services
Design for IoT
Design for IoT Part 2
Messaging Solution Architectures
Media Service Solutions
Media Service Solutions Part 2

Design for Operations

Application Monitoring and Alerting Strategies
Application Monitoring and Alerting Strategies Pt2
Application Monitoring and Alerting Strategies Pt3
Application Monitoring and Alerting Strategies Pt4
Application Monitoring and Alerting Strategies Pt5
Platform Monitoring and Alerting Strategies
Platform Monitoring and Alerting Strategies Pt2
Platform Monitoring and Alerting Strategies Pt3
Platform Monitoring and Alerting Strategies Part 4
Operations Automation Strategies
Operations Automation Strategies Part 2
Operations Automation Strategies Part 3
Operations Automation Strategies Part 4
Operations Automation Strategies Part 5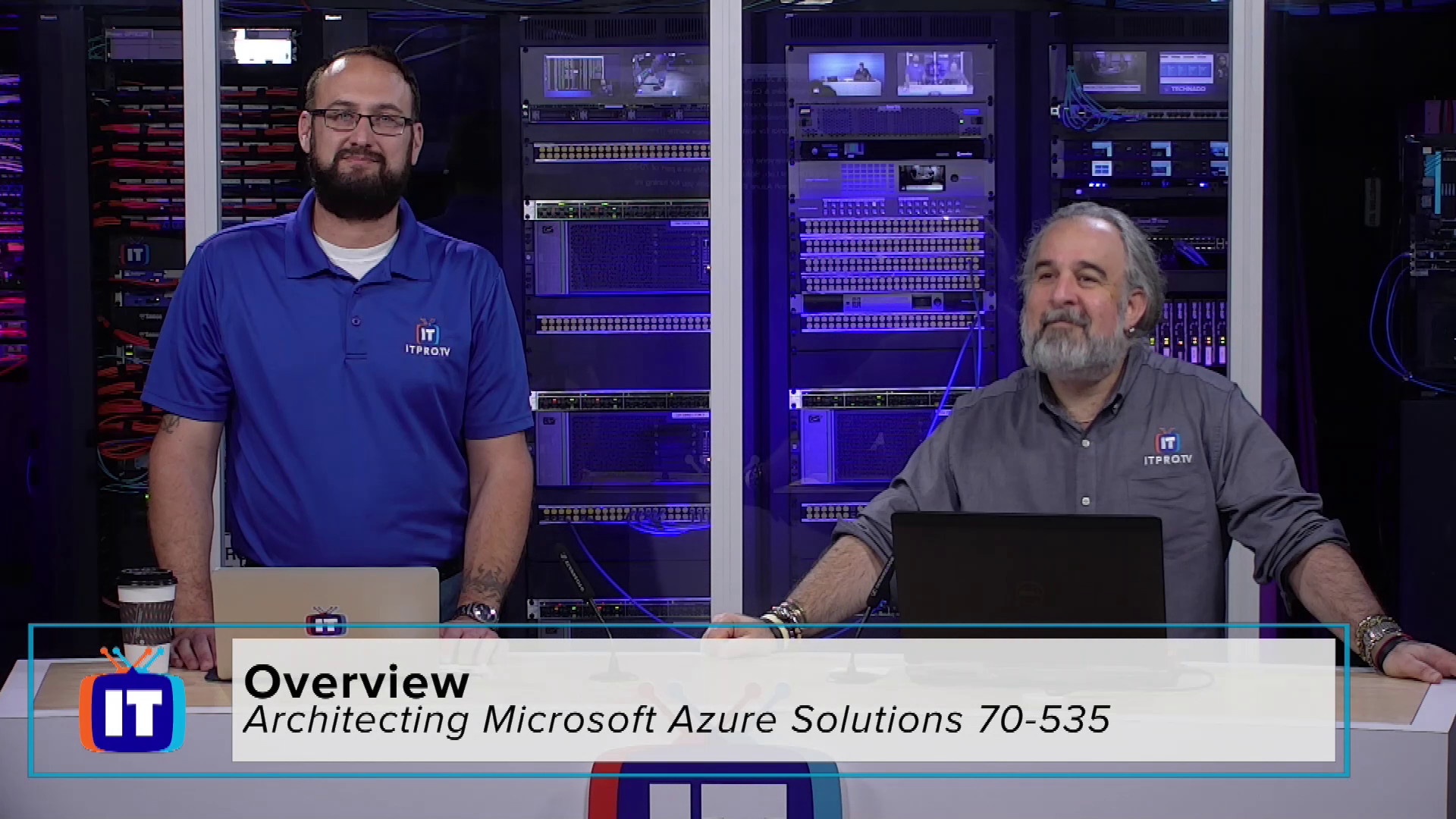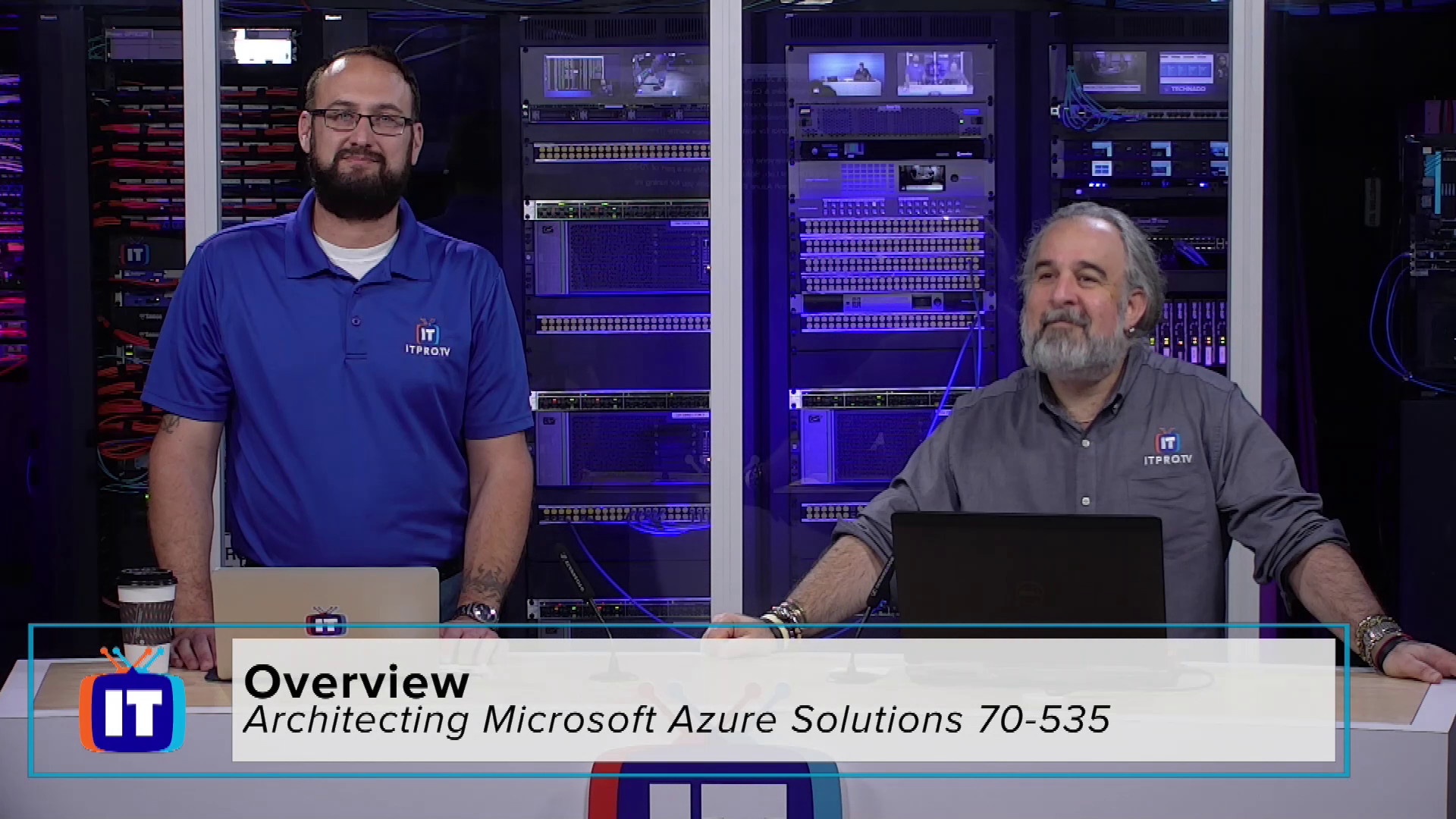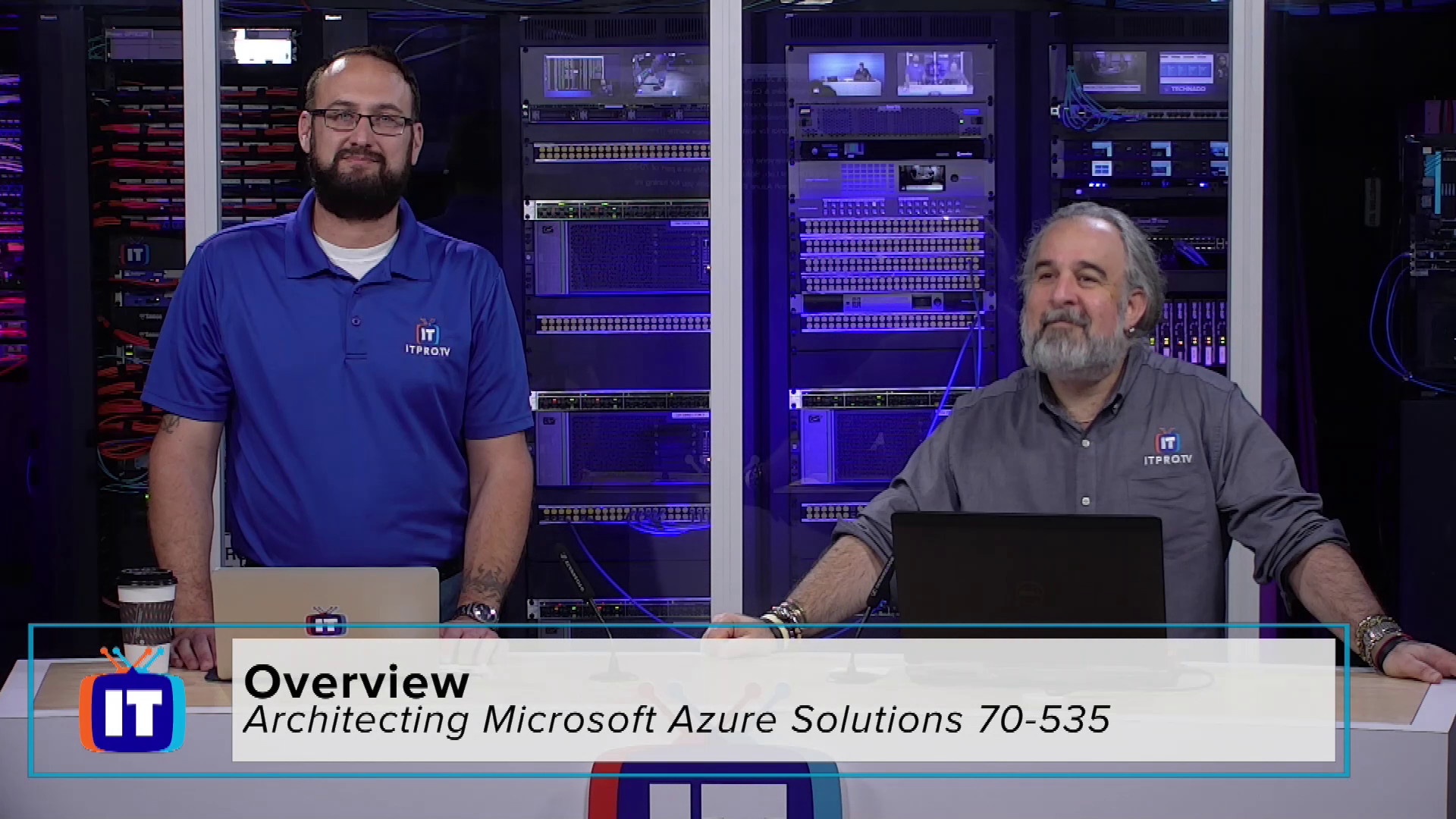 Episode Description
Transcript
Adam and Wes discuss what to expect when preparing to take the Architecting Microsoft Azure Solutions 70-535 exam.
[MUSIC] Hello and welcome. Thank you for tuning in to the 70-535 series. That's right, Architecting Microsoft Azure Solutions. We'd like to take a moment here and tell you what you can expect in some of the topics in the videos that are gonna follow. Here to help us with that is Adam Gordon. Adam, how we doing today, sir? >> Doing well, how about you? >> Doing good. So what kind of topics can we expect in the Architecting Microsoft Azure Solution series? >> So we're gonna cover, actually, quite a bit of ground in this show. We've got six main topic areas we're gonna cover. We're actually throwing in a bonus seventh area. Not part of the exam objectives overall but very important from a foundational knowledge perspective. Join me here and let's take a quick look at what we are gonna do and how we're gonna do it. Architecting Microsoft Azure Solutions 70-535 exam went live in November 30th, very end of November 2017, depending on when you're watching this show. It's still available, certainly, available in, as you can see, English and other languages as well. And it's gonna give you credit towards the MCP, the MCSA Cloud and MCSE Cloud, along with MCSD if you are doing the complete Azure track including the Developing Azure Solutions. We're just focusing right now on the architecture exam. When we scroll down here, we will see the skills measured. You can see the main objective varies, each of these has substantial numbers of sub-objective categories associated with them. Rest assured, we will be going through every one of them in painstaking and excruciating detail, as you will see based on the overall episode count and amount of time we devote to discussions here. But the six main areas, Design and Compute Infrastructure, we'll take a look at everything and all things Azure VM and VM related. Up to 25% of the overall exam objective questions come from this one category, and one of the main areas for exam preparation. Designing Data Implementation, all things data. We'll be talking about storage and all the different types of storage solutions we use to create manage and ultimately maintain data in our systems. We'll take a look at storage accounts. We'll talk about relational and non-relational database types and how we manage those. Some really interesting and fascinating stuff going on there. Designing Networking Implementations. We'll be taking a look at all of the connectivity that we need to create and the systems associated with that connectivity to be able to work with compute infrastructure and manage data by accessing it once we have infrastructure enabled. We'll take a look at subnetting, not subnetting overall but subnets, I should say. We'll throw a little bit of subnetting in there as well. We'll talk about VNets, so virtual networks and subnets within them. We'll talk about public and private IP address. We'll talk about NATting, we'll talk about WAFs, web application firewalls. We'll talk about VPNs, point-to-site, site-to-site and ExpressRoute connectivity. We'll take a look at UDRs, User Defined Routes, and all sorts of other implementation solutions in that area. Design and Security and Identity Solutions. We'll take a look at everything security and everything identity related. Meaning, the Security Center and all the solutions that we have associated with securing and managing our infrastructure, role-based access control, RBAC. We'll take a look at IAM, Identity and Access Management. The ability to assign users, groups, and/or applications and service principal identities, rights to be able to interact with manage and user infrastructure. We'll talk about and we'll take a look at the different Active directory implementation options that we have available to us, both on-prem, cloud only, and a hybrid solution. And we'll take a look at Azure AD Connect, which is the newest iteration of Directory Sync and earlier versions of the directory replication and management tool sets that we need to work with. We'll implement that solution and show you how to manage on-prem hybrid infrastructure. Designing Solutions by using Platform Services. This is where we get into a lot of the very specific interesting but siloed solutions that are available on the Azure platform, machine learning, Microsoft's artificial intelligence, or AI, capabilities overall with Cognitive Services APIs. We'll take a look at IoT, Internet of Things capabilities. Really, extending broadly and widely and deeply our management and our data capabilities overall. We'll take a look at things like Stream Analytics, the Azure IoT Hub, the Event Hub. We'll take a look at Event Grid, we'll take a look at notification hubs. We'll talk about the Data Lake Factory. The Data Lake analytics solutions between this area and data implementation. Lots of very, very big, very broad, global spanning infrastructures solutions that allow us to measure, manage, and maintain data, and implement infrastructure, and then manage it across the entire fabric. And, finally, Design for Operations. We'll take a look at how we monitor, oversee, and maintain infrastructure. We'll talk about and look at log analytics and the OMS, the Ops Management workspace, which is an extension of the Systems Center Ops Manager platform brought into Azure and created for our use inline. We'll be able to look at data from a variety of perspectives, including automation and configuration management capabilities using both built-in solutions, like Desired State Configuration built right into Azure, as well as the ability to manage both Linux and Windows-based systems as a result. We'll look at third-party solutions, Chef and Puppet and a variety of other interactive and oversight capabilities that we have with these configuration management platforms. All of that are the exam objective categories that are there. I promised you a seventh bonus one, which is not listed. But if you take a look right below the overview that we're going through right now in the library, and start going in order in this area, you will see that we have a seventh category. It's the very first one we've created, and it's gonna be all about cloud design patterns and our ability to be able to walk through and examine the eight categories of cloud design architecture patterns. And put them into perspective for you, with regards to how they form the baseline and the foundational knowledge for all these other areas in order to fully prepare you and in order to fully center you in the middle of our conversations around how we architect Azure solutions. Look forward to walking through all that with you. Hopefully you're gonna be able to spend time with us going through each and every one of those episodes in the library. But whether you pick and choose selectively to fill in the gaps or you go through it end to end, lot of exciting content. And all you have to is shut this overview off and jump right into the library and start going through it with us. I look forward to seeing you there. [MUSIC]
Just you? Training a whole team? There's an ITProTV plan that fits.
With more than 4,000 hours of engaging video training for IT professionals, you'll find the courses you and your team need to stay current and get the latest certifications.