Data Center Managing with SCOM
Data Center Managing with SCOM17 H 28 M
Overview and Architecture

Overview
Overview and Architecture
Overview and Architecture Part 2
Overview and Architecture Part 3

Deploying System Center 2012 R2 Ops Management Group

Deploying a New SCOM Management Group
Deploying a New SCOM Management Group Part 2
Deploying a New SCOM Management Group Part 3
Deploying a New SCOM Management Group Part 4
Install Virtual Machine Management Server
Install and Configure App Controller Server
Install Operations Manager on Single Server
Install Data Protection Manager
Install Orchestrator on Single Server
Install Service Manger on a Single Server

Upgrading Operations Manager

Upgrading Operations Manager

Configuring Fabric and Application Monitoring

Fabric and Application Monitoring
Fabric and Application Monitoring Part 2
Fabric and Application Monitoring Part 3
SCOM Agent Configuration and Discovery
Import Ops Manager Management Pack
Linking VMM SCOM and PRO

Application Performance Monitoring

Application Performance Monitoring
Use APM to Monitor New Apps
Configure Notification Accounts for Alerts
Web Application Availability Monitoring
Viewing Distributed Applications

End to End Service Monitoring

End to End Service Monitoring
Configure Overrides
Synthetic Transaction Web Monitoring

Scorecards, Dashboards and Reporting

Scorecards Dashboards and Reporting
Scorecards Dashboards and Reporting Part 2
Scorecards Dashboards and Reporting Part 3

Configuring and Customizing the Console

Configuring the Operations Console

Management Pack Authoring

Management Pack Authoring

Integrating Operations Manager with Other System Center Components

System Center Integration
Create an Ops Manager Alert Connector
Create an Ops Manager CI Connector
Installing Integration Packs for Orchestrator
Configuring the AD Connector
Configuring the SharePoint Integration Pack

Troubleshooting, Tuning and Disaster Recovery

Troubleshooting, Tunning and BCDR
Troubleshooting Tunning and BCDR Part 2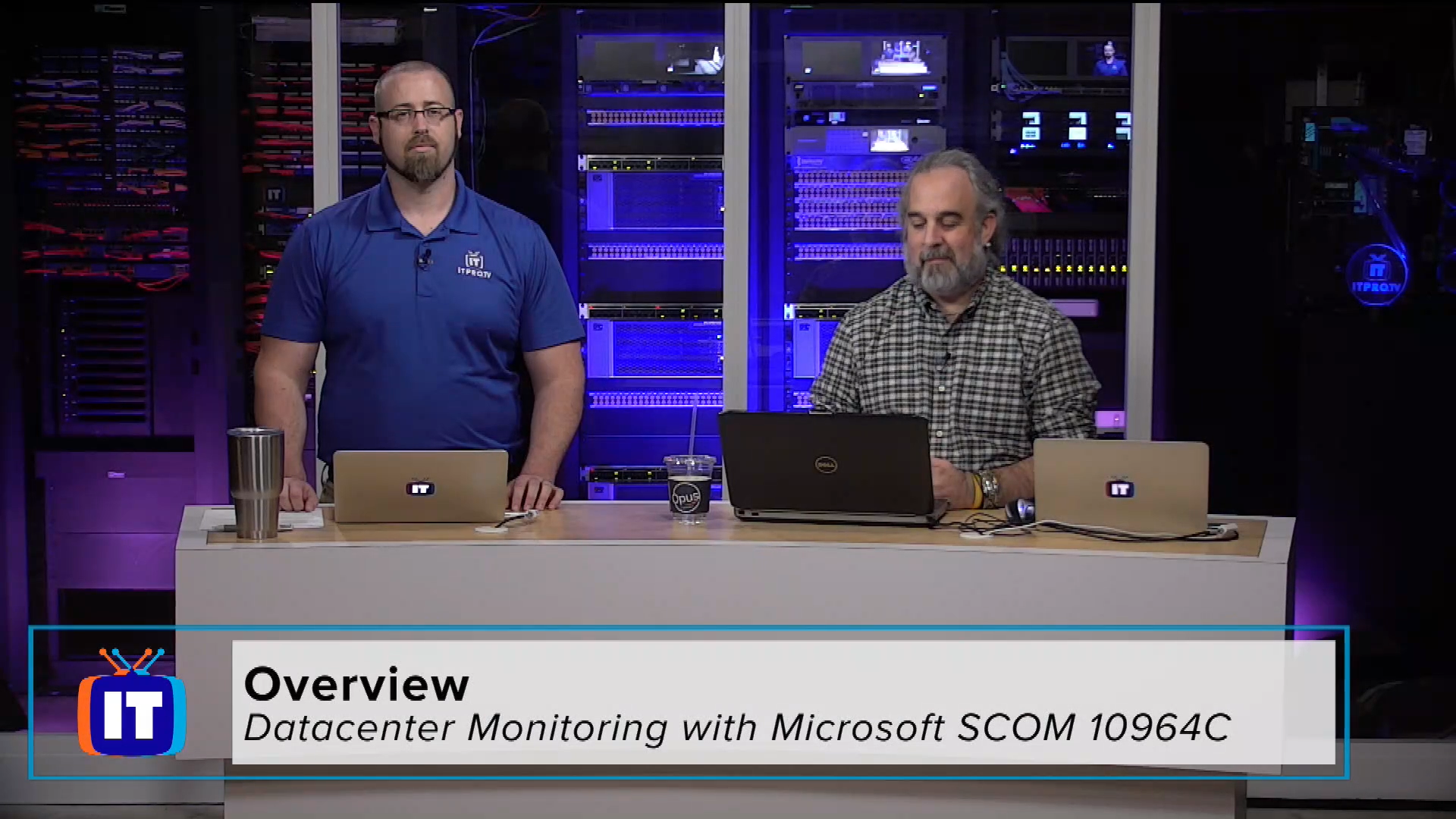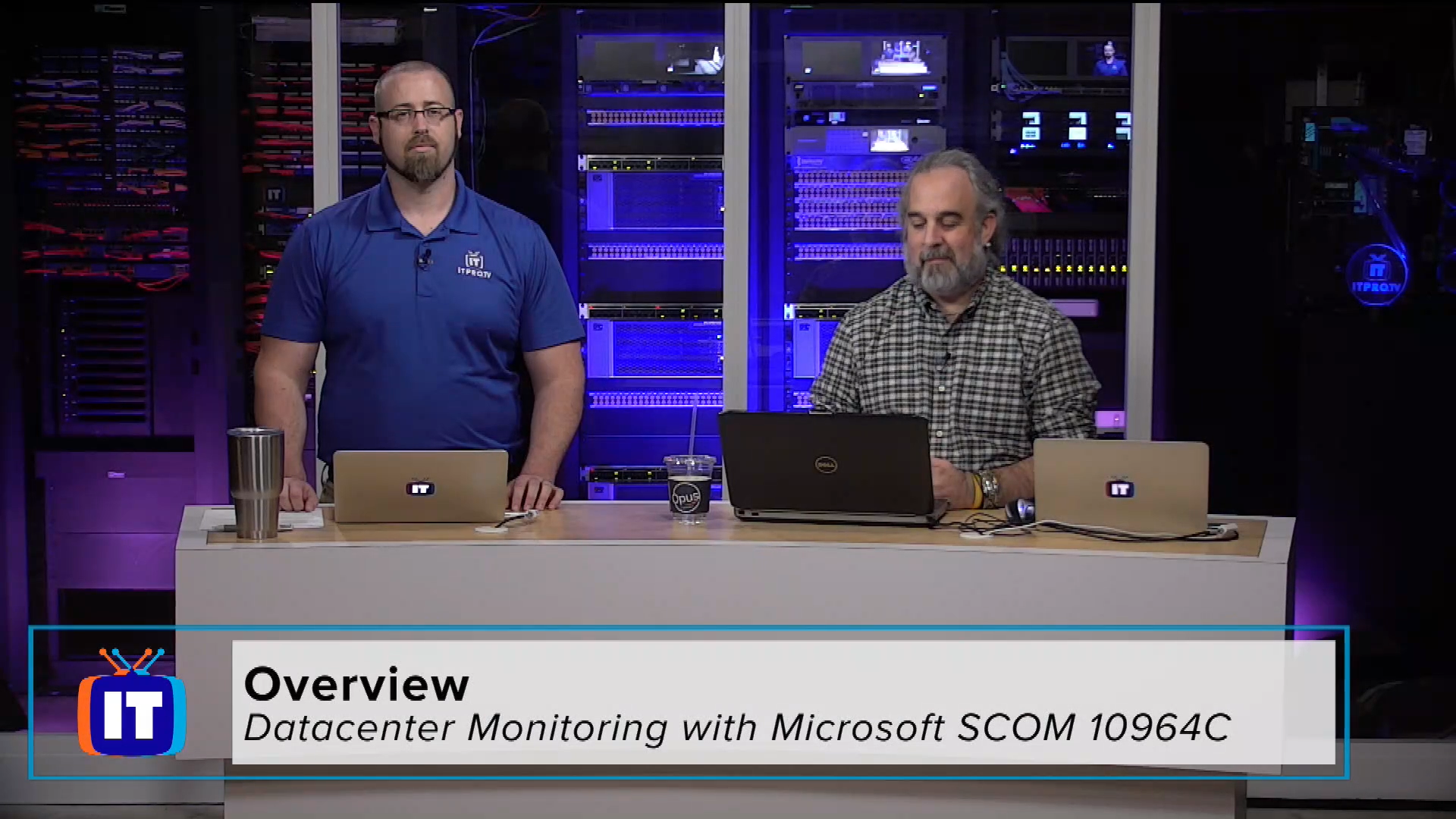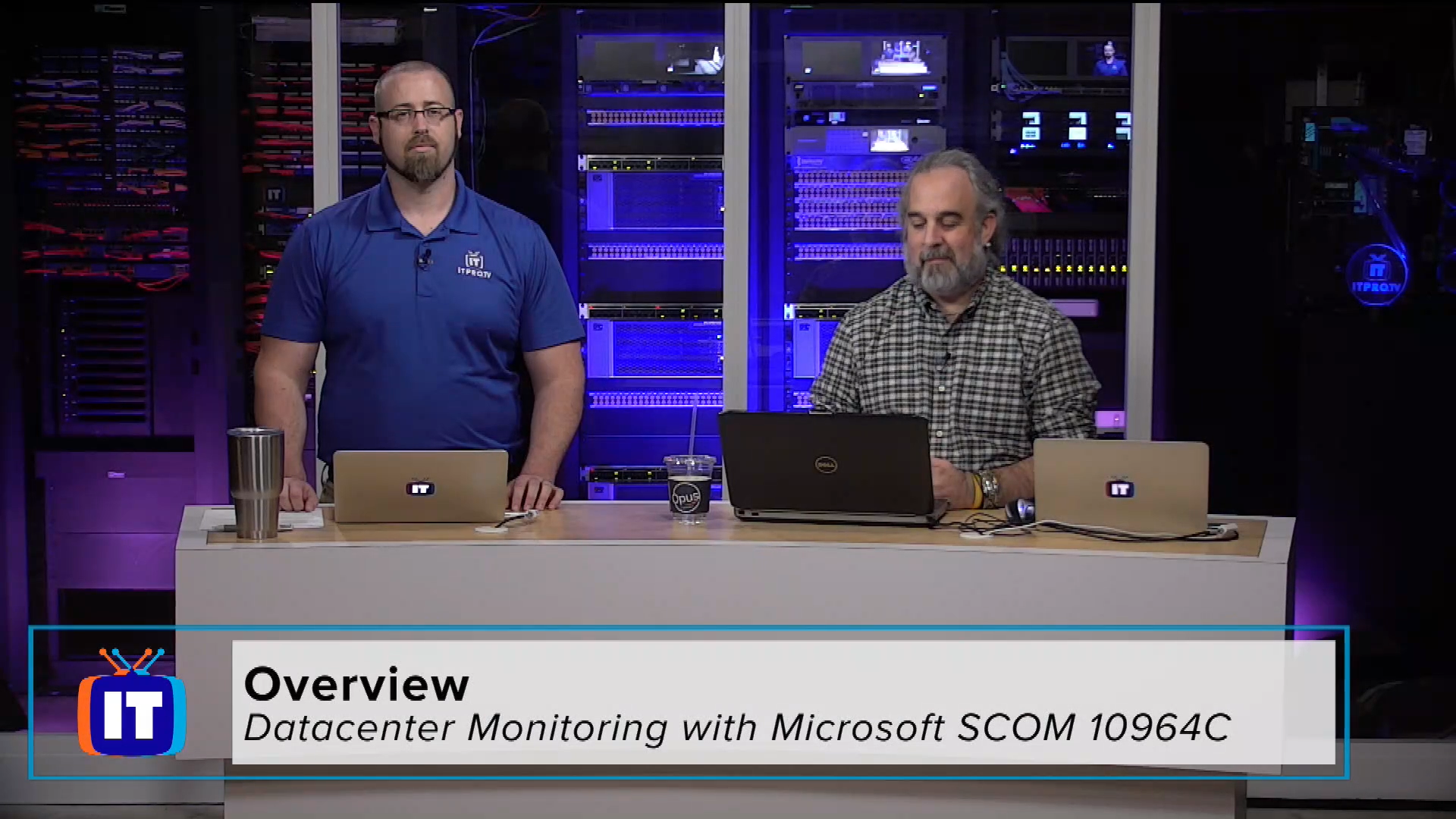 Episode Description
Transcript
This course will help you to acquire the skills required to deploy and configure System Center 2012 R2 Operations Manager for Cloud and Datacenter monitoring. Architecture of a SCOM Monitoring Group, upgrading and/or migrating to SCOM 2012 R2, Management Pack creation, importing, and customization are all discussed and demonstrated. In addition, how to configure end-to-end service monitoring, fabric and application monitoring, and Application Performance Monitoring (APM) for .NET and Java applications are all covered. If you are new to SCOM 2102 R2, or have been using prior versions and want to update your skills, then this course will show you how.
[NOISE] In this segment, we're gonna give you a quick brief look at what to expect on our upcoming Data Center Monitoring with Microsoft SCOM series. And, Adam, I was wondering if you could do us a good favor of giving us the idea of what we can expect topic wise in this series. >> Absolutely, so if you are a Scom administrator today, in other words, if you're using this product already. If you are a Scom 2007, 2007 R2 person, if you have been using the product, definitely wanna take a look. We're gonna talk about how to upgrade, how to migrate, how to do .net based application performance monitoring gonna take a look under the hood talk about all the bells and whistles and new features available in 12 R2. A lot of things have changed, if you're brand new to the product you haven't used it before, wanna get a leg up so to speak on the competition indoor, your boss at work is saying hey, Daniel guess what? That's you. >> [LAUGH] >> Guess what? We got a job for you which is good news right? But you're gonna start talking over management of this whoever you are, this is the course for you. You wanna see how this product gets deployed, from the ground up. We're gonna talk about architecture, overview, how we do the deployment, what a management group is, what a resource pool is, how we put it all together. And not just SCOM, we're gonna take a look at the entire System Center ecosystem. All the products around this product. Show you how to install and configure all of them, how to connect them, how to make sure they all work together. And as if that's not enough we're gonna also talk to you about how to make sure that you can do monitoring both of the fabrics. We're gonna take a look at VMM System Center Virtual Machine Manager, we're to take a look at outside in monitoring with Global Service Monitoring we are talking about application level monitoring. And really see from top to bottom, side to side, up and down, and every which way you can imagine turning around how this product works. Hope you are going to come back and join us for. Look forward spending time with you, and with Daniel, and anybody else who may pop in along the way. Cuz you never know we may have some surprises. I wanted to spend time talking about this so please do come back, and join us right away. >> Excellent stuff Adam, we thank you for that explanation, and if that sounds like something that might interest you, we look forward to seeing you in the upcoming series. [NOISE]
Just you? Training a whole team? There's an ITProTV plan that fits.
With more than 4,000 hours of engaging video training for IT professionals, you'll find the courses you and your team need to stay current and get the latest certifications.