MCSA Windows 10 - 70-697 (UPDATED 2018)
Configuring Windows Devices36 H 20 M
If you are looking to refresh your Windows 10 MCSA and pass the Configuring Windows Devices exam, this course will guide you through what you need to know to pass.
This course has a virtual lab
Manage Identity

Overview
Support Microsoft Store and Cloud Apps
Support Microsoft Store and Cloud Apps Part 2
Support Microsoft Store and Cloud Apps Part 3
Support Microsoft Store and Cloud Apps Part 4
Support Authentication and Authorization
Support Authentication and Authorization Pt2
Support Authentication and Authorization Pt3
Support Authentication and Authorization Pt4
Support Authentication and Authorization Pt5

Plan Desktop and Device Deployment

Migrate and Configure User Data
Migrate and Configure User Data Part 2
Migrate and Configure User Data Part 3
Migrate and Configure User Data Part 4
Configure Hyper-V
Configure Hyper-V Part 2
Configure Hyper-V Part 3
Configure Hyper-V Part 4
Configure Hyper-V Part 5
Configure Hyper-V Part 6
Configure Hyper-V Part 7
Configure Mobility Options
Configure Mobility Options Part 2
Configure Mobility Options Part 3
Configure Mobility Options Part 4
Configure Mobile Device Security
Configure Mobile Device Security Part 2

Plan and Implement a Microsoft Intune Device Management Solution

Support Mobile Devices
Support Mobile Devices Part 2
Support Mobile Devices Part 3
Support Mobile Devices Part 4
Software Updates Using Microsoft Intune
Manage Devices with Microsoft 365
Configure Information Protection
Configure Information Protection Part 2
Configure Information Protection Part 3

Configure networking

Configure IP Settings
Configure IP Settings Part 2
Configure Network Settings
Configure Network Security
Configure Network Security Part 2
Configure Network Security Part 3

Configure storage

Support Data Storage
Support Data Storage Part 2
Support Data Security
Support Data Security Part 2
Support Data Security Part 3
BitLocker and BitLocker To Go

Manage data access and protection

Configure Shared Resources
Configure Shared Resources Part 2
Configure Shared Resources Part 3
Configure Shared Resources Part 4
Configure File and Folder Access
Configure File and Folder Access Part 2
Configure File and Folder Access Part 3
Configure File and Folder Access Part 4
Configure File Access Auditing
Configure File Access Auditing Part 2

Manage remote access

Configure Remote Connections
Configure Remote Connections Part 2
Configure Remote Connections Part 3
Configure Remote Connections Part 4 2018
Configure Remote Access
Configure Remote Access Part 2
Configure Mobility Options
Configure Mobility Options Part 2
Configure Mobility Options Part 3

Manage apps

Deploy and Manage RemoteApp
Deploy and Manage RemoteApp Part 2
Support Desktop Apps
Support Desktop Apps Part 2

Manage updates and recovery

Configure System Recovery
Configure System Recovery Part 2
Configure System Recovery Part 3
Configure File Recovery
Configure and Manage Updates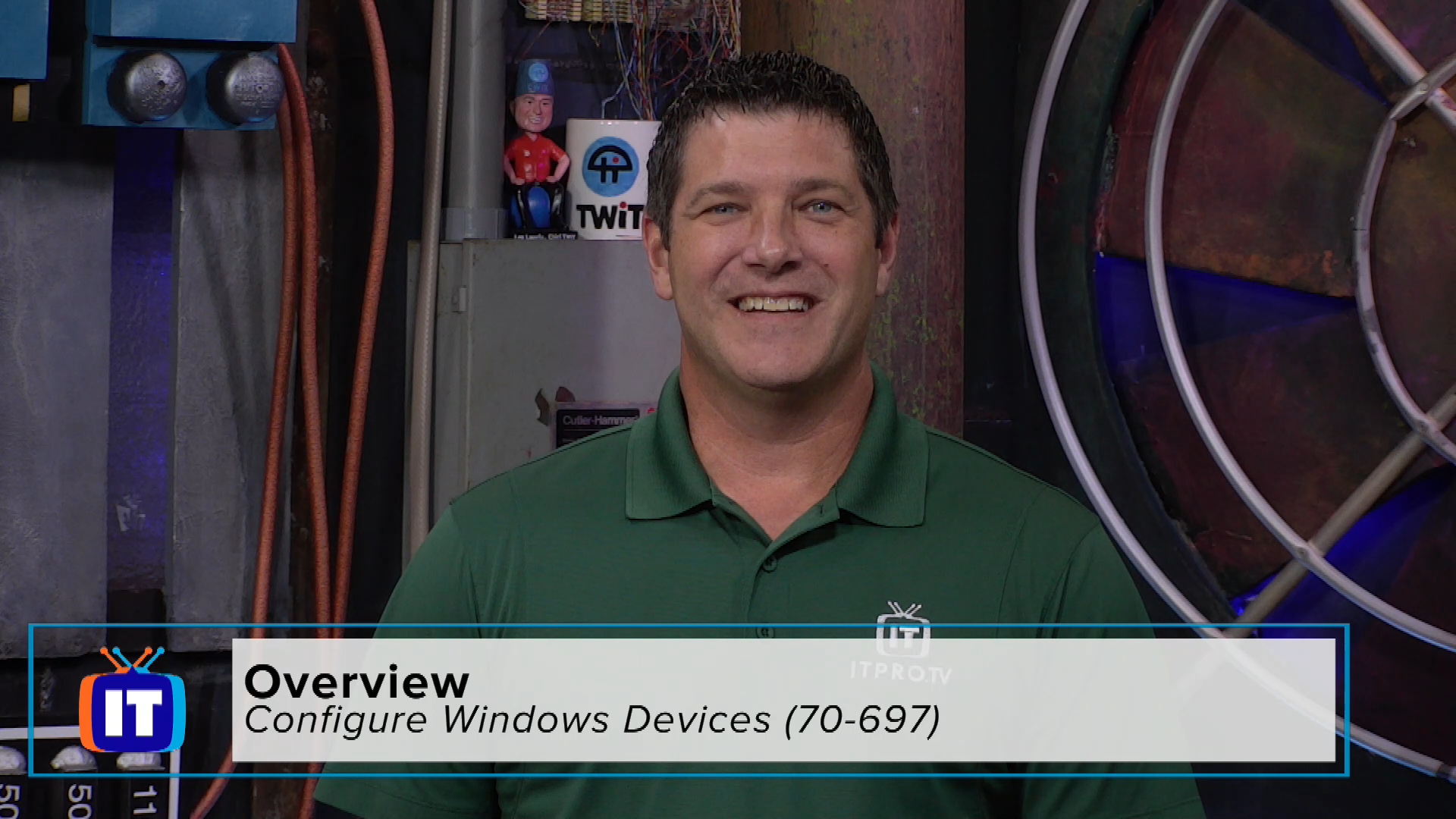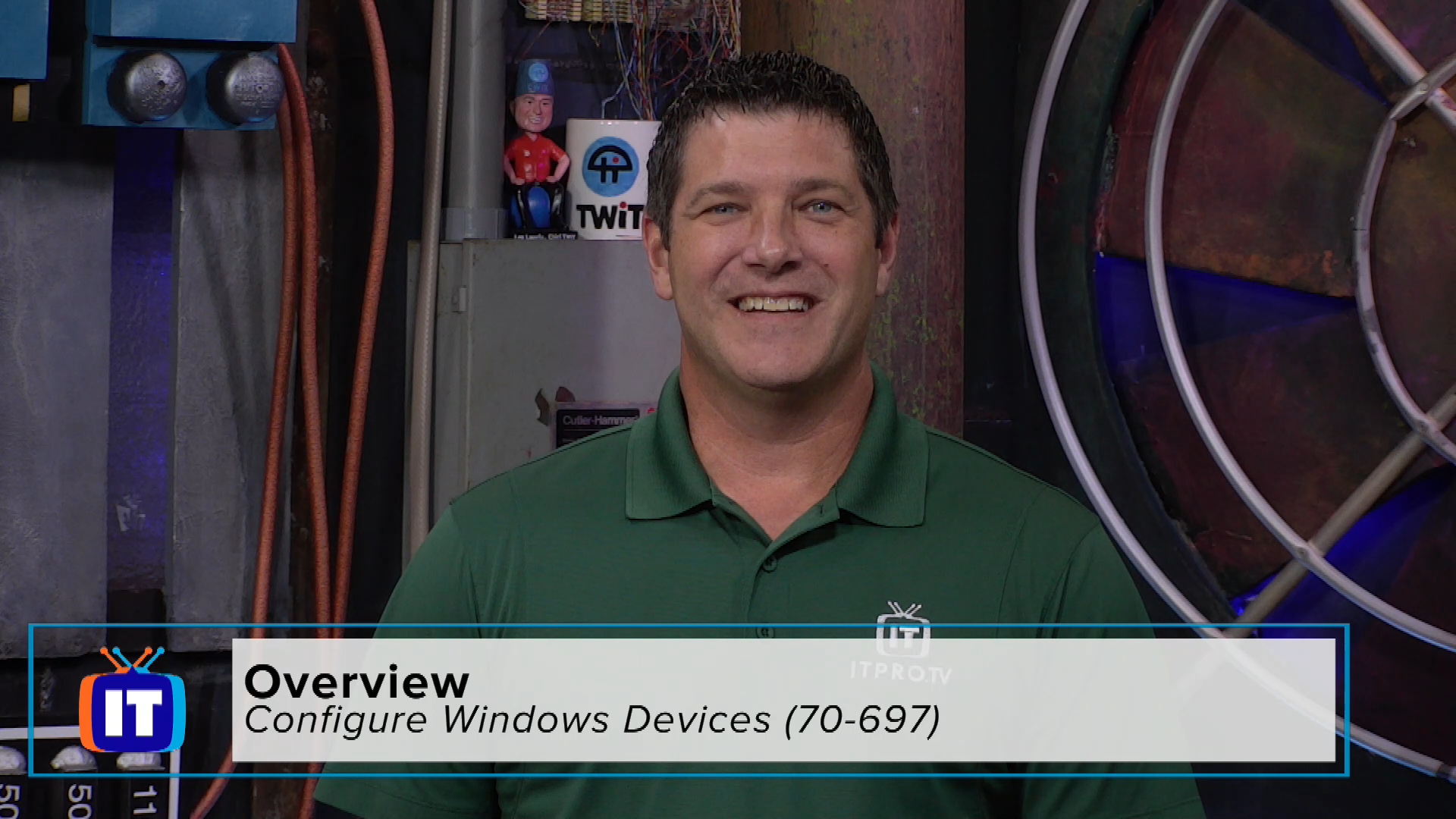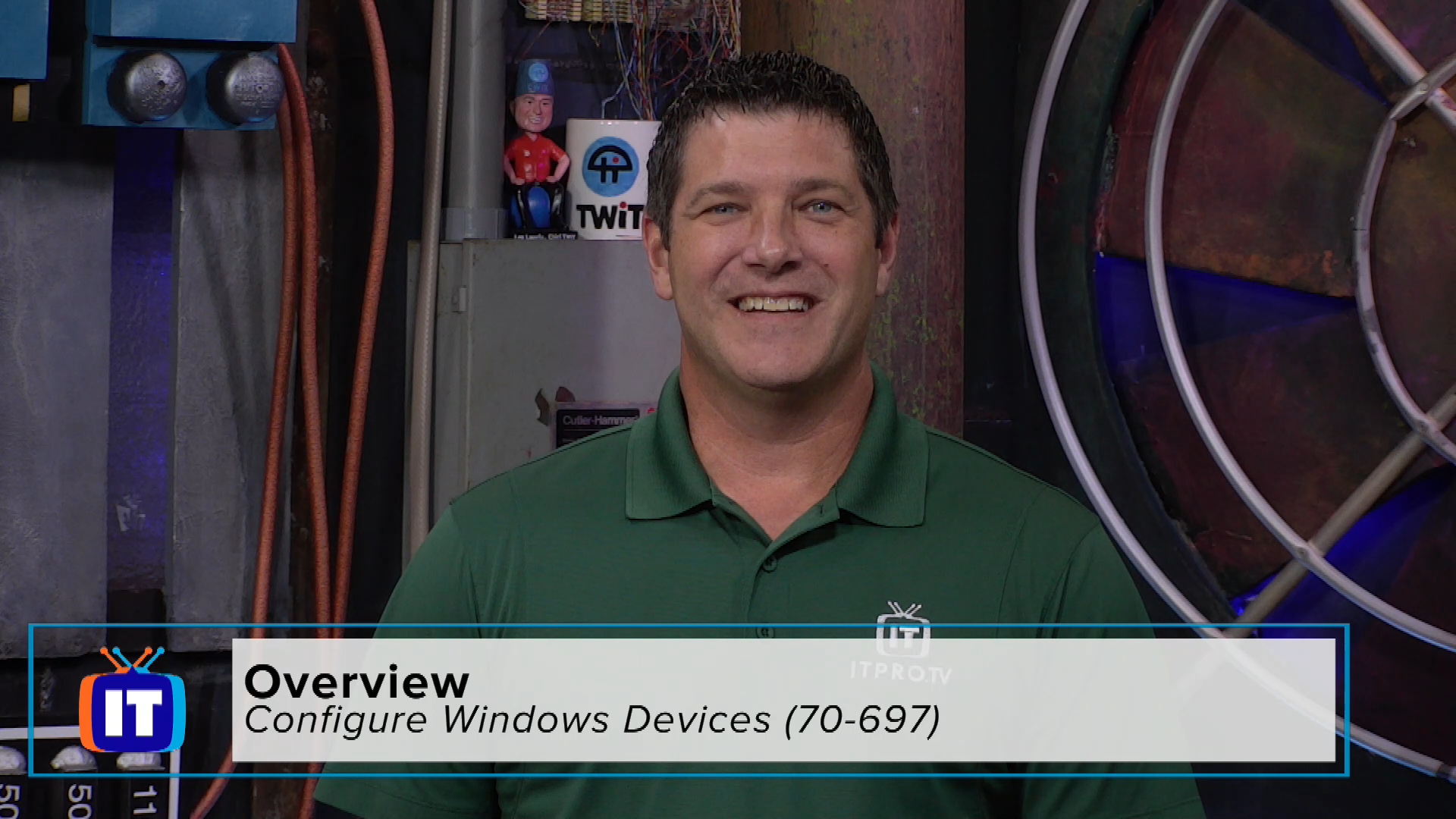 Episode Description
Transcript
Over 80% of computers run Microsoft Operating systems. As a result, the Microsoft Certified Solutions Associate is one of the first steps for those seeking to start a technical career. The 70-697 Configuring Windows Devices exam covers topics that are a "must know" for anyone responsible for deploying, maintaining and supporting Windows desktops and other devices in a corporate or enterprise environment. Most people know how to use Windows in a home environment, but there are many features under the hood that are designed for environments with a large quantity of computers. The MCSA dives into those and gives the viewer a whole new toolbox for ensuring their computing environment is functional and stable.
[MUSIC] Hey, if you're getting ready for that 70-697 exam, Configuring Windows Devices, then this is the series for you, we'll be covering those objectives. In fact, let's go out to Microsoft's site and take a look at what is expected of us as we get ready for this exam. But you can do a quick search with your favorite search provider. 70-697 objectives should take you out to this Microsoft page, where I can scroll down and see what I'm gonna need to know as I walk in or prepare for this exam. And then we're gonna go all over all of these in this series. You will start with manage identity. We'll take a look at things like supporting the Microsoft store, store for business, store for education. Supporting authentication and authorization, will plan desktop and device deployment, take a look at migrating user data from old operating systems over to Windows 10. And how to configure Hyper-V on a Windows 10 device. Configure mobility options, Power Plans, powercfg. And we're gonna take a look at configuring security for mobile devices. Configuring BitLocker, that's gonna be a big one for this exam. As we scroll down plan and implement a Microsoft 365 solution. Now this is not a server exam, it is a client side objective. But you are gonna have to support users that are connecting to Microsoft 365. So you are gonna need some knowledge of how you go about that, creating policies, using things like Microsoft Intune. So you can see deploying software updates using Microsoft Intune. Supporting mobile devices, things like work folders, sync center, device management using Intune, right, Windows 10 mobile, iOS and Android. These are things that they're gonna want me to know, the fact that I can manage. Multiple platforms, using Microsoft Azure and Microsoft Intune. Configuring information protection, a big part about supporting these users is making sure that that data stays safe on their different devices. We'll take a look at configuring networking, some basic IP settings, network settings, connecting to wireless networks, how is that done through Windows 10. How do we manage those wireless networks and wired networks for that matter? Configuring and maintaining network security. We're gonna take a look at firewall configurations. The newer windows firewall with advanced security. IPsec authentication, configuring authentication exceptions if we need to. Then we'll move on in to configuring storage, we're gonna take a look at topics like, DFS or My Distributed File System, and storage spaces. And the different types of fault tolerance we can set up using storage spaces and One Drive. We'll take a look at Supporting Data Security. You need to understand NTFS permissions, Share permissions, Dynamic access control, encrypting file system, setting up a data recovery agent. So if something goes wrong, we haven't lost access to those resources. Now we can move into managing data access and protection. You have configuring shared resources. Even topics like HomeGroup settings, what you think Mike shouldn't be a part of an Enterprise exam but, again, we are gonna be supporting users on Windows 10. So we're gonna need to know how to configure those HomeGroups, configuring libraries, configuring file and folder access. Again, you'll see a little bit of overlap in some of these topics, NTFS permissions, configuring EFS and then remote access, all right? VPNs, the new technology's VPN reconnect. Supporting multiple platforms there, as well. Configuring offline file policies. Configuring power policies. Windows to go, great one there love that one. And then we get into managing apps, so we gonna take a look at technologies like remote app, App-V, Hyper-V. How can I run apps on the platform if that app is maybe designed for another operating system but I wanna use it on windows 10. Or I need to run two different versions of the same application side by side, so I can do a little testing, is that possible? What technologies can I use to support that? And then we'll round things up with the managing updates and recovery. Things like system recovery, configuring file recovery, and configuring and managing updates. So we'll be covering all of these objectives as we try to get you ready to pass that 70-697 exam. [MUSIC]
Just you? Training a whole team? There's an ITProTV plan that fits.
With more than 5,800 hours of engaging video training for IT professionals, you'll find the courses you and your team need to stay current and get the latest certifications.