MCSA Windows 10 - 70-698 (UPDATED 2018)
Installing and Configuring Windows 1038 H
Learn how to install and configure Windows 10. This is the second exam you are required to pass if you wish to obtain the MCSA for Windows 10.
This course has a virtual lab
Implement Windows

Overview
Preparing for Installation
Preparing for Installation Part 2
Preparing for Installation Part 3
Install Windows
Install Windows Part 2
Install Windows Part 3
Install Windows Part 4
Install Windows Part 5
Install Windows Part 6
Configure Devices and Drivers
Configure Devices and Drivers Part 2
Customize the Desktop
Customize the Desktop Part 2
Action Center and Taskbar
Action Center and Taskbar Part 2
Accessibility Options and Cortana
Internet Explorer and Edge
Internet Explorer and Edge Part 2
Configure Client Hyper-V
Configure Client Hyper-V Part 2
Configure Client Hyper-V Part 3
Configure Client Hyper-V Part 4
Configure Client Hyper-V Part 5
Enterprise Implementations
Enterprise Implementations Part 2
Activation Options
Activation Options Part 2

Configure and support core services

Configure Networking
Configure Networking Part 2
Configure Networking Part 3
Configure Networking Part 4
Configure Networking Part 5
Configure Networking Part 6
Configure Networking Part 7
Configure Networking Part 8
Network Troubleshooting
Network Troubleshooting Part 2
Network Troubleshooting Part 3
Configure Disks and Volumes
Configure Disks and Volumes Part 2
Configure Disks and Volumes Part 3
Configure Disks and Volumes Part 4
Configure Disks and Volumes Part 5
Configure Disks and Volumes Part 6
Configure Storage Spaces
Troubleshooting Storage
Troubleshooting Storage Part 2
Create and Configure VHDs
Create and Configure VHDs Part 2
Configure File System Permissions
Configure File and Folder Sharing
Configure File and Folder Sharing Part 2
Configure OneDrive and Files On Demand
Configure apps
Configure apps Part 2
Provision Packages
Provision Packages Part 2
Provision Packages Part 3
Configure Remote Management
Configure Remote Management Part 2
Configure Remote Management Part 3

Manage and maintain Windows

Configure Updates
Configure Updates Part 2
Monitor Windows
Monitor Windows: Performance/Resource Monitor
Monitor Windows: Event Viewer
Monitor Windows: Event Subscriptions
Monitor Windows: Printers and Indexing
Monitor Windows: Printers and Indexing Part 2
Windows Defender Options
System and Data Recovery
System and Data Recovery Part 2
System and Data Recovery Part 3
Homegroups and Workgroups
Domain Join Options
Accounts and UAC
Passport and Hello
Credential and Device Guard
Credential and Device Guard Part 2
Device Registration and Health Attestation
Configure Advanced Management Tools
Configure Advanced Management Tools Pt.2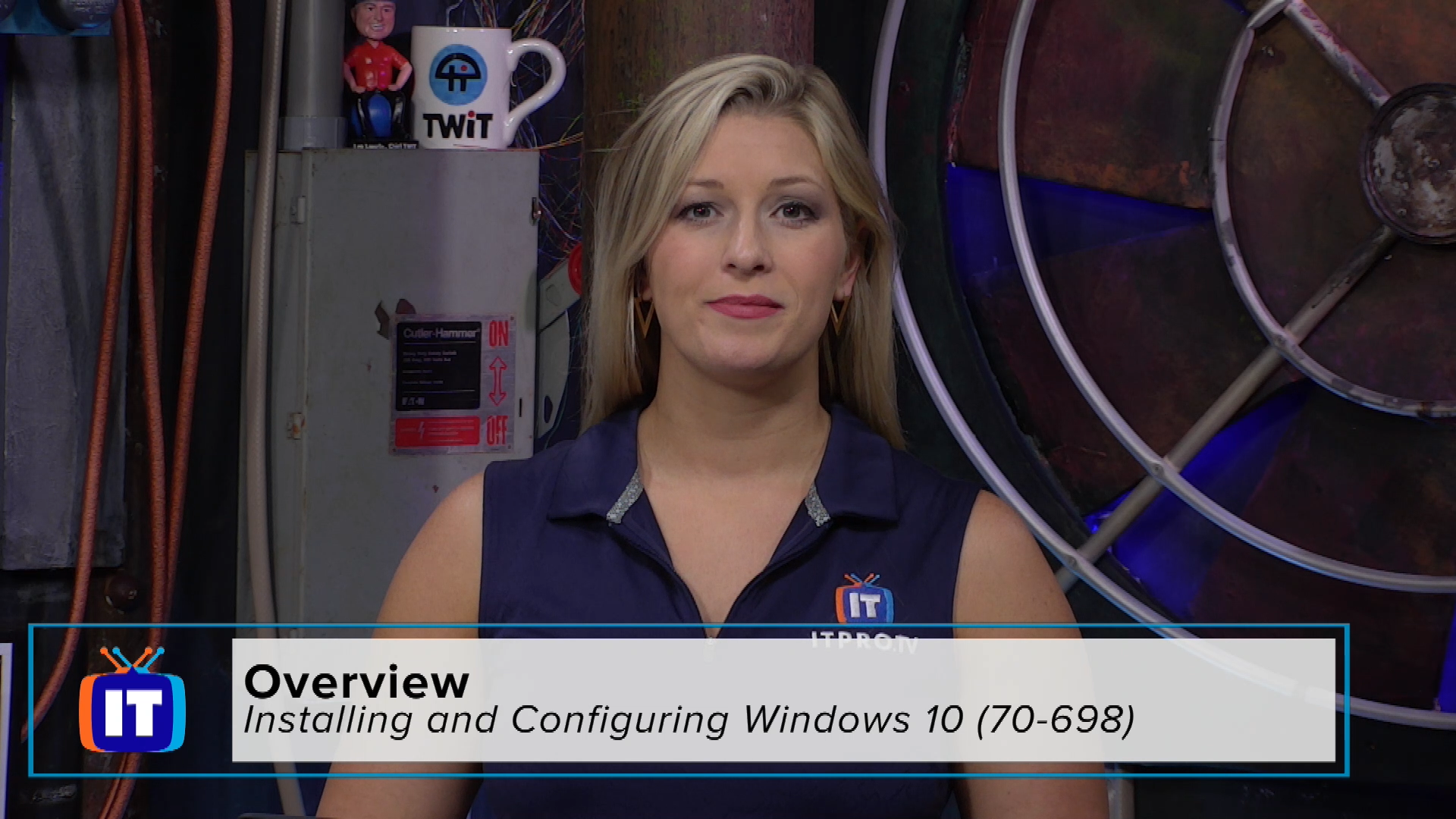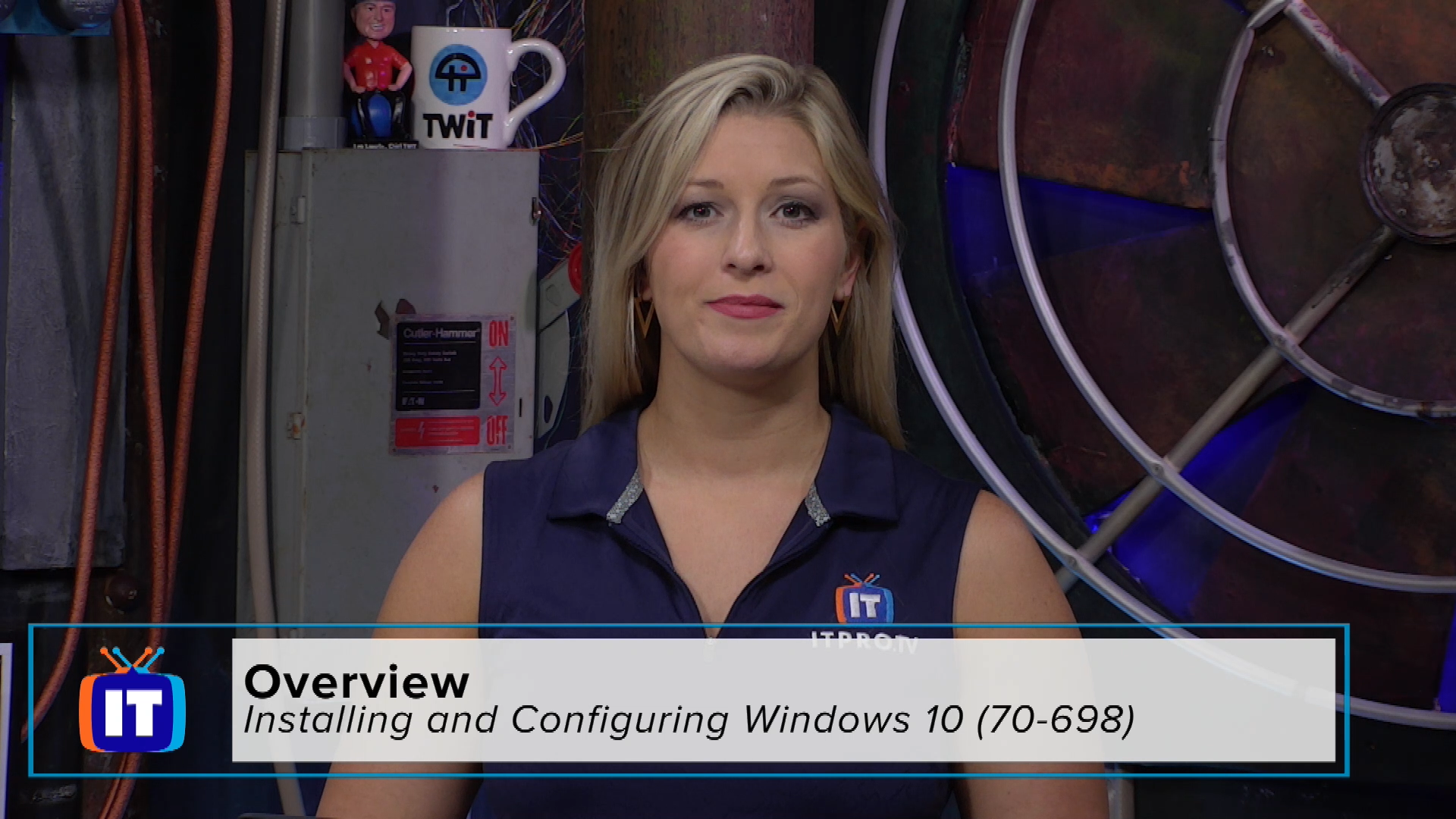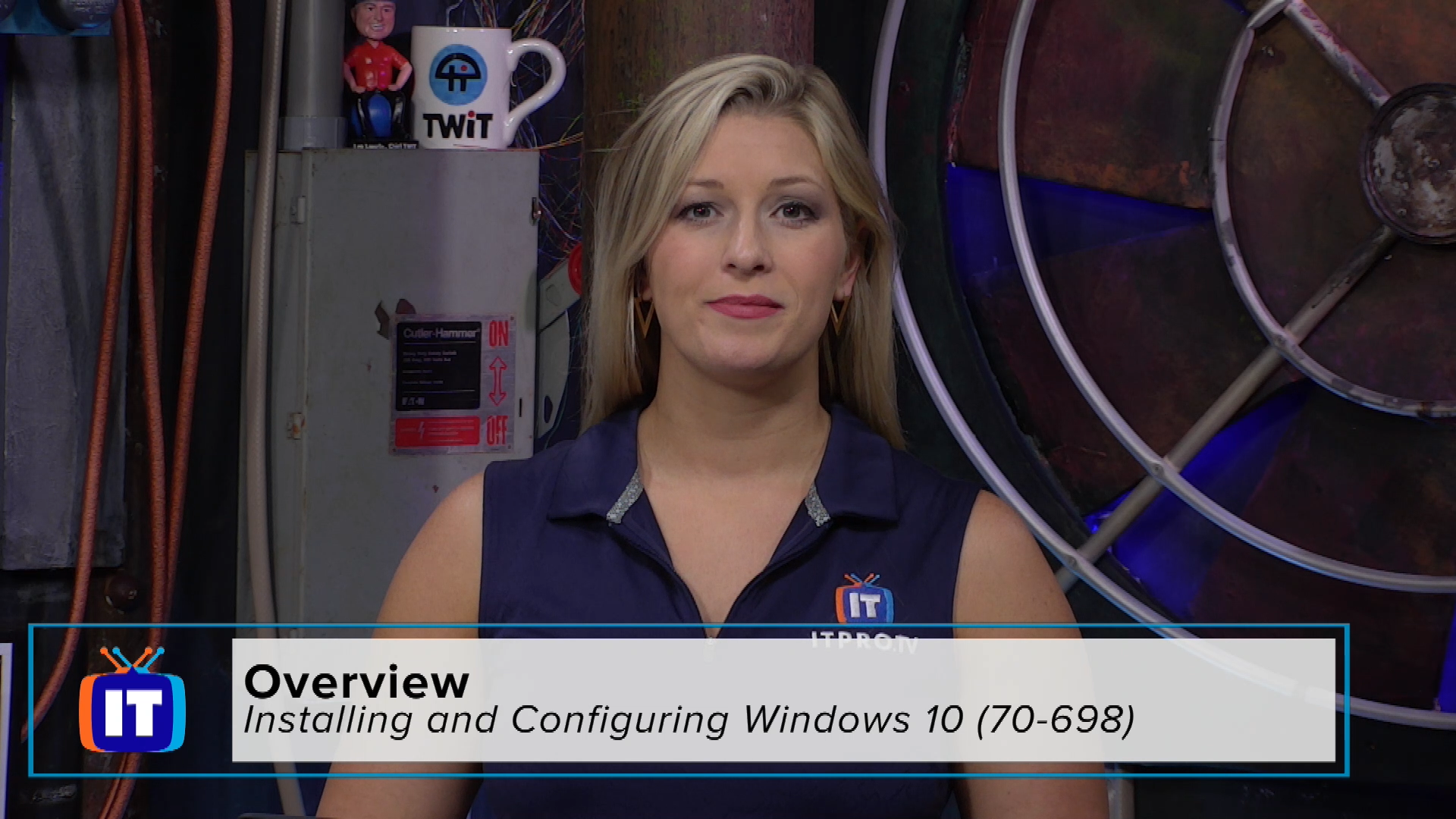 Episode Description
Transcript
In this series we will dive into the second exam that is required for a viewer to achieve an MCSA in Windows 10. The topics will range from installation of Windows 10, post-installation configurations, applying images, various deployment tools as well as monitoring and servicing Windows 10 and more. Exam candidates are encouraged to watch both Windows 10 series for the MCSA exams.
[MUSIC] Welcome, if you're looking to take exam 70-698, installing and configuring Windows 10, then you're in the proper place. So I just wanna talk a little bit about what to expect when you're sitting for that exam. Now, if this is the first time you've ever taken a Microsoft exam, I definitely wanna give you a heads up. And don't underestimate the exam, e specially maybe if you've just come off of some COMPTIA exams and you're feeling really good, you've kind of got that momentum going. I want you to be aware there's more than just multiple choice, you're going to see a lot of varied-type questions in this exam. So let's go ahead and take a look at, really, what we can expect. On Microsoft's website, you can find a great deal of information, especially just by doing a Bing or Google search for Exam 70-698. You can see information about pricing. And on the left-hand side you'll notice that there are other languages that are supported as well. Now, once you get your exam scheduled right through this website, you have the ability to go ahead and change that as well. But there is some prep that you need to think about, especially before taking any kind of Microsoft exam at this current moment. So what we're seeing a lot of here in Microsoft is really this paradigm shift of, well, their business model. And now that we're seeing Windows as a service, a lot of things are changing at a very rapid rate. Be aware of that. The videos that you'll see throughout this series are shot and frozen in a moment of time, so objectives may change. The operating system will change, it's changing very rapidly. But one thing I want you to pay attention to is right here. Looking at that exam objective date. So currently, the objectives have been updated last since November 30, 2017. So it's been a little while that these objectives have been out. Just make sure you are studying the correct objectives before you go ahead and schedule that exam, so you really have a good understanding. If you want to see exactly what you have to look forward to, Microsoft really defined the objective domains right here on their website. Now, it looks like only three domains are listed here, and they are all weighted about equally. Well, they are weighted equally, one-third to be to be precise, between 30% and 35% of that overall score for your exam. So throughout this series we're going to go through each one of these domain objectives. We'll go ahead and expand out here. And you can really get an idea of what you should know before sitting and scheduling that exam. So kind of use this as a check-list, if you will. You can even copy and paste this entire list into, let's say, Microsoft Onenote for example. And then, you can attach all the different links that I show you throughout the show, as well as any links you come across that may help you study. So you really have a good notebook of all your study materials there in one place. So we'll take a look at all of these topics, everything from the installation requirements, to installing Windows, configuring devices and drivers, performing post-installation configuration, implementing Windows in an Enterprise environment. So we'll take look at all these different objectives. You just have to keep in mind that especially because Windows as a service is now so closely integrated with Cloud services in Azure, we're seeing such a rapid pace of change here. So keep that in mind, stay up to date, keep evolving. Taking a look at configuring and supporting core services, again, between 30 and 35% of that overall score, keeping in mind you only need to get a 700 out of 1,000. I wouldn't worry too much about how much each particular question is going to be worth, how many questions you have to get right and so forth, because you are gonna see those varied types of questions on the exam. So you do get partial credit for some. So don't worry about that too much. Just know you have to get a 700. You'll have two hours to complete the exam, anywhere between 40 to 60 questions. So you should have plenty of time, especially if you use this objective list as your guide. And again, also Microsoft docs, which I reference throughout this series, for really deep dive additional information into certain technologies, as well as those PowerShell commandlets. You don't wanna forget about those. Now, as you continue to maybe you wanna go into more server side certifications, you will see increased amount of PowerShell type questions. However, do not exclude PowerShell from this particular exam. Everything that you see and know in the GUI, make sure you kind of understand the syntax and the comparable commandlets that we see associated for that function or execution in PowerShell. So yeah, we'll go through all of this. Microsoft does have some supplemental information here as well. Study tools. We offer, if you're a premium member, you have access to practice labs. If you don't have access to practice labs, I show you in the shows where you can download evaluation copies in the eval center so you can set up your own lab at home, which is extremely important. You gotta get that hands on to be successful here, or take advantage of practice labs or some alternative there. Just keep that in mind. We also offer practice exams here at ITProTV, if you're a premium member. So you definitely want to, if you saw at the very beginning of this page, currently $165 American for this exam. Not too cheap if you don't pass it the first time or two around. So you wanna make sure you are at that level where you're ready to take the exam. Practice tests are a great way to go ahead and gauge yourself. Please do not memorize any practice exams because practice exams, the questions are being pulled from a pool of questions, and potentially you could memorize them. Reserve those strictly for a gauge so that you can be fully confident and ready for that exam. Books. I've used the Exam Ref books, so Exam Ref 70-698. But I will say this, publishers and authors just have a really hard time keeping up with all of the changes. Microsoft docs is really where you want to go to check out those really dynamic and evolving bits of information there for supplemental study as well. And I think that's about it. So whether you're a sysadmin, and you're looking to go ahead and enhance your skills, or if your organization wants you to pass this exam, just really make sure you jump into this. Guys, you're not alone. You can contact us in the ITProTV forums. We have ask me anything going on right now. There's always social media you can reach out to. The chat here at ITPro.TV. So definitely know that you do have support, and reach out if you have any questions. But aside from that, good luck, and I hope you enjoyed the show. [MUSIC]
Just you? Training a whole team? There's an ITProTV plan that fits.
With more than 5,800 hours of engaging video training for IT professionals, you'll find the courses you and your team need to stay current and get the latest certifications.