MCSA Windows Server 2012 - 70-410 (UPDATED 2017)
Installing and Configuring Windows Server 201235 H 49 M
This course has a virtual lab
This course has a practice test
Install and configure servers

Overview
Planning a Server Installation
Install and Configure Server with GUI
Install and Configure Server Core
Features and Roles
Features and Roles Part 2
Additional Installation Configurations
Additional Installation Configurations Part 2
Configuring Disks
Configuring Disks Part 2
Storage Spaces
Storage Spaces Part 2
Desired State Configuration
Desired State Configuration Part 2
Desired State Configuration Part 3
NIC Teaming
NIC Teaming Part 2

Configure server roles and features

Configure NTFS Permissions
Configure NTFS Permissions Part 2
Configure Share Permissions
Configure Share Permissions Part 2
Configure File and Share Access
Configure File and Share Access Part 2
Configure File and Share Access Part 3
Configure File and Share Access Part 4
Configure File and Share Access Part 5
Configure File and Share Access Part 6
Configure File and Share Access Part 7
Configuring Printers
Configuring Printers Part 2
Configuring Printers Part 3
Configure Servers for Remote Management
Configure Servers for Remote Management Part 2
Configure Servers for Remote Management Part 3

Configure Hyper-V

Understand, Create and Configure VMs
Understand, Create and Configure VMs Part 2
Understand, Create and Configure VM Part 3
Configure Guest Integration Services
Additional VM Configurations
Additional VM Configurations Part 2
Create and Configure VM Storage
Working with VHDs in Powershell
Additional Storage Configurations
Hyper-V Networking
Hyper-V Networking Part 2
Hyper-V Networking Part 3
Hyper-V Networking Part 4

Deploy and configure core network services

Deploy and Configure DHCP
Deploy and Configure DHCP Part 2
Deploy and Configure DHCP Part 3
Deploy and Configure DHCP Part 4
Install DNS
Install DNS Part 2
Install DNS Part 3
Configure DNS
Configure DNS Part 2
Configure DNS Part 3
IPv4 and IPv6 Interoperability
IPv4 and IPv6 Interoperability Part 2
Configure IPv4 and IPv6
Configure IPv4 and IPv6 Part 2

Install and administer Active Directory

Install Domain Controllers
Install Domain Controllers Part 2
Install Domain Controllers Part 3
Install Domain Controllers Part 4
Active Directory Users and Computers
Active Directory Users and Computers Part 2
Active Directory Users and Computers Part 3
Create and Manage Groups and OUs
Create and Manage Groups and OUs Part 2

Create and manage group policy

Create Group Policy Objects (GPOs)
Create Group Policy Objects (GPOs) Part 2
Create Group Policy Objects (GPOs) Part 3
Create Group Policy Objects (GPOs) Part 4
Create Group Policy Objects (GPOs) Part 5
Configure Security Policies
Configure Security Policies Part 2
Configure Application Restriction Policies
Configure Application Restriction Policies Part 2
Configure Windows Firewall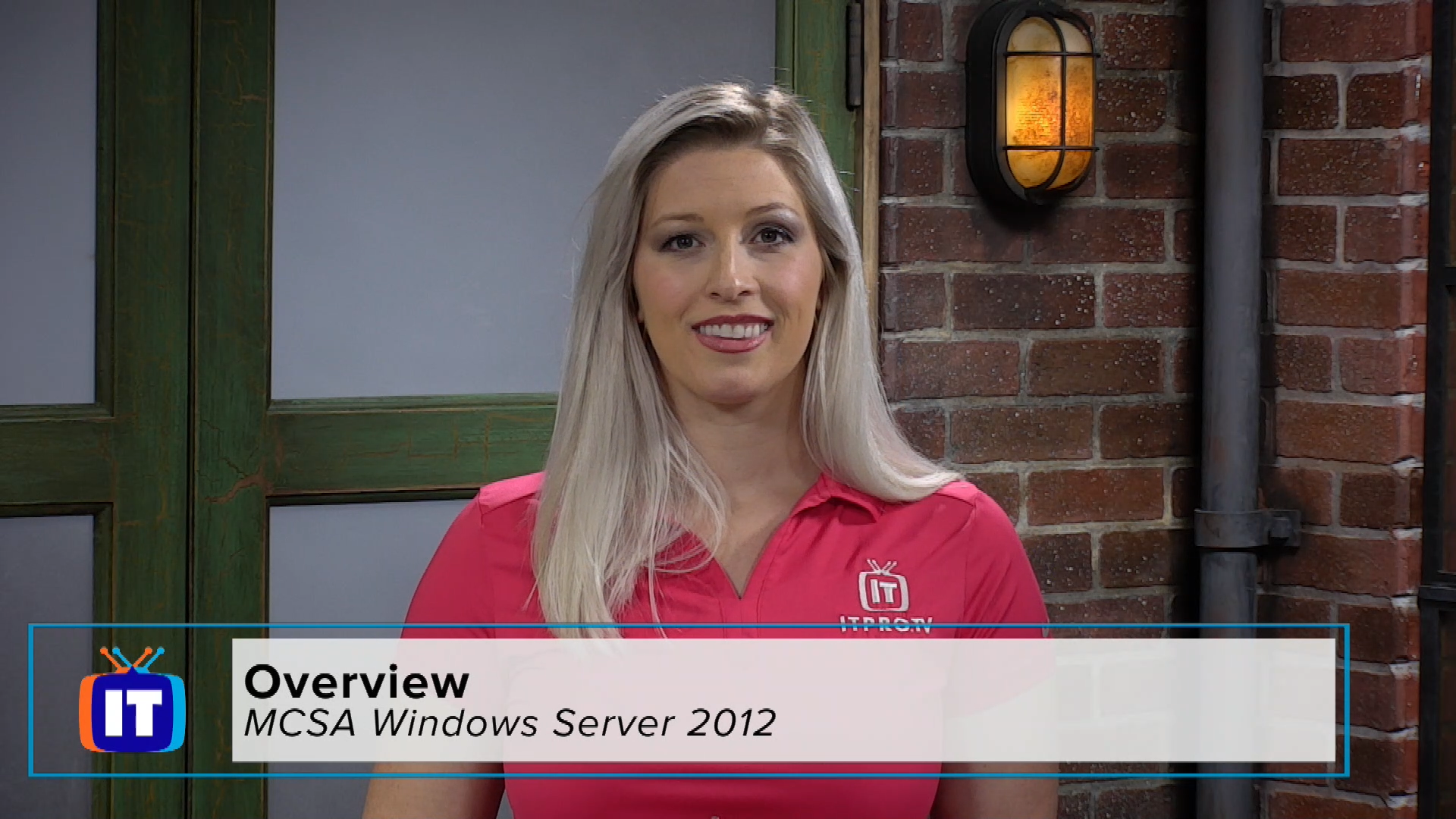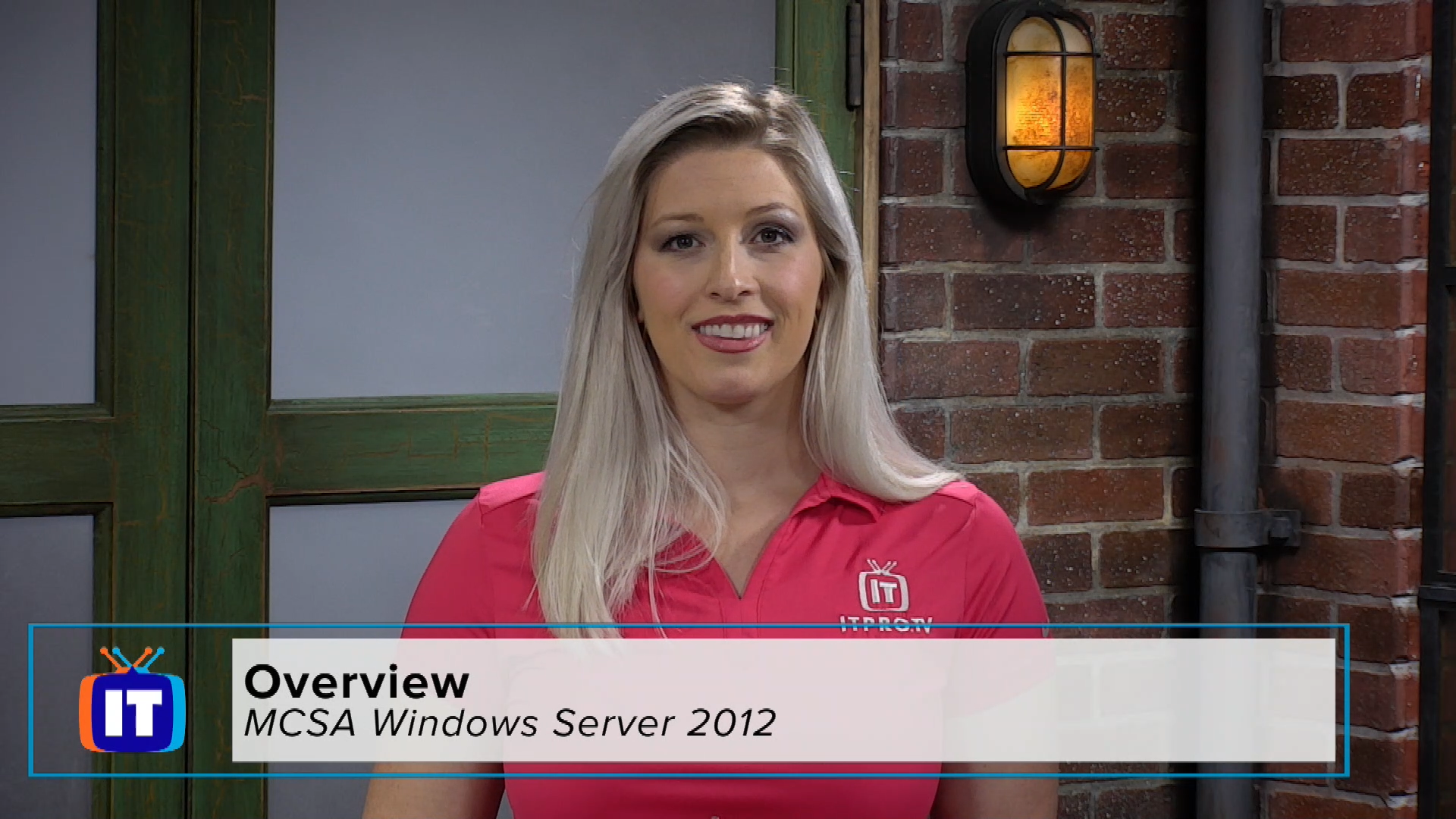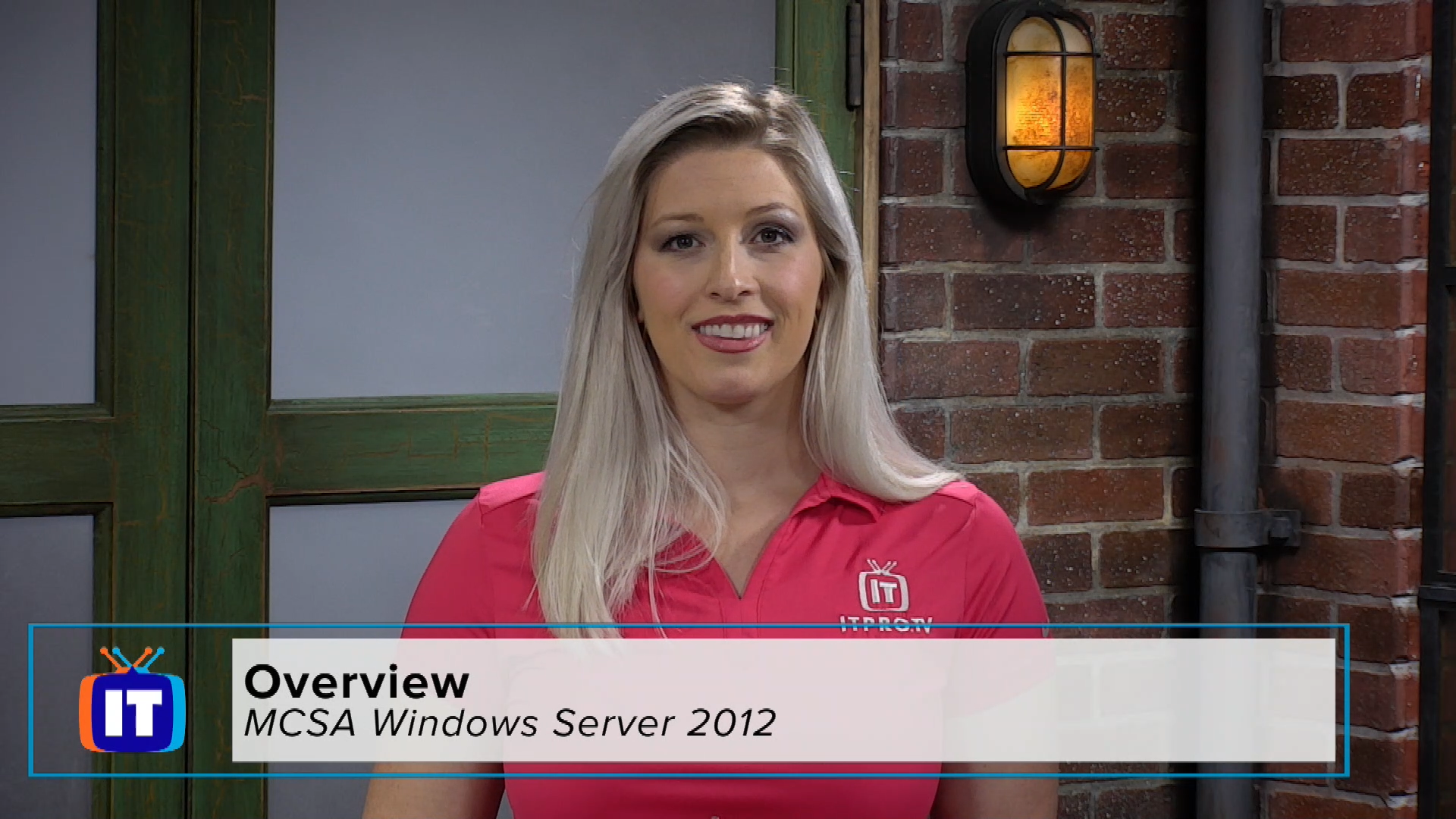 Episode Description
Transcript
The MCSA 70-410 Installing and Configuring Windows Server 2012 exam covers topics like how to install Windows server 2012, how to add roles to it so that your server can perform customized functions and other areas that will help the viewer to ensure their computing environment is functional and stable.
[MUSIC] Welcome to Installing and Configuring Server 2012. In this overview, I'm going to explain kind of what this series looks like, what to expect and just walk through a little bit of the exam taking, test taking process. So, if we can take a look at my screen, I wanna share a page that Microsoft has some details provided surrounding this particular exam. So, maybe you are a server admin, or maybe you're just looking to obtain a particular certification. Well this exam is going to be part of a track for certification such as your MCP, or Microsoft Certified Professional. It's a great place to start with your MCSA, your Microsoft Certified Solutions Associate, or even your MCSE, for your Microsoft Certified Solutions Expert. Now currently, at the point of this recording, it's $165 U.S. to take the exam. Microsoft exams are a little funny in the sense they don't outright tell you exactly how many questions are gonna be on the exam. The number could fluctuate, usually between 40 to 60 questions per exam. And if we scroll down, we can see there are six domain objectives underneath this Skills measured portion. So what that means, those are six categories for the exam topics, if you will. And if we take a look at those, you can even see how they break them down into percentage as far as an overall weighted percentage per category. So in the first domain, we'll see install and configure servers. And if you hit the plus button the left-hand side here, it'll expand out to just give you a little more detail on really what to expect for a domain objective or topic here. So, the other five remaining topics are going to be configure server roles and features. We'll definitely take a look at all of those. We'll also spend quite a good amount of time just looking at, well, how to configure Hyper-V with the advent of virtualization. It's very important to understand how those virtualized machines work in today's environments here in Windows. We'll also take a look at deploying and configuring core network services, as well as installing and administering active directory. And lastly, we'll specifically be looking at how to create and manage group policy. So there is quite a bit here, I think its a great place for you to go ahead and get started. So good luck, and I'll see you soon. [MUSIC]
Just you? Training a whole team? There's an ITProTV plan that fits.
With more than 4,000 hours of engaging video training for IT professionals, you'll find the courses you and your team need to stay current and get the latest certifications.