MCSA Windows Server 2012 - 70-411
Administering Windows Server 201222 H 19 M
The MCSA Windows Server 2012 (70-411) exam is for IT professionals who have worked with Windows for several years and are looking to certify.
This course has a virtual lab
Overview of MCSA Windows Server 2012 R2 (70-411)

Overview of Windows Server 2012 R2

Deploy, manage, and maintain servers

Deploy and Manage WDS
Windows Deployment Services Part 2
Configuring WSUS
Configuring WSUS Part 2
Monitoring Servers
Driver Groups and Packages
Patch Management in Mixed Environments
Performance Monitor

Configure file and print services

Distributed File System
File Server Resource Manager
File Server Resource Manager Part 2
File and Disk Encryption
EFS and Audit Policies

Configure network services and access

Configure DNS Zones
Configure DNS Records
Configure VPN and Routing
Configuring DirectAccess

Configure a Network Policy Server infrastructure
Configure and manage Active Directory

Operation Master Roles
Read Only Domain Controllers
Configure Account Policies

Configure and manage Group Policy

Group Policy Processing
Group Policy Processing Part 2
Group Policy Processing Part 3
Group Policy Settings
Group Policy Settings Part 2
Group Policy Objects
Group Policy Preferences
Overview of Windows Server 2012 R2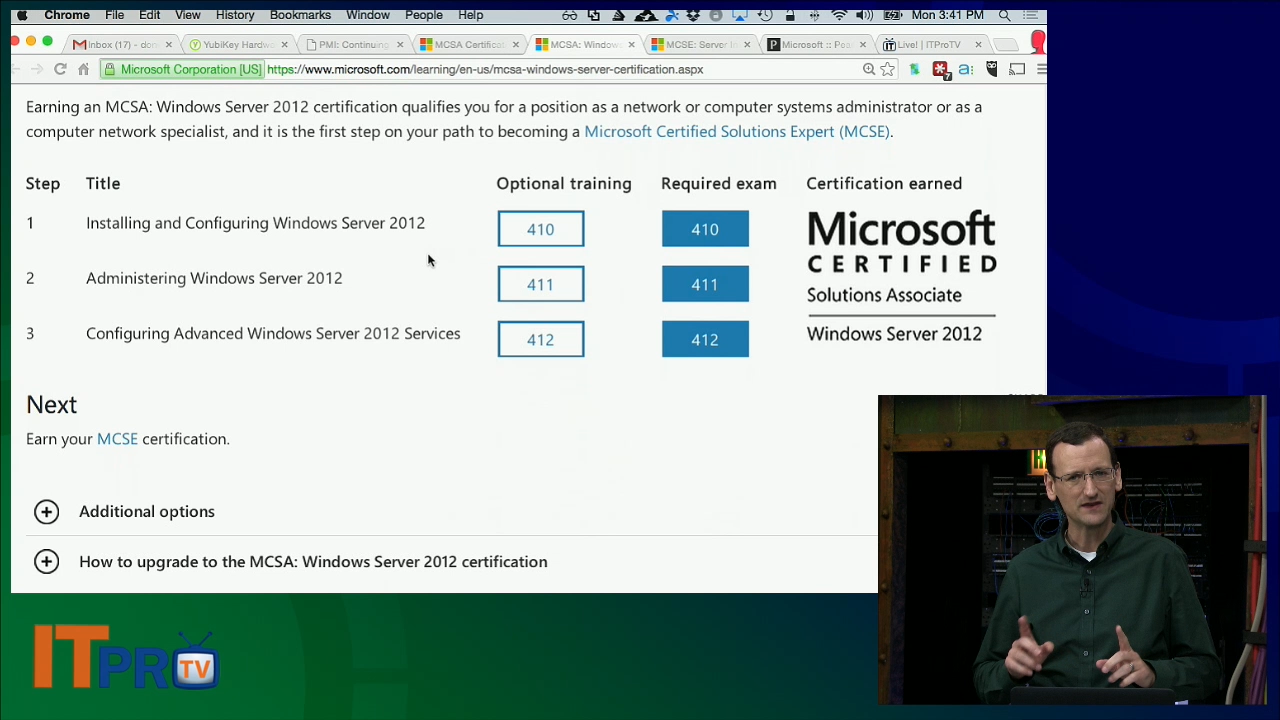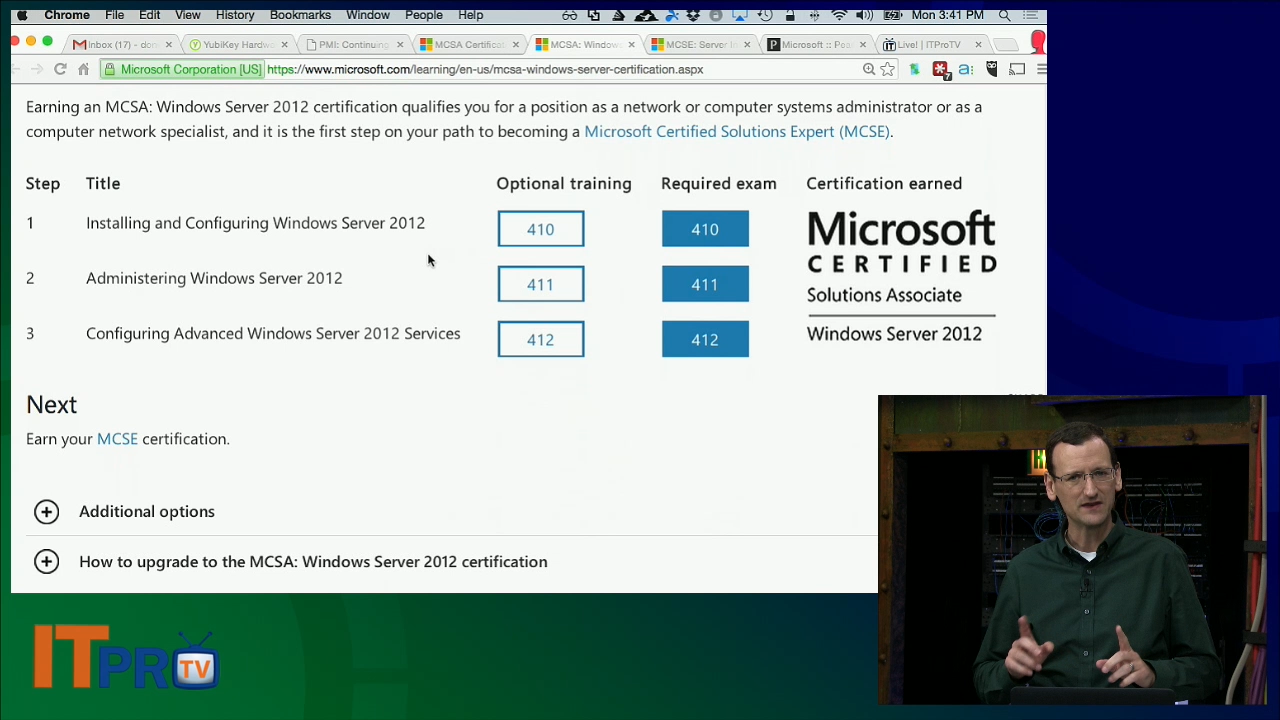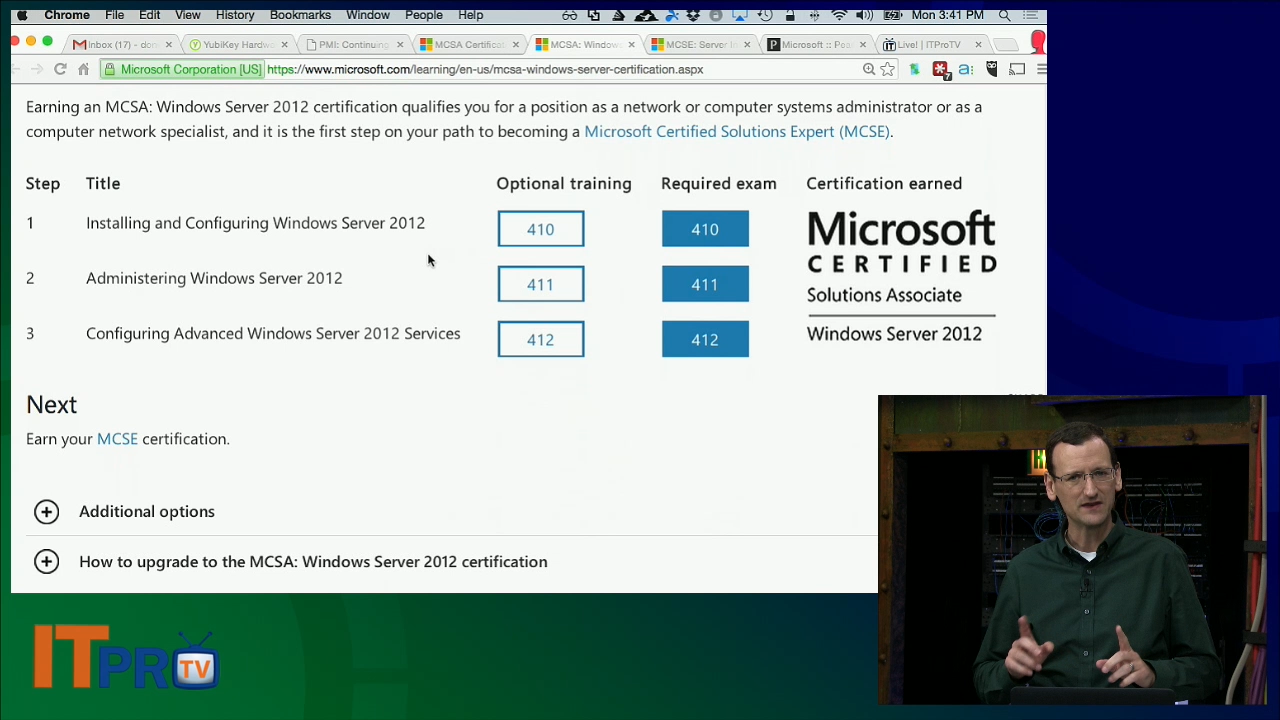 Episode Description
Transcript
MCSA Windows Server 2012 (70-411) Over 80% of computers run Microsoft Operating systems. As a result, the Microsoft Certified Solutions Associate is one of the first steps for those seeking to start a technical career. The MCSA: Windows Server 2012 covers topics that are "must know" for anyone responsible for deploying, maintaining and supporting Windows Server 2012 servers in a corporate or enterprise environment. Server systems often form a critical piece of the day-to-day operations for any business. The MCSA covers topics that will help the learner ensure their computing environment is functional and stable.
[MUSIC] The MCSA or Microsoft Certified Solutions Associate is one of the more popular certifications from Microsoft. It's designed to be a mid-tier certification. Greater knowledge than somebody who's just getting started in IT, but not expert lever, level knowledge. This is somebody who's been working in the field for several years and has had exposure to large and enterprise size deployments of Microsoft Windows. The MCSA for Windows Server 2012 is probably the most commonly sought-after certification with Microsoft. These are for technicians who are not going to be just working with desktops, but deploying Windows servers. These might be email servers, file servers, print servers. They might be authentication servers. There's all sorts of different types of servers you might deploy, and the MCSA for Windows Server 2012 covers the majority of them. It shows typical deployment scenarios for a server. How to deploy the software successfully, how to secure the software and ensure things are working nice and smooth, and how to troubleshoot and isolate and correct issues when they aren't running nice and smooth, and that makes this really valuable. If you're working in IT and you're sitting at a help desk right now, or you're doing field repairs on computers and you're looking to move to that next step in your career, the MCSA for Windows Server 2012 is normally that next step, right. This is what gets you out of the field and back at the data center. Gets you into the server room, working in equipment there. Which is usually a little more exciting than supporting a desktop. Which can, can over time become a bit monotonous. I think we've all been there. So, let's take a look at this certification and get a better idea of what it entails. All right, the MCSA has been around for quite a while now. I don't think it's actually reached ten years yet but it's, it's a good seven years at least. And it's designed to be the, well that mid-tier certification. The name has changed a little bit over the years, but now it's just the Microsoft Certified Solutions Associate. And Microsoft actually has several different ones. The one we're about to cover is the one for Windows Server 2012. If your position within the company is one that allows you to work on servers, that's what this is designed for. If you're still at the desktop level but you want to move into the server world, again, this is the place that you wanna go. But, if you're looking to do desktop support, well, the server technologies, they can be helpful. They help you to understand what's going on on the server side. But it's not necessarily the right place for you to start. You typically want to go to the MCSA for Windows 8 or MCSA for Windows 7. Now, if you're just getting started in IT so you've got a resume full of other jobs and you're looking to launch an IT career. Well again the MCSA for Windows servers is not really a great starting point. In order to set up a server, there's a lot of foundational knowledge that you need to have. So if you're just starting out, I recommend you jump over to like the CompTIA A+ and CompTIA Network Plus certifications. Those are great starting points for launching an IT career. If you're just getting started in technology altogether you probably wanna go to either the CompTIA IT Fundamentals or the MTA, the Microsoft Technology Associate. That's designed for people that are just getting their feet wet in the IT world. You'll learn about basic operating systems. Now, that's foundational knowledge that you're expected to already have by the time you get to the server level. So if you don't possess it, there's things that we'll cover in there that might be a little over your head. That if you've missed the foundational knowledge, you won't be able to build on top of it. So, definitely check out those other certifications if you haven't done those yet. But, if you're ready for Windows Server, then the MCSA 2012 is where you want to go. Now, the MCSA 2012 is actually built on three different exams, and each one kind of divides the topic up a little bit. So, here we can see the three different exams, and we divide it here on ITPROTV into three separate shows. There's the 70-410, 411 and 412 shows. The first one is installing and configuring Windows Server 2012. If this is the first time you've used it, we'll cover how to install Windows Server 2012. How to get it in place, and how to add roles to it so your server can actually perform customized functions. We'll talk about the Microsoft Active Directory, which is a critical technology throughout your server infrastructure. We'll talk about other security concepts, and just some of the neat bells and whistles that are included in Windows server. Then, in 411, we go into Administering Windows Server 2012. Once you've brought up these services, now you need to administer them, you need to run them. You need to allow it to scale up to thousands, tens of thousands, hundreds of thousands of users. You need to keep it operational and you need to do some advanced functionality. And what, that's what we cover in the Administering Windows Server 2012 show. And then the end of it is the 70- which is Configuring Advanced Windows Server 2012 Services. We actually revisit some of the services from the first two shows, and go more in depth, showing some advanced configurations, and then we phase in some new technologies like Active Directory Federated Services that are extremely complex and challenging. Not useful at all for small and medium businesses. But for large and enterprise businesses can revolutionize the way that you offer services on the web. So, definitely stuff that you want to be aware of, and get exposed to. Now these exams are designed to be taken in order, so you should start with 70 410. And then go on to 411 and then wrap it up with 412. If you take them out of order, each exam assumes you already have the knowledge from the prior exams. So for example if you start out on 412, it assumes you already have a passing knowledge. Like you passed the exam, not just in passing. Of 410 and 411. If you don't do that, you'll, you'll get over your head pretty quick and then you get frustrated and it's hard to be successful when you're frustrated. So you do wanna pursue those in order. Now for me, I always recommend that people go ahead and do all three. Just watch all three in order. Even before taking that 410 exam. And the reason I say that is, each one builds on the one from before it so there's some overlap. And that means you're seeing the same technologies multiple times and you learn more about it. If you were to watch all three of these shows, 410, 411, and 412, you'll be much more likely to pass that 410 exam the first time you go in there cuz you've seen the technology so many times. All right? So how you choose to watch them is ultimately up to you, but at a minimum, you do want to watch them in order. Start with 410, and then move through each. When you're ready to take the exam, the exams are administered through Pearson VUE, so you'll just jump over to their website. You can go straight to it at www.pearsonvue.com/Microsoft. That'll take you to Microsoft's page. And remember VUE is spelled V U E and so it's pearsonvue.com/microsoft. The exams are $150 a piece and you gotta take three of them so unfortunately there is a little bit of a shock to the wallet on this one. Assuming you pass on the first time it'll be about $450 to take the three exams. Once you pass, you get your MCSA Window's Server 2012. Now the MCSA Windows Server 2012 is also the first step in obtaining the MCSE. So once you've completed this certification the next step is that MCSE that you hear a lot of people talk about. Right, that's the, the certification Microsoft has that's the most famous. Everybody's heard of the MCSE. And that's a lot of people's goal. But, the MCSE is not designed for somebody getting started. It's for somebody who's already got a wealth of experience. Already has their MCSA, and is moving into that larger consultant type design environment. And that's a lot different than the person who's doing the day to day work. The MCSA is for the doer. The person who's in the field. The grunt who's actually making things happen. Right? You're the one bringing up servers and troubleshooting. Replacing hard drives. You're the one who's actually making things work. So in a lot of ways, the knowledge we cover in the MCSA certification is more valuable than what we learn in the MCSE and the MCSA is a lot more entertaining in my opinion because you know, you get to use a lot of these technologies. So keep that in mind as you go through and study that the MCSA is a great place to start if you're already somebody who has that experience and you're looking to get that documented, get it on your resume and learn all the different things that Windows Server 2012 can do. All right, well, if that's what you're looking for, you're in the right place. Stay tuned, our episodes are coming up. If not, keep in mind all the other certifications that I mentioned. There's an appropriate one for you in there somewhere. You just gotta look to find it and then pursue your goal. Regardless of which route you go, I wish you the best of luck on your exam. And for those of you sticking with me, I'll see you in the episodes here in just a moment. [SOUND]
Just you? Training a whole team? There's an ITProTV plan that fits.
With more than 5,800 hours of engaging video training for IT professionals, you'll find the courses you and your team need to stay current and get the latest certifications.