MCSA Windows Server 2016 - 70-742
Identity with Windows Server 201632 H 55 M
This course has a virtual lab
This course has a practice test
Install and Configure Active Directory Domain Services

Overview
Install and Configure Domain Controllers
Install and Configure Domain Controllers Part 2
Install and Configure Domain Controllers Part 3
Install and Configure Domain Controllers Part 4
FSMO Roles
Read-Only Domain Controllers
Domain Controller Cloning
Create and Manage AD Users and Computers
Create and Manage AD Users and Computers Part 2
Create and Manage AD Users and Computers Part 3
Create and Manage AD User and Computers Part 4
AD Groups and Organizational Units
AD Groups and Organizational Units Part 2
AD Groups and Organizational Units Part 3

Manage and Maintain AD DS

Service Authentication and Account Policies
Service Authentication and Account Policies Part 2
Service Authentication and Account Policies Part 3
Service Authentication and Account Policies Part 4
Maintain Active Directory
Maintain Active Directory Part 2
Maintain Active Directory Part 3
Maintain Active Directory Part 4
Maintain Active Directory Part 5
AD Replication and RODCs
AD Replication and RODCs Part 2
AD Replication and RODC Part 3
Configure a Complex AD Environment
Configure a Complex AD Environment Part 2
Active Directory Trusts
Active Directory Trusts Part 2
Active Directory Trusts Part 3
Active Directory Sites
Active Directory Sites Part 2
Active Directory Sites Part 3

Create and Manage Group Policy

Create and Manage Group Policy Objects
Create and Manage Group Policy Objects Part 2
Create and Manage Group Policy Objects Part 3
Create and Manage Group Policy Objects Part 4
Configure Group Policy Processing
Configure Group Policy Processing Part 2
Configure Group Policy Processing Part 3
Configure Group Policy Processing Part 4
Configure Group Policy Settings
Configure Group Policy Settings Part 2
Configure Group Policy Settings Part 3
Configure Group Policy Settings Part 4
Configure Group Policy Preferences
Configure Group Policy Preferences Part 2

Implement Active Directory Certificate Services

Install and Configure Certificate Services
Install and Configure Certificate Services Part 2
Install and Configure Certificate Services Part 3
Install and Configure Certificate Services Part 4
Install and Configure Certificate Services Part 5
Manage Certificates
Manage Certificates Part 2
Manage Certificates Part 3
Manage Certificates Part 4
Manage Certificates Part 5

Implement Identity Federation and Access Solutions

Install and Configure AD Federation Services
Install and Configure AD Federation Services Pt.2
Install and Configure AD Federation Services Pt.3
Implement Web Application Proxy (WAP)
Implement Web Application Proxy (WAP) Part 2
Configure AD Rights Management Services
Configure AD Rights Management Services Pt.2
Configure AD Rights Management Services Pt.3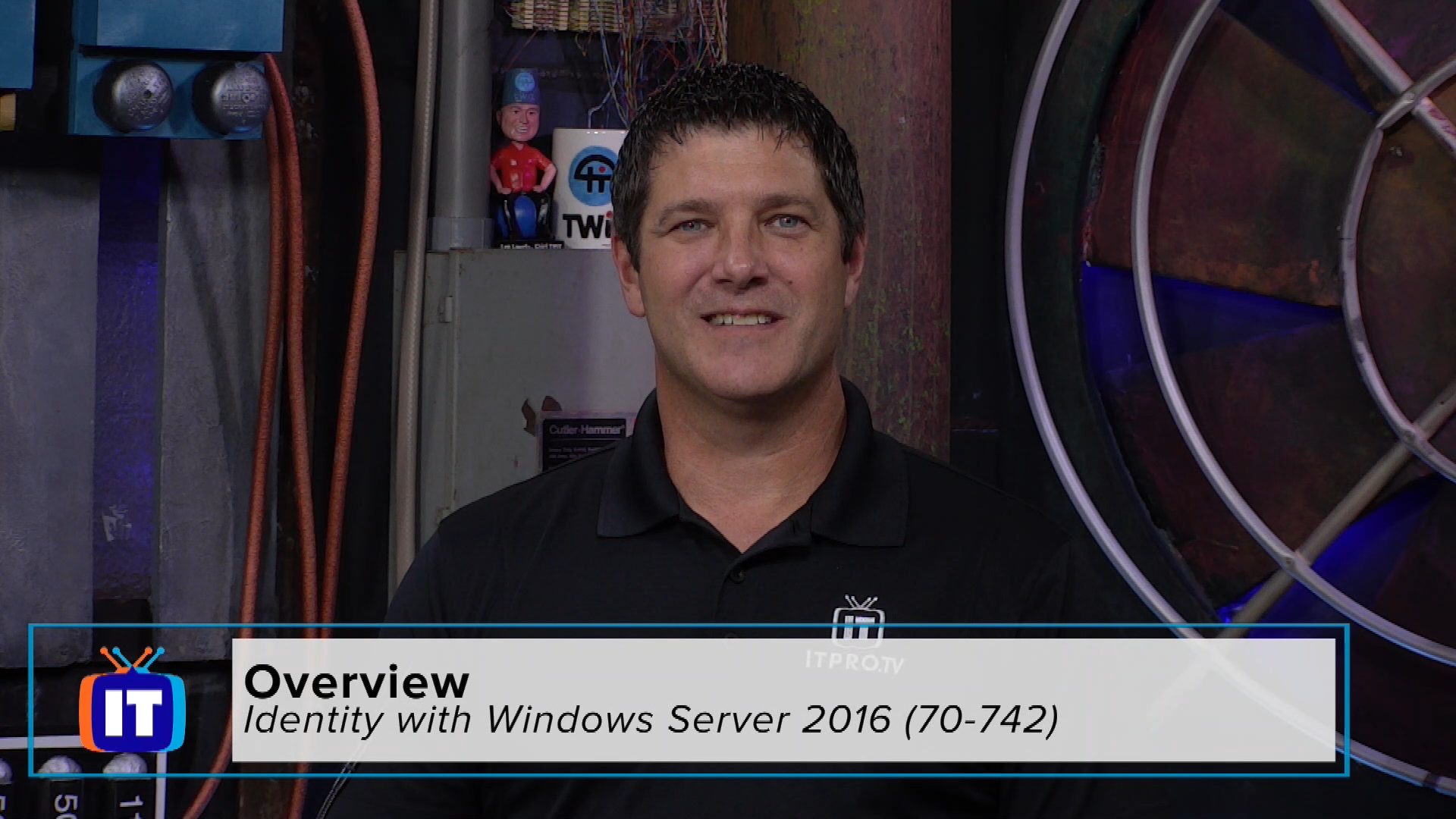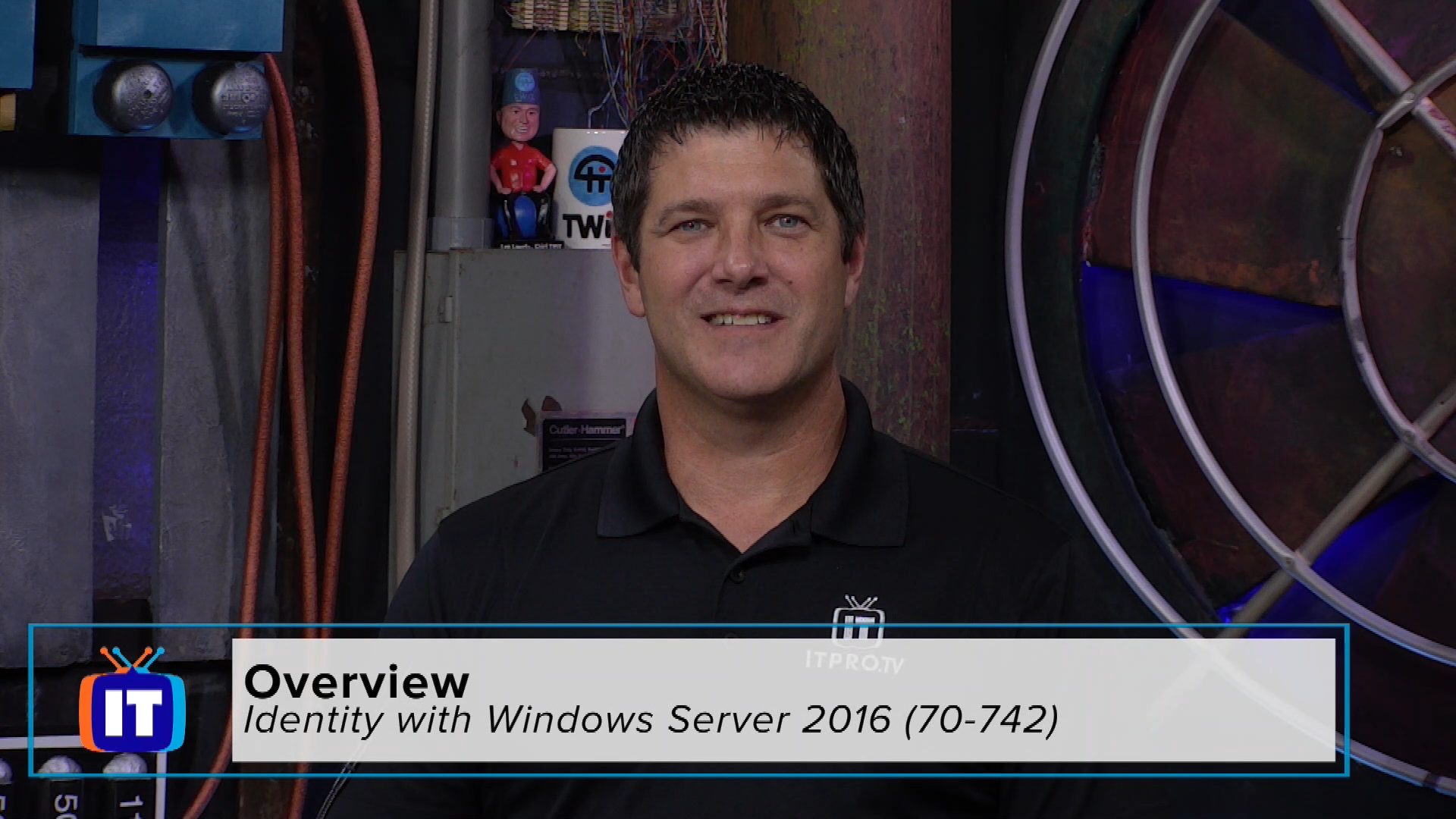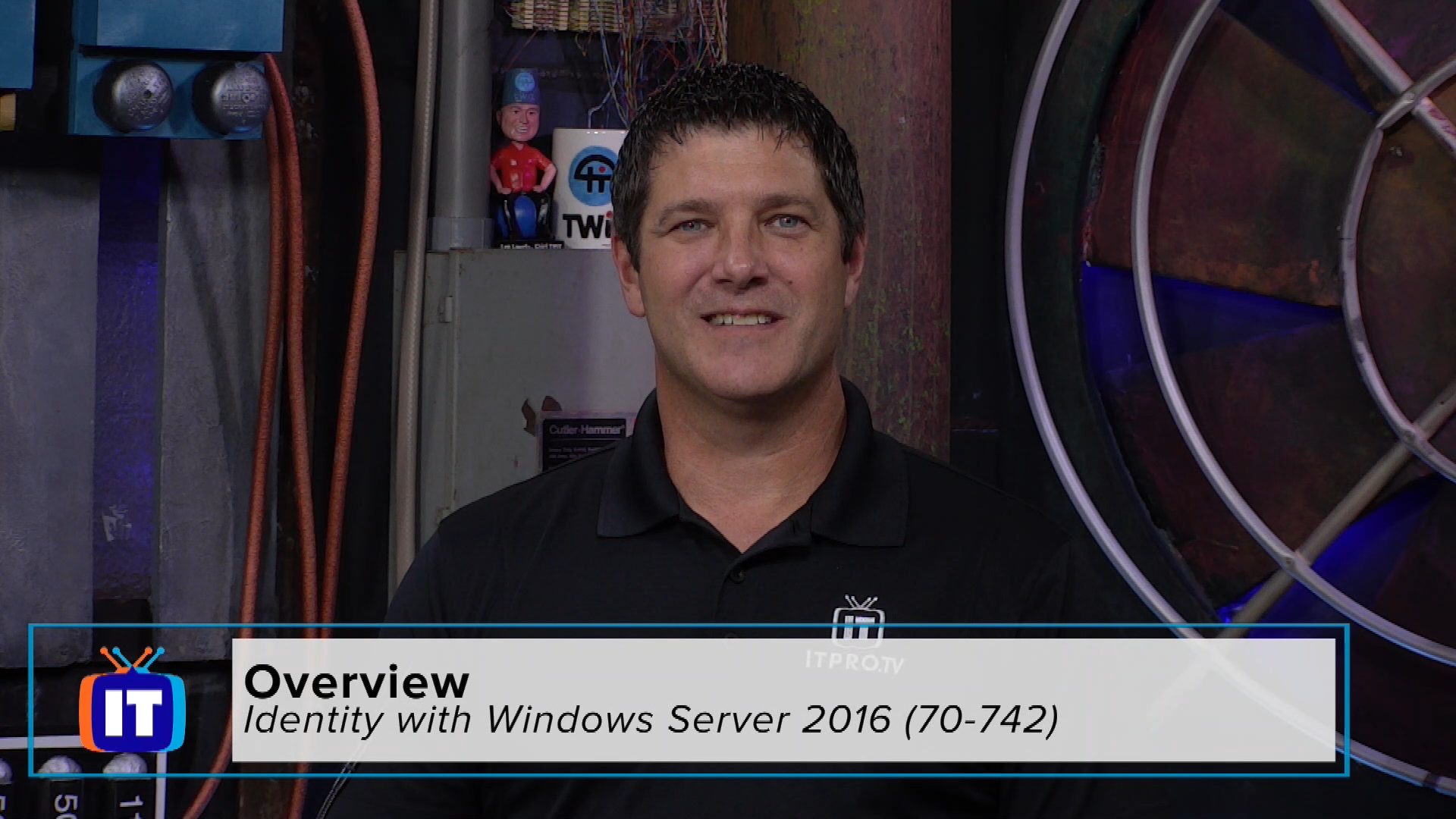 Episode Description
Transcript
This exam focuses on managing identities using Windows Server 2016. You will learn how to install, configure, manage and maintain Active Directory Domain Services, and learn about implementing Group Policy Objects. Also covered in this series is implementing and managing Active Directory Certificate Services, Active Directory Federation Services, Active Directory Rights Management Services, and Web Application proxy.
[MUSIC] Hey everybody, we got a new series coming your way here at ITProTV, identity with Windows Server 2016. This is the information that's gonna help you pass that 70-742 exam. Join me on my screen, we're gonna take a look at what you can expect in the upcoming episodes. Going out to Microsoft's page, where I've pulled up the objectives for the identity with Windows Server 2016 course. And we're gonna take a look at a couple things here. First thing we wanna look at is, who should take this exam? And as I said in the beginning, it's really anybody that's preparing for the 70-742 exam. But maybe you don't want the certification, maybe you just want the knowledge. This exam is all about managing identities, as we can kind of see here if I zoom in a little bit. Candidates for this exam manage identities using functionalities in Windows Server 2016. We install, configure, manage, and maintain Active Directory Domain Services as well as GPOs. We also need to be familiar with managing Active Directory Certificate Services, Active Directory Federation Services, Active Directory Rights Management services, and web application proxy. So maybe in your job role, these are the things that you need to do or need more knowledge or information on. Then watch this series, this is gonna help you. Or, like I said, if you're going for your certification, if you wanna take that 70-742 exam, we are gonna go over every single objective that Microsoft lists. Now, keep in mind, Microsoft will tell you, in fact, let's take a look at their page here. Please note that the questions may test on, but will not be limited to, the topics described in the bulleted text. So as we look at this list of exam objectives, just keep that in mind. They might ask you about something that's not on this list. So as you're studying for this, the best thing to do is get in there and try it out. Right, we're gonna do as much hands-on as we can in this series. If you're a member of ITProTV, you've got access to the practice labs, where they have fantastic labs set up for you to work on this. And what I would recommend that you do is that, go through the exercise as listed, right, follow the steps, accomplish the task at hand. But once you've done that once, or twice, or three times, right, not just once. And you feel comfortable, do it again, but try something different. Right, in the instructions, they didn't say to check that little check mark? Check it, see what happens, right, try all the other options. Because there's a chance that Microsoft might ask you about one of those. If it's telling you to use the wizard in the GUI, but it also says that you could use PowerShell, try to do it with PowerShell. Even though the lab steps don't say to use PowerShell, you should try it. Because on the exam, they might not ask you about the wizard. They might ask you, which PowerShell command would you use to accomplish this task? So keep that in mind as you're going through this type of material. That you need to go a little bit beyond what they're saying here, because it could ask you that on the exam. But if we go down to their objectives, these are what we're gonna go over. You'll find these listed, and our episodes on the navigation tree on the left-hand side. And we cover each one of these domains and all of the objectives. Let me hide those again and zoom in, but they weight each one of these, what we would call categories. I would use the word domain, but since we're talking about domains, that might be a little misleading. But our domains within our exam or our sections within the exam. Install and configure Active Directory Domain Services, 20 to 25%. So up to a quarter of the exam is gonna be over installing and configuring domain controllers. We're gonna be looking at, how do I set up a new forest? How do we add a domain controller to an existing domain? How do I create a new domain in an existing forest, child domains? How do we set up DNS SRV records for those domain controllers, how do I install Server Core? What about read-only domain controllers, what are they? Where would I deploy them, why would I deploy them? Domain controller cloning, we're gonna take a look at objects within Active Directory, user objects, computer objects. Working with command line utilities, automating some of that management, like resetting passwords. And then groups and OUs within Active Directory, how do I simplify administration? How do groups help me assign permissions, how do OUs help me perform or assign, delegate administrative control, or apply group policy? We're gonna cover that in here, right, then we go down to manage and maintain Active Directory Domain Services. Another up to 20% covered on maintaining it, right, how do I set up group managed service accounts, password setting objects? How do I back up Active Directory, how do we restore Active Directory? How do we deal with Active Directory in a complex environment, where maybe I have multiple forests, or I need to setup trust between forests? We move on down, create and manage group policy, another 25 to 30%. Right, group policy is one of our key instruments to configuring and managing objects and devices within Active Directory. How we apply changes and configuration settings to all those devices from a single location. Right, I don't have to go around and touch every single machine, so it's an important part of administering identity with Active Directory. So create and manage group policy objects, back up, import, copy, delete those group policy objects. How does group policy get processed, what is that processing order? If I've got a policy linked at the domain, plus a policy linked at the OU, which one takes precedent, how do I figure that out? Configuring the individual settings, working with administrative templates, creating a central store, all of these will be covered, working with group policy preferences. Then we'll move into certificate services, 10 to 15% of the exam. Again, something that most organizations are gonna implement. We're gonna have our own public key infrastructure, so that we can administer, issue, revoke, and manage certificates within our organization. Because we wanna use smart cards for authentication. Or we wanna let our web servers use SSL for communications. Or we want to protect VPN traffic by using certificates. Right, so how do I set up that public key infrastructure, how do I keep that safe? How do I work with the templates, how do I decide what information should be stored in those certificates? How do I revoke a certificate, how do I get a key back if somebody loses their certificate? All of that's gonna be covered in implementing Active Directory Certificate Services. And then we'll round it out with identity federation and access solutions, where we're gonna take a look at federation services. This is how we start establishing trust between other organizations' Active Directory, and their authentication process. So that I can provide resources that they can access, even though they don't have accounts in my organization. Right, give them that single sign-on for my users when they're outside of my organization. So that's federation services, web application proxy, how do I protect those federation services? These are things I don't wanna expose directly to the Internet, but yet I need to be able to access from the outside. How do I keep that safe, we implement a proxy. We put something in between that untrusted network, and my corporate network and my federation servers. How do I set that up, how do I configure that proxy to accept and intercept those requests on behalf of that federation server? And then rights management services, really cool technology, been around for a little while. Allows me to assign usage rights to documents, and control whether people can read, view, print, email, attach, send outside an organization. We can put expiration dates on documents, and this goes above and beyond what we can do with NTFS. Because it allows me to control those documents and that information even when it leaves my organization. Very cool technology, we'll take a look at that as well. And all of this together will give us that identity with Windows Server 2016, and hopefully prepare you to pass that 70-742 exam. [MUSIC]
Just you? Training a whole team? There's an ITProTV plan that fits.
With more than 4,000 hours of engaging video training for IT professionals, you'll find the courses you and your team need to stay current and get the latest certifications.