MCSA Windows Server 2016 - 70-740
Install and manage Windows Server 201634 H 25 M
The MCSA Windows Server 2016 (70-740) exam is for IT professionals who have worked with Windows for several years and are looking to certify.
This course has a virtual lab
Install Windows Servers in Host and Compute Environments

Overview
Windows Server 2016 Editions
Install with Desktop Experience
Install and Manage Server Core
Server Management Options
Server Management Options Part 2
Server Management Options Part 3
Roles and Features
Roles and Features Part 2
Upgrade Servers
Migrate Servers
Migrate Servers Part 2
Desired State Configuration
Activation Models
Activation Models Part 2
Nano Server
Nano Server Part 2
Nano Server Part 3
Nano Server Part 4
Create, Manage and Maintain Images
Create, Manage and Maintain Images Part 2
Create, Manage and Maintain Images Part 3

Implement Storage Solutions

Configure Disks and Volumes
Configure Disks and Volumes Part 2
File and Folder Permissions
File and Folder Permissions Part 2
Configure Shares
Configure Shares Part 2
Virtual Hard Disks
Configure Storage Pools
Configure Storage Pools Part 2
Configure iSCSI Target and Initiator
Configure iSCSI Target and Initiator Part 2
Configure DCB and MPIO
Configure Storage Replica
Implement Data Deduplication

Implement Hyper-V

Hyper-V
Hyper-V Part 2
Manage VMs with PowerShell Direct
Configure VM Settings
Configure VM Settings Part 2
Configure VM Settings Part 3
Linux and FreeBSD VMs
Secure Boot and Network Isolation
Implement Discrete Device Assignment
Upgrading, Exporting and Importing VMs
Configure Hyper-V Storage
Configure Hyper-V Storage Part 2
Create and Manage Checkpoints
Configure Virtual Switches
Configure Virtual NICs
Configure Virtual NICs Part 2
NIC Teaming

Implement Windows Containers

Introduction to Windows Containers
Getting Started with Windows Containers
Getting Started with Windows Containers Part 2
Getting Started with Windows Containers Part 3
Getting Started with Windows Containers Part 4
Manage Windows Containers
Manage Container Data Volumes
Manage Container Networking
Manage Container Images with Azure
Manage Container Images with Azure Part 2

Implement High Availability

High Availability Migration Options
High Availability Migration Options Part 2
Introduction to Failover Clustering
Implement Failover Clustering
Implement Failover Clustering Part 2
Implement Scale-Out File Server
Additional Cluster Storage Options
Cluster-Aware Updating and OS Rolling Upgrades
Implement Resiliency and Restoration
Configure Cluster Networking
Implement Storage Spaces Direct
Manage Failover Clustering
Manage VM Movement in Clustered Nodes
Implement Network Load Balancing
Implement Network Load Balancing Part 2

Maintain and Monitor Server Environments

Implement WSUS
Implement WSUS Part 2
Backup and Restore
Backup and Restore Part 2
Monitor Using Performance Monitor
Monitor Using Performance Monitor Part 2
Monitor Using Server Manager and WAC
Monitor Using Event Viewer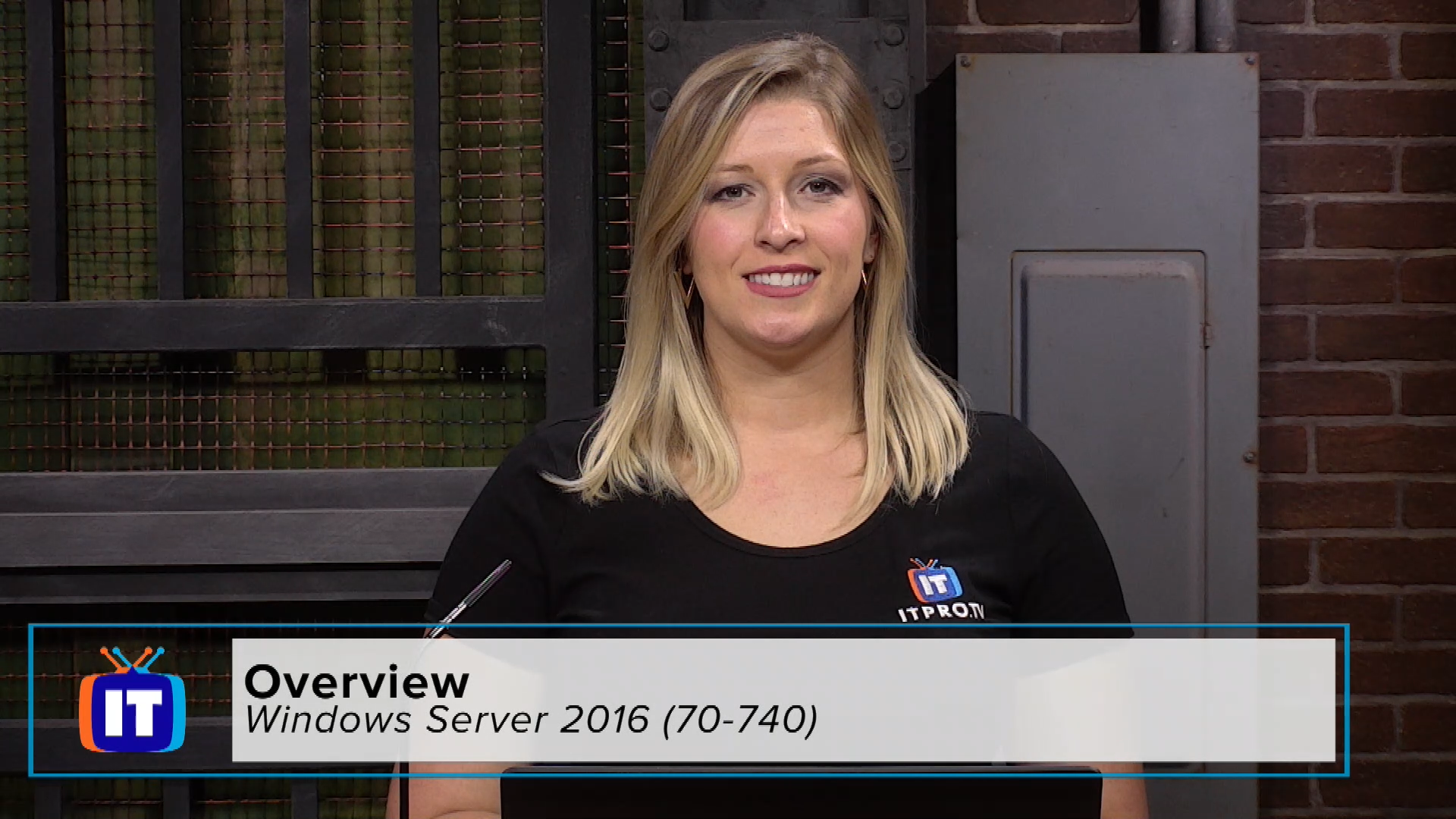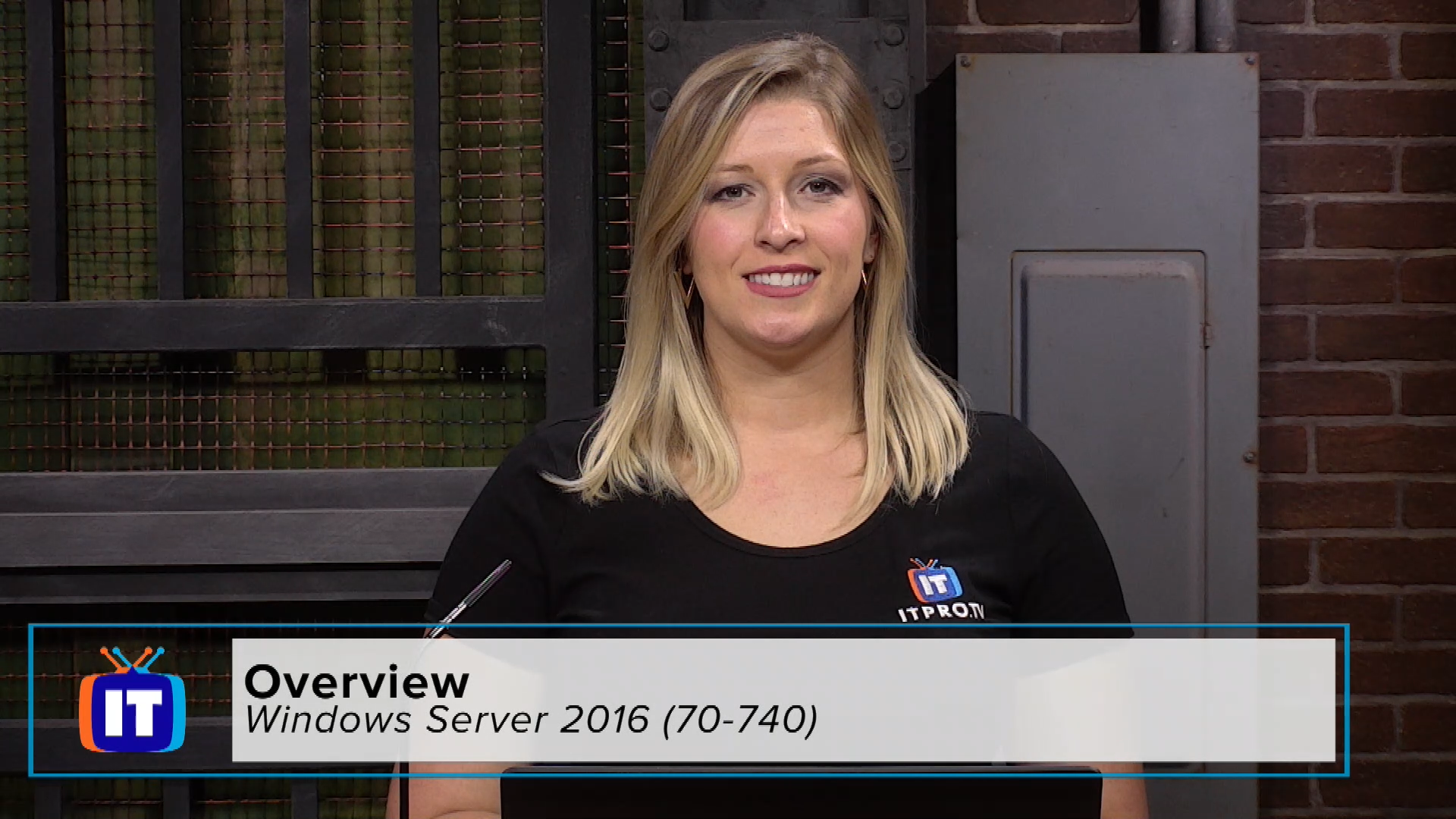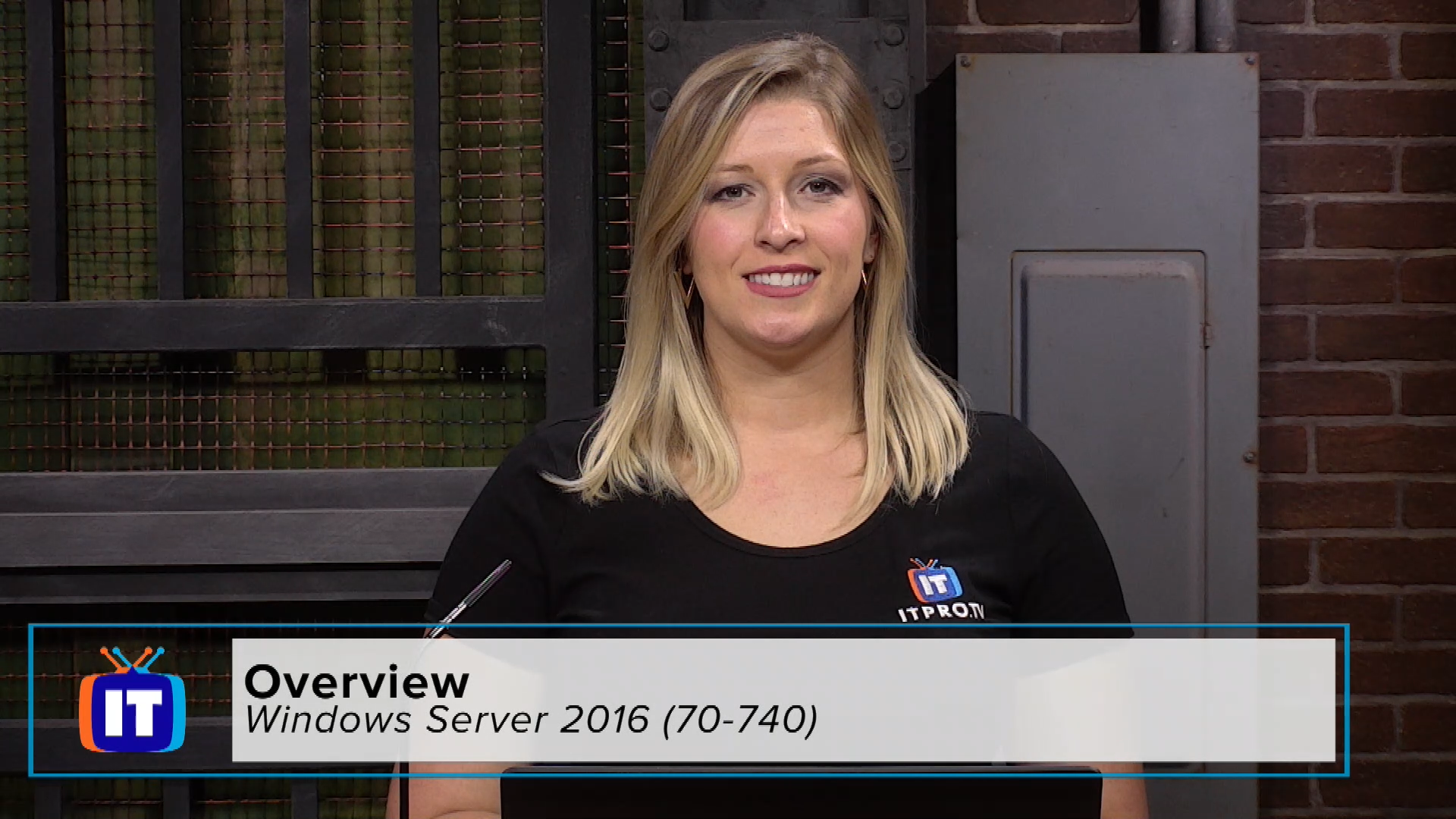 Episode Description
Transcript
Over 80% of computers run Microsoft Operating systems. As a result, the Microsoft Certified Solutions Associate is one of the first steps for those seeking to start a technical career. The MCSA: Windows Server covers topics that are "must know" for anyone responsible for deploying, maintaining and supporting Windows servers in a corporate or enterprise environment. Server systems often form a critical piece of the day-to-day operations for any business. The MCSA covers topics that will help the learner ensure their computing environment is functional and stable.
[MUSIC] Hello, I'm Cherokee Boose. If you're studying for the 70-740 exam or just are interested in learning about Windows Server 2016, then you're in the right place. But what if you're on the edge and you're not sure if you should take that exam or not, well, let's talk about that for a second. Here on my screen, I've pulled up the page, the link that just shows some basic information about the exam. And it says, well, who should take this exam? I will be up front with you, just letting you know that there's a lot of assumptive knowledge with this particular exam. So if this is your first go at it here in IT, you might wanna check out some of our other courses, starting with A+, Net+. You really have to have a good working understanding of network connectivity and basic network services to really make sure you're successful with this exam. So just kind of keeping in mind, they do highlight some components candidates should have experience with local and server storage solutions. Including the configuration of disks, volumes, data deduplication, high availability, disaster recovery, Storage Spaces Direct, and failover clustering solutions. So if those terms are completely foreign to you, you might wanna go back and take a look at some of the other shows. But I'm gonna cover them all here as well. And to be more exact and show you exactly what we're going to cover, well, you don't have to look any further than right here on this particular page. And I'm just at the Microsoft exam page for the 70-740. Before you get too focused on what's listed here, I do wanna say something, what you're watching is a video that was shot and recorded as a moment in time. This particular page, Microsoft changes the objectives as times goes on, periodically. So I really would like you to pay attention to the date that this information was published. So if you look right here, for this note, all right, the exam updates effective as of November 2nd, 2018. Microsoft, if you're already familiar with this Microsoft Space, you know they're evolving, and constantly adding new features, and updates, and so forth. So you really wanna pay attention to that so you're studying the correct information. I will say this, at the beginning of recording this show, the objectives were different. So I do include in this series information that may not be on the exam, such as Nano Server. That is a topic that they have removed completely. So just keep that in mind as you're going through this series. I left it in there just in case you do have Nano Server deployed in your environment, and you wanna continue to work with and learn how to use it. So just keep that in mind. We will be going through the different domain objectives throughout this course, taking a look at some of these basic topics, such as installing Windows Servers in host and compute environments. I'm not going to read through every single objective, that's what we're gonna be doing throughout this series. But you can click on this expand button over here to really get a good idea and look thoroughly at the information that we will be covering. And yes, it is a lot, but if you have faith in me, then I'll have faith in you, and we can get through this together and just make you really successful in passing that exam. So we have quite a few domains to get through. But you're not alone. You can always reach out on social media to contact myself or one of the other edutainers. We have the ITProTV forums you can ask questions in. You have access to practice labs with your premium account memberships to practice. This is not going to be an exam that you can squeeze past by just rote memorization. You really need to have that hands-on to go ahead and be successful here. Also, with that, PowerShell. If you've never used PowerShell before, you may even have been successful in passing Microsoft exams without knowing PowerShell. But I'll tell you right now, that's not gonna be the case in this particular exam. If you haven't already adopted PowerShell, now is the time to do it. So please take advantage and leverage Microsoft Docs. Microsoft has been working really hard on updating a lot of their content. Some of the content you may find online. And I will try my best within these shows to reference hey, this does say Server 2012 or 2012 R2, but it is still applicable to Server 2016. Sometimes you may find that, okay, so just keep it in mind. If we can look back at my screen for one minute, I wanna give an example of some of the ways that you really can use Microsoft Docs, especially for help with PowerShell. I will also give you other tips and pointers and ways you can look at help from within PowerShell itself. But just looking at the individual commandlets, like I just randomly chose Get-NetAdapter. And you can look at the examples, the required parameters. And scrolling down, they'll even give you string examples, a description of the actual commandlet itself. So please keep that in mind in your studies. I can't stress that enough how important PowerShell will be for this particular exam. And lastly but not least, as far as I know, some of you like to go ahead and use books, and I am not too different. This is my favorite book for this particular topic, this is by Craig Zacker, it's the Exam Ref. I've used these books for a while, but I have found this particular author to be very helpful for the 70-740 to kind of go in line with this series. If you wanna have a book to reference or study with, I would suggest that one. But aside from that, you guys have a lot of resources, just make sure you have a lot of that will power to get you through this. It's a lot of information, but you'll be glad you did. And let me know about your successes on social media or ITProTV forums so that I can help you in anyway that I can, thank you. [MUSIC]
Just you? Training a whole team? There's an ITProTV plan that fits.
With more than 5,800 hours of engaging video training for IT professionals, you'll find the courses you and your team need to stay current and get the latest certifications.