MCSE Private Cloud - 70-246
Monitoring and Operating a Private Cloud22 H 38 M
This course has a virtual lab
Introduction to the Cloud Model

Overview
Introduction to the Cloud Model
Introduction to the Cloud Model Part 2

Configuring a Private Cloud Environment

Configuring a Private Cloud Environment
Configuring a Private Cloud Environment Part 2
Configure the Storage Fabric
Creating Networks and Profiles
Install Operations Manager on Single Server
Install and Configure App Controller Server
Install Orchestrator on Single Server
Install Data Protection Manager
Install Service Manager on a Single Server

Deploying Cloud Services

Deploying Cloud Services
Deploying Cloud Services Part 2
Server App-V
Service and VM Templates
Application Profiles

Monitoring Cloud Based Applications

Monitoring Cloud Based Applications
Monitoring Cloud Based Applications Part 2
Monitoring Cloud Based Applications Part 3
Monitoring Cloud Based Applications Part 4
Monitoring Cloud Based Applications Part 5
SCOM Agent Configuration and Discovery
Import Ops Manager Management Pack
Linking VMM SCOM and PRO

Configuring Application Performance Monitoring

Application Performance Monitoring
Use APM to Monitor New Apps
Configure Notification Accounts for Alerts
Web Application Availability Monitoring
Viewing Distributed Applications

Operating and Extending Service Mgmt. in the Private Cloud

Service Management in a Private Cloud
Service Management in a Private Cloud Part 2
Service Management in a Private Cloud Part 3
Service Management in a Private Cloud Part 4
Configure Overrides
Synthetic Transaction Web Monitoring

Automating Incident Creation, Remediation, and Change Requests
Problem Management in the Private Cloud
Operating a Self Service, Multi-Tenant Cloud with Windows Azure Pack
High Availability, Protection, and Recovery for the Cloud

High Availability for the Cloud
Configure the Data Protection Manager
Implementing Hyper-V Replica

Optimizing Your Cloud Infrastructure

Optimizing Your Cloud Infrastructure
Install and Configure WSUS
Install and Configure WSUS Part 2
Install and Configure WSUS Part 3

Configuring SLAs, Dashboards, and Widgets

SLAs, Widgets and Dashboards
SLAs, Widgets and Dashboards Part 2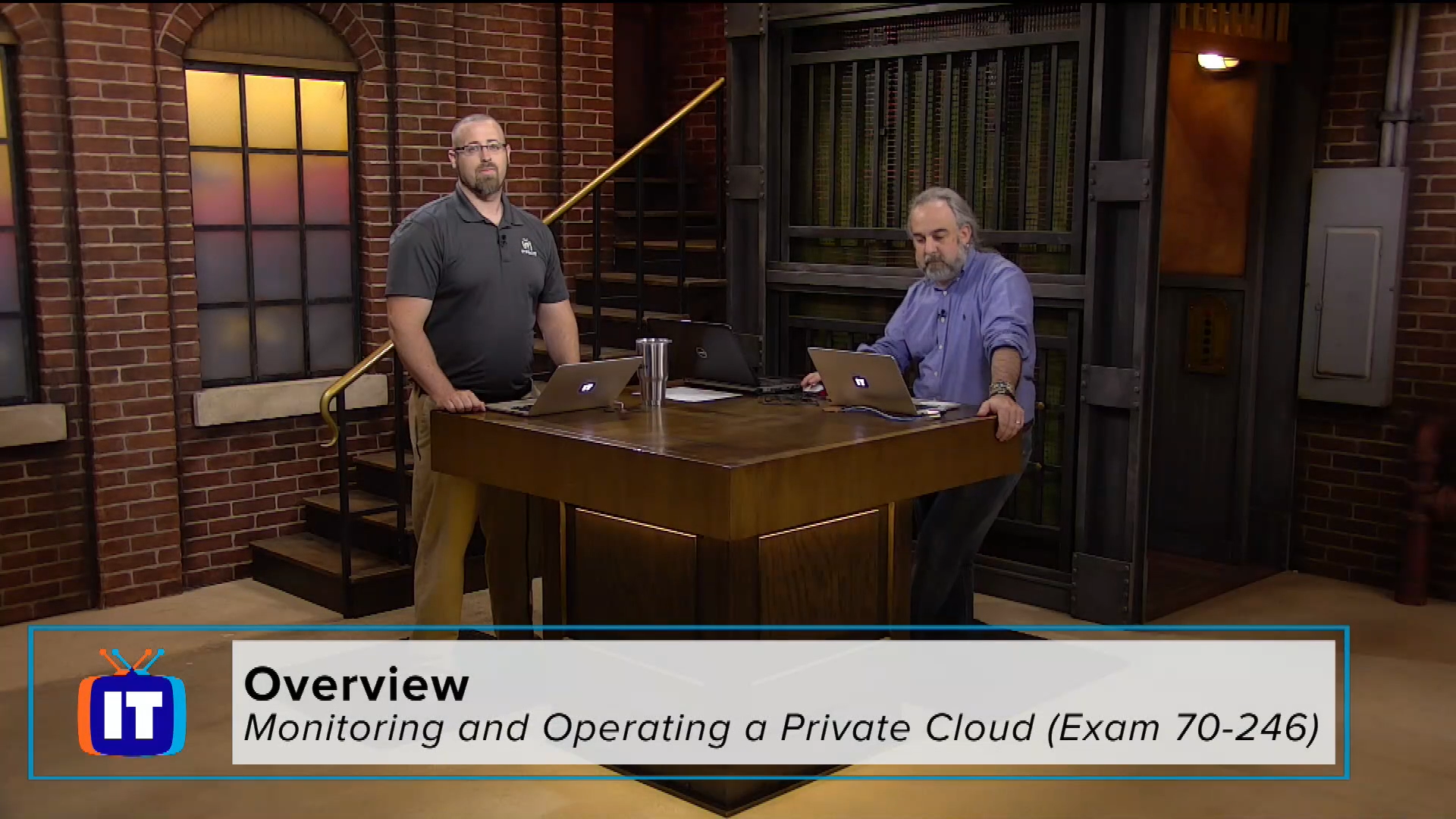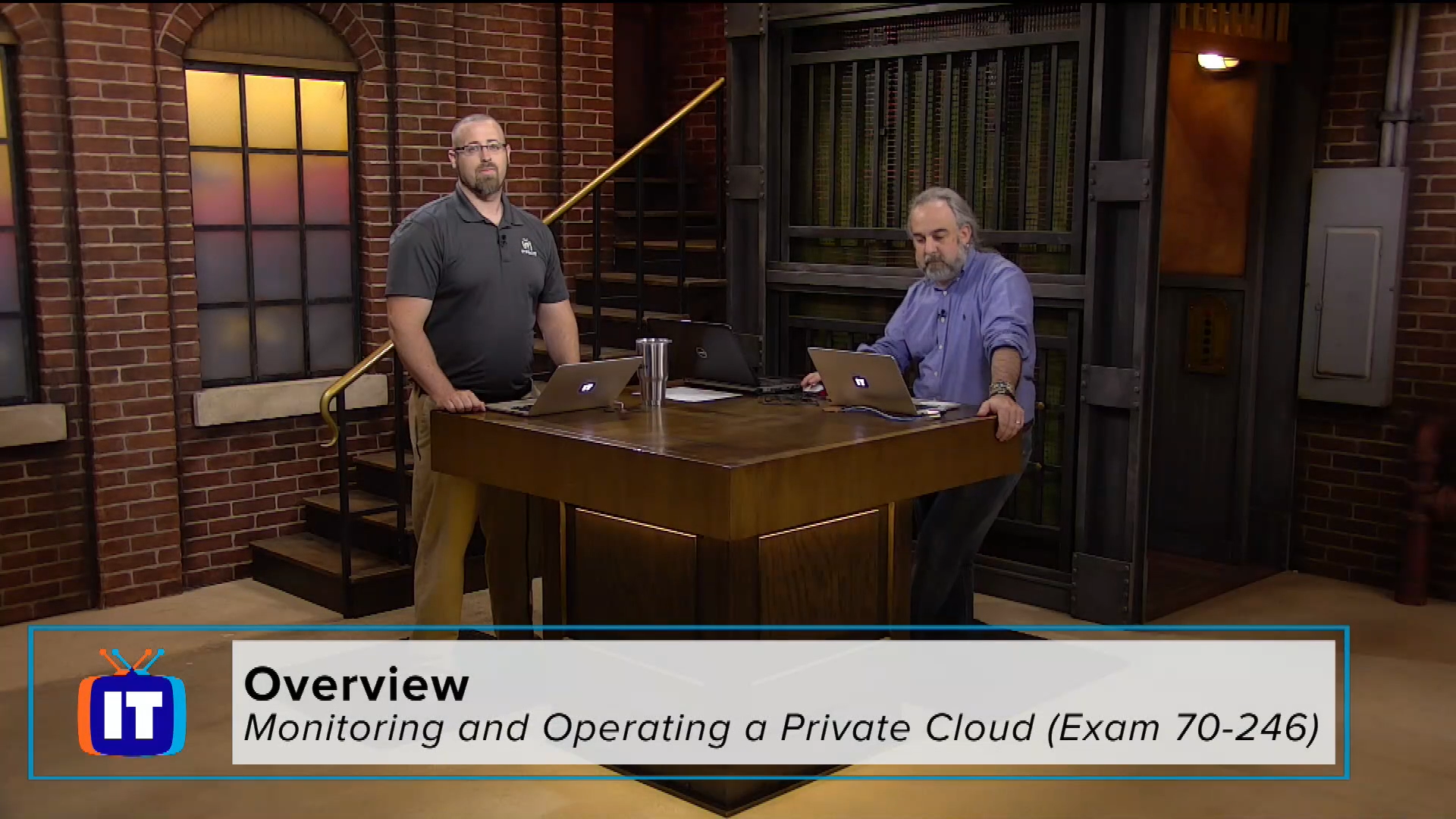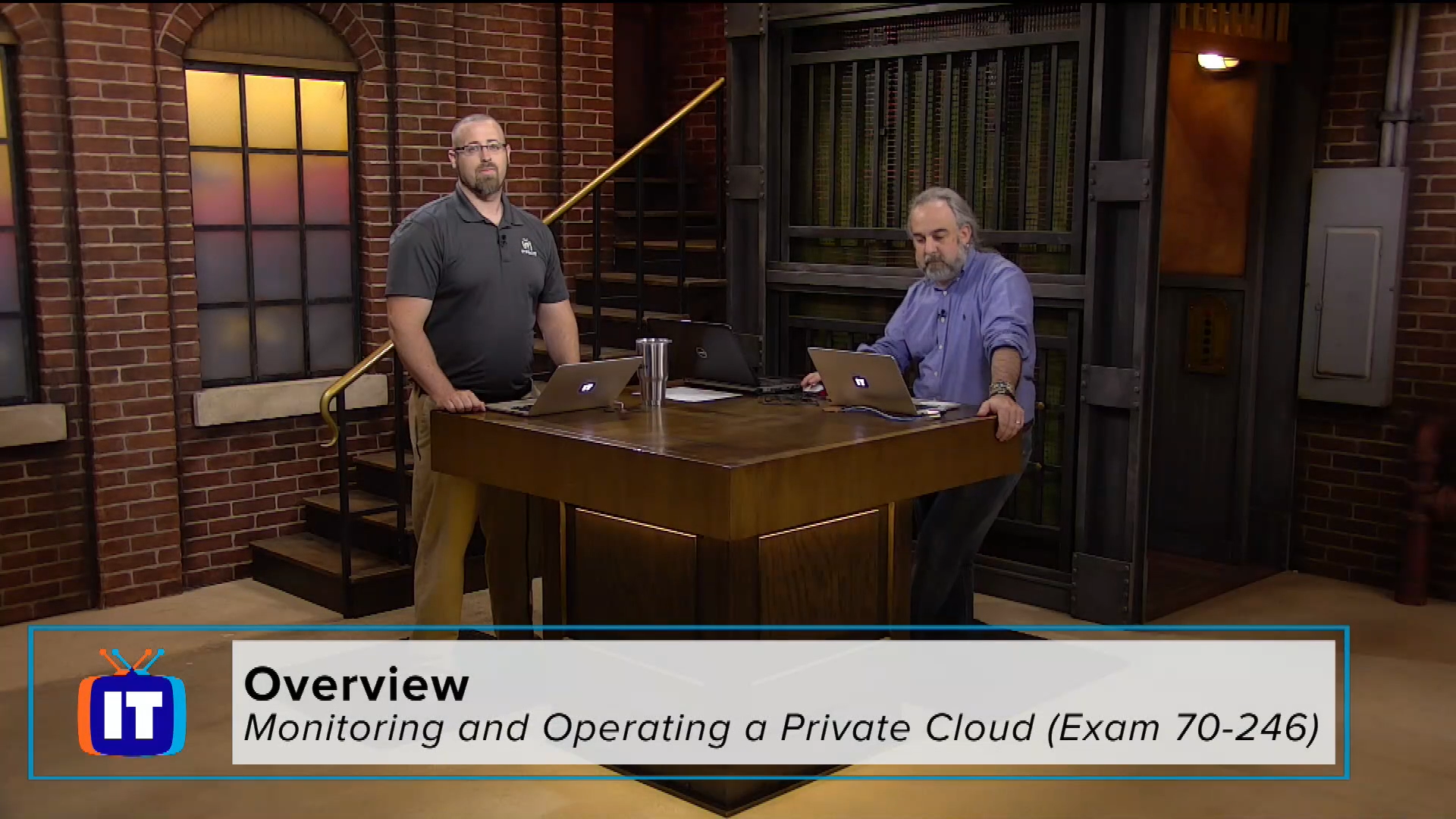 Episode Description
Transcript
In this episode, Daniel and Adam give a general overview of what to expect in the upcoming 70-246, Monitoring and Operating a Private Cloud series. They cover topics like who is the intended audience, what the scope of the series will cover, and what are some specific topics that will be addressed.
[NOISE] In this segment we gonna take a quick look at what can expect from our upcoming 70-246, monitoring and operating a private cloud series. Adam, if you could do us an immense favor of giving us a general overview of what we can expect. >> Expounding as we talk. So, we're gonna talk about how to monitor and how to maintain the private cloud. The idea here, using system center 2012R2, we're gonna look at all the different components, we'll talked about Service Manager, System Center Ops Manager, we'll talk about Virtual Machine Manager, Orchestrator, we'll take a look at, at least briefly anyway, Configuration Manager. We'll bring all the major parts and players together, integrate them, use connectors to show how information flows back and forth, set up Run As accounts, service accounts. We'll talk about reporting, we'll integrate SQL services, so that we can do data analytics with OLAP. We can do integration services. We want to bring in external data flows. We'll talk about all of the moving parts and pieces about how to structure your cloud journey start to finish. From installing, from configuring, from maintaining monitoring, optimizing, and of course, reporting on and understanding the value of all the data that we created as a result of all that. So, I encourage you to come back, take a look and join us for that journey. Daniel and I, and I think Cherokee along the way as well, we're gonna include her in this, are gonna have a lot to tell you about that, so we look forward to spending time with you. >> Excellent Adam. Thank you so much. And we, hopefully that sounds something that's interesting to you. And if it is, we do look forward to seeing you in those upcoming episodes. [NOISE]
Just you? Training a whole team? There's an ITProTV plan that fits.
With more than 4,000 hours of engaging video training for IT professionals, you'll find the courses you and your team need to stay current and get the latest certifications.