MCSE Windows Server 2012 - 70-414
Implementing an Advanced Server Infrastructure27 H 15 M
The MCSE Windows Server 2012 (70-414) exam is for IT professionals who have worked with Windows for several years and are looking to certify.
Overview of MCSE Windows Server 2012 (70-414)

Overview of MCSE Windows Server 2012 (70-414)

Manage and maintain a server infrastructure

Manage and Maintain Server Infrastructure
Design an Admin Model
Design A Monitoring Strategy
Automated Remediation

Plan and implement a highly available enterprise infrastructure

Highly Available Infrastructure
Failover Clustering
Failover Clustering Part 2
HA With Network Services
HA Storage Solutions
BC and DR Solutions

Plan and implement a server virtualization infrastructure

Virtualization Infrastructure
Virtualization Hosts
Plan and Implement VMs
Virtualization Storage
Virtual Machine Movement
Plan Virtualization Networking
Maintain VM Infrastructure

Design and implement identity and access solutions

Identity and Access Solutions
Design a CA Infrastructure
Design a CA Infrastructure Part 2
Design a CA Infrastructure Part 3
Design a CA Infrastructure Part 4
Implement and Manage Certificates
Implement and Manage Certificates Part 2
Implement and Manage Certificates Part 3
Implementing Federated Identity
Implementing Federated Identity Part 2
Implementing Federated Identity Part 3
Implementing Federated Identity Part 4
Implementing Federated Identity Part 5
Dynamic Access Control
Implementing Rights Management
Implementing Rights Management Part 2
Implementing Rights Management Part 3
Implementing Rights Management Part 4
Configuring AD-RMS
Configuring AD-RMS Part 2
Configuring AD-RMS Part 3
Configuring AD-RMS Part 4
Overview of MCSE Windows Server 2012 (70-414)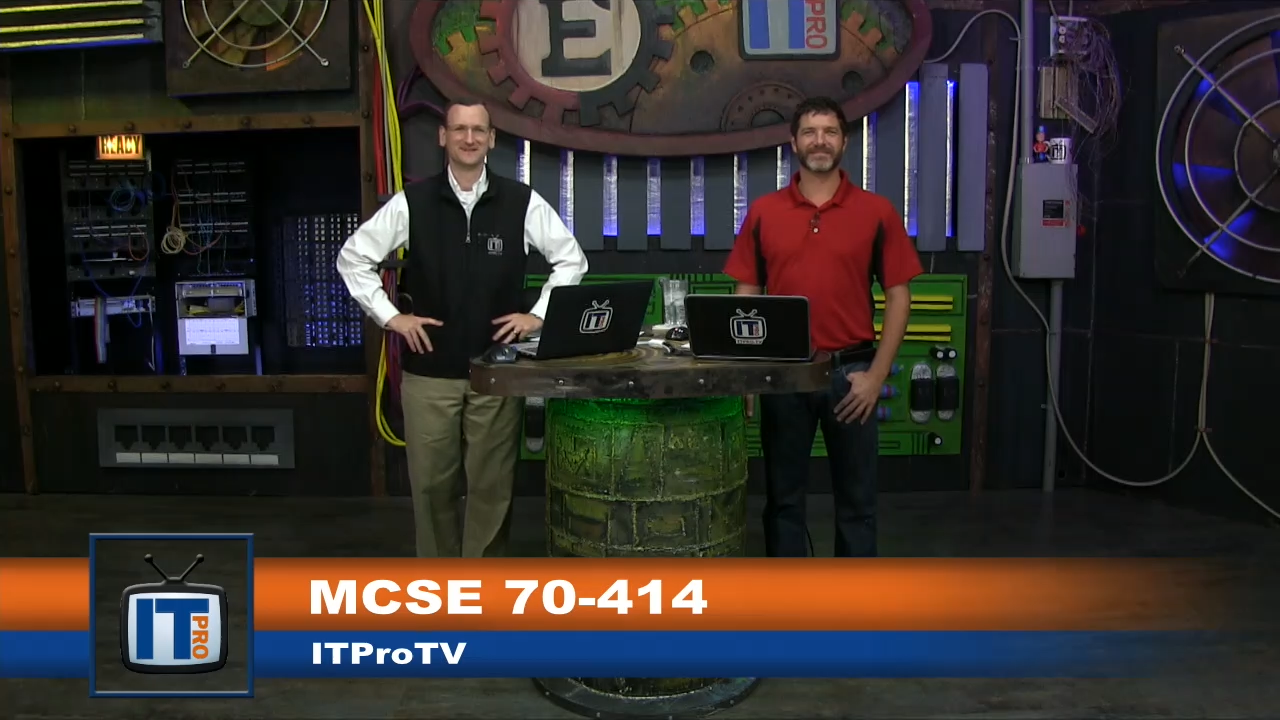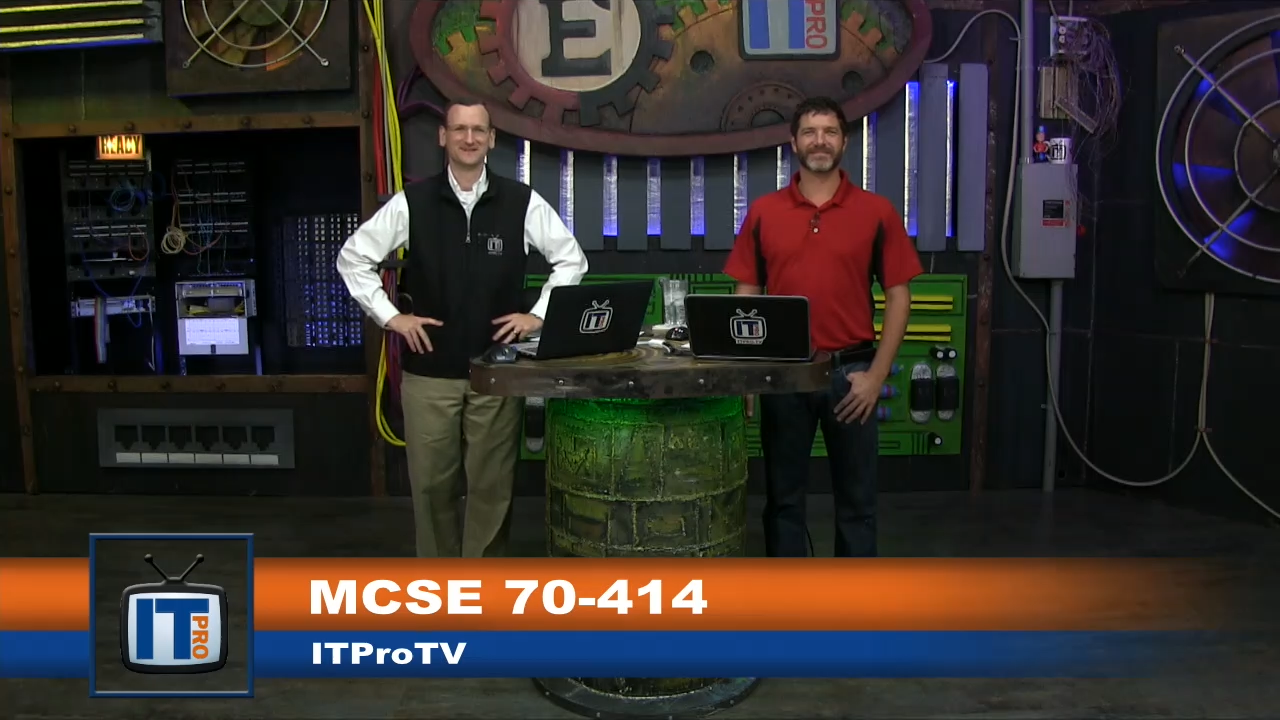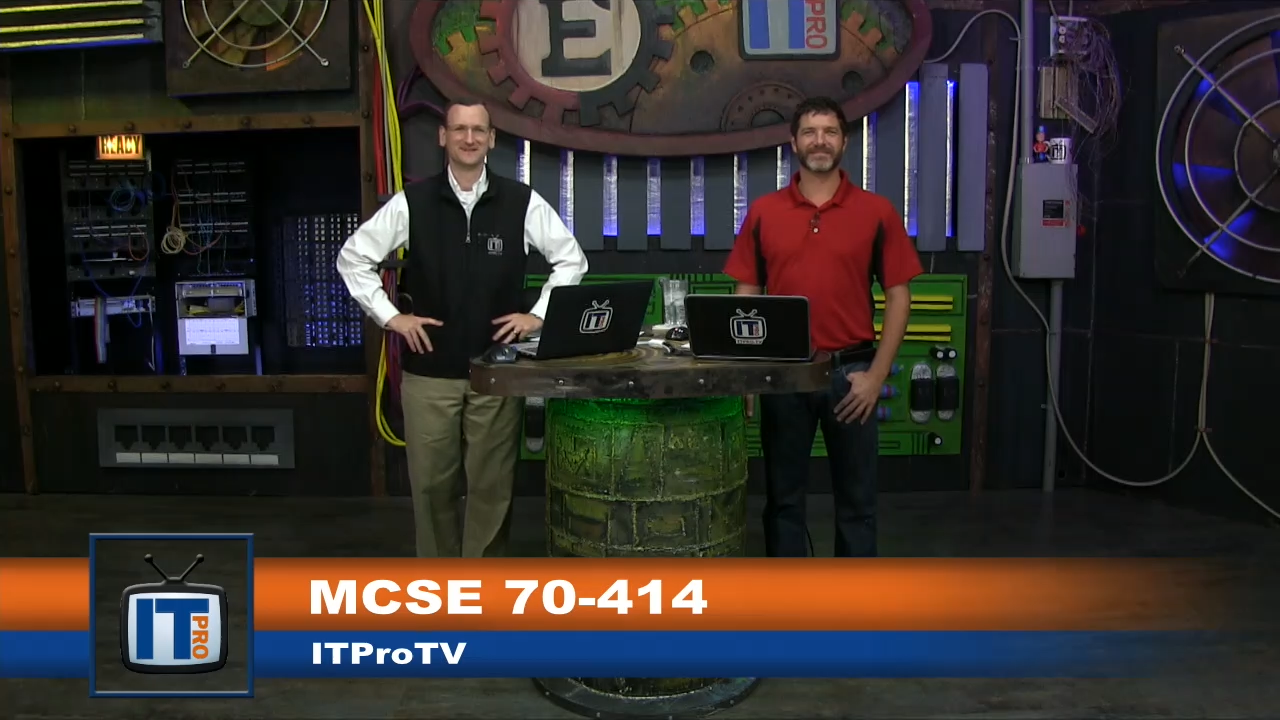 Episode Description
Transcript
The Implementing an Advanced Server Infrastructure exam is the second of two exams required to obtain the Microsoft Certified Solutions Expert (MCSE) certification. This exam moves into significantly more complex topics and configurations than those covered in the previous examinations. The topics covered range from high availability to identity and access solutions. The typical viewer would be anyone operating as a senior systems administrator in a large or enterprise level business.
1 00:00:00,,105 [SOUND] The 70-414 exam is the final step for 2 00:00:06,,056 candidates that are looking to achieve the MCSE 3 00:00:12,,275 server infrastructure certification. 4 00:00:17,,885 It's a long road. 5 00:00:18,,320 >> Mm-hm. >> There's a lot of stuff that you gotta 6 00:00:20,,540 learn along the way. 7 00:00:21,,900 And this is kinda the end. 8 00:00:22,,220 So let's take a minute and just look at what this entails, and 9 00:00:26,,530 let's start really high level. 10 00:00:27,,100 By the time you've gotten to this point, 11 00:00:29,,250 you more than likely know what the MCSE server infrastructure is. 12 00:00:33,,050 But let's just take a glance at it real quick, do a quick overview, and 13 00:00:36,,800 then we'll dive into exactly what this exam and certification entail. 14 00:00:39,,002 >> Cool. 15 00:00:41,,930 All right now the MCSE server infrastructure it actually starts out 16 00:00:45,,220 as the MCSA server infrastructure. 17 00:00:48,,551 So, by the time you're at this point, you should have already completed the 7410, 18 00:00:52,,830 411 and 412 examinations, once you've achieved those, 19 00:00:56,,430 you get the MCSA Server Administrator Certification. 20 00:01:00,,860 It's the Microsoft Certified Solutions Associate. 21 00:01:03,,777 That's MCSA. >> I love the way that they changed 22 00:01:05,,700 the name, and left the acronym the same. 23 00:01:07,,794 It's a really good for all of us,] right? 24 00:01:09,,391 >> It's a lot better than the way it used to be, you know, for 25 00:01:12,,190 a little while it became the MCTS, and the MCITP, and everyone hated that. 26 00:01:16,,660 So at least it's back to the original acronyms that people like. 27 00:01:19,,735 You should already have your MCSA before moving into the MCSE. 28 00:01:23,,270 >> Mm-hm. 29 00:01:24,,540 >> Right? It kinda goes without saying. 30 00:01:25,,040 >> Yep. >> And the main reason is the MCSA 31 00:01:28,,360 really focuses on the how to do things. 32 00:01:31,,920 How to implement active directory. 33 00:01:32,,610 How to install DNS. 34 00:01:34,,490 How to set up file replication services. 35 00:01:37,,358 How to do all these different things. 36 00:01:39,,530 >> Mm-hm. >> All right. 37 00:01:40,,390 But you don't get the why side of it. 38 00:01:42,,940 Right? And 39 00:01:42,,850 that's because somebody at the MCSA level is not doing designs, 40 00:01:45,,550 they're doing implementation. 41 00:01:47,,790 >> Right. >> They're the grunt-workers, 42 00:01:48,,480 the people in the field actually making things happen, 43 00:01:51,,860 which is really important work. 44 00:01:52,,680 >> Right. >> Don't let me 45 00:01:53,,520 sound like that's not important. 46 00:01:55,,720 What they do is extremely important, but 47 00:01:58,,650 somebody has to be behind the scenes governing our overall design. 48 00:02:02,,960 >> Right. 49 00:02:03,,100 And that's when the MCSE comes in. 50 00:02:06,,210 Whoever has that role, the Microsoft Certified Solutions Expert, 51 00:02:11,,160 they're the person that's coming up with the overall, the big picture, all right? 52 00:02:15,,380 Not necessarily going into the field and doing the work. 53 00:02:17,,530 Now, you need to already have that experience because how do you a design if 54 00:02:20,,760 you don't know how something works. 55 00:02:22,,530 But they need to understand the why. 56 00:02:25,,200 And at this point, you also should have completed the 7413 exam, 57 00:02:30,,730 which was the first one that really dived straight into designing and 58 00:02:34,,910 implementing a server infrastructure. 59 00:02:36,,510 We rehash all of the things in 410, 411, and 412. 60 00:02:41,,360 Right here on 413 we're looking at the why you do these things why you might need 61 00:02:46,,730 five servers as opposed to four servers where you would put those servers in 62 00:02:49,,340 the global design. 63 00:02:52,,890 That leads us to the last one which is 7414 the show that we're getting prepared 64 00:02:56,,800 for right here with this one we dive not so 65 00:03:00,,410 much into the why of our server infrastructure but how we manage and 66 00:03:06,,140 maintain that server infrastructure, how you keep your data center operational? 67 00:03:10,,970 And it really does build around the data center. 68 00:03:12,,870 We kind of put workstations out of our mind. 69 00:03:14,,270 Any workstation stuff on this one? 70 00:03:17,,290 >> I don't think so at all. 71 00:03:18,,430 Really in your SAs, you're learning how to monitor and 72 00:03:21,,880 manage your individual servers you're setting up. 73 00:03:23,,110 You're the DHCP admin or that DNS admin. 74 00:03:27,,870 Now you're talking about monitoring your whole solution, and your data center, and 75 00:03:30,,100 your virtual machine infrastructure and all of that. 76 00:03:34,,350 >> So whenever it comes to monitoring these days the Microsoft monitoring 77 00:03:37,,270 managing, they have their system center suite. 78 00:03:40,,980 And so what we're gonna do is look at if you're running your 79 00:03:42,,560 own data center even if its cloud data center right. 80 00:03:45,,830 You tied a Windows Azure or whatever. 81 00:03:47,,290 You need to monitor and manage those systems and 82 00:03:50,,660 there are a number of system center solutions that deal with that. 83 00:03:53,,210 And that's what we're gonna take a look at. 84 00:03:55,,880 The general best practices for how you should be running your environment 85 00:03:58,,440 as well as the tools from Microsoft that you can use. 86 00:04:02,,230 Right? You don't have to in real life. 87 00:04:04,,230 You can use whatever you want. 88 00:04:05,,740 But if you wanna pass this exam you need to know the system center stuff. 89 00:04:08,,380 So we're kinda shifting and that's why this one was designing and 90 00:04:12,,280 this one is just implementing. 91 00:04:14,,750 Right? Implementing in advanced server 92 00:04:15,,541 infrastructure because we're gonna see, we are going to see a lot of design, 93 00:04:19,,440 we'll get to that with the exam objectives. 94 00:04:21,,500 It is focused more on what you need to put in place to 95 00:04:25,,460 keep your data center running nice and smooth and keep an eye on it. 96 00:04:30,,730 When you've completed that fifth exam, you'll be awarded the MCSE, 97 00:04:34,,090 the Microsoft Certified Solutions Expert. 98 00:04:37,,790 And that will designate that you are an expert, that you know how to implement 99 00:04:42,,700 a data center according to Microsoft's best practices, right, 100 00:04:45,,790 a server infrastructure. 101 00:04:46,,780 All right, so let's take a look at the exam itself. 102 00:04:50,,340 All right. If I jump over here to the 7414 103 00:04:53,,250 exam, it's $150. 104 00:04:54,,060 Right? 105 00:04:55,,720 Microsoft exams are really reasonably 106 00:04:57,,340 priced compared to other vendors these days. 107 00:05:00,,380 Although you do have to take a lot of the exams. 108 00:05:02,,880 >> And then again every three years or something. 109 00:05:04,,170 So they get their money. 110 00:05:06,,919 >> Yep. So we do have a new exam, 70-414. 111 00:05:08,,170 It's $150.00 to take it. 112 00:05:10,,090 You can take it at any Pearson View Center. 113 00:05:15,,970 Right today, while we're taping this, you can still take the exam at Sylvan for 114 00:05:19,,010 Metrics Centers also. 115 00:05:22,,790 That ends, I think they make a note of that right here, yeah, January 1st, 2015. 116 00:05:26,,350 So, if you're watching this January 1st 2015 or later, 117 00:05:30,,750 which is only, two months away. 118 00:05:32,,230 Then, after that point, you won't be able to take it at Prometric anymore, right? 119 00:05:36,,260 So you'll need to take it at view, and 120 00:05:39,,341 I would just plan on taking it at view right now. 121 00:05:42,,930 >> Yea, and you look at there where it says, 122 00:05:43,,700 I think with Prometric it takes five to seven business days I think. 123 00:05:47,,610 So they're just not. 124 00:05:49,,000 Very quick with that stuff or Pearson VUE you can find out that day or the next day, 125 00:05:54,,480 and get your transcript updated, things like that. 126 00:05:58,,120 >> You'll always find your pass or fail score right at the end of the exam, so 127 00:06:02,,990 they do that. 128 00:06:02,,090 What Mike's talking about is they 129 00:06:04,,970 have to get that information back to Microsoft, right. 130 00:06:05,,022 And yeah, that's what's pretty bad about that. 131 00:06:09,,450 All right, so that's why we see both of them here, but 132 00:06:11,,010 if I were you I would just plan on view and not worry about the record so much. 133 00:06:15,,720 All right, so that's the exam cost. 134 00:06:17,,840 They give you some basic information but they aren't really detailed about things 135 00:06:21,,270 like how many questions you have and what's the passing score, and so on. 136 00:06:27,,900 That's because Microsoft does these performance based exams, and 137 00:06:30,,587 that means you could have several different amounts of questions. 138 00:06:34,,560 So, Mike, you and I could go and take this exam right now and 139 00:06:37,,820 I might have 50 more questions than you. 140 00:06:39,,200 That doesn't mean that Mike got an easier exam, 141 00:06:42,,980 just means maybe you got more simulations that I did. 142 00:06:46,,210 >> Right. An old, drag and drop, 143 00:06:48,,760 put them in place type questions, things like that. 144 00:06:50,,860 >> And they do full, it's not flash based. 145 00:06:53,,010 I forget what they built it on. 146 00:06:56,,950 Probably silverlight. 147 00:06:56,,535 They do these imbedded plug ins that actually give you a fake Windows UI so 148 00:07:01,,585 you can go through and configure some things. 149 00:07:03,,235 They're awkward and I >> They are. 150 00:07:05,,004 >> But they're in there. 151 00:07:06,,975 >> [LAUGH] >> It's supposed to show that you actually 152 00:07:07,,185 have that experience. 153 00:07:09,,810 On a design exam, though, one like this you're gonna have a lot more 154 00:07:12,,020 word problems, a lot of where they describe an environment and 155 00:07:17,,080 you make recommended changes based on your knowledge. 156 00:07:19,,950 >> Yeah, bring your reading glasses if you need them. 157 00:07:20,,720 It's like reading an essay in there and then going back and 158 00:07:23,,115 answering ten questions on this essay they've given you. 159 00:07:26,,650 Mm-hm. 160 00:07:27,,770 All right, so some of the other things we need to know, the exam objectives, right? 161 00:07:31,,720 This one covers what doesn't look like all that much in the beginning. 162 00:07:35,,790 Really just four objectives, nice and small. 163 00:07:38,,370 We've got manage and maintain a server infrastructure. 164 00:07:41,,870 And notice how each of these are listed as 25 to 30%. 165 00:07:44,,310 Except the last one's 20 to 25%. 166 00:07:46,,270 So the exam's pretty evenly divided across these four. 167 00:07:51,,660 And the first one is just straight up server infrastructure. 168 00:07:53,,160 So we're talking about, you've got a data center, you've got servers, 169 00:07:57,,610 you've got physical servers and virtual servers. 170 00:07:59,,440 We need to maintain that infrastructure. 171 00:08:02,,700 And if we break that out you'll see they break it down into quite a few things, 172 00:08:06,,170 starting with an administrative model. 173 00:08:08,,070 Right? Administrative models are how we 174 00:08:12,,990 implement management. 175 00:08:12,,110 Is it just one person, is it multiple people, 176 00:08:15,,720 do people have different levels of access? 177 00:08:16,,519 Those are all different things we think about in our administrative model. 178 00:08:21,,280 Then we've got our monitoring strategy right? 179 00:08:23,,348 How are we going to monitor this. 180 00:08:24,,500 If a server fails, if an issue happens, how do we get information? 181 00:08:27,,460 If we're troubleshooting what historical data do we have to collect to be able 182 00:08:30,,150 to look at and what tools and resources are available to us? 183 00:08:33,,760 And that's when we start introducing the viewers into System Center 2012. 184 00:08:35,,720 And we're going to be doing System Center 2012 R2, 185 00:08:38,,380 because that's what's on the new version of the exam. 186 00:08:42,,070 So we'll be using that throughout the whole show, 187 00:08:45,,630 but in real life, most of what's in 2012 is the same in 2012 R2. 188 00:08:49,,220 But there will be a few additional features we cover that are new in R2. 189 00:08:53,,800 And then we got plan and 190 00:08:55,,770 implement automated remediation, so when something goes wrong, how can we fix it? 191 00:09:00,,330 Right? What's our backup plan? 192 00:09:02,,260 And can we automate that, right? 193 00:09:04,,170 Can we automate taking care of the problems, and 194 00:09:06,,160 getting things back up and running? 195 00:09:08,,920 So it's a pretty heavy topic for just being one part of the exam. 196 00:09:14,,030 After that we break into plan and 197 00:09:16,,810 implement a highly available enterprise infrastructure. 198 00:09:20,,620 A better way to deal with failures is to >> [LAUGH] 199 00:09:22,,040 >> Avoid them in the first place. 200 00:09:24,,730 >> Exactly. >> Right, 201 00:09:24,,490 so what kind of infrastructure can we put in place to make it where failures don't 202 00:09:28,,750 affect our services. 203 00:09:29,,770 So we'll talk about clustering, network services, network load balancing, 204 00:09:33,,810 and other things. 205 00:09:34,,600 And then we'll talk about storage, which is a big deal. 206 00:09:37,,758 A lot of people don't properly plan for storage failures. 207 00:09:40,,225 Then we'll take a look at other roles that we might need to make redundant. 208 00:09:45,,154 And, by roles, I mean things like DHCP, DNS, 209 00:09:48,,189 they mention [CROSSTALK] >> Basic infrastructure that really keeps 210 00:09:51,,270 everything else running. 211 00:09:52,,160 >> Mm-hm. And then lastly we've got 212 00:09:55,,370 a business continuity and disaster recovery solution, all right? 213 00:09:59,,780 And I know it kind of sounds the same, but business continuity, 214 00:10:02,,720 that means making sure that we can keep working, even when there's a failure. 215 00:10:07,,100 During the failure we might not be at full capacity, but we're still working. 216 00:10:11,,720 Right. >> Huh. 217 00:10:11,,210 >> Disaster recovery's getting us back to peak performance. 218 00:10:15,,870 >> Right. 219 00:10:15,,000 >> So, you know, if on a good day you're at 100% and then a failure happens, 220 00:10:20,,260 instead of dropping to 0%, >> Right 221 00:10:21,,660 >> Then you drop to 50% or something. 222 00:10:23,,530 >> Huh. >> So you're running at half capacity. 223 00:10:25,,630 And then after you fix the problem you come back up to a 100, 224 00:10:27,,410 so staying at that 50%, that's business continuity. 225 00:10:31,,420 You're continuing to do business during the failure, 226 00:10:34,,010 and after we get back up to 100%, that's disaster recovery, we're recovered. 227 00:10:39,,410 That's one of those sections right there that in, real life land. 228 00:10:43,,830 It's not a skill you use every day but 229 00:10:45,,640 on the day you do use it >> [LAUGH] 230 00:10:47,,000 >> You are glad you have it. 231 00:10:49,,680 >> Absolutely. 232 00:10:49,,365 >> I have been there. 233 00:10:51,,200 >> [LAUGH] >> All right now, I know on most of these 234 00:10:56,,365 they say 25 to 30%, but this next one, it's pretty much guaranteed to be 30%. 235 00:11:01,,415 The virtualization push is huge at Microsoft. 236 00:11:05,,465 And I'm not just talking about HyperV, but Windows Azure also, 237 00:11:08,,970 which is built on HyperV, so I guess it's kind of the same, but, 238 00:11:11,,160 they pretty much expect every environment to use virtualization tools now. 239 00:11:17,,720 So we've got a big section on it, and 240 00:11:19,,300 this'll actually make up a decent part of our show because it is so important. 241 00:11:24,,290 But you'll see in here we've got a plan for our virtualization host. 242 00:11:27,,770 That's the physical machines. 243 00:11:28,,190 We got a plan for our virtual machines. 244 00:11:30,,920 The VM's. We'll take a look at networking and 245 00:11:32,,380 storage under virtualization and design considerations and plans. 246 00:11:37,,030 Notice how a lot of these say plan and implement. 247 00:11:40,,130 The plan side, we've gotta come up with our design. 248 00:11:43,,880 We gotta plan and 249 00:11:43,,440 figure out exactly what we need to provide our network the resources it needs. 250 00:11:47,,740 But the implement side, we've usually already learned. 251 00:11:50,,100 On the implement side, we've already learned how to implement HyperV. 252 00:11:54,,460 We already know how to bring up VMs. 253 00:11:55,,910 That's not new. 254 00:11:56,,490 So what we're adding on are some of the System Center Utilities. 255 00:12:00,,100 Things like the System Center Virtual Machine Manager. 256 00:12:03,,100 SCVMM. 257 00:12:04,,810 And so we'll see some additional things. 258 00:12:05,,660 Yeah, right here. Virtual Machine Manager. 259 00:12:07,,100 So we'll see bringing system center into the mix to implement these. 260 00:12:11,,450 Whereas before we might have done it directly in HyperV. 261 00:12:14,,350 And that's essential. 262 00:12:15,,950 The larger your data center gets, 263 00:12:16,,610 the less practical it is to manage things on an individual server basis. 264 00:12:22,,750 And our last section is design and implement identity and access solutions. 265 00:12:26,,770 >> Mm. >> Mike, this is your favorite section. 266 00:12:27,,990 >> Oh yeah, we love this stuff. 267 00:12:28,,080 Certificate services. 268 00:12:30,,780 Love those. 269 00:12:30,,500 We get to dive into that. 270 00:12:32,,700 Setting up the whole hierarchy. 271 00:12:33,,700 It's not just setting up a certificate server, but planning for that the root and 272 00:12:37,,950 then your subordinates and deciding how you want to play that out. 273 00:12:40,,570 Are you doing different subordinates for different locations or 274 00:12:43,,790 different purposes and things like that? 275 00:12:45,,450 And I think we'll end up tying into managing the certificates themselves and 276 00:12:49,,740 then extending our authentication beyond our boundaries. 277 00:12:52,,260 Taking it out into the cloud or with extranets. 278 00:12:55,,030 Our business partners doing, our federation identity solution. 279 00:12:59,,590 We'll take a peak at how we set that up either 280 00:13:01,,170 with a business partner or Microsoft. 281 00:13:03,,060 Microsoft provides that federation services that we can tie into there. 282 00:13:07,,930 Then getting into RMS and everybody uses RMS right Don? 283 00:13:10,,150 Oh yeah. Absolutely. 284 00:13:12,,545 It's widely deployed. 285 00:13:13,,880 [LAUGH] >> We make fun of it. 286 00:13:15,,800 The right's management service, it's >> It is good because we've talked 287 00:13:20,,720 a little bit about it before, but it does give you the ability to take those 288 00:13:23,,510 permissions and tie them to the document itself, not to the file system. 289 00:13:28,,330 So we can extend our control over those resources beyond our boundaries and 290 00:13:33,,920 beyond our file systems. 291 00:13:34,,870 >> It does have a good place in it. 292 00:13:36,,990 >> Yeah. If you're an all Microsoft shop, 293 00:13:38,,940 RMS is a great way to do digital rights management, DRM. 294 00:13:42,,130 Right? 295 00:13:44,,850 But if you've got users that are external to your organization there's a good bit of 296 00:13:47,,360 planning that has to go into that. 297 00:13:49,,770 And if you're not a Microsoft shop, if you have a mixture of platforms, 298 00:13:52,,340 there's a lot of planning that has to go in there. 299 00:13:54,,640 So So we kinda tackled that, but this last section here, they do downplay a bit, 300 00:13:58,,470 see how they say 20%- 25%, so a smaller portion of the exam comes from there, but 301 00:14:02,,350 it is important, it's good information to know, especially if you're gonna be 302 00:14:06,,810 extending your data center into the cloud, into Windows Azure or 303 00:14:10,,320 whatever, you'll want to be able to link credentials between those. 304 00:14:14,,890 And that's the type of stuff that we'll tackle down there. 305 00:14:17,,500 So those are the overall objectives that's gonna be covered in this certification. 306 00:14:22,,340 Even if you're not seeking the certification a lot of this is good 307 00:14:25,,840 knowledge to have. 308 00:14:26,,520 But I will say this. 309 00:14:27,,880 If you're just getting started in IT the MCSE is 310 00:14:30,,070 not the certification you should be seeking. 311 00:14:33,,450 The MCSE is designed for people who have been in the field for 312 00:14:37,,150 many years at this point. 313 00:14:39,,200 That have already implemented the technologies, 314 00:14:41,,730 they already understand the how's and so on, and 315 00:14:43,,070 they've seen enough different environments to start to understand the why's. 316 00:14:48,,850 So what we're really doing is applying Microsoft's best practices to those why's 317 00:14:52,,850 and getting ready for that more of a management position. 318 00:14:55,,160 So if you are, 319 00:14:57,,505 if you have a goal of becoming a system admin manager or a network manager. 320 00:15:02,,300 >> Mm-hm. >> Or something like that. 321 00:15:04,,910 That is the type of person that the MCSE is really designed for and consultants. 322 00:15:07,,720 Right, people that are roaming consultants, need to have these 323 00:15:10,,210 skills because you're dealing with so many different environments. 324 00:15:13,,130 How do you make sure they are properly set up and ready to grow in scale. 325 00:15:17,,410 You don't want a solution for today, you need a solution that lasts for 326 00:15:20,,610 tomorrow and beyond. 327 00:15:22,,280 That sounds like marketing. 328 00:15:25,,160 Tomorrow and beyond. 329 00:15:27,,960 All right, so definitely keep that in mind. 330 00:15:29,,690 The exam itself is a pretty fair exam I think. 331 00:15:32,,340 Microsoft of all the exam vendors out there. 332 00:15:35,,276 Microsoft has one of the best grammar checkers. 333 00:15:38,,857 >> Right. 334 00:15:38,,290 >> I know I get so frustrated sometimes at the other vendors when, 335 00:15:42,,080 you read the question and you're like, this makes no sense, 336 00:15:45,,290 it doesn't matter if I know the technology or not. 337 00:15:47,,220 I just can't decipher what this person is saying. 338 00:15:50,,100 And Microsoft is really good about that. 339 00:15:53,,180 You will see though, because this is a design exam. 340 00:15:57,,325 That there will often times be more than one right answer. 341 00:15:59,,320 >> Mm-hm. 342 00:16:00,,670 >> If they're asking you to select the appropriate design model for a solution, 343 00:16:05,,990 it's not uncommon that all of the design models they recommend would work. 344 00:16:08,,260 >> Right. >> That everyone of them would work. 345 00:16:11,,890 But one of them will best match the scenario, right? 346 00:16:14,,140 That client's needs or future expansion or least administrative effort, 347 00:16:19,,830 whatever it is that they're asking for. 348 00:16:20,,410 So, be ready for that. 349 00:16:22,,080 These are a little bit more, I don't want to call them subjective, you know, but 350 00:16:27,,870 they do require a little bit of independent thought to make sure you pick 351 00:16:30,,290 the best answer cell. 352 00:16:33,,030 I know for me, on this exam, the old mark for review button, I'd probably use that 353 00:16:38,,810 more than any other exam, just because there's different ways to do things. 354 00:16:43,,000 All right, but all that being said, it's a pretty exciting certification. 355 00:16:48,,350 It's a nice change from the 413 which was very design heavy, you know. 356 00:16:52,,500 This one we get into a lot of design, but we're seeing some new stuff, 357 00:16:55,,150 we're seeing the system centered tools and that's a lot of fun. 358 00:16:59,,650 All right, so Mike can you think of anything we have left off here for 359 00:17:02,,280 our review? 360 00:17:03,,134 >> No I think we covered it all, we talked about the objectives and 361 00:17:07,,747 the track that we're on. 362 00:17:08,,572 >> That's basically it. 363 00:17:10,,530 All right, well, ladies and gentlemen, if that stuff sounds exciting to you, and 364 00:17:14,,100 that's what you want to learn, they you are in the right place. 365 00:17:17,,810 This was just our little overview to introduce you to the certification, but 366 00:17:20,,121 stay tuned because we have episodes covering the actual exam content 367 00:17:24,,704 coming up. 368 00:17:24,,290 I hope to see you then. 369 00:17:31,,259 [SOUND]
Just you? Training a whole team? There's an ITProTV plan that fits.
With more than 5,800 hours of engaging video training for IT professionals, you'll find the courses you and your team need to stay current and get the latest certifications.