MCSE Windows Server 2016 - 70-744 (UPDATED 2018)
Securing Windows Server 201647 H 23 M
Security Overview

Overview
Security Overview
Security Overview Part 2
Configure Disk and File Encryption - EFS
Configure Disk and File Encryption - EFS Pt.2
Configure Disk and File Encryption - Bitlocker
Configure Disk and File Encryption - Bitlocker Pt2
Configure Disk and File Encryption - BitLocker Pt3
Configure Disk and File Encryption - BitLocker Pt4
Configure Disk and File Encryption - BitLocker CSV
Configure Disk and File Encryption: BitLocker vTPM
Antimalware Protection w/ Windows Defender
Antimalware Protection w/ Windows Defender Pt2
Antimalware Protection w/ Windows Defender Pt3
Antimalware Protection w/ Windows Defender Pt4
Windows Defender, WSUS and Windows Update
AppLocker
Device Guard and Control Flow Guard
Device Guard and Control Flow Guard Part 2
Protect Credentials
Protect Credentials Part 2
Create Security Baselines
Create Security Baselines Part 2

Secure a Virtualization Infrastructure

Guarded Fabric - Host Guardian Service Overview
Guarded Fabric - HGS Install and Configuration
Guarded Fabric - HGS Install and Configuration Pt2
Guarded Fabric - Admin Trusted Attestation
Guarded Fabric - Admin Trusted Attestation Part 2
Guarded Fabric - TPM Trusted Attestation
Guarded Fabric - TPM Trusted Attestation Part 2
Guarded Fabric - TPM Trusted Attestation Part 3
Guarded Fabric - Troubleshooting Guarded Hosts
Implement Shielded and Encryption-Supported VMs
Troubleshoot Shielded and Encryption-Supported VMs

Securing Network Infrastructure

What is a Firewall
Configuring the Windows Firewall - Basics
Configuring the Windows Firewall - Basics Pt2
Configuring the Windows Firewall - IPSec
Configuring the Windows Firewall - IPSec Pt2
Configuring the Windows Firewall - IPSec Pt3
Configuring the Windows Firewall - Advanced
Configuring the Windows Firewall - Advanced Pt2
Configuring the Windows Firewall - Advanced Pt3
Software Defined Datacenter Firewall - Overview
Software Defined Datacenter Firewall - On Azure
Software Defined Datacenter Firewall - with WAC
Secure Network Traffic - DNS Cache Locking
Secure Network Traffic - DNS Socket Pool
Secure Network Traffic - DNSSEC
Secure Network Traffic - DNSSEC Part 2
Secure Network Traffic - DNS RRL and DANE
Secure Network Traffic - MSFT Message Analyzer
Secure Network Traffic - SMB Protocol Security

Manage Privileged Identities

Just In Time Administration - Overview
Just In Time Administration - Demo Setup
Just In Time Administration - Hands-On
Just In Time Administration - Hands-On Part 2
Implement Just Enough Administration
Implement Just Enough Administration Pt.2
Implement Just Enough Administration Pt.3
Implement Just Enough Administration Pt.4
Implement Just Enough Administration Pt.5
Implement Just Enough Administration Pt.6
Implement a PAWS Solution
Implement User Rights Assignments
Implement User Rights Assignments Part 2
Implement User Rights Assignments Part 3
Delegation of Control Wizard
Authentication Policies and Policy Silos
Account Types and Security
Remote Credential Guard
Enhanced Security Administrative Environment
Local Administrator Password Solution (LAPS)
Local Administrator Password Solution (LAPS) Pt2
Local Administrator Password Solution (LAPS) Pt3

Implement Threat Detection Solutions

Configure Advanced Audit Policies
Configure Advanced Audit Policies Part 2
Configure Advanced Audit Policies Part 3
Microsoft Advanced Threat Analytics
Microsoft Advanced Threat Analytics Part 2
Microsoft Advanced Threat Analytics Part 3
Determine Threat Detection Solutions Using OMS

Implement Workload-Specific Security

Secure Development and Workload Infrastructure
Implement Secure File Services Infrastructure
Implement Secure File Services Infrastructure Pt2
Implement Secure File Services Infrastructure Pt3
Implement Secure File Services Infrastructure Pt4
Work Folders and File Access Auditing
Implement Dynamic Access Control (DAC)
Implement Dynamic Access Control (DAC) Pt2
Implement Dynamic Access Control (DAC) Pt3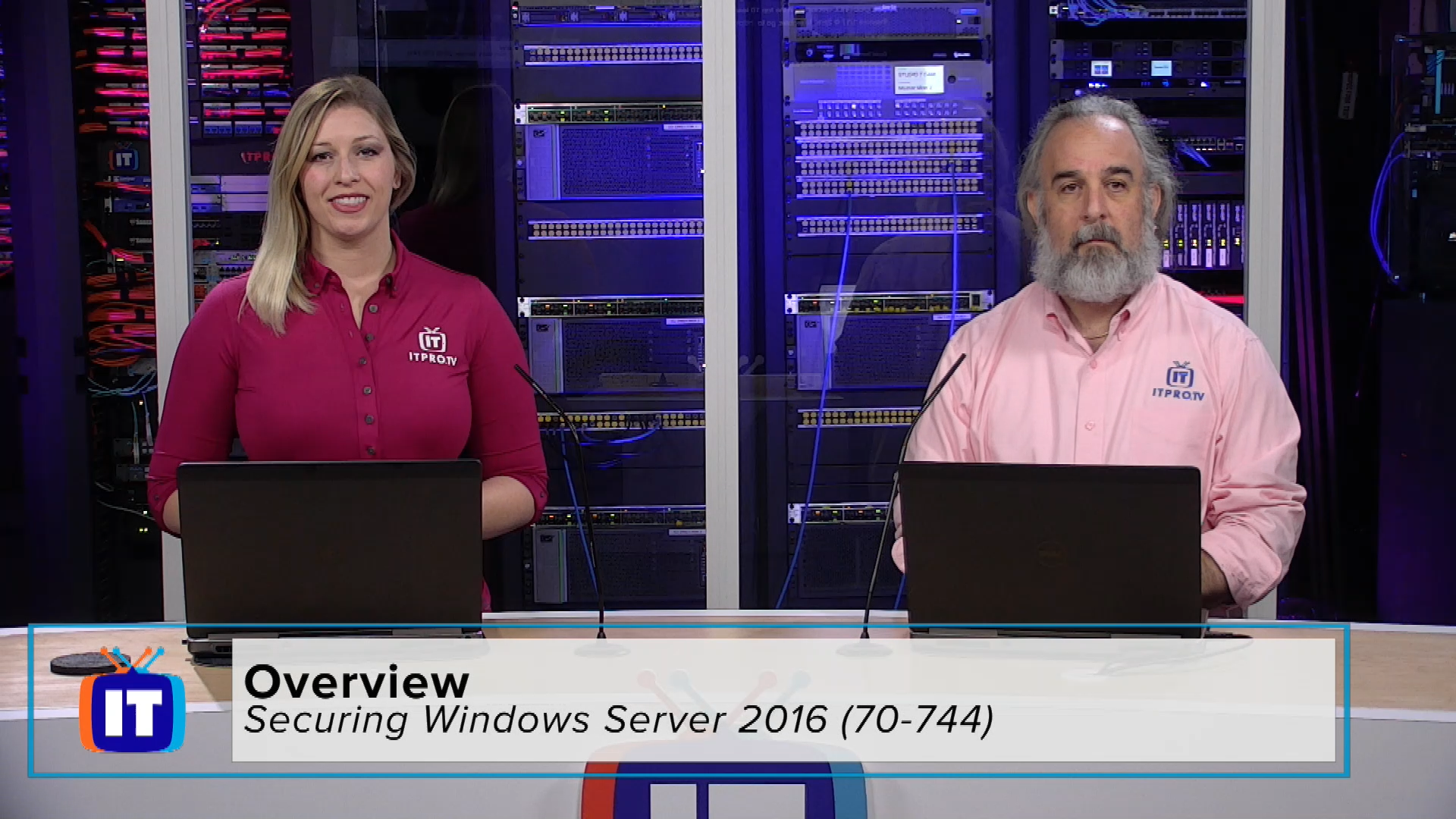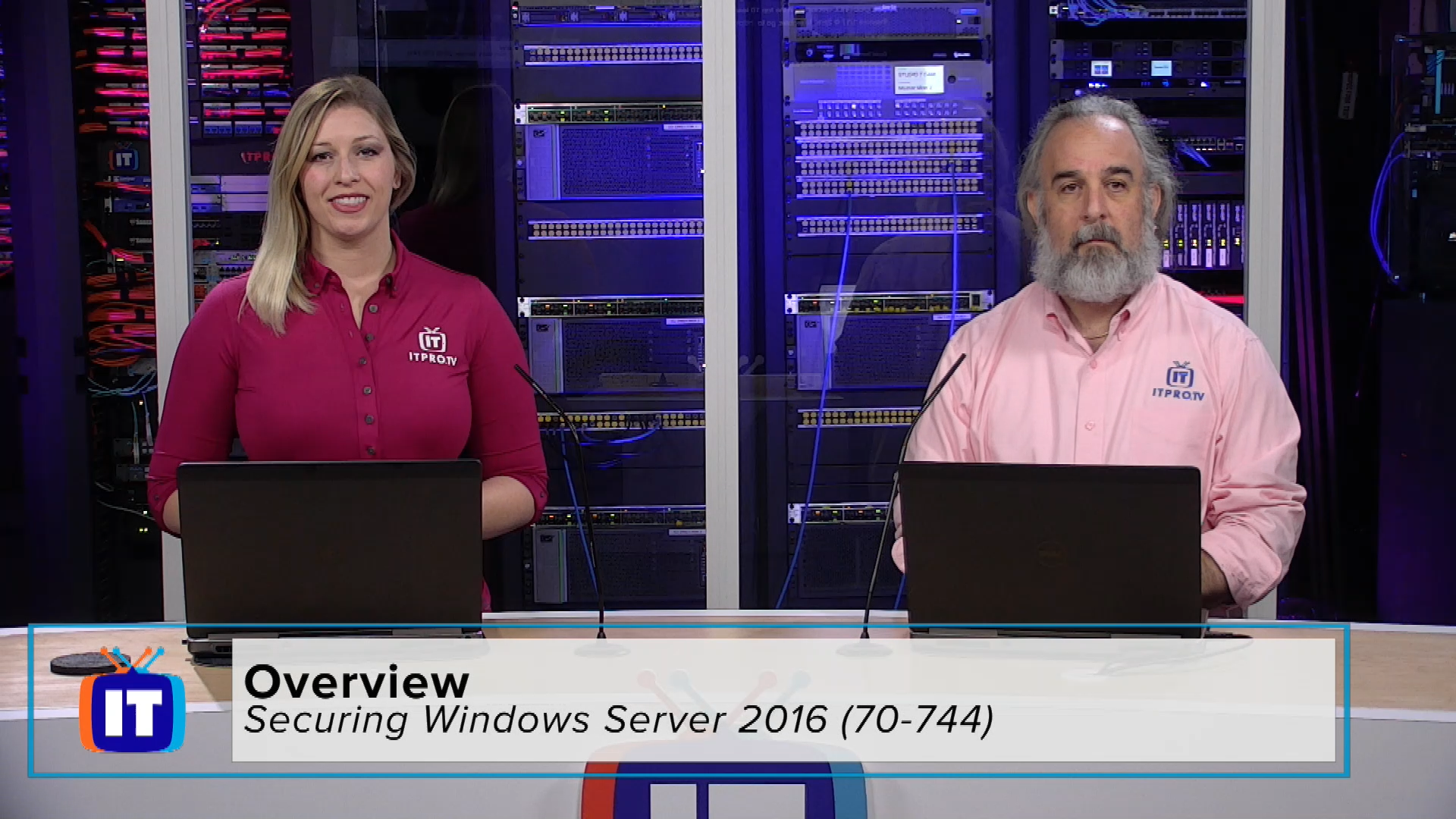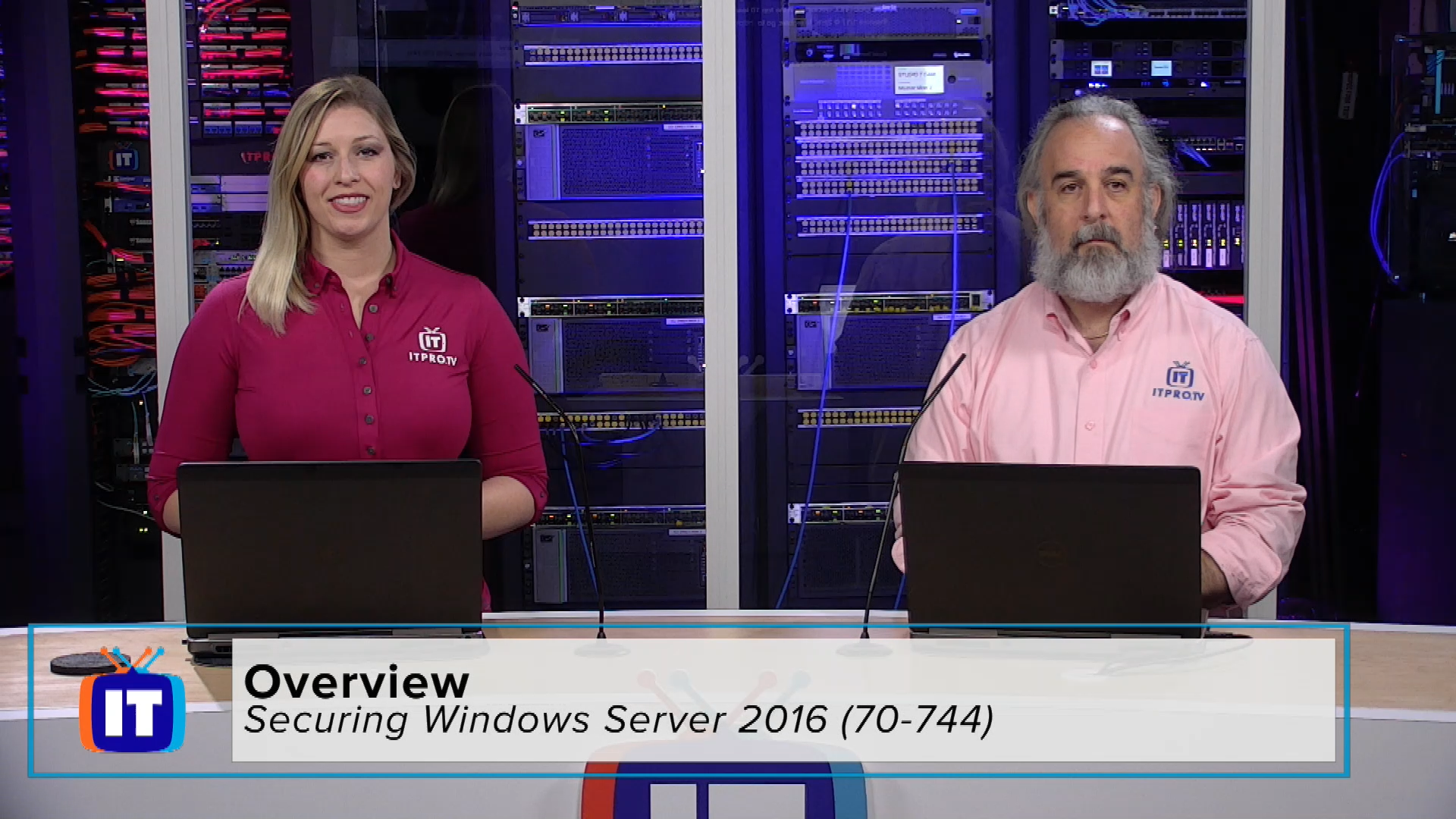 Episode Description
Transcript
This course will show you how you can mitigate malware threats, identify security issues by using auditing and the Advanced Threat Analysis feature in Windows Server 2016, secure your virtualization platform, and use new deployment options, such as Nano server and containers to enhance security. The course also explains how you can help protect access to files by using encryption and dynamic access control, and how you can enhance your network's security.
[MUSIC] Welcome, if you're looking to study for the Securing Windows Server 2016 exam, especially that 70-744 for the numbering scheme, then you're in the right place because in this series, we have Mr. Adam Gordon covering all the objectives, so welcome. >> Thank you, Cherokee. Always good to spend time with you. You're gonna see Cherokee join us for the show. You're also gonna see some of our other hosts poking their heads in from time to time to add their expertise to our conversations. Join me here to quickly show you what we're gonna be covering in this show. 70-744 is the exam number as Cherokee told you. It's current Windows Server 2016 as the topic. Let me scroll down. We've got six exam objective areas overall. Let me just zoom in and pull those over so you could see them. We're gonna be going through all of them in depth and talking about in one or more episodes around all of the topics. Things like implementing server, hardening solutions, how we secure virtualized infrastructure. We're gonna talk about networking, infrastructure, privilege identity management, threat detection, we're gonna incorporate some of the newer Cloud operating solutions from Azure, so it'll be interesting to see that. And implementing workload-specific security. We're gonna be using PowerShell. We're gonna be using the server-based consoles and management capabilities. And we're also gonna do some hands-on demonstrations both using our practice labs environment and some additional demonstrations. I'm gonna build out hosting virtual machines for you, to install products like Microsoft's Threat Analytic Solution and the Microsoft Identity Management Solution as part of the overall exam objective topics. We are also gonna be using the exam objective blueprint. The most recent version of it is always found on the exam website page, the one we're using here. Most effective set of updates you can follow, in terms of the actual material of what we're going to study, can be found by downloading that document. It will look something like this. And this is gonna be part of the show notes package for you. So you actually can follow along with us, as you can see all of the different details around any and all of the exam objectives, as we tick those off and kinda keep track on what we're doing. Looking forward to spending time with you. I'm gonna remind you quickly while we're doing the overview, that the best place to find all the show notes we're gonna put together for you is in this exact episode. You look just up in the corner on the right hand side in the interface as you're watching us, there's a download prompt for the show notes package. Download that. All the material we're gonna go through, all the notes, the diagrams, and the documentation that we provide is gonna be available to you there. Look forward to spending time with you. Go ahead and get started, because you're wasting time. We got cool stuff to talk about. You, now, go, do. [MUSIC]
Just you? Training a whole team? There's an ITProTV plan that fits.
With more than 4,000 hours of engaging video training for IT professionals, you'll find the courses you and your team need to stay current and get the latest certifications.