Microsoft 365 Mobility and Security (MS-101) (In Production)
Implement Mobile Device Management (MDM)

Plan for MDM
Set an MDM Authority
Set Device Enrollment Limit for Users

Configure Cloud App Security (CAS)

Cloud App Security Overview
Configure Cloud App Security (CAS)
Configure Cloud App Security (CAS) Policies
Cloud App Security (CAS) Policies Activity Policy
Cloud App Security - Anomaly Detection Policy
Cloud App Security Policies App Discovery Policy
Cloud App Security (CAS) Policies File Policy
Cloud App Security (CAS) Policies OAuth App Policy
Cloud App Security (CAS) Policies Session Policy
Cloud App Security (CAS) Policies Access Policy
Configure Connected Apps
Manage Cloud App Security (CAS) Alerts
Upload Cloud App Security (CAS) Traffic Logs

Configure Data Loss Prevention (DLP)

What is Data Loss Prevention, How Does It Work
Configure DLP Policies - Overview
Configure DLP Policies - PowerShell
Configure DLP Policies - O365 Security Compliance
Design Data Retention Policies in Microsoft 365
Manage DLP Exceptions
Monitor DLP Policy Matches
Manage DLP Policy Matches

Implement Azure Information Protection (AIP)

Plan AIP Solution
Deploy On-Prem Rights Management Connector
Plan for Windows Information Protection (WIP)
Plan for Classification Labeling
Information Rights Management (IRM) for Workloads
Configure Super User
Deploy AIP Clients
Implement Azure Information Protection Policies
Implement AIP Tenant Key

Manage Data Governance

Plan Information Retention Policies
Configure Information Retention
Plan for Microsoft 365 Backup
Plan for Restoring Deleted Content

Manage Auditing

Configuring Audit Logging
Monitoring Unified Audit Logs

Manage eDiscovery

Search Content Security Compliance Center
Search Content Security Compliance Center Roles
Plan for In-place and Legal Hold
Configure eDiscovery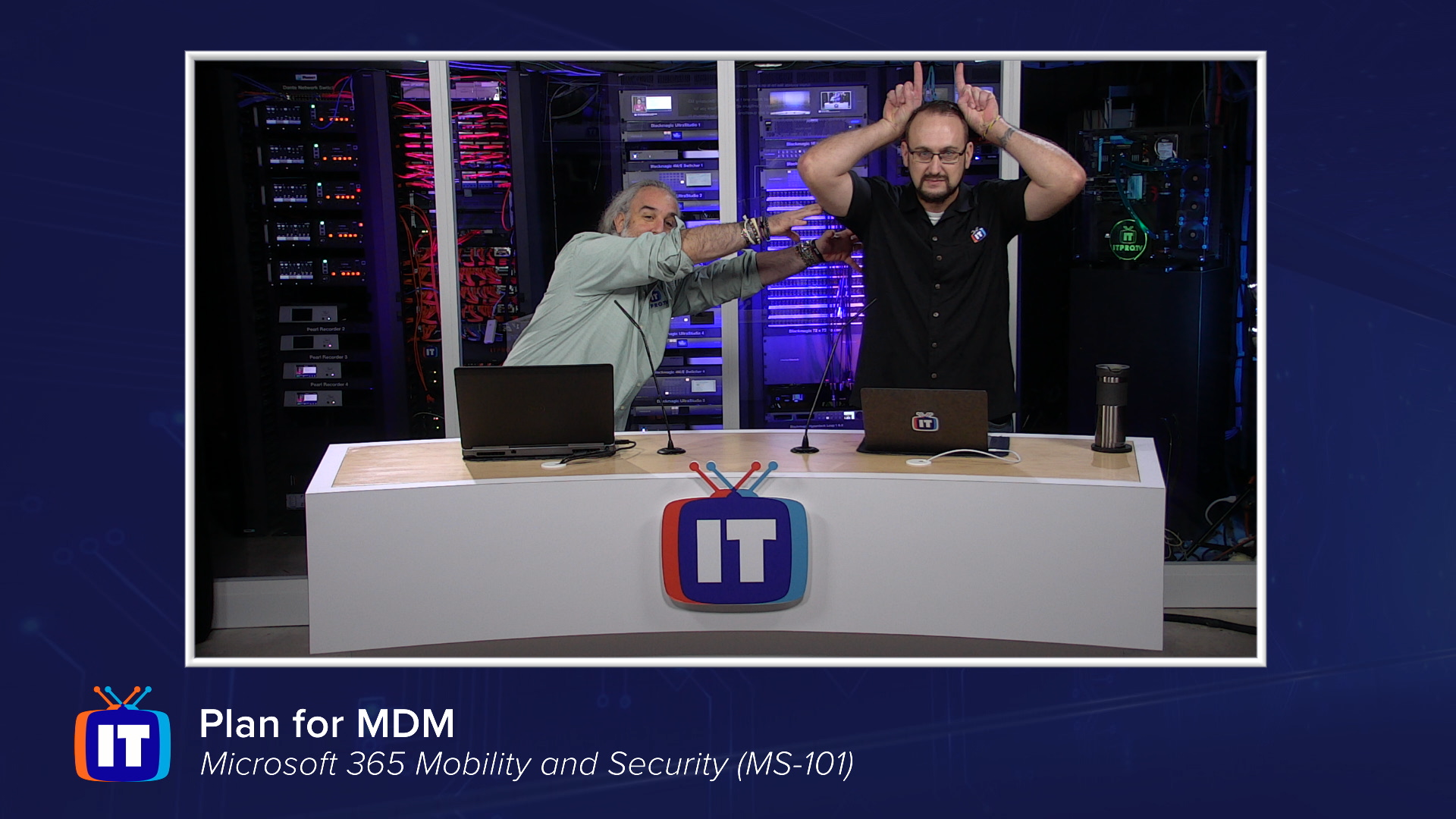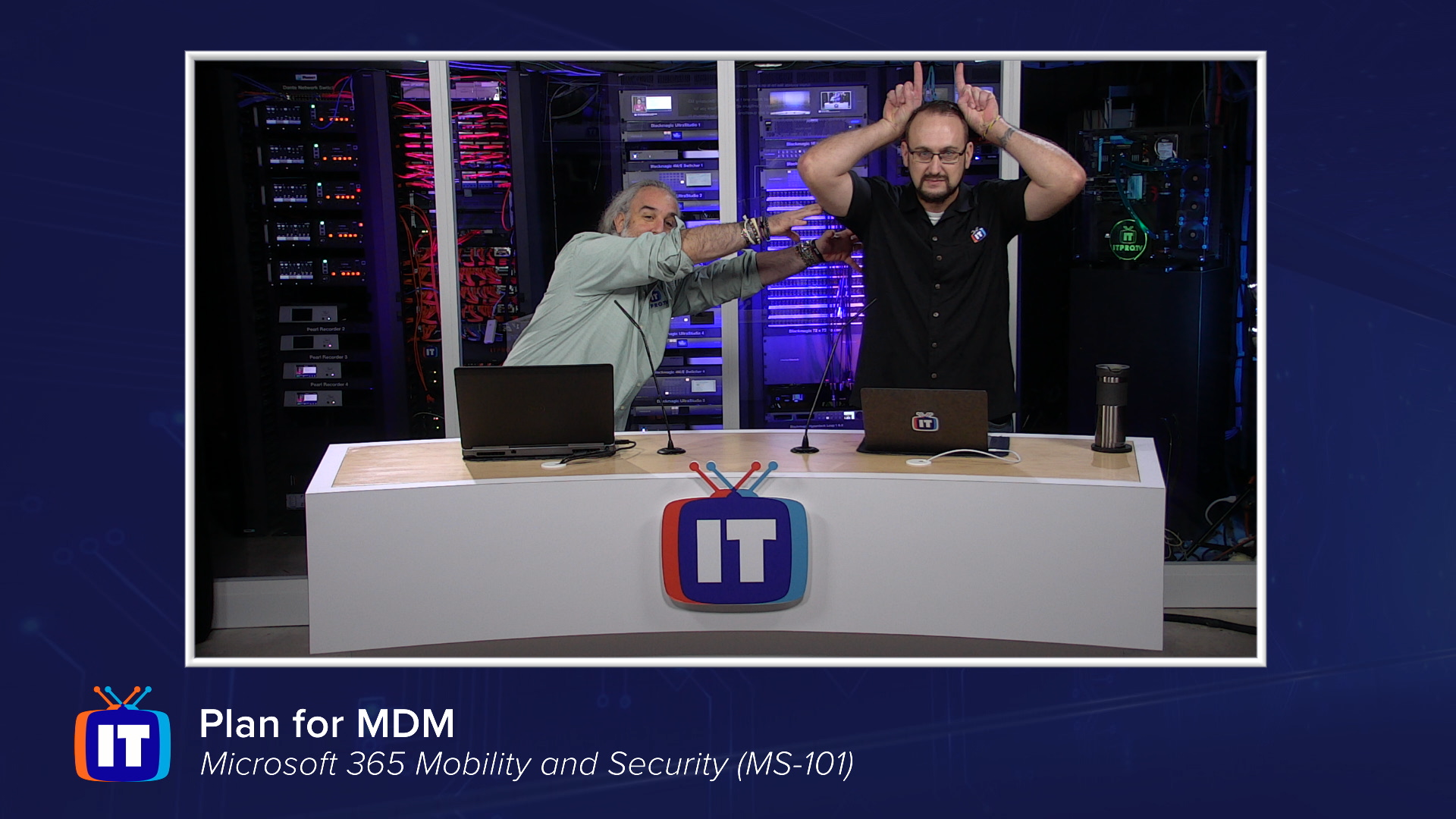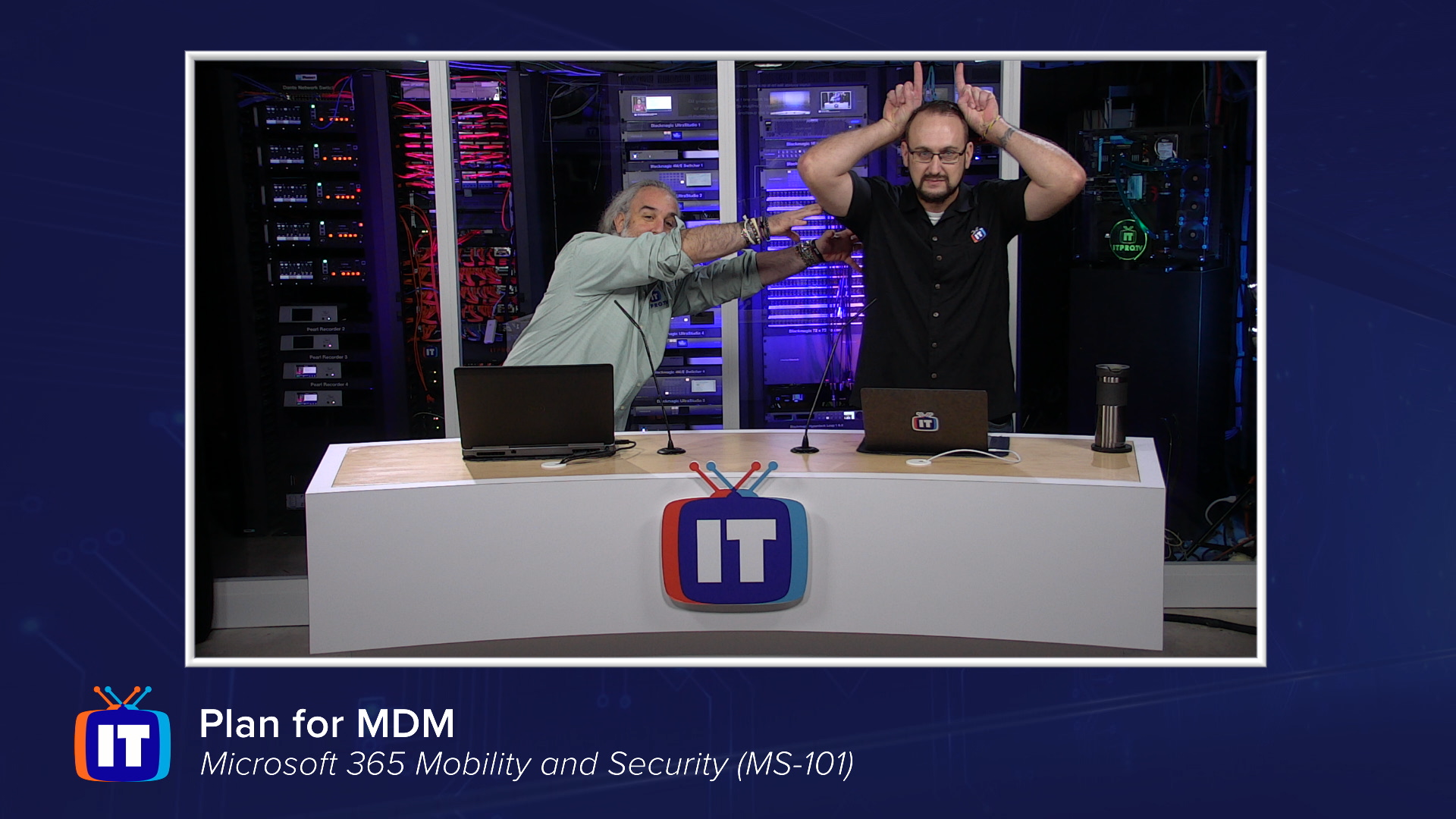 Adam and Wes discuss the information necessary to help you successfully plan for Mobile Device Management (MDM).
Just you? Training a whole team? There's an ITProTV plan that fits.
With more than 4,000 hours of engaging video training for IT professionals, you'll find the courses you and your team need to stay current and get the latest certifications.