Microsoft Azure (AZ-103) (In Production)
Microsoft Azure Administrator15 H 37 M
This show is designed for current or aspiring Azure administrators as it follows the exam objectives for the Microsoft AZ-103 certification exam.
Manage Azure subscriptions and resources

Manage Subscriptions
Manage Subscriptions Part 2
Manage Subscriptions Part 3
Configure Diagnostic Setting on Resources
Configure Diagnostic Settings on Resources Pt.2
Working with Alerts
Working with Alerts Part 2
Working with Log Analytics
Analyze Metrics Across Subscriptions
Analyze Resource Utilization and Consumption
Manage Resource Groups
Manage Resource Groups Part 2
Manage Resource Groups Part 3
Role Based Access Control
Role Based Access Control Part 2
Custom Roles
Troubleshooting RBAC and RBAC Policies

Implement and manage storage

Azure Storage Introduction
Create and Configure Storage Accounts
Azure Storage Replication
Storage Access Options
Storage Explorer
Azure Data Box
Azure Blob Storage
Azure Blob Storage Part 2
Configure CDN Endpoints
Azure File Storage

Deploy and manage virtual machines (VMs)

Create and Configure Azure VMs
Create and Configure Azure VMs Part 2
Configure High Availability
Configure High Availability Part 2
Deploy and Configure Scale Sets
Deploy and Configure Scale Sets Part 2
Manage VM Sizes
Move and Redeploy VMs
Add Data Disks
Add Network Interfaces
DSC and Custom Script Extensions
DSC and Custom Script Extensions Part 2
Configure VM Backups
Configure VM Backups Part 2
Performing VM Restorations

Configure and manage virtual networks

Virtual Network Introduction
Create an Azure Virtual Network

Manage identities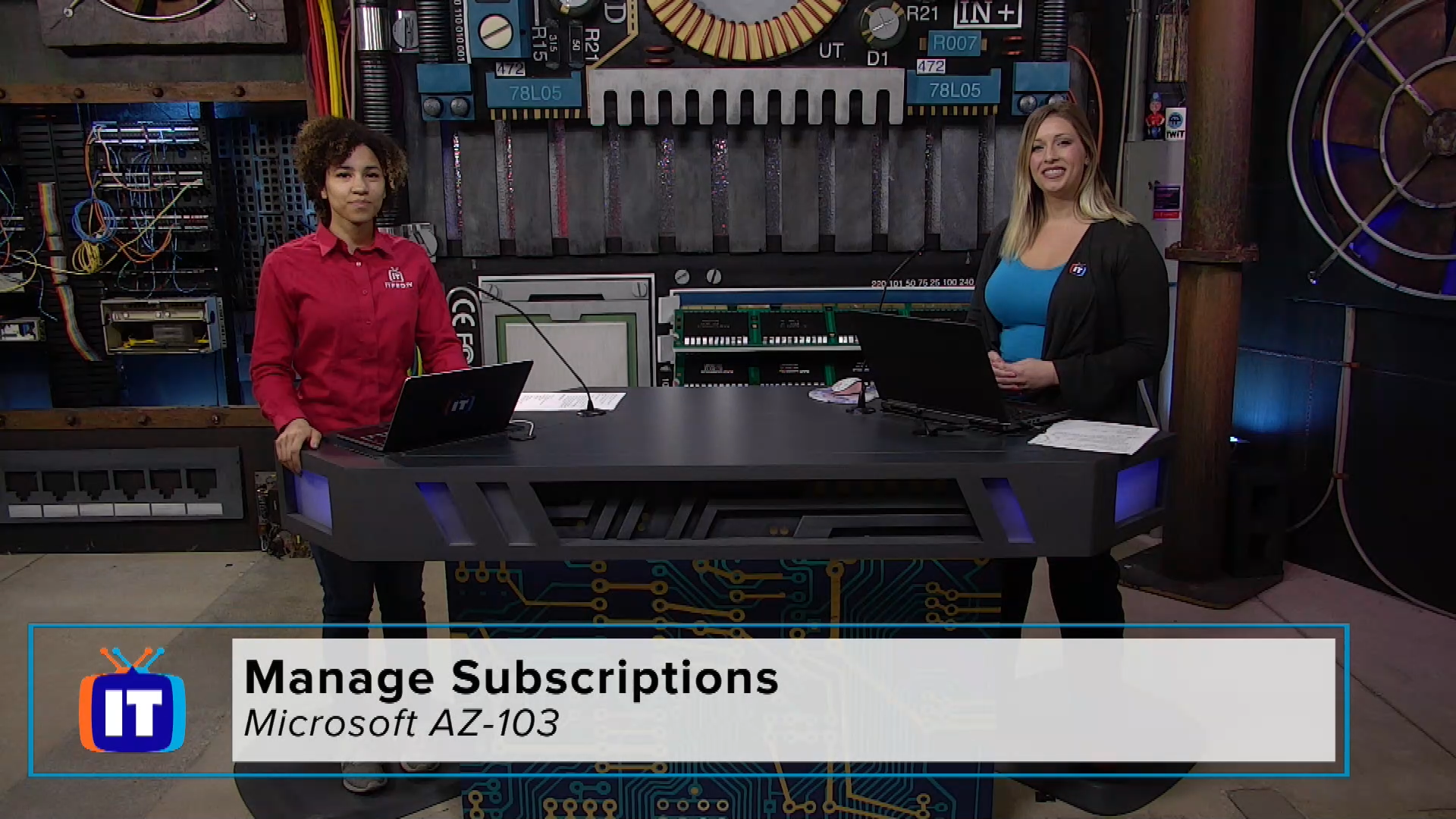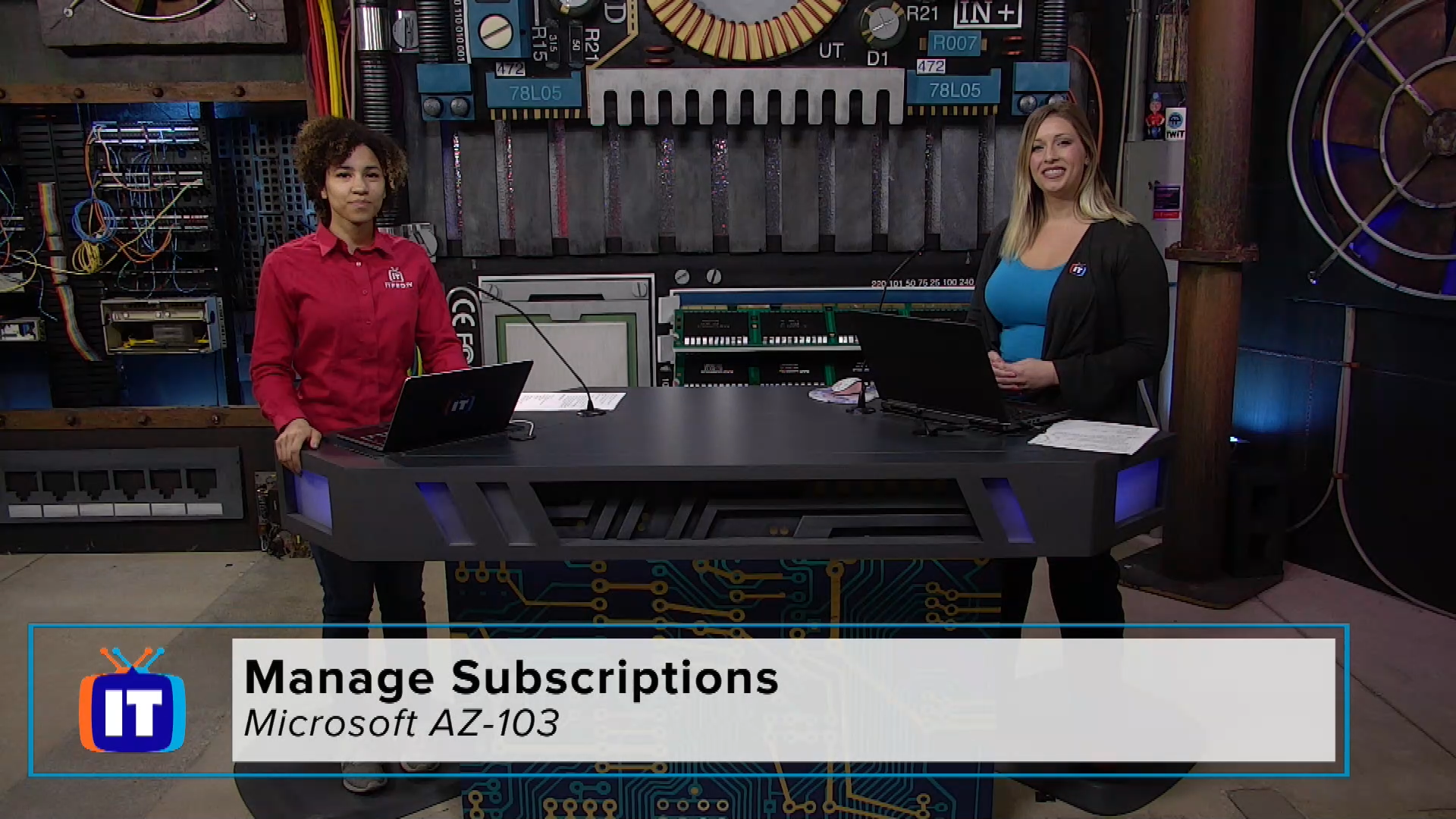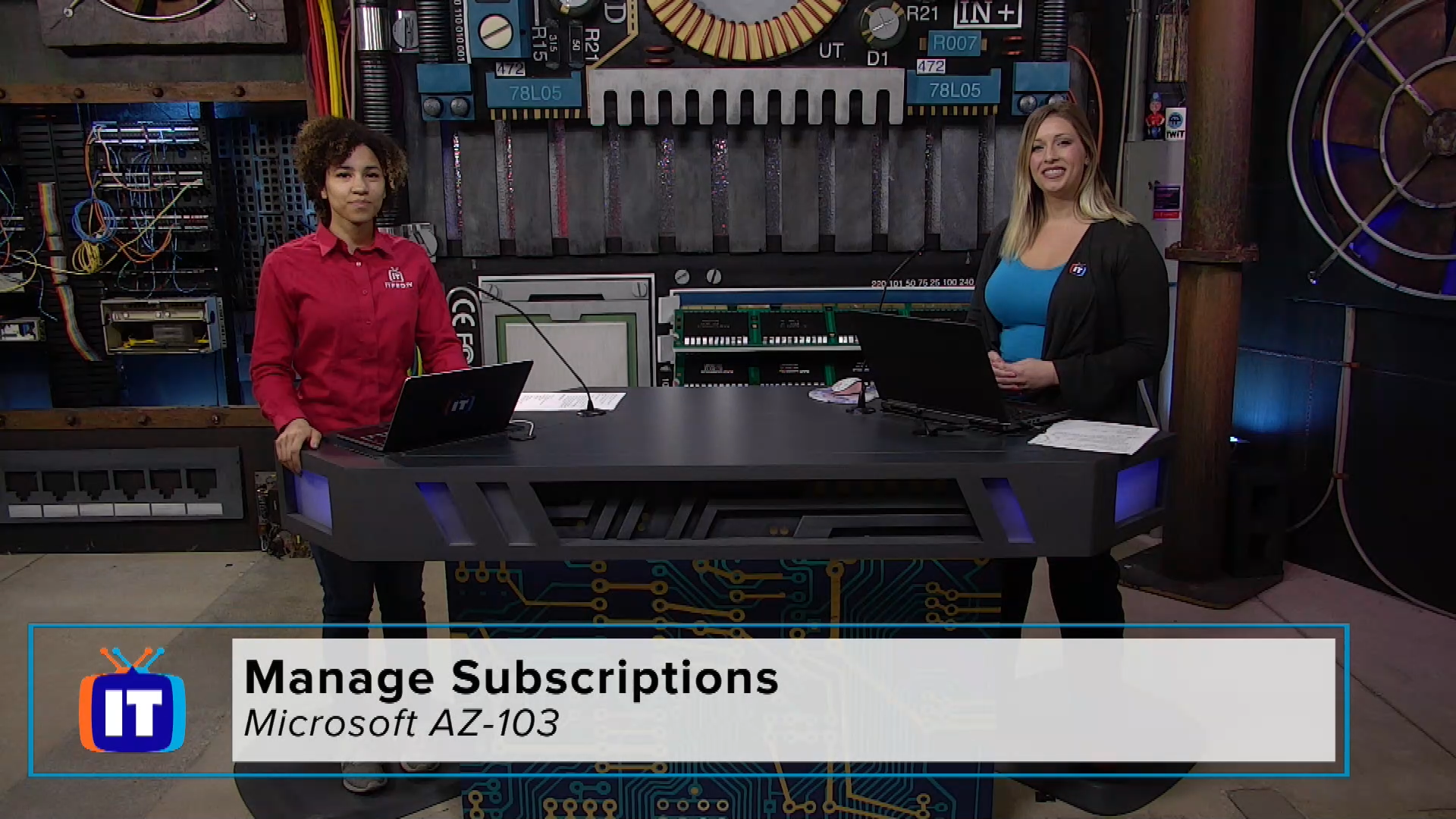 In this episode, Cherokee and Aubri explain what an Azure Subscription is. They weigh in on the pros and cons for using a single subscription versus multiple subscription model. They also discuss built-in and explain the associated duties and limitations.
Just you? Training a whole team? There's an ITProTV plan that fits.
With more than 4,000 hours of engaging video training for IT professionals, you'll find the courses you and your team need to stay current and get the latest certifications.