Microsoft Exchange Server 2016 - 70-345
Designing and Deploying Microsoft Exchange Server 201612 H 12 M
This course helps systems administrators quickly learn about deploying and supporting the various services provided in Windows Exchange 2016.
This course has a practice test
Plan, deploy, manage, and troubleshoot mailbox databases

Overview
Plan Deploy and Manage Mailbox DBs
Plan Deploy and Manage Mailbox DBs Part 2
HA Solutions for Mailbox DBs
HA Solutions for Mailbox DBs Part 2
Site-Resilient Database Availability Group
Monitor and Troubleshoot Mailbox DBs
Backup and Recover Mailbox DBs

Plan, deploy, manage, and troubleshoot client access services

Client Access Services
Client Access Services Part 2
Mobility and Load Balancing
Troubleshoot Client Connectivity
Troubleshoot Client Connectivity Part 2
Site Resilient Client Access Services

Plan, deploy, manage, and troubleshoot transport services

Plan Deploy and Manage Transport
Troubleshoot and Monitor Transport Services
Message Hygiene
Site Resilient Transport Services

Plan, deploy, and manage an Exchange infrastructure, recipients, and security

Active Directory DS for Exchange
Mail Enabled Objects
Mail Enabled Object Permissions
Role Based Access Control (RBAC)
Plan a Security Strategy
IRM with AD Rights Mgmt and Azure RMS

Plan, deploy, and manage compliance, archiving, eDiscovery, and auditing

Data Loss Prevention DLP
Archiving and MRM
Plan Configure and Perform eDiscovery
Plan Configure and Manage Compliance

Implement and manage coexistence, hybrid scenarios, migration, and federation

Coexistence with Office 365
Exchange Federation
Coexistence with Earlier Exchange Versions
Migrate from Earlier Exchange Versions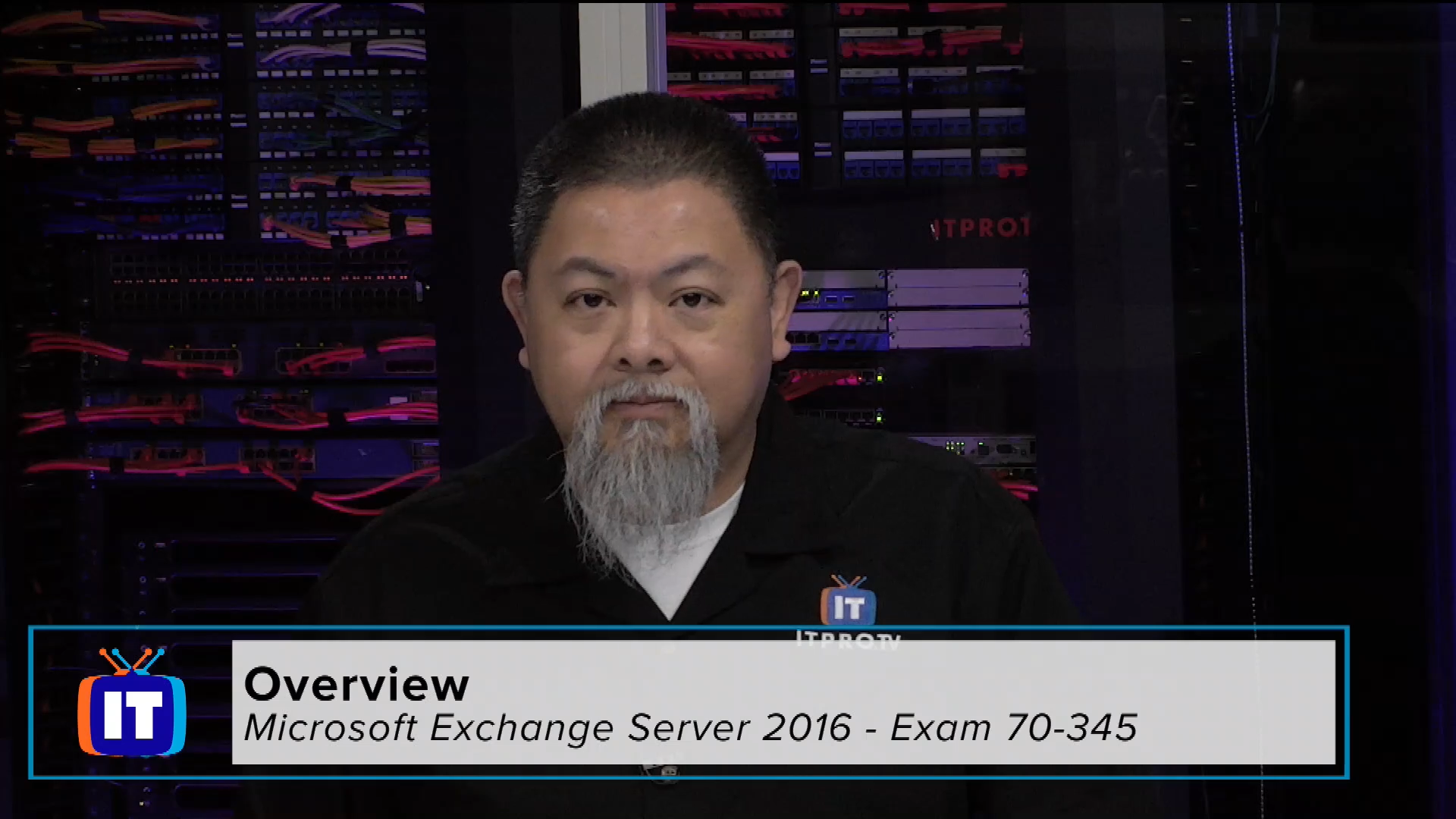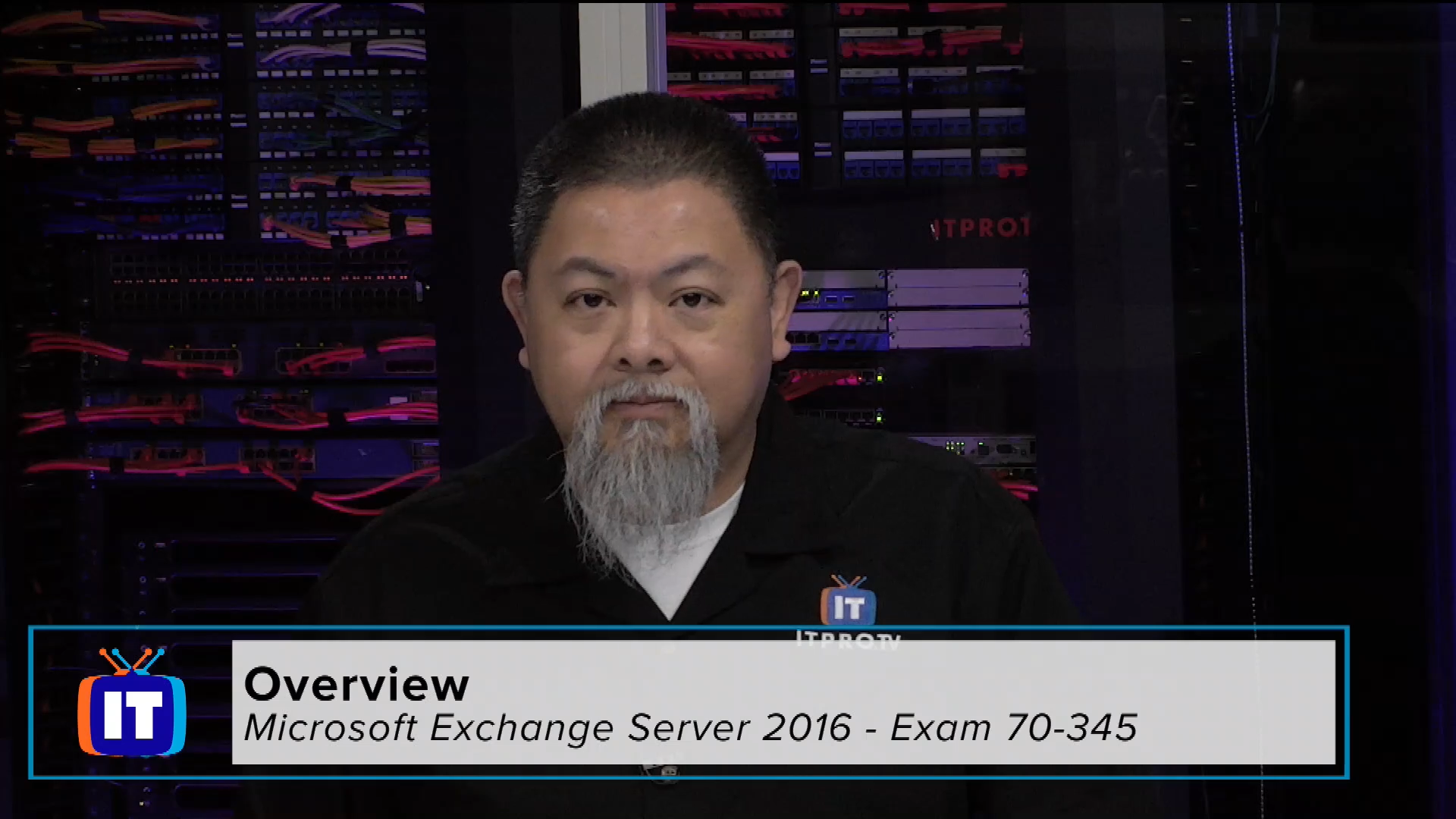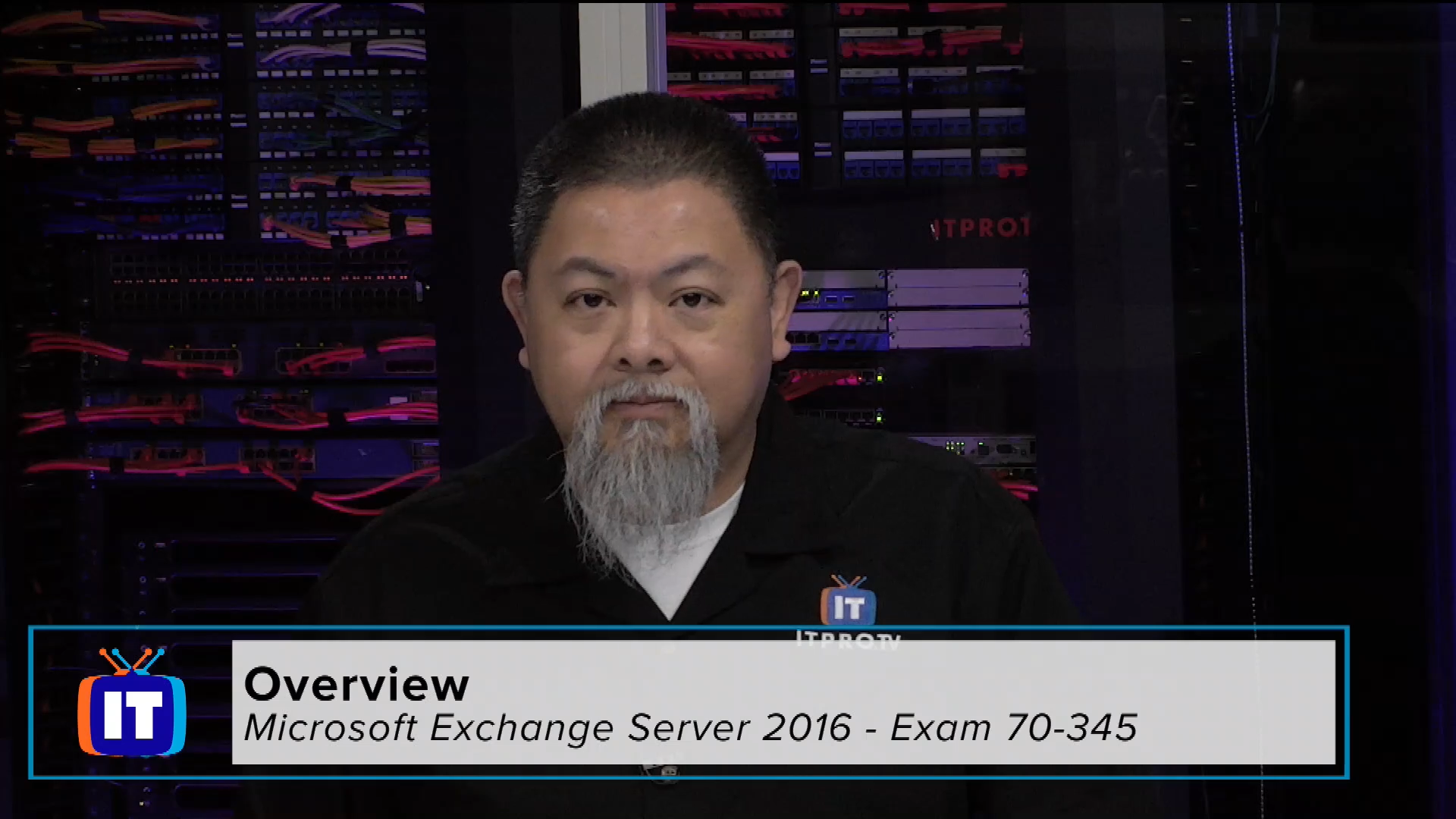 Episode Description
Transcript
The Microsoft Exchange 2016 Exam 70-345 show will help the experienced Exchange Admin who is already familiar with Microsoft Exchange but need to plan, deploy, manage and troubleshoot different components of Microsoft Exchange 2016. You'll see powershell and Exchange Admin Center commands that will help to maintain and manage Mailbox Databases, Client Access Services, Transport services, Coexistence and Migration scenarios. Exchange Expert Brian Svidergol takes each topic in detail and focuses in on the skills measured to give clear understanding of each domain objective called out Microsoft for Exam 70-345
[SOUND] Hello, we're about to begin a show on Microsoft Exchange 2016 for Exam 70-345. You want to make sure that you're actually ready to take the exam, so we're actually have an entire show based on that. Before we get started let's talk a little bit about getting ready for that exam as well. Once you're fully prepared, make sure that you go to your Pearson Vue testing center, and get registered, you can do that online as well. But wherever you are in the world, make sure you also know that you're gonna have to pay a fee for the exam as well, currently, right now in the United States, it's about $165. Make sure you check your local rates, and you actually find out what the price is going to be. Once you're registered, you'll go there on the day of the exam, sit for the exam and then, of course hopefully, pass the exam as well. But to ensure that you are ready and prepared for that, in our show we're gonna have Mr. Brian as being our subject matter expert to help us out. So Brian, what are we gonna be covering during our show? >> Thanks Ronnie, so we've actually got, this exam has six primary topics, and each of the six topics represents about 15 or 20% of the exam. So, the bad news is, you can't focus on one topic because they're all evenly spread throughout, you're gonna need to know a little bit about all these things to get ready for the exam. While we walk you through some of the topics, we're gonna start at the top, the first one is plan deploy, manage, and troubleshoot mailbox databases. So this is all about the database side, it starts off with a lot of sizing components. How many databases do you need, how much storage do you need? So one of things you want to focus on, is how to size an environment if you're given a certain set of circumstances, like maybe you have a couple of thousand users, they each have a two gig mailbox, they send 100 messages a day. The tool that you want to take a look at, make sure you're familiar with, is Exchange Server sizing calculator. That's that spreadsheet that will help you calculate out the environment, the storage, even the bandwidth if you decide to go with database availability groups. So on the database side, there's a ton of topics, you're also gonna dive into creating databases, managing databases, mounting and dismounting, maybe get into a little bit of that stuff too, so that's topic number one. For topic number two plan, deploy, manage, and troubleshoot Client Access services. So, what we're talking about here is the client population like your end users, and how they get to all the services that exchange has to offer. So, we're talking about everything from Outlook connectivity, to Outlook on the web, to mobile devices, anyway that anybody can get in and consume the Exchange Services. There's a whole bunch of topics to cover down here, I wanna point out a couple of them. We have a little bit on authentication, knowing about form-based authentication, kerberos based authentication, how to set that stuff, we get into client namespaces, all the names that people use, and have to remember. You think about mail.yourdomain.com, can you use that across the whole environment, where do you set that stuff up, and does it need to be different internally, externally? All right, a lot of planning considerations around the Client Access pieces. And then also in there, we talk about some of the networking pieces, too, like load balancing, and even some site resiliency when it comes to getting the clients connected. So that's high level topic number two. The third one is the exchange, infrastructure, recipients and security, planning, deploying, and managing. What you'll find in there is a lot of stuff on Active Directory, preparing Active Directory to have exchange. We're talking about schema updates, domain preparation, and the other pieces are around security, mail unable to object permissions. These is a very tough area, all the permission stuff, we have a lot of role based access control, so a couple of things I wanna point out here, how do we give our administrators access to the environment, without giving them more than they need? So it's all about the principle of least privilege right? Your gonna need to know the built in roles, your gonna need to know how to customize them. On the permission side, we're gonna dive into anything from mailbox permissions, to public folder permission. How do you give other people access to somebody's mailbox? Think about shared mailboxes, and what if you just wanted to give them access to a folder? You've got a lot of granularity there, and these are the details you're gonna need to know for the exam. All right, let's talk about the next topic. Plan, deploy, manage compliance, archiving, eDiscovery, and auditing. So this is an interesting one, very closely related to security, there is a turnout detail here. When we talk about compliance and archiving, what we are talking about is, do we need to maintain data at the organisation, and if so how long, and if we do, how do we do that? We can go with archiving as one example, when we thing of archiving, that's taking your mail data, and keeping it for the long term. There's a lot of choices and planning considerations, for example, do you wanna keep that archiving data on premises, or do you wanna move it up to the Cloud, what are the different things you need to think about there? When we talk about eDiscovery, we're talking about the ability for the security team to take a look at all of the mail data throughout the whole environment, looking for something maybe to do with a legal case or something similar. For the exam, you're gonna need to know how to set up eDiscovery, how to run eDiscovery, and what permissions at you're gonna need in order to do that. And then finally, auditing for this particular topic. Auditing is capturing all of the actions that were performed typically by an administrator while they're doing their job. Which commandlets did they run, which parameters, who ran it, what did they run, what did they change? You're gonna need that stuff when you wanna go back and figure out what caused maybe an outage or some kind of bad configuration change. In addition to the administrative side though, you can also do auditing on the mailboxes themselves. So if you're ever in a trouble shooting situation and you wanna figure out, what's going on with the user's mailbox, you can turn on auditing on the mailbox for specific actions, whether they're creates, or deletes, or removes, and in troubleshooting scenarios, you can dig that data up. So you're definitely gonna need to know about that. And then our final topic is implement and manage coexistence, hybrid scenarios, migration, and federation. This is a whole flurry of topics, and their big ones too. This is where we'll get into a little bit of Office 365, when you think about taking your on premises environment, and configuring it to be a hybrid environment with Office 365. Maybe you're gonna have some mailboxes on-premises, maybe you're gonna have some in the Cloud, maybe you're gonna move everything into the Cloud, but you're gonna need that co-existence time for a little while where you have to manage both. You're gonna need to know the details around that set-up process, what are the requirement, how do users authenticate, do we need to do any sinking up to Azure Active Directory? Beyond that we get into migration and coexistence from earlier version, so think about Exchange 2010 or 2013, you wanna bring 2016 into your environment, how do you do that, what are you gonna need to know, what do you do once it's in? And then how do you get rid of the old stuff, so there's a bunch of topics around that. Everything from moving mailboxes whether individually or in batches, moving the public folders. And then the last little piece you need to move before you can start the decommissioning process, and there's a lot of details even around the decommissioning process, and I think that are covered here on the exam. So, that's quite a bit of stuff here, I do have one more that I left off, and that's the plan, deploy, manage and troubleshoot transport services. So, transport services are the backend services that handle the flow of email data, when you send an email from one person to another, whether it's inside the company, or maybe out to the internet. There's a whole transport pipeline architecture, some of which is new to Exchange 2016, that you're gonna need to know the details about. You wanna really know, how does an email get from one place to another, how does it choose which route to go down, what are the infrastructure considerations to change that routing, maybe enhance a little bit? We're gonna dive into those details in the show, so that you're comfortable as you get those topics on your exam. So, that is a breakdown of high level of everything we want to cover on this show. We're gonna dive into when we talk across the topic a lot of PowerShell. So, most everything today, from an administrative prospective, you can do it from the GUI components, like Exchange admin center or from PowerShell. For exam preparation, I like to focus on the PowerShell pieces, because those are the most testable. So, you'll see, we're gonna cover a lot of the command line, but when it's appropriate, we're also gonna go into the Gooey, because sometimes it shows you a good end user experience and what the impacts and effects of some of these changes are. So, be prepared for a lot of PowerShell, and let's get ready. If you think that you're gonna be taking the exam 70-345, then we have all this information coming up in the show, stay tuned. [SOUND]
Just you? Training a whole team? There's an ITProTV plan that fits.
With more than 4,000 hours of engaging video training for IT professionals, you'll find the courses you and your team need to stay current and get the latest certifications.