Microsoft Office 365 - 70-347
Enabling Office 365 Services32 H 2 M
This course has a practice test
Manage clients and end-user devices

Overview
Manage Clients Deployment
Manage Clients Deployment Part 2
Manage IT Office 365 Deployments
Manage IT Office 365 Deployments Part 2
Manage IT Office 365 Deployments Part 3
Setup Telemetry and Reporting
Setup Telemetry and Reporting Part 2
Plan for Office Clients
Plan for Office Clients Part 2
Plan for Office Clients Part 3
Create a Pilot Group for Testing Updates
Create a Pilot Group for Testing Updates Part 2

Provision SharePoint Online site collections

Configure External SharePoint Users
Configure External SharePoint Users Part 2
Configure External SharePoint Users Part 3
Create SharePoint Site Collection
Plan a Collaboration Solution
Plan a Collaboration Solution Part 2
Plan a Collaboration Solution Part 3
Plan a Collaboration Solution Part 4
Plan a Collaboration Solution Part 5
Configure eDiscovery
Configure eDiscovery Part 2
Configure eDiscovery Part 3
Configure eDiscovery Part 4
Configure eDiscovery Part 5

Configure Exchange Online and Skype for Business Online for end users

Configure Additional Email Addresses
Configure Additional Email Addresses Part 2
Configure Additional Email Addresses Part 3
Configure Contacts and Resources
Configure Contacts and Resources Part 2
Configure Contacts and Resources Part 3
Configure Personal Archive Policies
Configure Personal Archive Policies Part 2
Configure Skype End User Settings
Configure Skype End User Settings Part 2
Configure Skype End User Settings Part 3

Plan for Exchange Online and Skype for Business Online

Anti-malware and Anti-spam Policies
Anti-malware and Anti-spam Policies Part 2
Mailbox Migration Strategy
Mailbox Migration Strategy Part 2
Plan for Exchange Online
Plan for Exchange Online Part 2
Manage Skype Global Settings
Manage Skype Global Settings Addendum
Manage Skype Global Settings Part 2
Manage Skype Global Settings Part 3
Configure Advanced Threat Protection
Configure Advanced Threat Protection Part 2
Customize Malware and Spam Protection
Customize Connection Filters
Customize Connection Filters Part 2
Customize Content Filters
Customize Content Filters Part 2
Enable External Mail Flow Topologies
Enable External Mail Flow Topologies Part 2

Enabling Office 365 Services

Implement Microsoft Teams
Implement Microsoft Teams Part 2
Implement Microsoft Flow and PowerApps
Implement Microsoft Flow and PowerApps Part 2
Configure and Manage Microsoft StaffHub
Configure Storage and Access Control
Configure Storage and Access Control Part 2
Configure Document Deletion Policies
Manage and Migrate OneDrive for Business
Manage and Migrate OneDrive for Business Part 2
Configure eDiscovery and Advanced eDiscovery
Configure Office 365 Security and Governance
Configure Office 365 Security and Governance Pt.2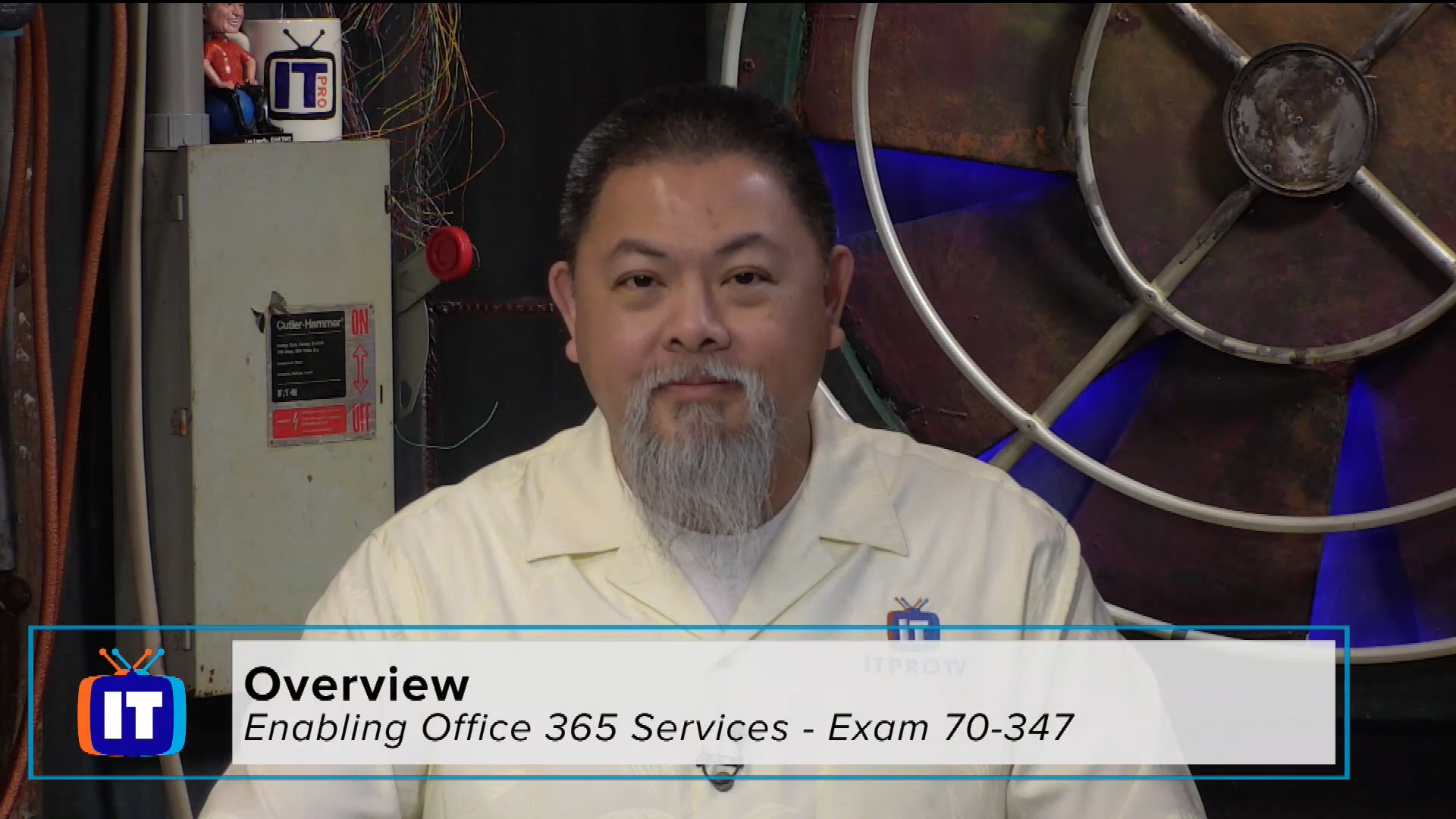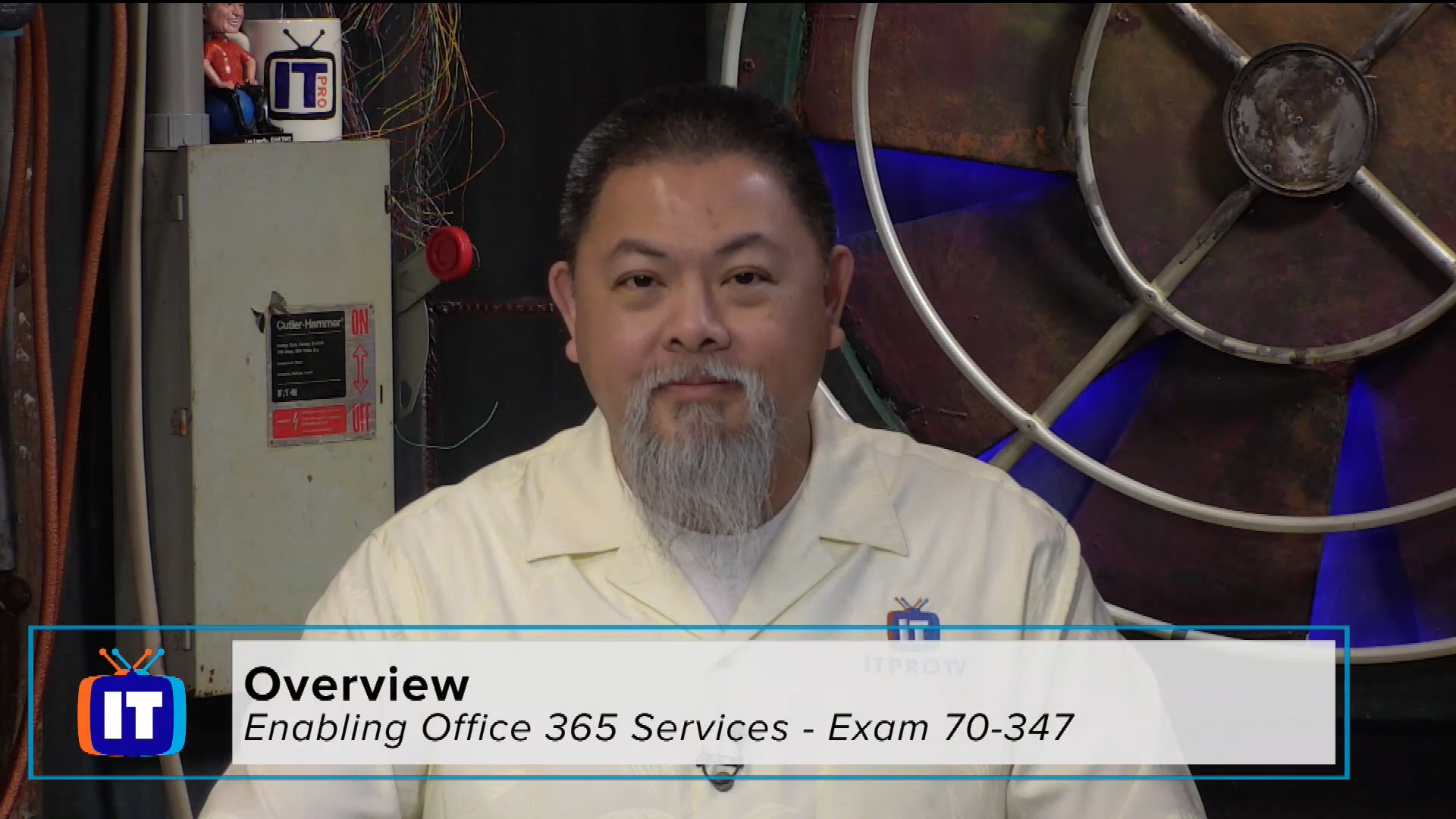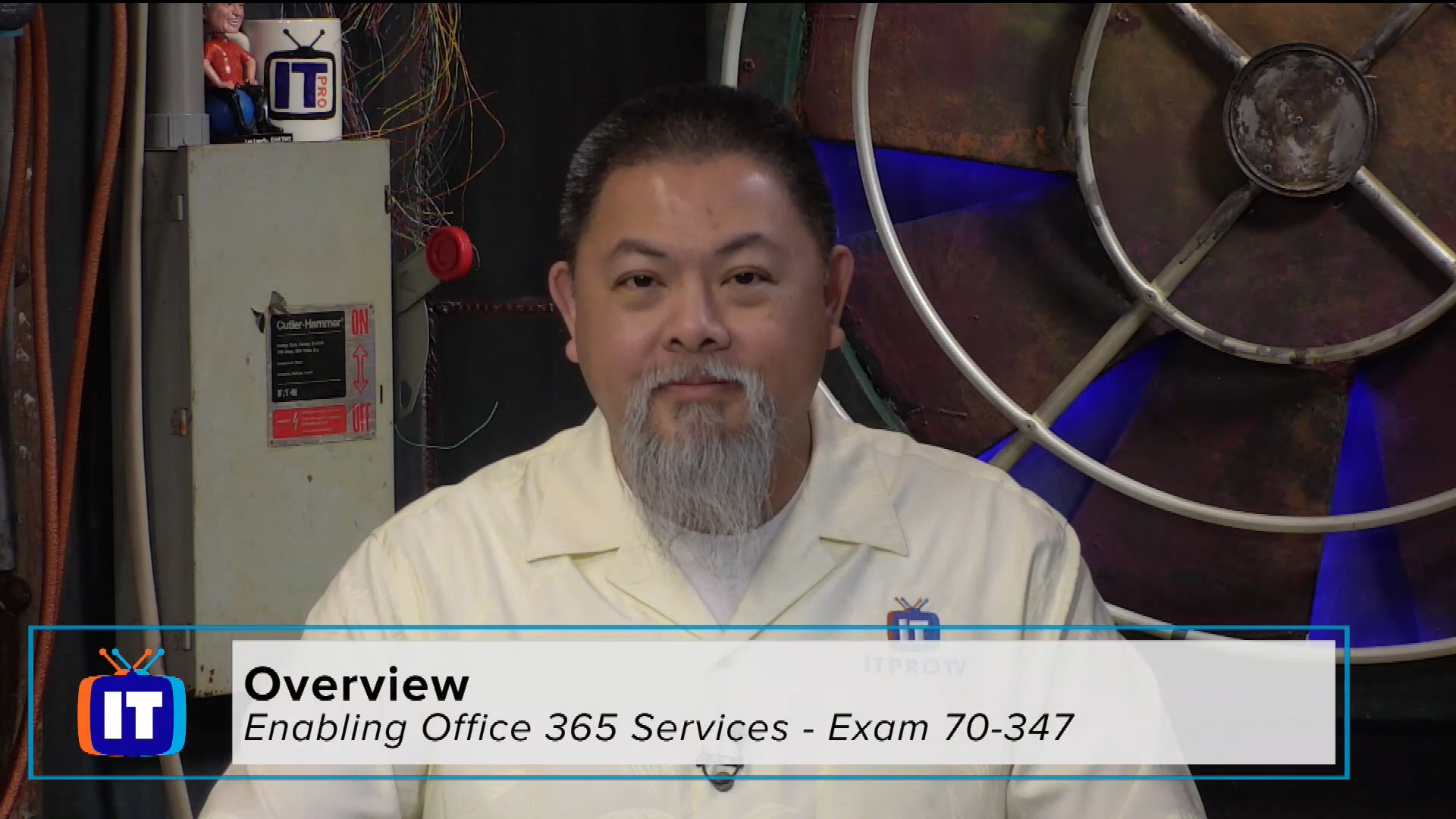 Episode Description
Transcript
The Enabling Office 365 Services - Exam 70-347 show is produced for those preparing for the professional Office 365 certification. It covers topics that help the professional evaluate, plan, deploy and operating Office 365 services and more. The viewer will see not only working in the Office 365 Admin center but also some consideration for Office deployment of Office 365 ProPlus, Exchange Online, SharePoint, Skype for Business, Azure AD. This is designed for someone already experienced in some of the Office 365 products.
[SOUND] Hello, we're here to introduce you to an exciting new series starting right here on ITPRO.TV. When we take a look at enabling Office 365 Services for Exam 70-347. Now if that's what you're interested in, you're in the right place, as we take you through every single exam objective domain that we have available to us. Make sure that you do get the details behind that to get prepared for the exam. Let's take a look at my screen as we take a look at some of these different details. When it comes down to it you'll want to go here first. I simply used the search engine and typed in Exam 70-347 and that led me to Microsoft's official exam page. For this particular exam, and in US dollars it's $165.00 US dollars that you'll have to pay to be able to sit for this exam. So make sure you check out whatever the details and the costs are in your region, and that will also help you out too. Now, this page is not only of course, about having to pay for the exam and register for the exam and schedule, and everything that you need to do. But it's right here, which is really the main point of what we want to make sure that we understand. Microsoft does not officially call them objective domains, right, in terms of what you and I normally would see. They call them skills measured here. And then the skill measured, this is where it becomes a little bit confusing because they have updated the exams skills. Normally, you do end up seeing these four different domain objectives which will normally focus in on each one of these. Make sure that we do hit every single detail in those as far as every domain objective that they have. But this last paragraph right before, says as of June 2016, please download the change document. And that means that the details for the exams have changed a little bit. They've taken some of the older products out, some of the things that they really didn't want to cover and also added them in. And they allow you to see what has changed. I went ahead and downloaded this, and this is what the document ends up looking like. So internally, they call them ODs or objective domains for enabling the services and this is what will show you what skills are actually going to be tested on, too. Now you do wanna make sure that you not only cover these as well, but make sure you have a good working knowledge. So it really does give you the benefit, if you've already been working with Office itself. If you already had a little bit of experience with Office 365, and of course, the networking side of that, if you're connecting in. So make sure you check out the 70-346 show before you go in and sit for this exam, too. Take a look at some of the experience that's required there, that they assume that you'll have the knowledge for in this exam as well. When it comes down to it, we'll be taking a look at the same types of objective domains here. We'll take a look at managing the user driven deployments, as well as IT driven deployments of Office 365 and Office 2016. We'll also set up telemetry and reporting, as well as talking about the idea of planning for users to be able to get everything working on their system as well. We'll also take a look of course, at provisioning SharePoint Online site collections to make them work the way that we want to. And it's here beginning with the red. And some of the things that you see crossed out and the red that's also replaced it, shows you the changes in the domain objectives that have also happened. Along with this, there is a phrase that you should pay attention to throughout the entirety of everything that you study here for this particular exam. It's gonna be a phrase that repeats over and over again where it says, using web UI and Windows PowerShell. You're not going to get away on this exam without knowing the PowerShell. Make sure you take time, study it, make sure you're using it daily. That will help you out as you also get ready for this exam. They expect you to know both not just one or the other, make sure you pay attention there too. We'll also of course, take a look at configuring Skype Online as well as Skype for Business for the end user settings. And you'll see that we'll go through each and every one of these different objectives within each smaller domain that we have. Lastly, of course, planning for Exchange Online and Skype for Business too. Where we will end up seeing of course, multiple settings that we need to be able to make sure that we understand and be able to configure. All along this, this entire time, we will show you where you have to be able to go into the web UI, as well as the PowerShell to get things configured to get ready for the exam. Now, if this is what you're looking for in preparing for the Office 70-347 exam, well, you're in the right place as we begin our journey together. And you'll take a look and you'll see that there's plenty for us to do. So if you're ready for that, make sure you stay tuned for the next episode coming right up. [SOUND]
Just you? Training a whole team? There's an ITProTV plan that fits.
With more than 4,000 hours of engaging video training for IT professionals, you'll find the courses you and your team need to stay current and get the latest certifications.