MTA Cloud Fundamentals - 98-369
Cloud Fundamentals10 H 24 M
You only need to pass one exam to get the MTA designation and the Microsoft Cloud Fundamentals is a great certification to earn when you're just getting started.
Understand the cloud

Overview
Cloud Principles and Delivery
Cloud Principles and Delivery Part 2
Cloud Security
Cloud Security Part 2
Using Cloud Services
Cloud Updates and Availability

Enable Microsoft cloud services

Enable Cloud Services
Enable Cloud Services Part 2
Enable Cloud Services Part 3
Enable Cloud Services Part 4

Administer Office 365 and Microsoft Intune

Administering Cloud Services
Administering Cloud Services Part 2

Use and configure Microsoft cloud services

Configure Cloud Services
Configure Cloud Services Part 2

Support cloud users

Support Cloud Users
Support Cloud Users Part 2
Support Cloud Users Part 3
Support Exchange Online
Support Exchange Online Part 2
Support SharePoint Online
Support Skype for Business
Tools for Troubleshooting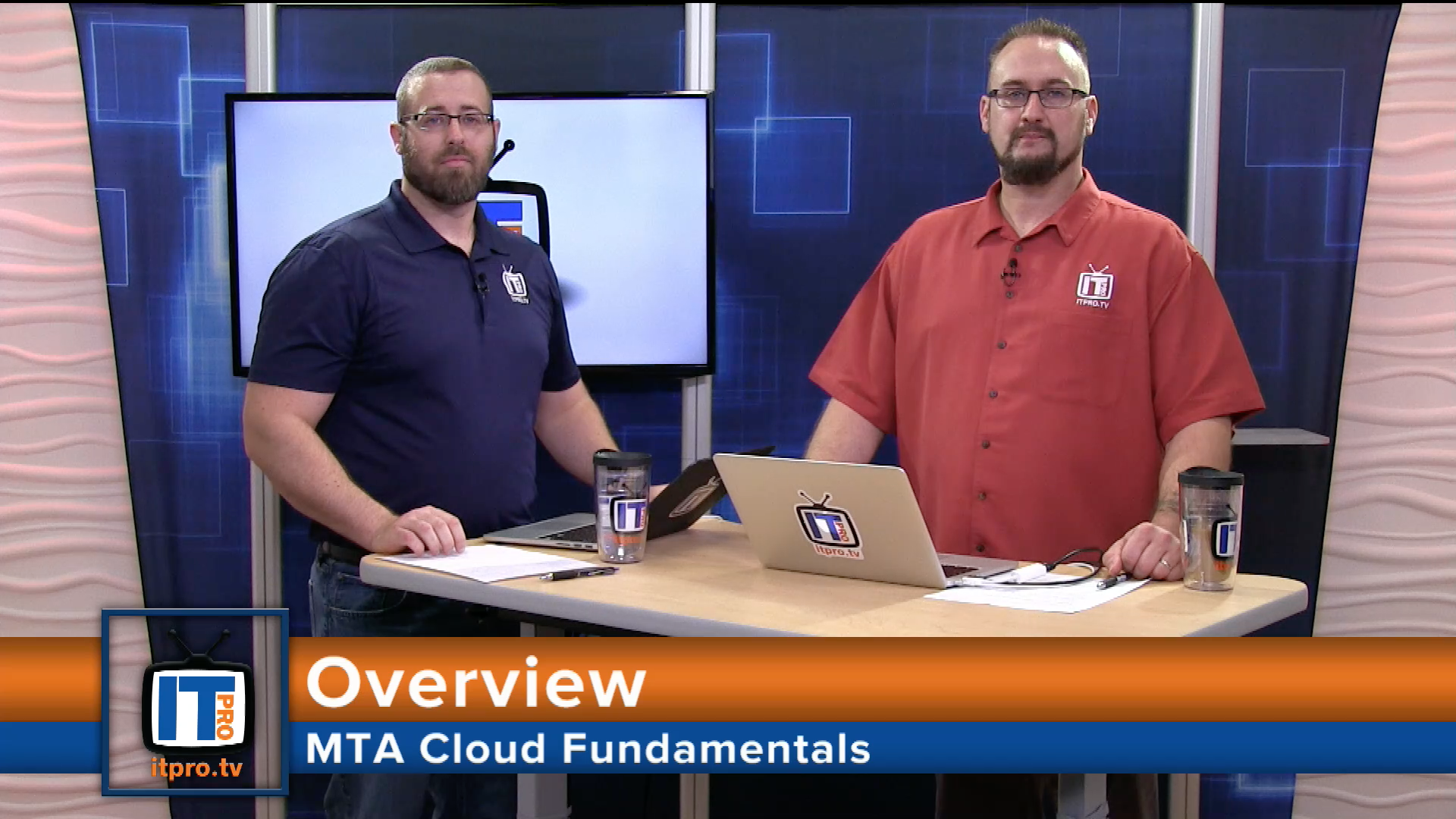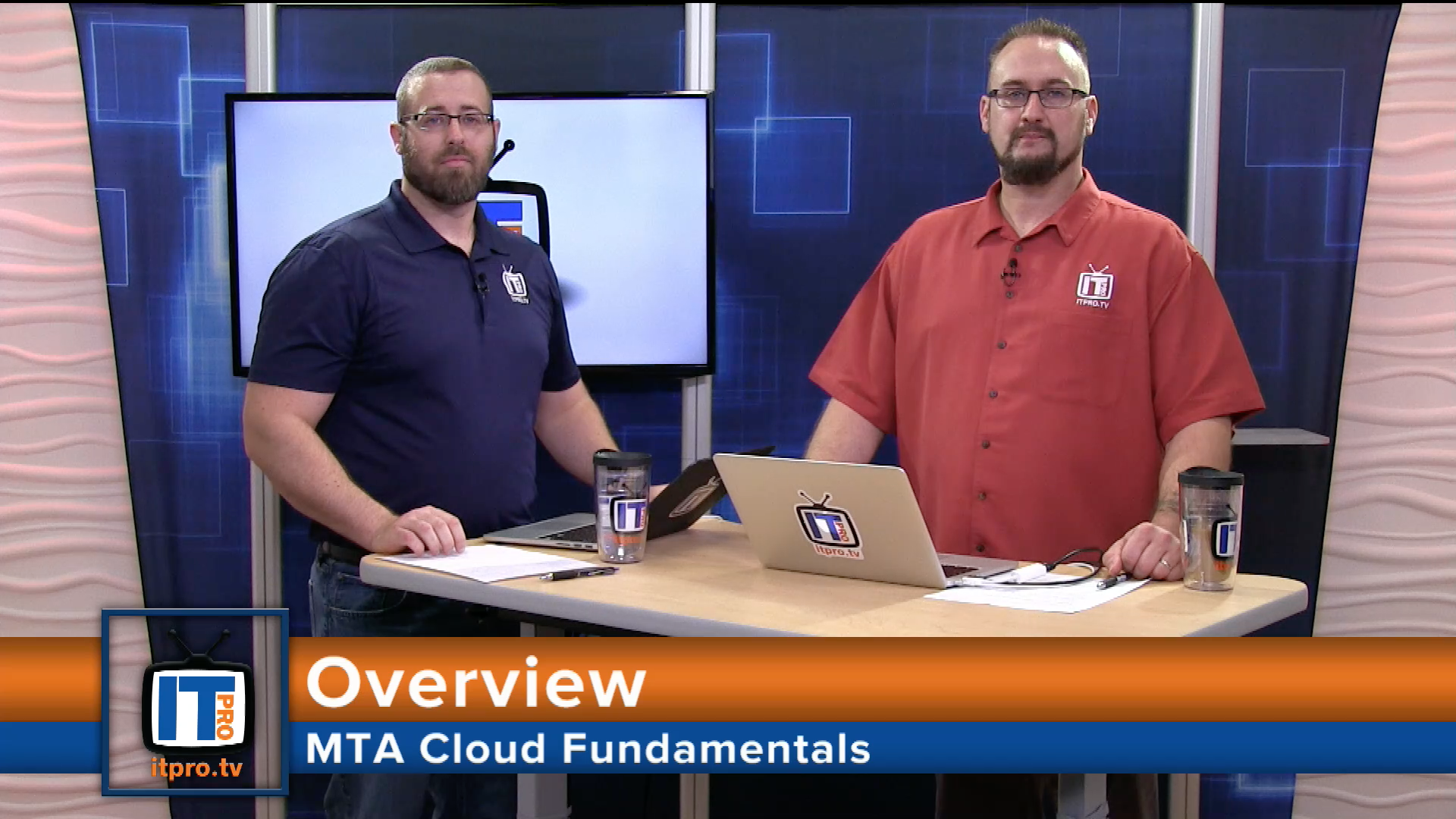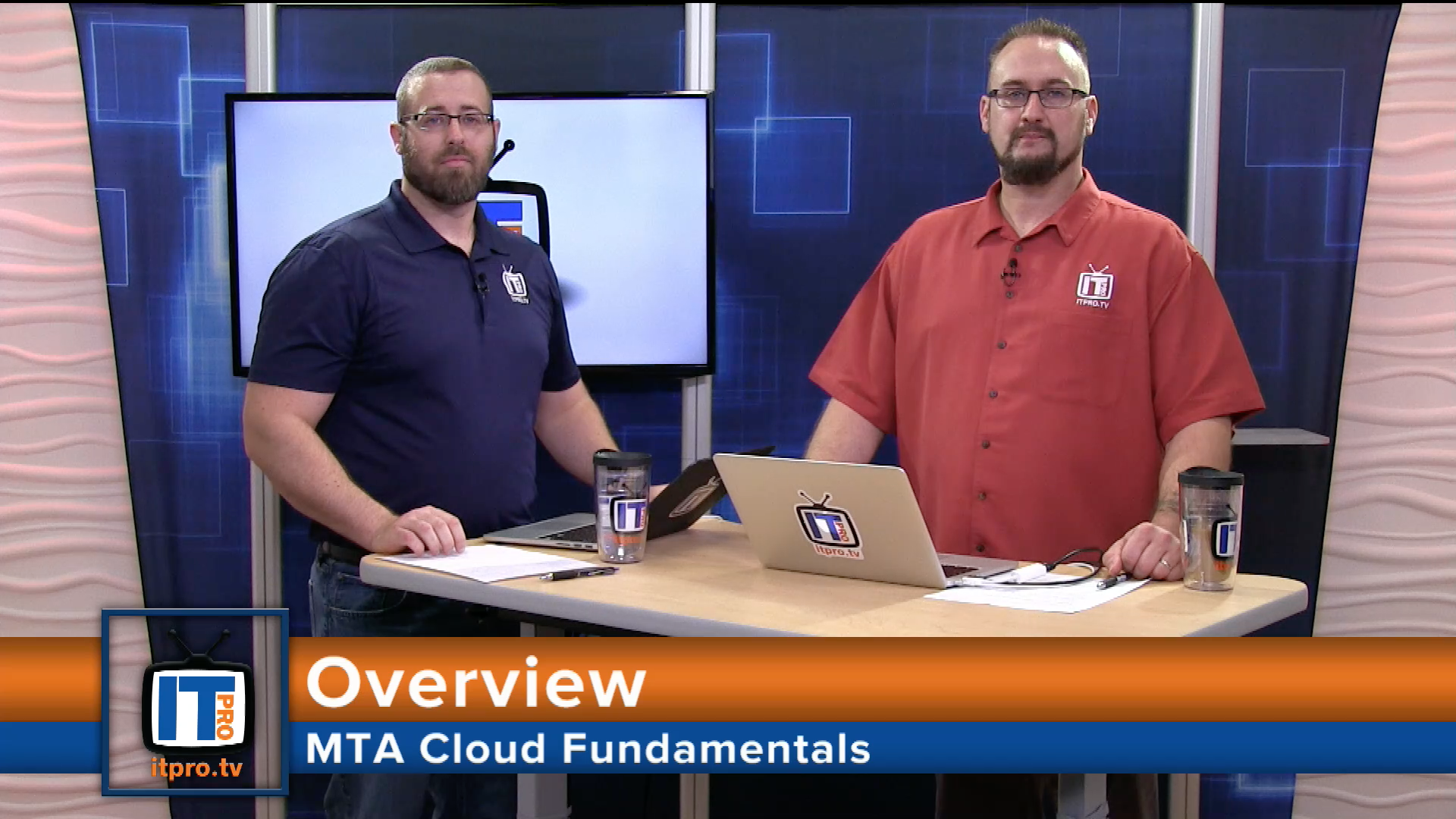 Episode Description
Transcript
In this segment, Daniel and Wes give a general overview of what you can expect in the upcoming episodes. They cover what the show's about, the target audience, what will be covered overall, and other topics.
[MUSIC] In this segment we're gonna be discussing what you can expect when it comes to this new series we're coming out with, which is the MTA Cloud Fundamental series coming from ITProTV and Microsoft, who provides the actual content for this. And joining me along here is Mr. Wes Bryan. Wes, we got you here cuz you're gonna help us figure out what, let me just start with, what is this show about? What can we expect from this show? >> Well, one of the things that you're gonna see that is gonna be prevalent throughout this entire series is demonstrating the fundamental knowledge, the basic principles that you see in the Microsoft Cloud. Using basic skills. That's one of the things that's gonna come up throughout the entire series. If you haven't seen or heard anything about the Cloud, it's kind of hard in today's day not to hear about the Cloud, but maybe some of these topics are a little bit confusing. You're going to see some of the fundamentals and some of the basic stuff that you need to be familiar with in order to get into Microsoft Cloud technologies. >> Awesome. Now Wes, what can we expect from the upcoming after this. What can we expect content wise to see in those? >> Well we're gonna be talking about things like the service models that you can see. You know, what are the different technologies that we use when we talk about the cloud? What does it even mean when we talk about the cloud? We're gonna talk about things like security. Securing that data when it's not stored in our location, so we'll talk about things like security. We'll even look at how to connect different services, the things like the Office 365 interface. Look at the interface, see what the interface is about, see how to use it, as well as things like Microsoft InTune, and walk through some of the Microsoft InTune technologies likewise. >> Awesome. A really good question would be next is who is our intended audience? Who will benefit from this series? >> Well, if you are somebody that's looking demonstrate to maybe an employer or maybe a prospective employer that you have that fundamental knowledge, that basic entry level skill, that if somebody was to ask you a question about the Microsoft Cloud platform, you'd be able to answer them. You'd be able to give a conversation to them. So you're going to see that this is really geared to people who already have some basic hands-on experience. Maybe you've seen Office365 before. Have you worked with firewalls, have you worked with InTune? Maybe not. It's not a requirement. But if you've got some introductory knowledge to Microsoft InTune that's a very good thing to have. Do you have experience in things like networking topologies, different devices in network ports. If you have some of those basic level skills then this is gonna be right up your alley in moving, in stepping into the cloud technology. >> Awesome. Now will the people watching need to have any kind of prerequisite background knowledge, some already built understanding about cloud technologies, or are we starting from the ground up? >> Well as far as the cloud technologies go, you really don't have to have too many of even the fundamentals, and we're gonna go over the basics. But there are some things that are almost gonna be assumed knowledge, so just understand that. We start mentioning firewalls, you're going to have to know what a firewall is. If we mention a network port, are you going to have to have all of those network ports memorized? No, but you will have to know what a communication port is. You will have to know what things like bring your own device scenarios mean. Things like on site, things like off site, or on premise. At least understanding some of the terminology here, but mostly for the cloud portion of this, you won't really have to know too much. >> Now, Wes, a lot of the series that we tape here, and we share with you good people out there, at IT Pro TV, they're exam based, right? They are driven towards some sort of certification. Is this an example of that type of series? >> That's right, this is another one that falls under the umbrella offering at Microsoft. Microsoft Technology Associate. And they've got a handful of them out there, and this another one of the portions of that handful, if you will. This is the 98369 MTA Cloud Fundamental Exam that you'll be taking, and that's what we're going to go through as we go through this. We're going to be lining this up with the skills measure that you'll see required to pass that exam, and it is going to be exam oriented. >> Awesome. Well it sounds like there's a lot of information that's going to be covered in these upcoming episodes. It sounds really exciting. I'm actually happy to be a part of this stuff. I really enjoy Cloud, I know you do as well. Hopefully if you're watching this, this sounds like something that maybe tickles your fancy. Or maybe it's something that you need to know as a requirement for your job. So we look forward to you joining us in these upcoming episodes, and we'll see you then. [MUSIC]
Just you? Training a whole team? There's an ITProTV plan that fits.
With more than 5,800 hours of engaging video training for IT professionals, you'll find the courses you and your team need to stay current and get the latest certifications.