Windows Server 101
Introduction to Windows Server19 H 27 M
Server Fundamentals

Overview
A Peek into Windows
A Peek into Windows Part 2
Introduction to Server Manager
Get Started with PowerShell
Get Started with PowerShell Part 2
Adding Server Roles and Features

Networking Components of Windows Server

Networking Fundamentals
Networking Fundamentals Part 2
Managing a DHCP Server Role
Managing a DHCP Server Role Part 2
Managing Client Name Resolution
Managing Client Name Resolution Part 2
Managing the DNS Server Role
Managing the DNS Server Role Part 2
Working with DNS Zones
Working with DNS Zones Part 2
Troubleshooting Network Connections
Troubleshooting Network Connections Part 2
Troubleshooting Network Connections Part 3

Active Directory Domain Services Tasks

Active Directory Basic Administration
Active Directory Basic Administration Part 2
Create User Accounts
Create User Accounts Part 2
Managing User Accounts
Manage AD Computer Accounts
Managing AD Computer Accounts Part 2
Managing Groups
Managing Groups Part 2
Working with Group Policy
Working with Group Policy Part 2
Securing Server with Group Policy
Securing Server with Group Policy Part 2
Securing Server with Group Policy Part 3

Services, Storage and NTFS Permissions

Managing Windows Services
Managing Windows Services Part 2
Working with Local Storage
Working with Local Storage Part 2
Working with Local Storage Part 3
Managing NTFS Permissions
Managing NTFS Permissions Part 2

File Services and Print Services

Managing Shared Folders and Files
Managing Shared Folders and Files Part 2
Managing Print Services
Managing Print Services Part 2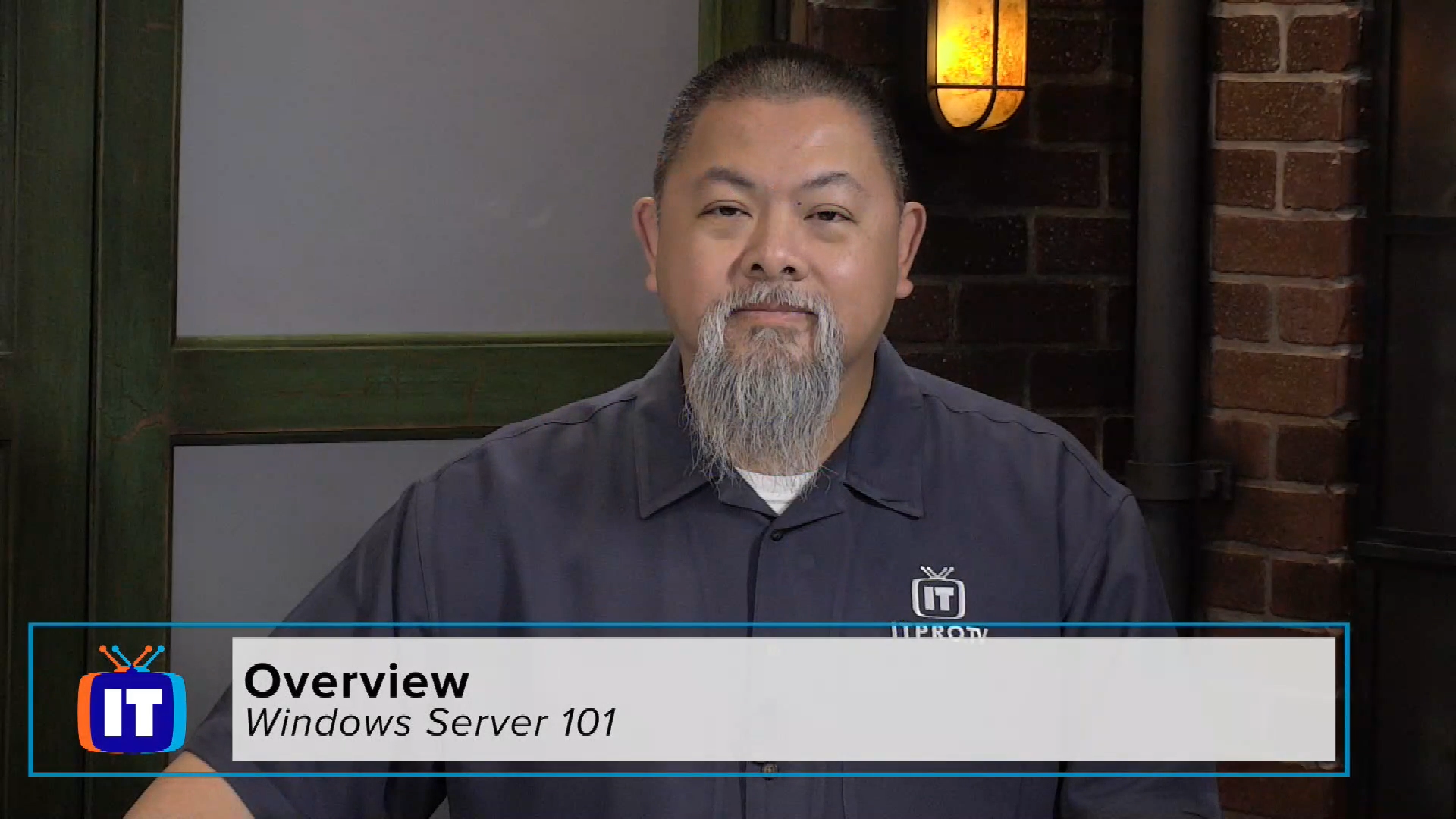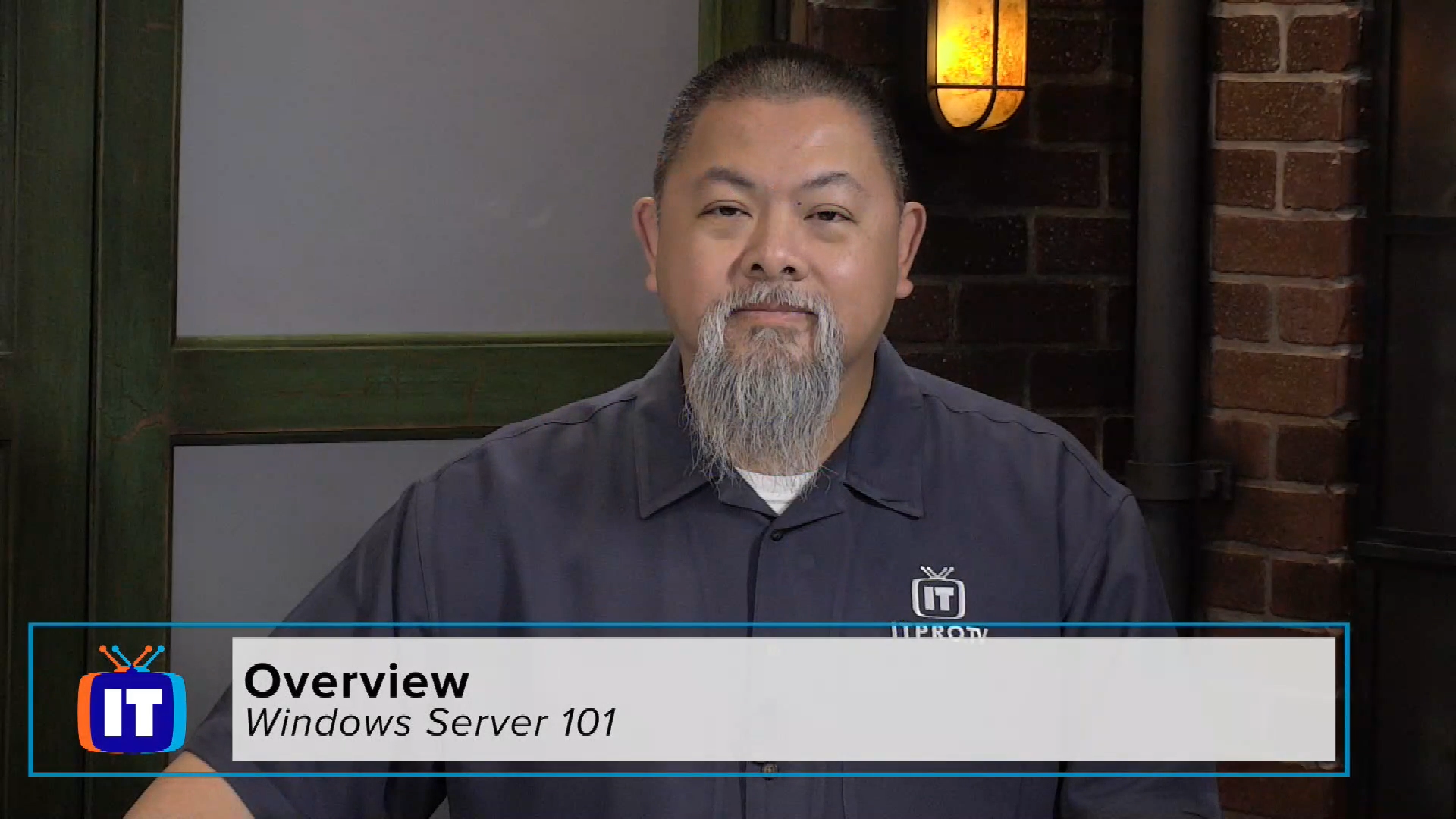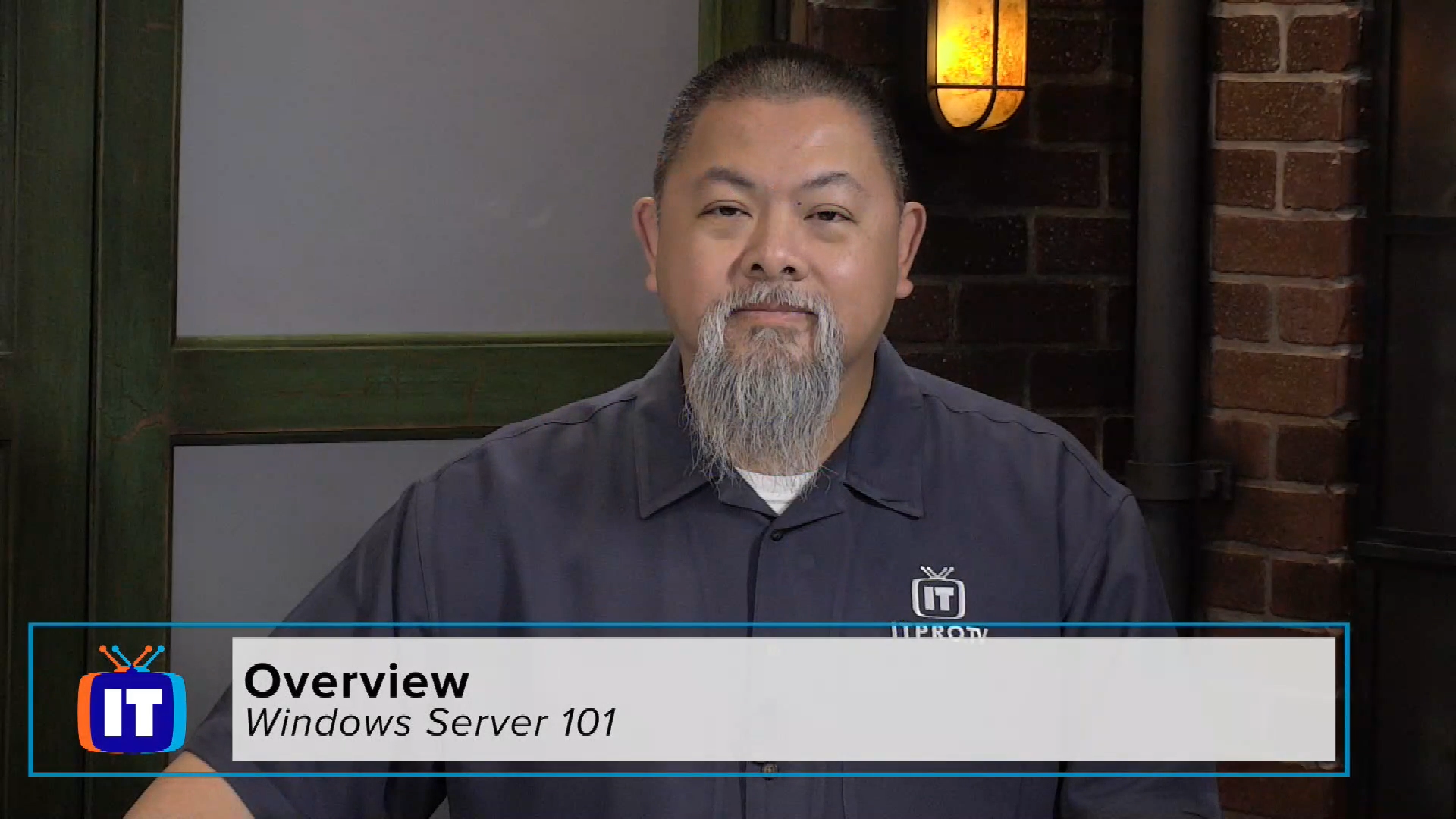 Episode Description
Transcript
The Windows Server 101 show is meant for those who have little to no experience in managing and maintaining Windows Server. It fills in the gap for the desktop support technician who wants some basic and practical Window Server Skills, for the IT professional who may work in other areas and want learn more about Windows Server Administration as well as for the A+ and Network+ certified who need the learn just some Window Server Management and Maintenance before they dive into the MCSA to MCSE certification tracks. The goal is introduction and immediate skill development to manage Windows Server. This is not for the professional who already has years of experience. The ebook can be downloaded here https://itprotv-notes-bucket.s3.amazonaws.com/Windows_Server_101_by_Brian_Svidergol.pdf
[MUSIC] Welcome to ITProTV. I'm here to introduce to you a new show that we're producing on Windows Server 101. Now if you're wondering, what the heck is Windows Server 101 about? That's a great question. What we found out is that there is a knowledge gap that you may have if you've just come from studying A+ and Network+. And say, hey, I'm about to jump into the MCSA track. But then you feel a little bit overwhelmed, because there is a ton of knowledge right there inside of that MCSA track. Well, this is going to fill in that gap of the server knowledge that you'll need as you go in to that training. Also, you may be doing desktop support right now in which you haven't had any real server experience. This show will at least help you get settled and started, and feeling comfortable in that server knowledge, and provide you the skills that you need. Now this particular show is going to be produced around a book by one of our subject matters that we had come in called Brian Sviderol. Brian Svidergol wrote a book called Windows Server 101. Let me show you what I'm talking about right here. So here on my screen, it is an e-book and the great thing is it will be free for you. So, Brian has actually released this out into the public. And here at ITProTV, we've obtained permission to also produce a show giving the content or surrounding the content of this book as well. And you'll actually see right here in his abstract, aimed as an introduction to Windows Server provides an overview of administration and management for Windows Server operating system without any prerequisite knowledge of Windows Server is necessary and that is the whole goal. So if you are actually saying, I need to learn more about Windows Server, this is the show for you. If you're getting ready to take the MCSA or to take that track on, well, this is the show for you as well that we'll get you comfortable with the knowledge and the material that you need. Now, this particular show though is not based around any particular exam at all. So, there are no real objectives that are met. Here at ITProTV, we wanted to make sure that we gave you the best possible chance at exceeding. And of course, succeeding on your MCSA skills as you move on. So, what are some of the things that we'll be covering? Well, Brian's book is actually divided up into five different parts and there's actually 24 different chapters in it. We tried to actually produce, well, either a single a show or multiple shows around those particular chapters that will help you out. So what you'll actually see in this particular show that's coming up is that you'll see different episodes based on just basic server fundamentals and this is where we get you familiar with Windows Server itself, and understanding the functions, and the features, and how to do a few things that you may not have actually done before. You're also of course, going to see the idea of networking components that we find in Windows Server itself and we'll talk about some of the details there. And o course, your basic Network+ knowledge is going to be of tremendous help for you as you continue to go through those particular sections that we'll cover in there. Then we'll expose you to the basics of Active Directory, directory services as well along with group policy. And we'll talk about managing user accounts and computer accounts. We'll even see the use of group policy and how we actually apply them, and where to apply the as well as getting everything set up for what we need to do. We'll also see in the fourth part. We'll see services covered storage as well as NTFS permissions. One of the big topics that you'll see that will be throughout everything that you'll do in your MCSA or MCSE track as you continue to move forward. So make sure you do take a look at those, as well. And then finally, our last section, we'll be covering file services as well as print services. Now once you actually have that and everything is good, that will give you a solid foundation for, of course, you to proceed on to well deeper and more advanced topics that you'll see inside MCSA and MCSE. So, this will give you at least a broad breadth of knowledge to help you do so. Now for you to obtain Brian's e-book, you can go out there and search on the internet. Use your favorite browser engine, type in Brian Sviderol's name, S-V-I-D-E-R-O-L. I know it's kind of a long name to spell out there, but you can actually type in Windows Server 101 and you'll probably see that there'll be a link there. Now if you're actually an ITProTV member though, you'll also see a link directly to this particular overview video as well and that will also give you that access and that chance to be able to download that book too. Now, this is not a light book. So even as an overview, it is, electronically about 353 pages. So, you plus or minus about 50 pages for table of contents and then some indexing at the end. But overall though, it's still about 300 pages. So, it is a great book. It's a great base of knowledge. Combine that along with your own study skills, along with the labs that you can actually follow in Brian's book as well as labs that we present here at ITProTV. It will get you prepared for what you need in Windows Server knowledge. So if you're ready to proceed, make sure you stay tuned for the first video following this overview.
Just you? Training a whole team? There's an ITProTV plan that fits.
With more than 4,000 hours of engaging video training for IT professionals, you'll find the courses you and your team need to stay current and get the latest certifications.