Supporting Windows 7
Configuring and maintaining Windows 713 H 27 M
Supporting Windows 7

Overview
Basic Installation Issues
Image Creation Issues
Deployment Issues
Local Policy
Domain Group Policy
Event Viewer
Task Manager / Resource Monitor
Performance Monitor
Reliability Monitor
Remote Administration
Remote Desktop
Remote Assistance
Using Event Subscription
Access Control
Access Control Part 2
Printer Access
Internet Explorer Security
Malicious Software
Security Best Practices
Network Connectivity Issues
Name Resolution Issues
VPN Client Issues
Software Installation Failures
Software Failures
User Accounts & Basic Security
Hardware Related Issues
Accessibility & Availability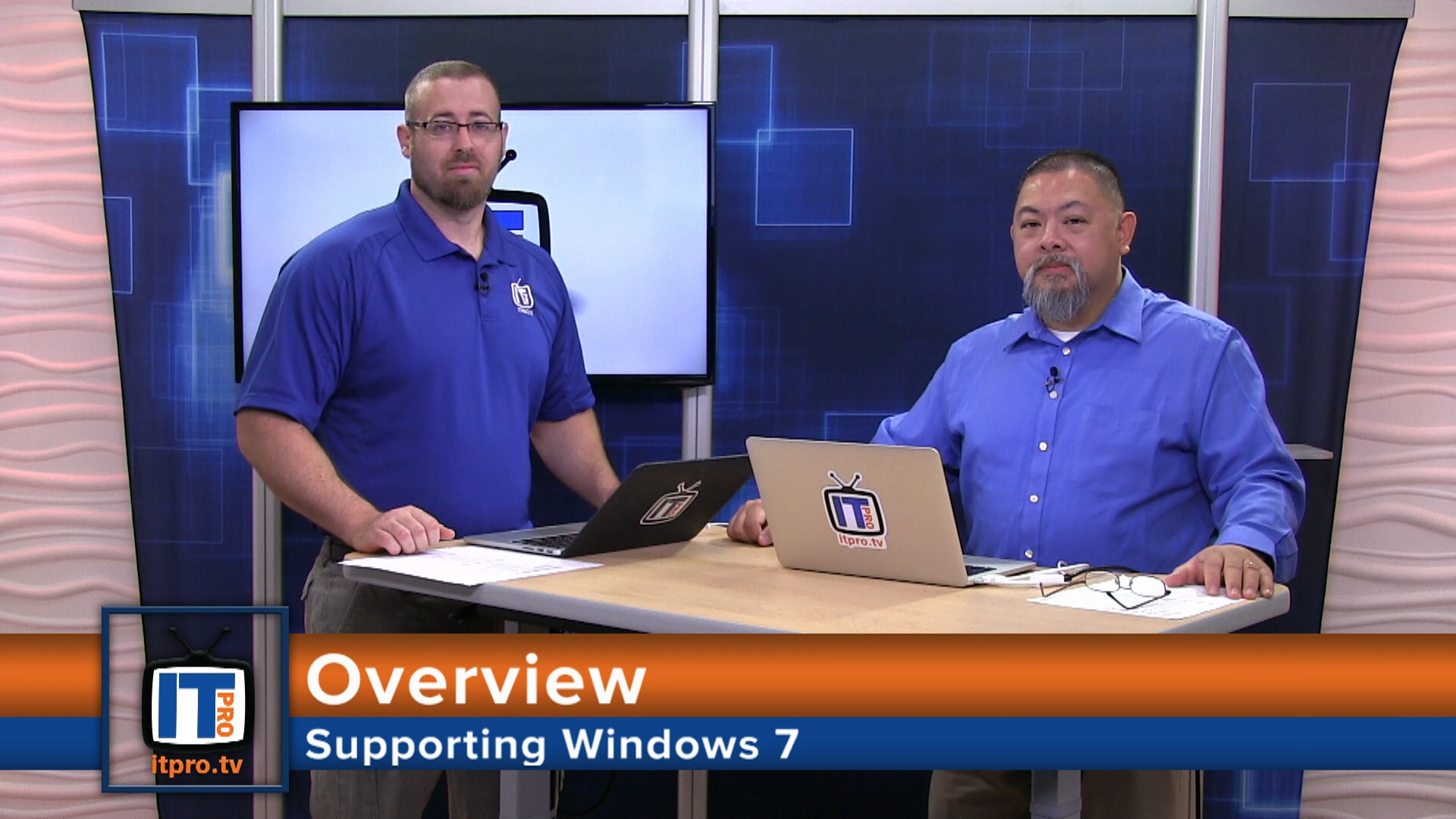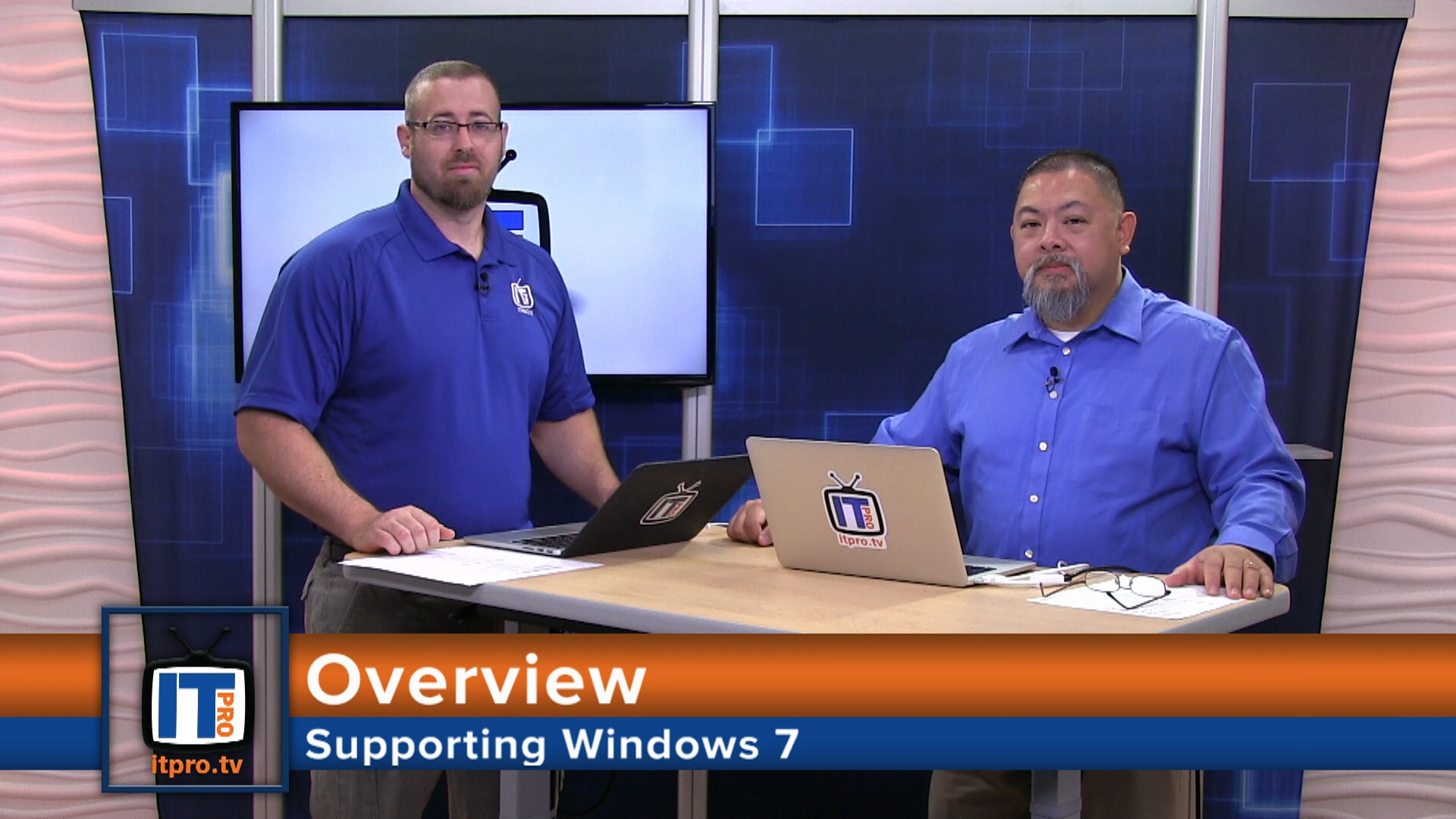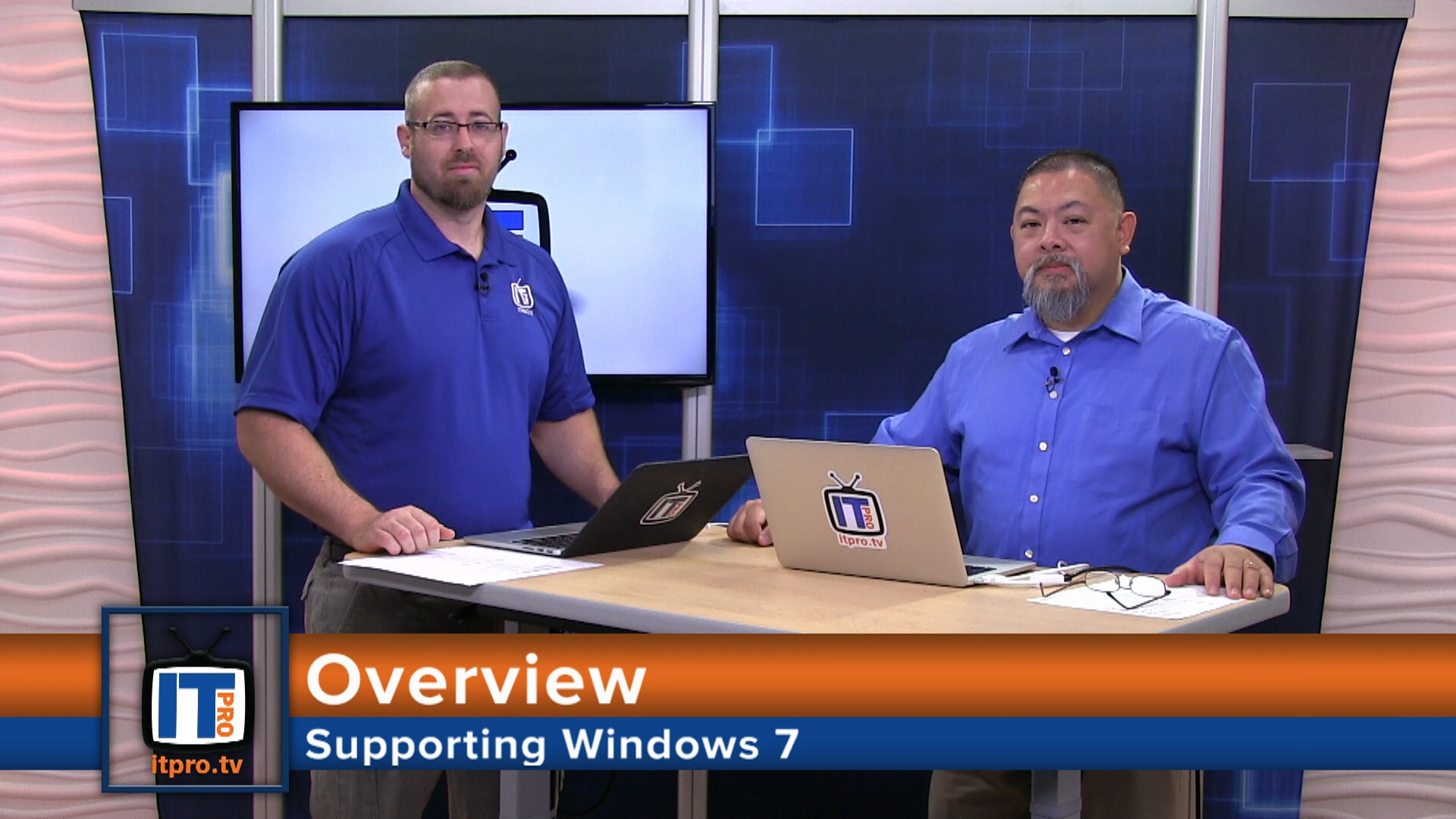 Episode Description
Transcript
Windows 7 is one of the most commonly used desktop operating systems today. This series covers routine administrative tasks that any Desktop Support Technician or Help Desk Technician would be expected to handle on a regular basis.
[SOUND] In this segment, we're gonna introduce you to a new show that we have lined up for you. It is supporting Windows 7. Now this doesn't line up with any exam per se, but the Windows 7 is still a viable option out there for you in the IT world. So, you do need to be able to support that guy. So, Ronnie, you have done a great job of coming up with a list of things that we're gonna go over in this show. So, I want you to help us out and show these good people what we're talking about. >> All right, we've got to remember that even though we are now at least at Windows 10, the very fact is most enterprises, and even most home users, are probably still running Windows 7, and that accounts for about 65% of the world's PCs that are out there. And that means we as technicians, whether or no you're actually working in the large enterprise, or whether we're working in a small home environment, that we need to be able to have those technical skills ready to go. So, if you actually did come in doing Windows 8 and now we're actually supporting Windows 10. Those are great things to actually focus in on. But remember that you have a lot of the world marketplace that's still on Windows 7. And what we wanted to do is we wanted to produce a show that would help us to actually be able to say, look, here's what a technician needs to know. So, this is more about the troubleshooting aspects of somebody, actually in the field, needing to support Windows 7. And what we did is we broke up our content into three separate sections here. We talked about installation and deployment. We'll also go over managing and maintaining. And then lastly, we talk about the idea of operational issues that we may encounter as we are supporting Windows 7 as an enterprise level technician. Let's go ahead and take a look at some of these topics that we'll be covering in this show coming up here. So underneath installation and deployment, we will be talking about basic installation issues that we do end up encountering. And this is when we actually just put in the disc and something ends up happening and it's not what we expect. We talk about how to troubleshoot that as well. We'll also take a look briefly at image creation issues too. This ends up happening a lot of times when we are actually trying to create an image for our deployment and it doesn't go exactly well. What are some of the key points that we need to take a look at to make sure that we can actually the image the way that we want to? We even go into a little about creating an answer file as well. And then lastly, working with their deployment server. What are some of the encounters we can have there as well? And those are some of the different techniques that we talk about underneath installation and deployment. When we move into the managing and maintaining area, we now actually talk about some of the basic concepts that we as technicians need to be familiar with. If you're working in an active directory environment, the idea of working with policies are actually clear for what we need to do. A lot of times that's gonna be handled a level above what we're actually doing as a support technician. But we do need to understand how that actually effects the operating system. And so, we also deal with it in terms of a local policy as well as the active directory group policy too. We then take a look at monitoring Windows 7. And normally, when we start to take a look at monitoring, we're really trying to take a look at the performance issues that end up working inside of Windows 7 against us a lot of times. And we as technicians need to know that the tools that are actually built in there will help us to effectively be able to troubleshoot some of those performance issues, isolate what the issue may be, and even try and solve and correct those as well. Of course, that means that we also need to deal with security issues. And these types of security issues always pop up, especially with the idea of the browser. Windows 7, by default, actually just has Windows, or Internet Explorer 8 actually as their default browser. But you can update that and that solves a lot of the issues. But what are some of the other things that we need to be familiar with? And especially when we actually go to the different websites and they don't work the same way that we a, are expecting them to. We need to think about that as well as malicious software. And of course, updating some of the policies involved in that as well. And then, or course, in security, we also talk about file encryption as well as drive encryption. And we talk about that a little bit more in-depth, so that you understand that these are issues that also come up. And we're really taking a look at all of this from the troubleshooting standpoint, right? Not that you know how to implement everything, because more than likely you already do. But what are some of the things that you may end up encountering that you're not sure of. And so, we actually do spend the time in focusing in on that as well. We also of course, take a look at just basic networking connectivity issues that we have to deal with, and name resolution, as well as the command line utilities that we end up using a lot of times that we're troubleshooting. And then of course, accessing things like files and other resources in our network. Lastly, we also wanted to address of course, operational issues that tend to come and plague us as people supporting Windows 7. The idea that applications and installing applications can be complex in most environments. But in today's world, it actually is a lot easier than it was at one time. When we were moving from Windows XP to Windows 7, we may have had some technical issues. And a lot of those have now been resolved. But at the same time, you may still be supporting a line of business application in the background, and you're not exactly sure what you can do to deal with that as well. We'll also take a look at that. Of course, the UAC, as well as hardware-related issues. And then lastly, the idea of using accessibility, and of course availability options too. That really does help someone that may have some type of disability, or some type of other issue that they're facing, and they actually just need to be able to work with Windows 7 a little bit more effectively. As support technicians, the very fact is we can't just be centric towards one operating system. Being able to support Windows 7 is actually a great skill to have on your hand. And so, if you are actually supporting this type of operating system in your Enterprise environment, or you go, you want to know something, I may actually moving on to another job and they're running Windows 7, and even though I'm actually, you know, more familiar with Windows 8, I need to actually get a little more familiar with it. This is actually the show for you. And so, if you are really interested in this, this is the show you really want to watch if you're especially interested in being able to troubleshoot some of the issues that we talked about here. >> That's right. Lots of great information there for a Windows 7 environment. So if you're still having to find yourself supporting Windows 7, or if you just wanna round out your skill set and make sure that you are relevant no matter what shop you're working in, we look forward to seeing you in these upcoming episodes. [MUSIC]
Just you? Training a whole team? There's an ITProTV plan that fits.
With more than 4,000 hours of engaging video training for IT professionals, you'll find the courses you and your team need to stay current and get the latest certifications.