CCNA Routing and Switching (2018)
Cisco Certified Network Associate27 H 55 M
Take your Cisco networking understanding to a new level with the popular CCNA certification. Learn how your networking knowledge applies in real-world scenarios.
This course has a virtual lab
This course has a practice test
LAN Switching Technologies

Overview
Configure VLANs
Configure VLANs Part 2
Configure Trunking
Configure Trunking Part 2
Configure Trunking Part 3
Configure Trunking Part 4
Understand and Configure STP
Understand and Configure STP Part 2
Understand and Configure STP Part 3
Understand and Configure STP Part 4
Understand and Configure STP Part 5
Configure PortFast and BPDU guard
Configure Etherchannel
Configure Etherchannel Part 2
Configure Etherchannel Part 3
Describe Switch Aggregation Benefits
Describe Switch Threat and Mitigation

Routing Technologies

Configure InterVLAN Routing
Configure InterVLAN Routing Part 2
Compare and Contrast IGPs
Compare and Contrast IGPs Part 2
Compare and Contrast IGPs Part 3
Configure Single Area OSPFv2
Configure Single Area OSPF Part 2
Configure Single Area OSPFv2 Part 3
Configure Single Area OSPFv2 Part 4
Configure Multiarea OSPFv2
Configure Multiarea OSPFv2 Part 2
Configure Multiarea OSPFv2 Part 3
Configure Single-Area OSPFv3
Configure Multiarea OSPFv3
Understand EIGRP Concepts and Operations
Understand EIGRP Concepts and Operations Part 2
Understand EIGRP Concepts and Operations Part 3
Configure EIGRP for IPv4 ccna2018
Configure EIGRP for IPv4 Part 2
Configure EIGRP for IPv6

WAN Technologies

Configure PPP and MLPPP
Configure PPP and MLPPP Part 2
Configure Client-Side PPPoE
Configure GRE Tunnel Connectivity
Describe WAN Topology Options
Describe WAN Access Connectivity
Configure Single-homed Branch - eBGP IPv4

Infrastructure Services

Configure Basic HSRP
Describe Cloud Resource Impact on Enterprise
Describe Basic QoS Concepts
Configure Access-lists for Filtering
Configure Access-lists for Filtering Part 2
Use APIC-EM Path Trace

Infrastructure Maintenance

Configure SNMP for Device Monitoring
Troubleshoot Connectivity with IP SLA
Troubleshoot Problems with SPAN
Describe Device Mgmt Using AAA
Describe Network Programmability
Troubleshoot End-to-End Connectivity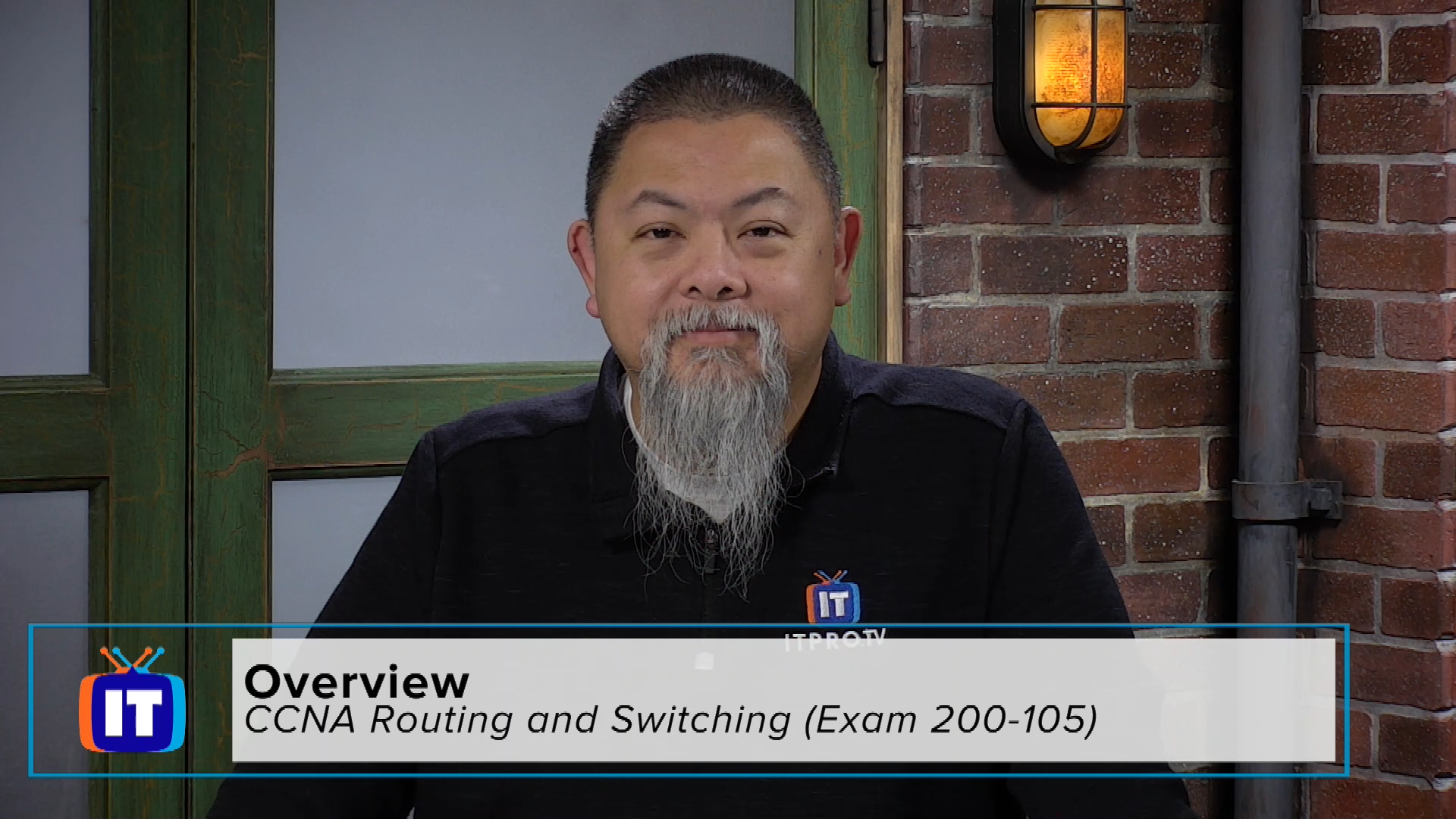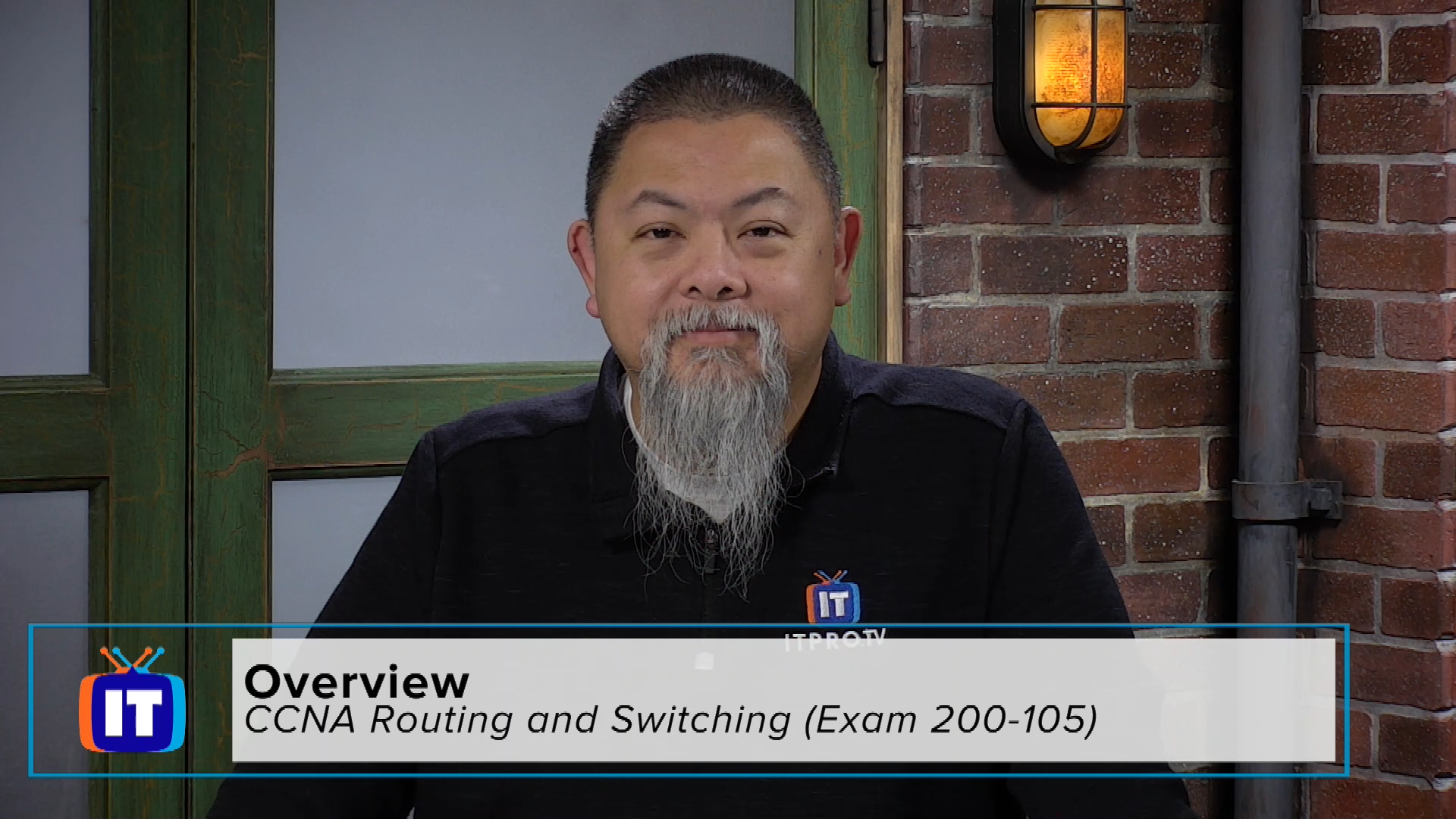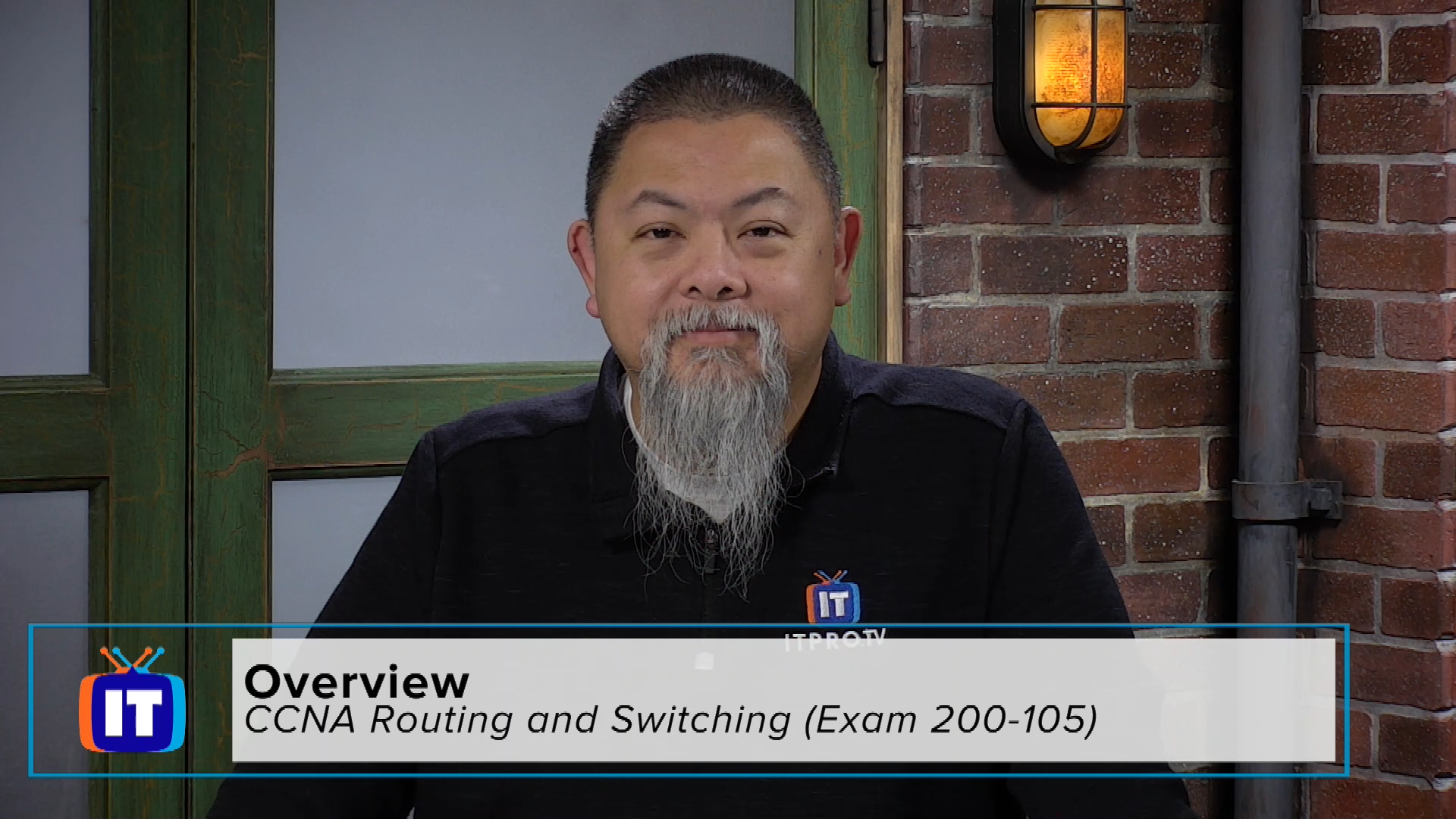 Episode Description
Transcript
The Cisco Certified Network Associate (CCNA) is the most well known Cisco certification path. It takes the general networking theory from the CCENT certification and applies it in real world scenarios. It moves beyond configuring individual devices into more complex territory often requiring the configuration of numerous devices to create a robust and optimized network. While studying for this certification, you will revisit the routing and switching topics from the CCENT in more depth as you learn about and implement the advanced features of each technology.
[MUSIC] Hey, welcome to the overview for the CCNA Routing and Switching Show. This is for Exam 200-105 as we get started here, okay? In the CCNA Routing and Switching show, we'll presume that you already have the basic knowledge or your CCENT. And that you may have already taken that exam as well as you are proceeding on in this course. As you do so, the foundational knowledge is only gonna be of help to you, okay. So let's go ahead and jump on in and take a look at a few things that you want to get prepared for as you are getting ready for the exam. So on my screen, I've got this shared out for us so that we know exactly what we're taking a look at for the exam itself. As you are getting ready for that exam, and as you finish everything up, make sure you have this exam number that we are looking at, which is that 200-105 ICND2. Now, that's the exact official exam name itself, and also of course, the official courseware. Our show is title CCNA Routing and Switching. It does actually end up, covering the material that we need to make sure that we get through the exam. On the exam you'll have 90 minutes, a simulator between 55 to 65 questions. They'll never tell you how many, so we're gonna make sure that we cover every single one of the exam objectives to ensure that you have everything that you need to get there. Okay, also of course that means you'll have to sign in through your Pearson view center too, to make sure that you get in there. If you already signed up for the CCENT exam. In doing so, you should be able to use the same exact password and ID that you were set to do that too, okay? Now once you've actually got that, let's take a look at just one more tab and we'll come back to this one in just a moment. On the exam pricing itself, what we're looking at of course, is the idea of the associate level. That is anywhere between 165 to 325, each exam, ICND1, ICND2, those are 165 each. If you choose to take the combined exam itself, it's gonna be about $325. So there's no saving money just because it's one exam versus two exams, you're actually gonna end up paying, well, whatever the cost is gonna be. So this in terms of US dollars. Make sure you check locally where you are, see what the prices are for you, and that will also help you to make sure that you get them. On the day of the exam, make sure you show up about 15 minutes early. Bring the forms of ID that you need to. They'll be taking your picture once again. And they'll of course make sure that you are verified to who you actually are supposed to be before you go into the exam itself, okay. So once you get all of that information, that means you are ready then for the exam itself and you'll sit down and you all, of course, sit for that exam and you'll have, again, that 90 minutes to complete everything that you need. You don't have time to waste on the exam, so even though you think that you have 55 to 65 questions, 90 minutes, that time will fly right by. So what you wanna do of course is take the most time that you can during the show that we're doing, and master the topics that we're actually showing you at that point. The great thing is they are pretty much fundamental knowledge that you need and will help you not only in this, but as you go on towards CCMP, it will also help you out as well, okay? So what are some of the topics that we'll be covering inside of our show, okay? Well the easiest way to know exactly what topics we'll be covering is if you go back to the Cisco Learning Network, and you look for that exam number. You can also click on the exam topics, then this is what I did as I downloaded the complete list of topics into PDF format and we actually did go through each one of these exam objectives to help us out. And that's exactly what we'll be taking a look at and doing. We broke them down into individual shows, that way as we go through them, we'll be able to make sure that you learn about every single topic that actually needs to be covered. So let's talk about some of the actual material that we'll be covering. So here's the exact official copy of those objectives that we're talking about. So a good quarter of the exam is on just LAN switching. And we'll be hitting things of course like VLANs and making sure that we understand that. As well as VLAN management with using VTP, okay, the VLAN trunking protocol. Spanning tree is also a big topic for us too, and we'll cover the aspects of that as we go through. And then of course even the idea of using ether channel, all of that will be covered as well. As I scroll on down, you'll of course see some of the security information that we'll be covering. But we'll spend a good portion of the exam, the first two domain objectives, right? One covers about 25%, this one covers about 30%. So altogether, this is about 51% of the exam is based on switching and routing. And then in routing, we'll do a deeper dive than we did during our CCENT, making sure that we can differentiate between link state and of course, distance of vector exams as well. We'll be taking a look at OSPF both for IPv4 and IPv6 as well as EIGRP for both, making sure that we understand how that also works. We'll be of course covering the idea of different WAN technologies, making sure that we understand how to configure certain types of connections that we have out to our WAN providers. Verifying the type of technology that's available for us. So some of it is just basic knowledge that you have to get through, we'll make sure that you know how to do that. And then of course, infrastructure services such as using the hot standby router protocol as well as QOS concepts. Again, very basic at this point, and then even traffic filtering with access control list which is a big part. Using the APIC-EM, a path trace tool is another portion of something that we'll be covering as well. And then lastly, infrastructure maintenance, making sure we understand the basics of monitoring tools. That we have available as well as different troubleshooting tools that are out there, such as using the IP, the ICMP echo-based SLAs. As well as using SPAN ports or port mirroring to help us out. Configuring things like triple A, making sure that we understand that. Defining the idea of software defined networking in our enterprise by using, of course, talking about network program ability. And of course even at the end here, troubleshooting basic layer three end to end connectivity. All of those different topics for us will make sure that we do cover and that we don't skip a single thing. It's very important that what you do as you get ready for this exam, of course, is to make sure that you take the time to master a topic before you move on. So for example, if you're not sure about OSPF, make sure you spend time, not only in what we covered as I'm actually talking about, but spend extra time in reading up on it as well. Because there may be things that you have a question about, I didn't get around to every single question. Make sure you spend time in reading about that as well. Then make sure you get that and then move on to your next topic. Do not just think that just because I have a good enough understanding of it, I should move on. You want to make sure you feel confident on the day of the exam. I know what I need to for OSPF, I know what I need to for EIGRP, because you do not have the time on that day to begin the guess of what needs to be done. So how are we gonna make sure that we help to show you all the concepts that we need to? The great thing is with ITProTV, we'll also of course be using well our practice labs partner as well. Our practice labs partners have preconfigured labs set ups for us that will allow us to be able to do every lab that's defined, along with those exam objectives to help you to get through that. Now the nice thing about this is that we're not using any simulators. Everything that is done through practice labs, for Cisco at least, and I think everything else through them is done on real equipment. So there is not a simulation, when we say that, we're actually using a router. We're really using a router. We're not using an emulator, we're not using a simulator. Everything is actually done that way, okay? So there's plenty of labs, and we'll make sure that we go through those to help you. And that way, you'll actually be able to do those labs on your own as well, probably even better than the way that I'll do them because I tend to make a lot of mistakes. But overall though, okay. Make sure you take the time to go through those labs, help get that muscle memory in the way that you need to. So if you are ready, okay, to begin to pursue your CCNA routing and switching exam, you're in the right place. And all you have to do is stay tuned and get ready for the very next episode right here in this series. [SOUND]
Just you? Training a whole team? There's an ITProTV plan that fits.
With more than 4,000 hours of engaging video training for IT professionals, you'll find the courses you and your team need to stay current and get the latest certifications.