MOS - Microsoft Office Specialist Certification
MOS certification preparation2 H 26 M
The Microsoft Office Specialist certification shows proficiency in Office tools. This mini-series explains how to prepare for and take the certification exam.
MOS certification preparation

Overview
Introduction to Microsoft Office Specialist
Prepare for an Exam
Register for an Exam
Take the Exam
Show Off Your Success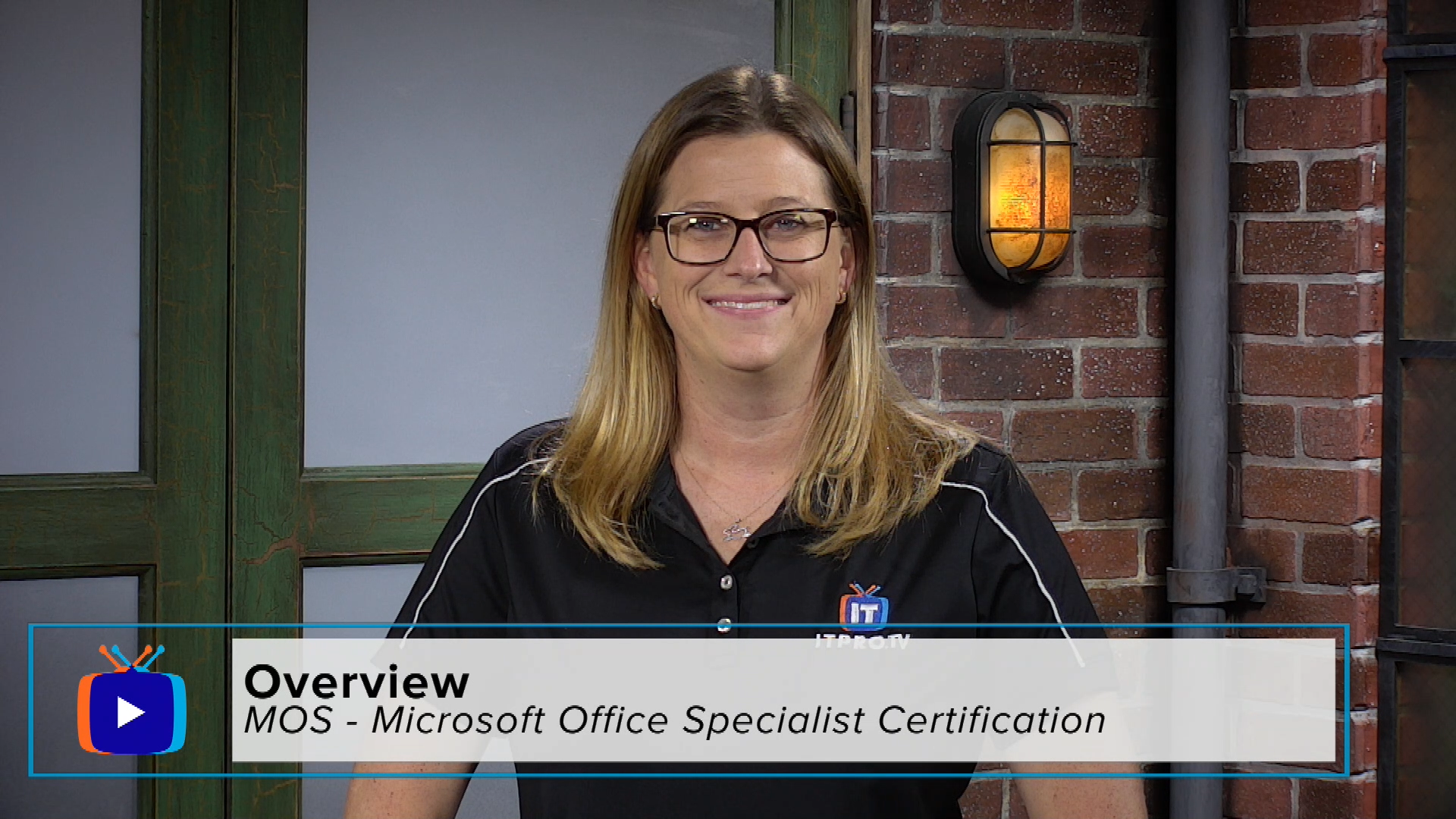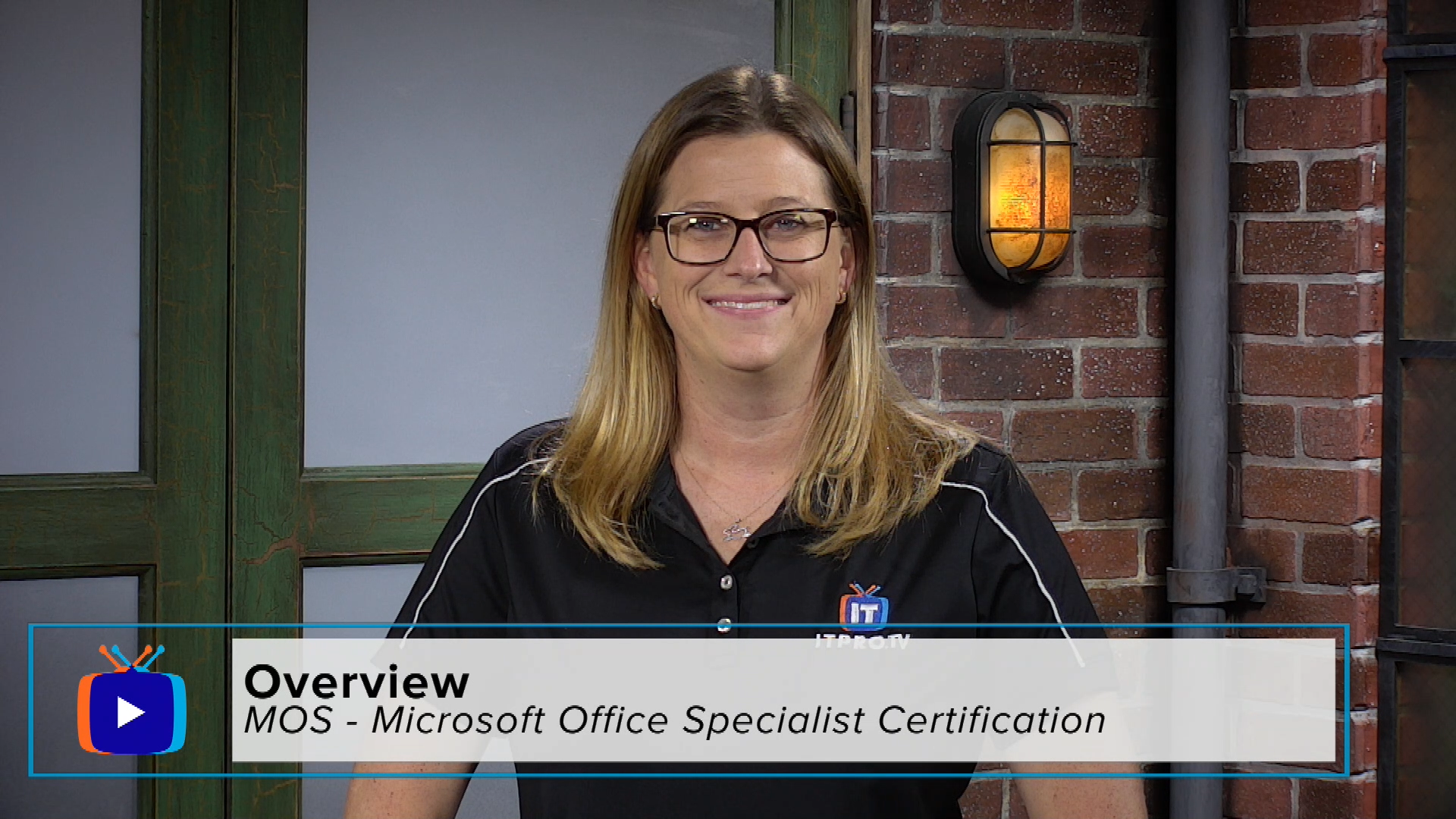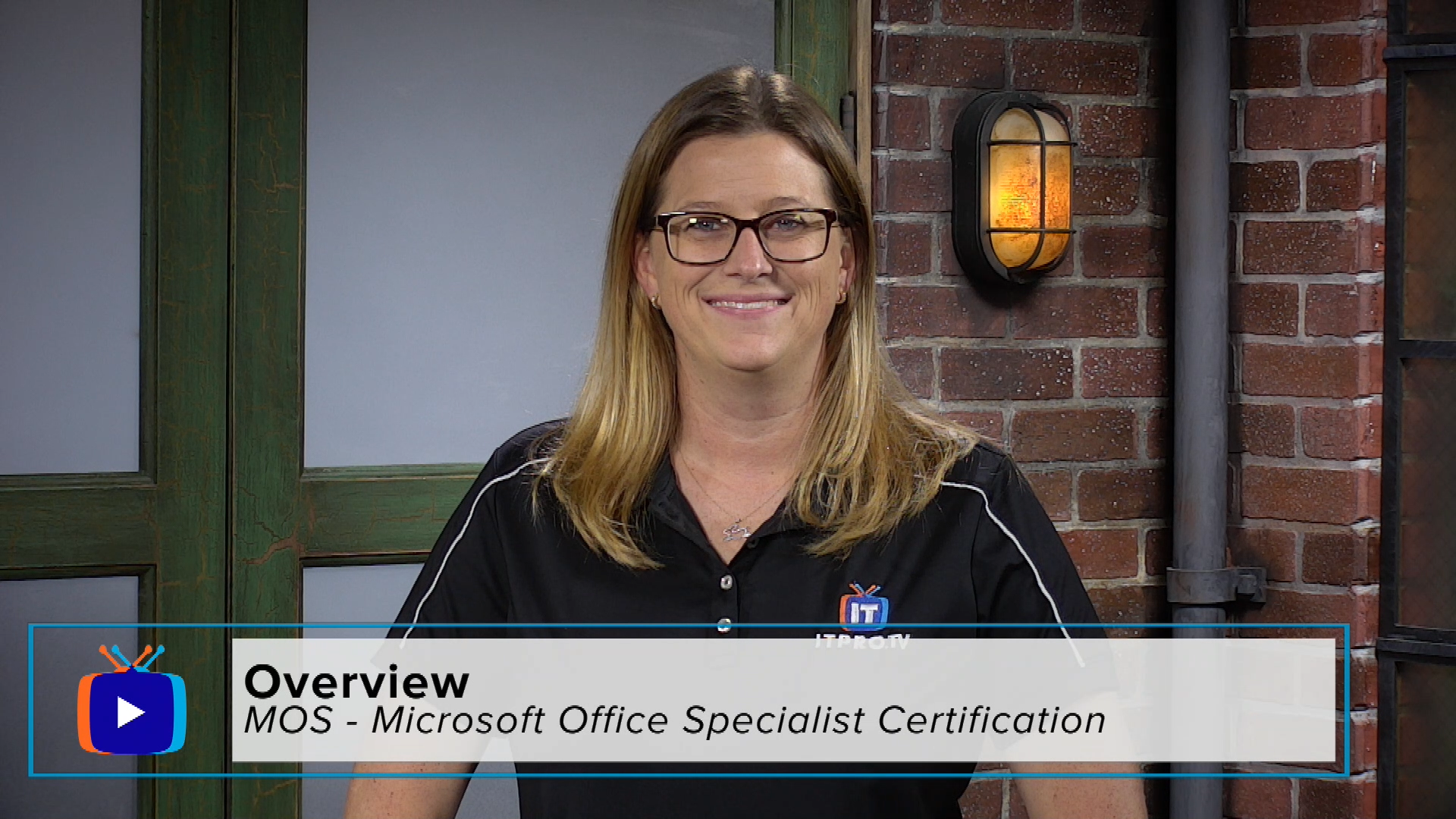 Episode Description
Transcript
The Microsoft Office Specialist certification demonstrates proficiency in an Office application such as Word, Excel, PowerPoint, Access, and/or Outlook. This mini-series explains the certification, how to prepare for the exams, how to register for the exam, the exam format, and how to display your success.
[MUSIC] Hello, everyone and welcome to the Microsoft Office Specialist Certification Series. My name is Vonne Smith. And in this course overview we are going to be going over what exactly is in this series. Who is this for? And do I need to know anything before I get started? So why don't we talk about the certification preparation? I'm actually very excited to do this series. I just recently I completed my Master Office Specialist Certification. And so I was pretty excited to do this because, well, it's fresh in my brain right now. So I wanna take you through well, exactly what is this certification. Let's introduce it. Who is this for? Why would I want to do this particular exam? How do I prepare for it? How do I study? Where do I get the exam objectives? How do I register to take this exam through Certiport? That can be a little tricky. So I try to take you through those little paths that they take you down that kind of don't have the clearest directions. But I'll help you there, give you some tips and tricks on how to actually take the exam. Like, what is the format? What do I need to expect when I go into that testing center and sit down and take that 50 minute test? What is it gonna look like? So I'll get you really prepared for actually taking the exam. And then, well, hey, you passed, great. What do I do? How can I show off that I have this certification? We'll talk about our different badges and some different websites and how to share it on socials. That will be a lot of fun. Who is this for? Anyone interested in taking a certification. Okay well, that's pretty broad. But why would I want to do this? This could be anybody that is coming out of school. This is actually a program that a lot of middle and high school programs they incorporate this actual certification. Now if you're a seasoned person in the workforce, you're like, I'm taking a certification that a middle schooler is taking? Well, what it does is it's going to show proficiency in Microsoft Office products. As an end user, you have certified from Microsoft, I know how to use Excel, I know how to use PowerPoint. So it can be used for career advancement. So maybe a promotion depends on that particular certification. Maybe your organization offers continuing education units, I think CEUs, that maybe this could qualify for it. So this is all due to help better yourself and advance your career. Now the prerequisites, proficiency in Office applications. If you're like well I kinda know how to use Word, but not really, wow. Should I not do this? No, definitely strive for this. This is why we have OfficeProTV, which is, of course, affiliated and is a channel of ITProTV. So I want to show you and give you all the resources throughout my other series, the Word essentials, the Word advance, the Word expert and all of the other products. All of those series are to help train you in this application and to have you become proficient in that particular product. So this series is just gonna concentrate on what you need to look towards and really focus on for studying for the exam. Knowing the product is one thing. But taking the exam, that's why we have this particular series. So you need to know a little bit to start. And then watch the series, and then we'll go ahead and we'll get you certified. Well, you'll get yourself certified. I'll just help you along the way. Like my other series, I do have exercise files and notes. Now the exercise files are really more of like the downloaded material from the sites that you can get on your own if you go to certiport.com and so on and so forth. I do have some of my own materials that I have made, some diagrams. Took stuff off the Internet and made it into a Word document cuz I can't help myself. Of course I made a table of contents and everything too. So, you can use that. Hopefully that would kind of conglomerate altogether for you, or condense it down for you and use my own materials. So all the links that I'm going to be visiting throughout the different websites are in the episode notes. So definitely go ahead and get those ready and print them out and check them off and get ready to be certified. [MUSIC]
Just you? Training a whole team? There's an ITProTV plan that fits.
With more than 5,800 hours of engaging video training for IT professionals, you'll find the courses you and your team need to stay current and get the latest certifications.