PowerPoint 2016 Advanced for Mac
Presentation application for on-screen slide shows for Mac6 H 19 M
PowerPoint 2016 Advanced for Mac

Overview
Slide Master
Slide Master: Troubleshooting
Audio and Video
Audio and Video Part 2
OneDrive and PowerPoint
OneDrive and PowerPoint Part 2
Comments and Collaborate
Comments and Collaborate Part 2
Rehearse and Record
Custom Shows
Advanced File Properties
Customize Interface
PowerPoint Best Practices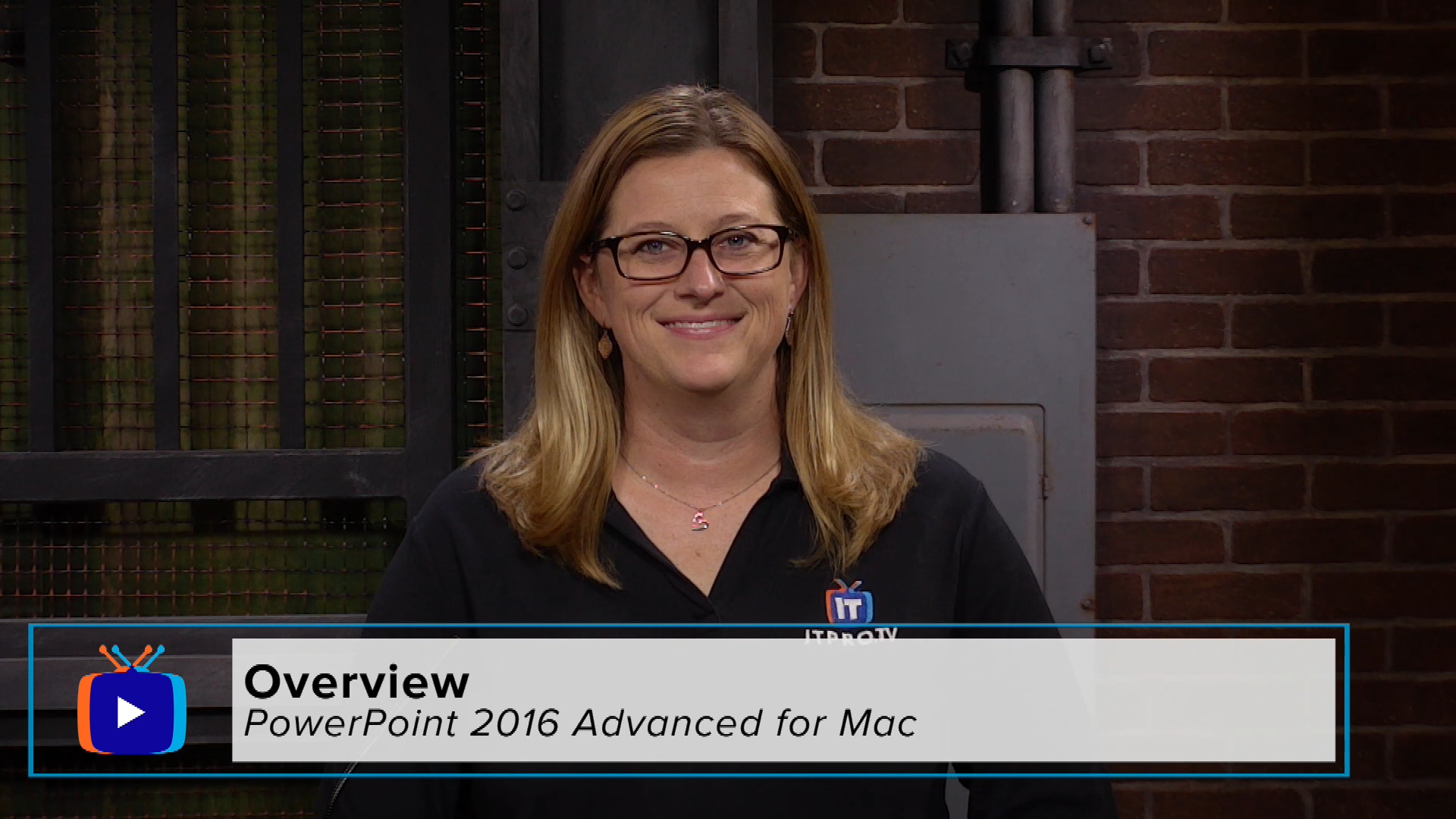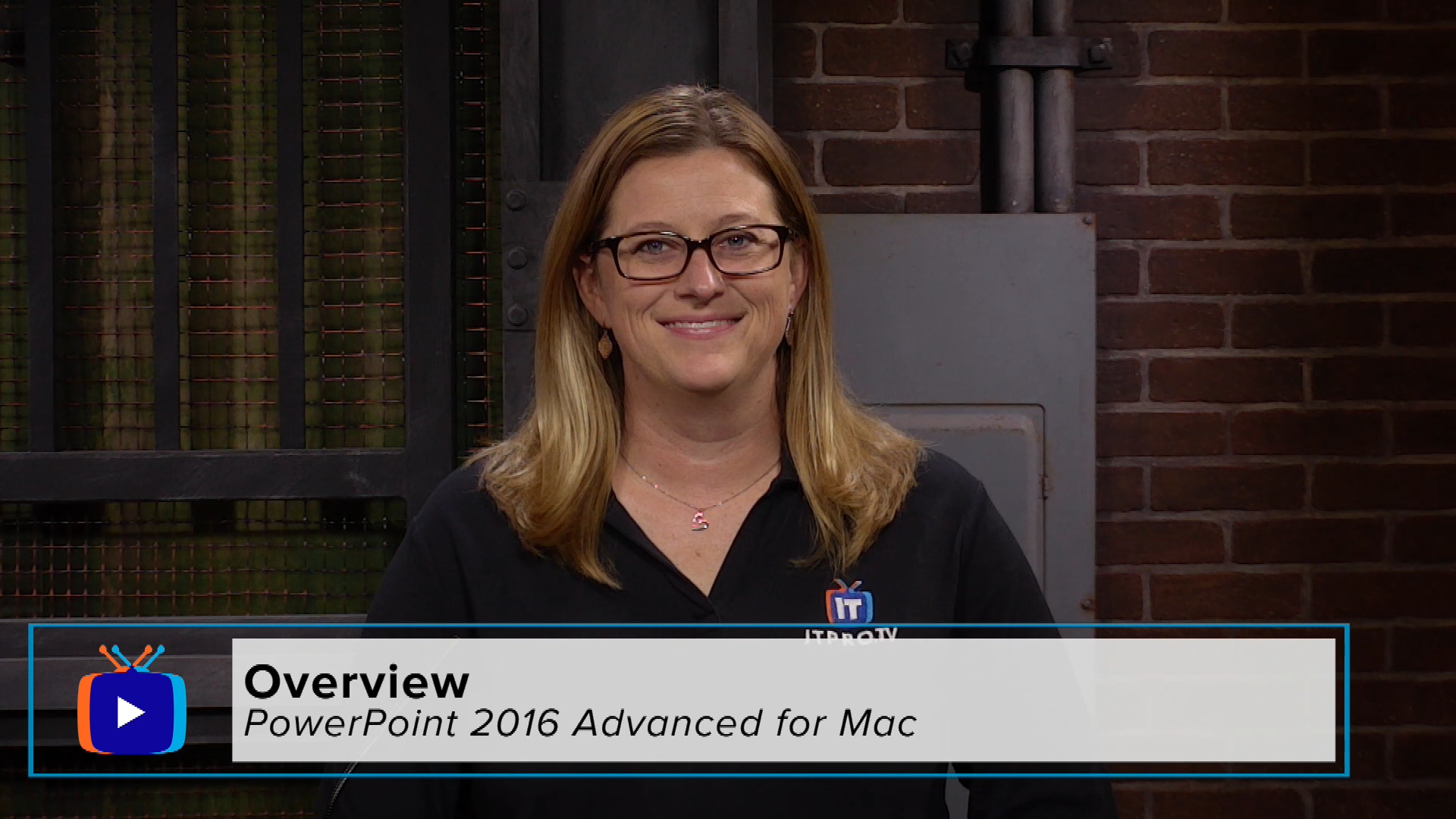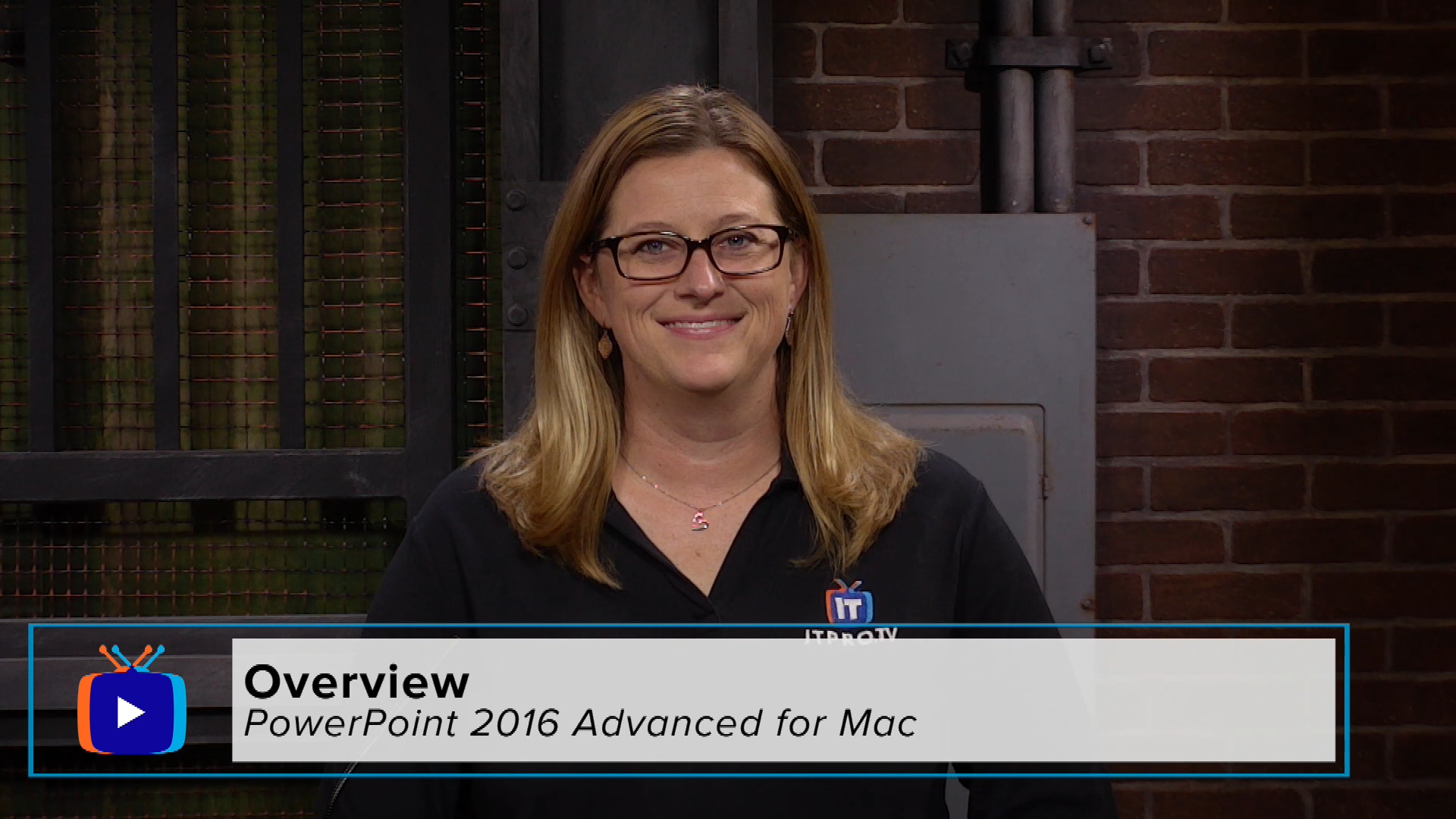 Episode Description
Transcript
In this PowerPoint 2016 Advanced for Mac series, users will be shown more advanced topics such as the slide master, audio and video, and custom shows. The series will also cover collaborating with others using OneDrive, rehearse timings, animate as background, action buttons and hyperlinks, advanced file properties, and best practices for effective presentations. While PowerPoint 2016 Advanced for Mac is a continuation from the PowerPoint 2016 Essentials for Mac series, it can be viewed as a standalone show for users looking to enhance their PowerPoint skills. This series is specifically for locally installed PowerPoint 2016 on Mac OS.
[MUSIC] Hello everyone and welcome to PowerPoint 2016 Advanced for Mac, I'm your host Vonne Smith. And in this course overview we're going to go over, well, exactly what is covered in the series. Who is this meant for, do you need to know anything before you get started? And any extra tidbits, and tips, and tricks I have for you. So in this series we don't have actual topics, we just have a collection of episodes that are all for advanced uses of PowerPoint. And that would be starting off with the slide master. The all important slide master that I talk a lot about in the Essential series. Well, we're finally here to go ahead and show you how to use that. We'll also go over the notes master and the handout master. Then we'll move on to adding audio and video into your files, always a good thing to do. How to find videos of your own and then videos from online sources and add them into your PowerPoint. As well as your audio and recording directly into your slide. We have some fun with what my cats are saying so definitely check those out. We'll also get into how we're going to collaborate with people using OneDrive. So we're going to delve into OneDrive and how that works with PowerPoint and those two Office products together. Cuz when we collaborate and we share out documents, or in this case a presentation, we really are doing it through OneDrive. So we're gonna concentrate on that. And then be able to collaborate in real time with somebody else to be able to add different things to the PowerPoint presentation. So its some really great episodes in there for collaboration. And I'm going to get into customize. Now, there's a couple episodes that we use that I've kind of put all underneath this customize. We're gonna get into custom shows, like what does that mean? Of creating almost like a show within a show, a sub-show, within a PowerPoint presentation. And then another way, or another alternative, to somewhat of the same things with your custom shows, we're gonna add action buttons. What is an action button? And hyperlinks. How can we add hyperlinks into our presentation to help create and customize a slide show in different ways? We're also gonna talk about customizing interface, like actually customizing the ribbon and making our own tabs on the ribbon. And a few things about updates and where to find your updates. And why am I not seeing certain things in my PowerPoint environment that you might not see on yours, but see on mine? So we'll get into our Office Insider, and what that means, and where you can find more information on the updates. We're also gonna get into rehearsing timings. Doing the rehearse timings command in PowerPoint and why that could benefit you. And also recording a presentation, where we record over all of our slides. We'll talk about the good parts and maybe the not so good parts of being able to do that within a Mac environment. Especially if we're going to export out to a movie. We'll also get into advanced file properties. Understanding about the metadata that we can store within a file under the file properties and what that all means. And how we can customize them and we can use them to our advantage. We'll also have a couple episodes, or at least one, on best practices. I've alluded to that in some other episodes in the other shows. So we're going to actually get into that, of like what makes a good PowerPoint presentation, things to avoid and then things to adapt. So who is this for? Of course, this is for any Office user, meaning the Office 365 or a locally installed version of PowerPoint on a Mac so you need to be a Mac user. This is a continuation from the Essential series so we do pick up on a lot of that. I would say that would be somewhat of a prerequisite for this particular series, is you need a foundational knowledge of PowerPoint, watching the Essentials series, okay. And, of course, understanding the Mac operating system, and where to find the finder, and those different things. Then, of course, familiarity with other Office products is always gonna be helpful, if you use Word extensively. Some of those things do cover across all of the Office products. So having that familiarity will be helpful in certain places. Every episode does have a notes that you can download, notes and sometimes files. It depends on what episode it is whether or not there's an exercise file to follow along with. Some of them I'm just using a new file so you would use a new file. So definitely check each one of those episodes out for the notes. And this overview does contain all of the files together so you could download that and then use them throughout the episodes. And they are episode specific. But if anything is missing, definitely go ahead and contact us, let us know so we can go ahead and make sure that we've got everything in order. There's always other ways to do things, I might show you two ways and there might be three others, okay. So maybe something can be done by right click and I didn't show that. That happens, there's always other options for how to do things within any of your products and this series includes that. Updates, have episodes about that, updates happen. And because the subscription model allows us to have those new features added every month, or depending on what cycle you're on for your updates, things will change. Things might look different now when you're watching the series and the time I recorded it. So just know that that is part of the process. And, of course, there's always questions, I always have questions, I have to go out and search for them cuz I'm like, why is this happening? So definitely use the Internet to your advantage, use your search engines, the help files from Microsoft are always great. Sometimes you need to go a little further out there so definitely search for answers. And everybody uses PowerPoint differently. So the reason why I use PowerPoint might be different from the way you use PowerPoint so just keep that in mind. And I always say it is up to you on how you wanna use this depending on your needs and the audience that you are addressing. Of course, we always like to have fun in these series, you'll be seeing more of the cats and Aubri and I are gonna have a lot of fun. So I hope to see you in an episode very soon. [MUSIC]
Just you? Training a whole team? There's an ITProTV plan that fits.
With more than 5,800 hours of engaging video training for IT professionals, you'll find the courses you and your team need to stay current and get the latest certifications.