CompTIA Project+ (PK0-004)
Project Management15 H 39 M
Official CompTIA online IT training. The Project+ certification exam is for IT and non-IT professionals who are in a project management role.
This course has a practice test
Project Basics

Overview
Comparing PK0-003 vs PK0-004
Explain Project Properties
Understand Roles and Responsibilities
Understand Roles and Responsibilities Part 2
Distinguish Standard Project Phases Part 1
Distinguish Standard Project Phases Part 2
Distinguish Standard Project Phases Part 3
Distinguish Standard Project Phases Part 4
Identify Cost Control Basics
Identify Team Organization Structures
Execute and Develop a Project Schedule
Execute and Develop a Project Schedule Part 2
Execute and Develop a Project Schedule Part 3
Identify Agile Methodology Basics
Identify Agile Methodology Basics Part 2
Explain Resource Management Roles
Explain Resource Management Roles Part 2
Explain Resource Management Roles Part 3
Explain Resource Management Roles Part 4

Project Constraints

Predict Impact of Constraints and Influences
Predict Impact of Contraints and Influences Part 2
Explain Risk Strategies and Activities

Communication & Change Management

Use Appropriate Communication Methods
Analyze Communication Factors
Explain Communication Triggers
Use Change Control Process
Use Change Control Process Part 2
Recognize Types of Organizational Changes

Project Tools & Documentation

Compare Project Management Tools
Compare Project Management Tools Part 2
Compare Project Management Tools Part 3
Analyze Project Documentation
Identify Third Party Documents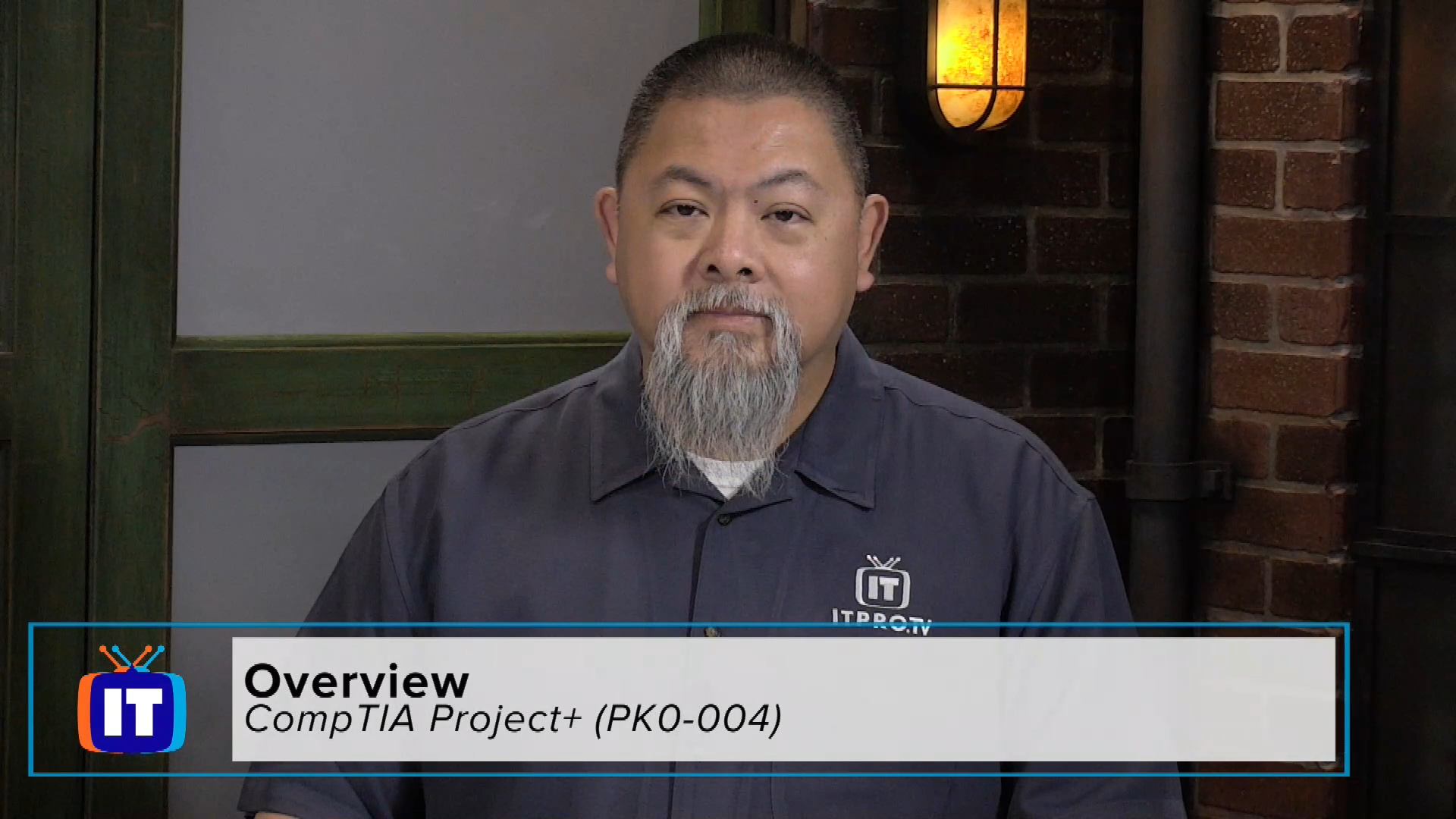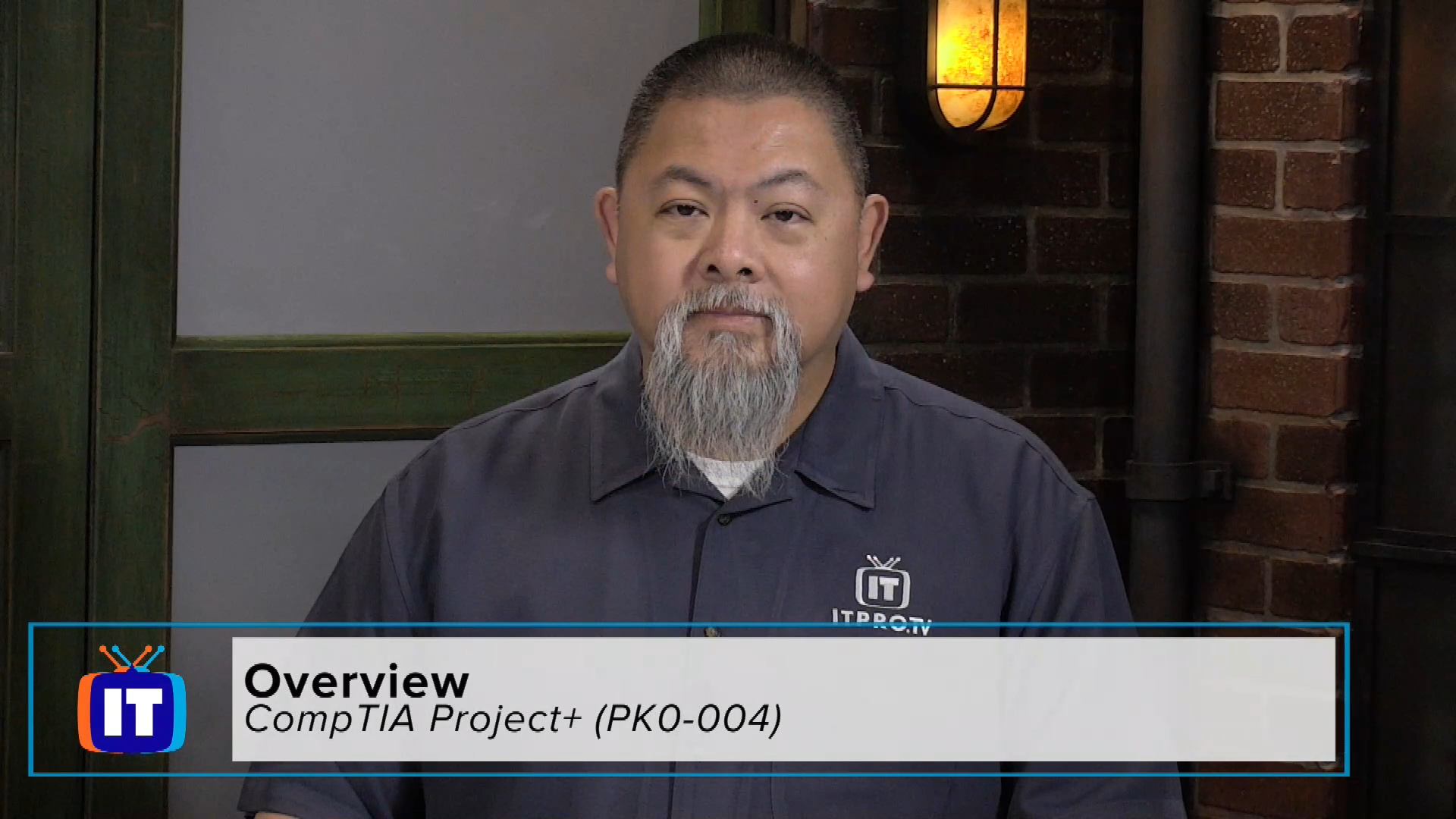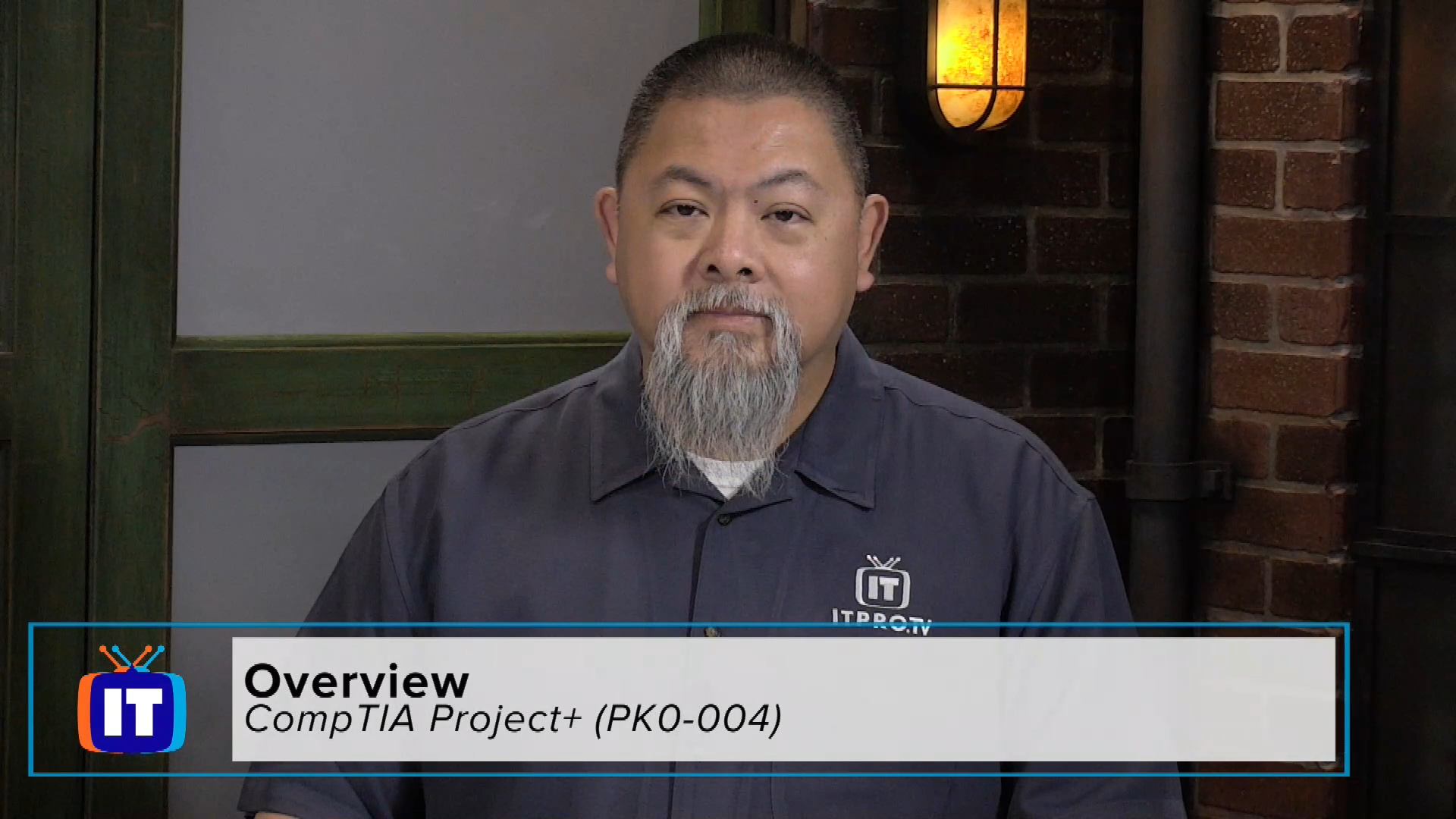 Episode Description
Transcript
The CompTIA Project+ show is for business professionals who need to assist in coordinating projects or manage small projects. It is not specifically geared toward the IT field but projects in general. A viewer of the show in addition to persona study will gain knowledge and skills required to assist in planning and managing a small-to-medium-size project. He or she will understand the project life cycle, learn steps to ensure appropriate communication, manage resources and stakeholders, and learn techniques to maintain project documentation used to support the completion of projects. The show helps prepare CompTIA Project+ candidates with least 12 months of total experience in leading, managing, directing, and/or participating in small-to-medium-size projects for examination.
Hello, thank you for watching ITProTV. I'm here to introduce you to the CompTIA project plus exam for PK 004. What we hope to do is tell you a little bit more about the exam details. To talk about the exam objectives, a little bit, and to show you what we'll be covering in our show, as well. So, let's go ahead and, get started. If you want to learn more details about the exam, the easiest place to go, of course, is to the CompTIA website. Let me show you what I'm talking about. If you go ahead and type in your favorite browser, this particular link right here certification.comptia.org that automatically brings you pretty much to this page right here. And you'll see as you hover over it, it's very sensitive you'll click on certification and then, once you actually select certifications, you can scroll down and see all of the different CompTIA certifications that there are. We, though, we're gonna be focusing in on CompTIA Project+. So I'm simply gonna click on the link there. And it's gonna say, Click For More Details. As I do so, that will help me to focus in on CompTIA Project+. And this exam code, it says PK0-003. You're probably wondering, hey that's kind of a little bit tricky there. And the reason why is that both exams are actually still valid right now. Now as I scroll through here, I'm gonna scroll down. And even though there's an overview and it talks about what this is to help you measure the skills for, and why you would choose to sit for this exam, we're gonna look at the exam details. Because you've already chosen to sit for this exam, and you're now in preparation mode. And you'll notice, it actually that it does have both exam details going on. So, the PK0-003 is still valid, but as of this particular date that you see, the PK0-004, is also available as well. So we're gonna focus in on this left-hand column just at the beginning. Now, when you start taking a look, there, of course, is the exam description, telling you that the focus of the exam has changed a little bit since the earlier edition of the exam. And then as we scroll down through here, notice that this is what we want to focus in on for some of the exam details. You are gonna see a maximum, okay, and the key here is the word, maximum, of 95 questions. So that does mean that you may actually get less than 95. You shouldn't ever get more than 95 questions. But, just saying that, right? Before you take the exam, make sure you always come back to the web page and verify it. This number can change and CompTIA does stress that, that they can change these numbers or these details at any time that they choose to. So as of the recording of this entire show that we're about to see, that is what you're gonna see here, okay? So it's gonna be about 95 questions or somewhere around there. Notice that they include of course multiple choice, as well as multiple response questions. Drag and drops, so that means you have to place things in specific order, or in an arrangement that they choose. And the passing score is a 710 based on a scale of 1 to 900. The recommended experience is at least a year of cumulative project management experience or the equivalent education. Now that doesn't mean that you've had to have managed an entire project by yourself, but at least have had that project management experience. Currently in US dollars the exam pricing is about $294 but make sure you do take a look at this link and check out the area that you're in wherever you are in the world and that will help you out as well to make sure you get the proper pricing tube. You are also going to be testing normally through a Pearson VUE testing center, so wherever you're local center is going to be. Make sure you do know where that is and that you arrive there about 15 minutes early, before you get into the exam itself so that they can get all the processing done that they need to. Now, what about details on the exam and where can I find that so that I can study a bit more effectively. Well, the great thing is, it's right here on the website as well. As I scroll down over on the right-hand side, notice right here it says you can get these sample questions and exam objectives. And you simply of course fill out the information that you want and if you want sample questions it'll show you some. If you don't, just simply uncheck that and then of course tell them your training status and when plan on taking it and whether or not you want to be informed of special promotions. Now it doesn't sound like anything big, but you may get discount vouchers if you see this sometimes so it does happen. I went ahead and downloaded the latest objectives that we have, so if I click on this tab, you'll see here is what the objectives normally look like. So they'll come to you in a the form of a PDF that you can print off, but here's the latest exam objectives and always go to the website itself to verify that you do have the latest edition. As we scroll on through here, it will kind of go through some of the same things that we've just talked about but a little bit more detail on the exam itself. So, notice they give you all the information. The same thing that we've just talked about here. The key for you, again, is to make sure you pay attention to that exam number. PK0-004 is pretty much the key here. Now, what are we going to actually see on the exam? Well right here, you gonna see that it's actually divided into four different areas and their not equally weighted. The first part the project basics itself takes up nearly 40% of the the exam. So make sure you do focus heavily on those project basics, and understand those fundamentals that you need to in project management. The same thing with the project constraints in which you'll need to go over those details on how do you actually put in the limits that you want on your project as well. And then of course, how do you manage change and the communication process? Another quarter of the exam. And finally, some of the project tools and documentations. Now for the show that we are about to continue and produce for you right here at ITProTV, we will be going over every single one of these exam objectives that you see right here to ensure that you do get maximum coverage. Now, viewing the videos by themselves is not gonna be sufficient. You'll have to put in some homework time. Make sure that you go ahead and you try and put them into a scenario that you'll understand and know and make sure you wrestle with these concepts a little bit more. So you'll see on the very basics here they'll cover kind of the same things here, project roles, responsibilities. Some of the different standard project phases in which you'll go through, and of course even some of the cost control, organizational structures, and scheduling. As well as, they've added in, of course, Agile methodology in here for us. And as you continue to go on through, you'll see more and more of that. Going through the project constraints, we'll actually slow down and take some good detailed looks at some of these different project constraints. And this is where we're giving something else here too, which is this phrase right here, given a scenario. So do not think that the multiple choice questions are always just gonna be about you picking just one. You have to actually take a look at the scenario, understand the context to be able to answer completely and wholly what needs to be done. Don't read into the questions too much, but make sure when you answer the question, you answer fully the entire question itself. Same thing with the Communication and Change Management, in which will go over strategy. As well as, of course, the details that we need in terms of communication, and finally you actually end up seeing, as I scroll down here into the project tools and documentations, we'll take a look at these different tools and documentations. And we'll talk about them, make sure you have a good understanding of that as well, as we continue throughout this particular show. So if you are getting prepared and you are saying, hey, I need some details and I need to learn more about getting for the Project+ exam itself, well ITProTV will have the show right here for you. So if you're ready get started, check this out in the very next video following this show. [MUSIC]
Just you? Training a whole team? There's an ITProTV plan that fits.
With more than 5,800 hours of engaging video training for IT professionals, you'll find the courses you and your team need to stay current and get the latest certifications.