CompTIA Accelerated Security+ (SY0-501)
Vendor-neutral IT Security11 H 5 M
The accelerated CompTIA Security+ exam prep course is intended for aspiring IT security professionals who want an accelerated version of the online IT course.
This course has a practice test
Threats, Attacks and Vulnerabilities

Overview
Determining Types of Malware
Vulnerability Scanning and Pen Testing
Impact of Various Vulnerabilities

Technologies and Tools

Supporting Organizational Security
Supporting Organizational Security Part 2
Security Posture Assessment
Deploy Mobile Security
Implement Secure Protocols

Architecture and Design

Best Practices, Guides and Configuration
Secure Network Architecture Concepts
App Development and Deployment
Cloud and Virtualization Concepts

Identity and Access Management

Identity and Access Services
IAM Controls
Account Management Practices

Risk Manangement

Policies, Plans and Procedures
Risk Management Processes and BIA
IRP and Basic Forensics
Disaster Recovery and Business Continuity
Data Security and Privacy Practices

Cryptography and PKI

Cryptography Algorithms Basics
Wireless Security
Public Key Infrastructure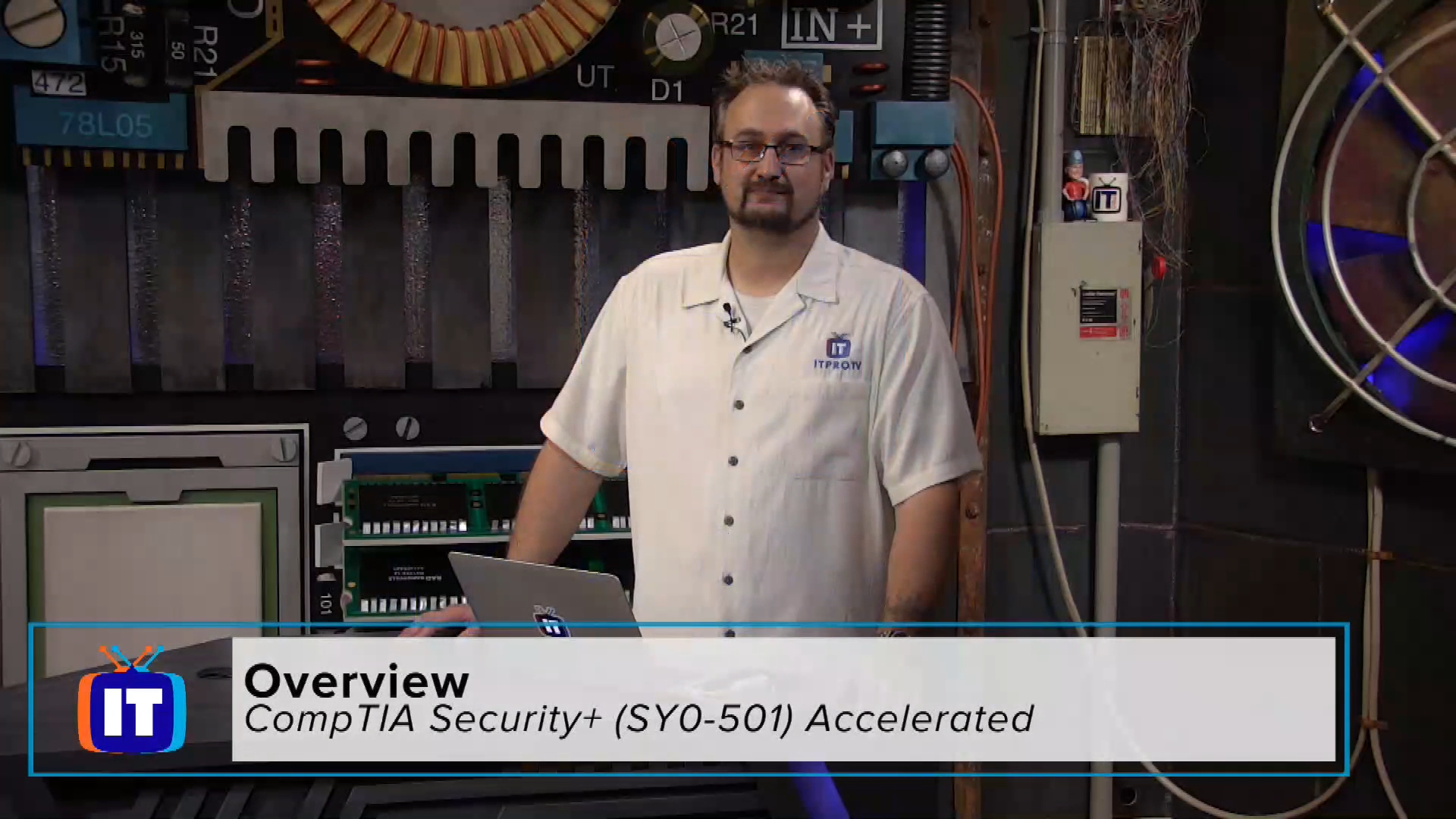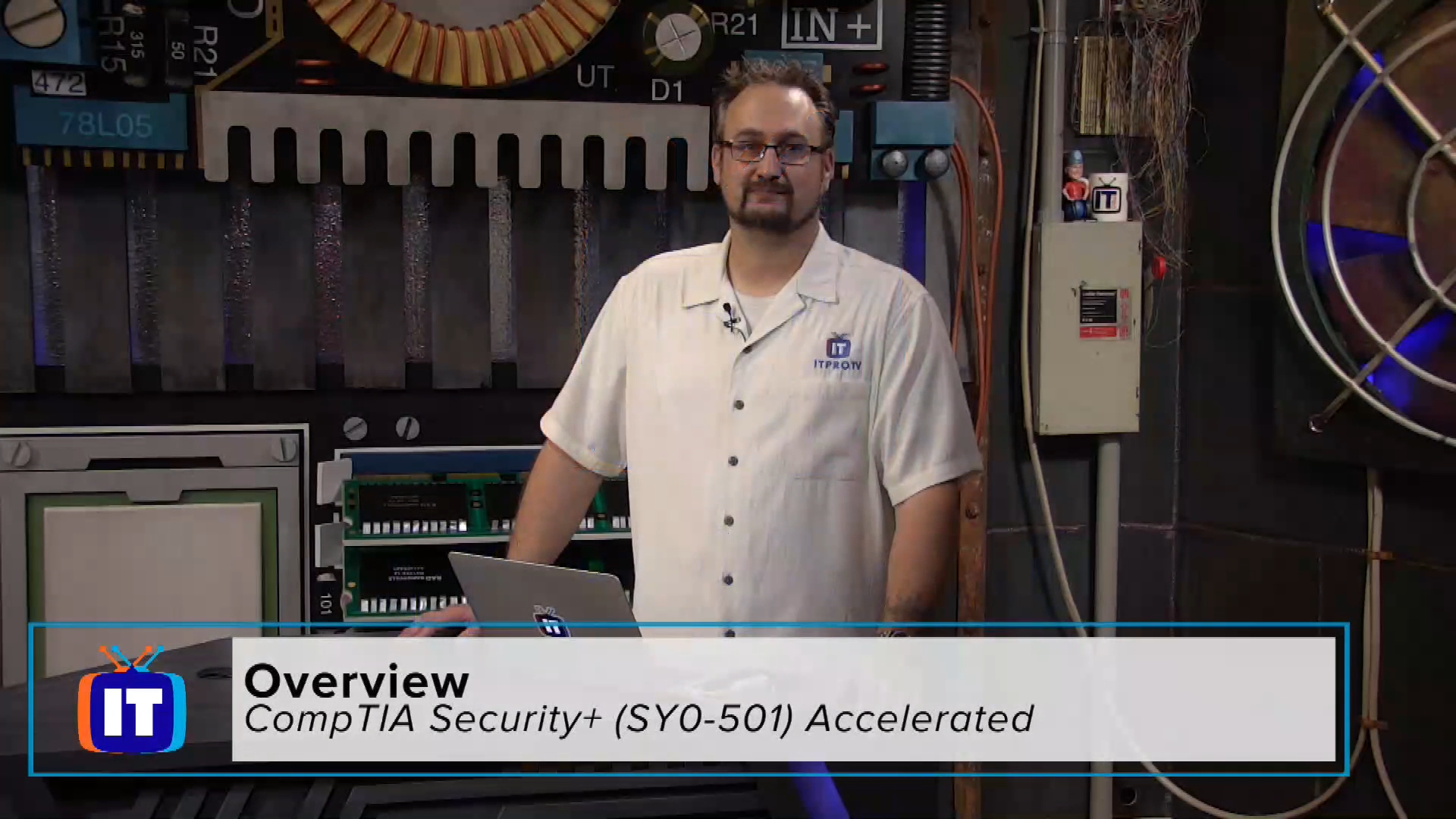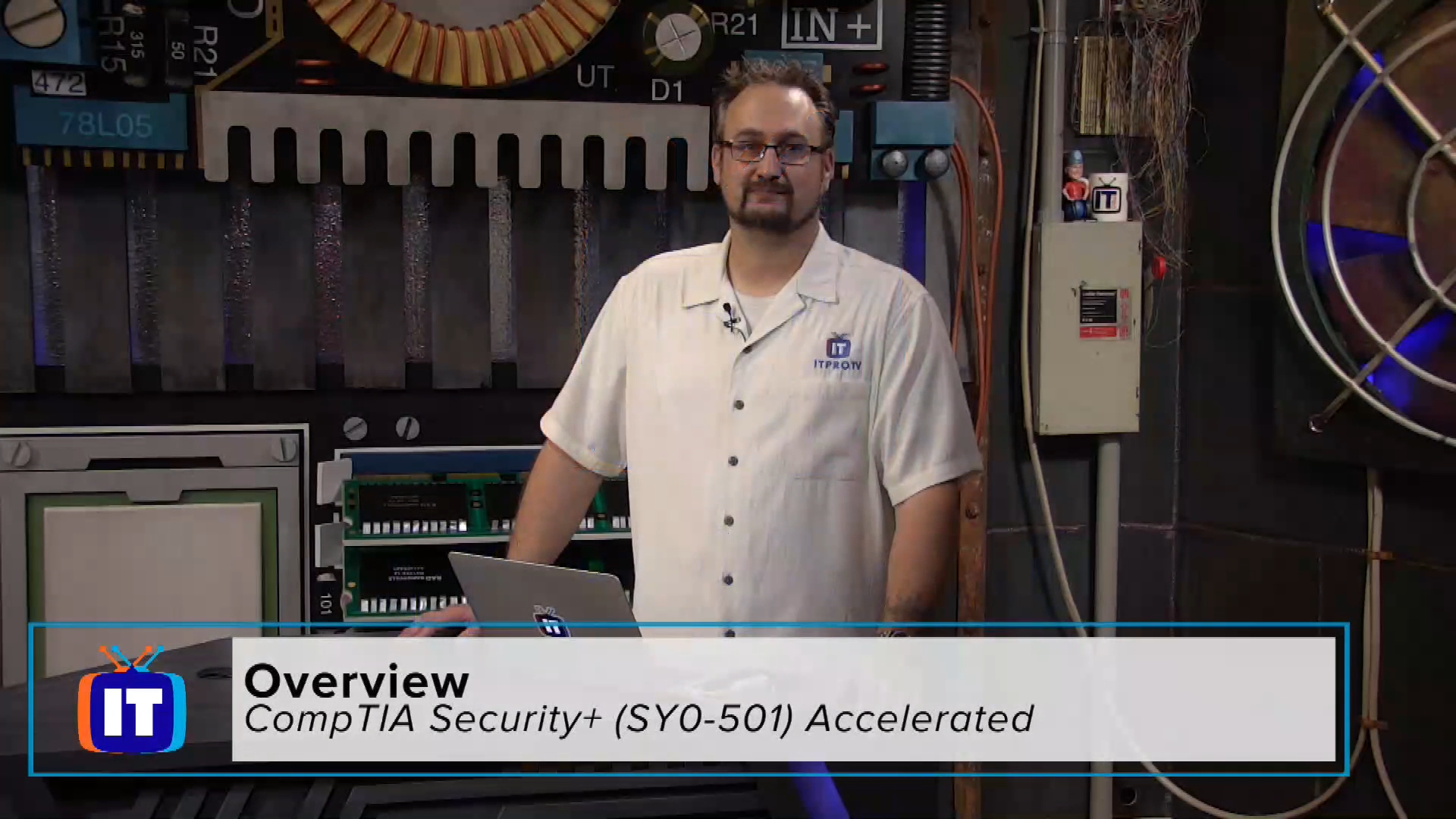 Episode Description
Transcript
This series is focused on CompTIA's Security+ certifications. Security+ is a vendor-neutral certification that is recognized worldwide as a benchmark for information system security best practices. The series is intended for aspiring IT security professionals that have finished their training and want an accelerated version of the SY0-501 series. It is recommended that candidates used this content to round off their training prior to sitting for the SY0-501 exam.
[MUSIC] In this series we're gonna be looking an accelerated version of CompTIA's vendor neutral certification exam known as Security+. We're gonna be talking about, well, what is Security+? So that you'll be a little bit more prepared when it comes to diving into this series. We'll also talk about who this course is for, as well as what are some of the things that we can expect to see throughout this course. And then finally before you sit the hot seat and take your certification exam we wanna give you a little bit of information about the structure of that exam and some of the things that you can expect. So you'll be more prepared to not only take the certification but as well as pass it. So let's go ahead and talk a little bit about What is CompTIA Security+? Well, it's actually a benchmark for security's best practices and IT security systems, right. It is also recognized as a international certification. It has ISO 17024 accreditation to it. It's also compliant with the Federal Information Safety Management Act as well as well as being recognized by Department of Defense. It is a world wide accreditation that means if you take your certification exam here in let's say the United States, it'll be recognized even if you travel to other countries and then vice versa. Now, who is this accelerated Security+ certification for? Well, this is for candidates that require certification. The other thing to keep in mind is that in the accelerated version, there are some assumed knowledge. The candidates will be required to understand the basic concepts of securing information systems as well as the candidates who are ready to take the exam. So if you want just some of that last minute, just rocket rush of information to help round off your training before you set the certification exam, then this series is for you. Now what are some of the things that we could see that will be covered inside of Security+? Well, we're gonna cover the objectives for SY0-501, that is the current exam objectives for Security+. We'll be looking at some of the fundamental security concepts as well as the principles for risk management. We'll also be looking at things like well, host based and network based security techniques. We'll be looking at things like compliance and operational standards. As well as some other things like for instance, we'll be looking at threats vulnerabilities and attacks. We'll be looking at things like technology and some of the tools that you will be utilizing as you make your way into IT security. We'll also be looking at secure architecture and secure design followed by things like identity access and management. We'll also be looking at risk management as well as cryptology, cryptography, excuse me, and the public key infrastructure. Now, the last thing we kind of want to talk about here is what are some of the exam details? We don't want you to get in the exam booth and not know what to expect, so keep in mind that the exam format is going to be 90 minutes and 90 questions. It is a multiple choice, performance based exam. Now, multiple choice means that you're gonna have more than one choice. It could be multiple answers as well, meaning more than one answer for a single question. Performance based, think of simulations. That means you might get a couple simulations as well that you need to perform some kind of action, whether it be a drag and drop or a simulation Inside of some kind of security appliance. Passing score is going to be 750. 750 and that score range is from 100 to 900. Now in US dollars, the exam currently costs $320. It is recommended that you have CompTIA's Net+ certification under your belt and two years of IT administration experience. Keep in mind that it's not a requirement, it's not a prerequisite that you must have these to take the Security+ exam. But it is recommended so that you have some of the experience. And if that is what you are getting into, wanting to get certified here then the accelerated CompTIA Security+ series is for you. [MUSIC]
Just you? Training a whole team? There's an ITProTV plan that fits.
With more than 5,800 hours of engaging video training for IT professionals, you'll find the courses you and your team need to stay current and get the latest certifications.