CompTIA CASP+ (CAS-003) (In Production)
CompTIA Advanced Security Practitioner41 H 9 M
This course has a virtual lab
This course has a practice test
Supporting IT Governance and Risk Management

Begin at the Beginning - Confidentiality
Begin at the Beginning - Integrity
Begin at the Beginning - Availability
Governance and Risk Management: Overview
Governance and Risk Management: Risk Vocabulary
Governance and Risk Management: Risk Management
Governance and Risk Management: Risk Analysis
Assess Risks: What is a Security Framework
Assess Risks: ESA Framework Assessment Process
Assess Risks: System Specific Risk Analysis
Assess Risks: Risk Determination
Assess Risks: Guidelines for Assessing Risk
Risk Mitigation: What is a Aggregate CIA Score
Risk Mitigation: What are the CVSS and CVE
Risk Mitigation: Risk Responses
Risk Management Documentation: Best Practices
Risk Management Documentation: BCP
Risk Management Documentation: What is a BIA
Risk Management Documentation: Downtime
Risk Management Documentation: Documents
I.T. Governance and Risk Management - Key Points

Leveraging Collaboration to Support Security

Collaboration: GRC and Controls
Collaboration: What is an SCA
Collaboration: Solutions
Leveraging Collaboration - Key Points

Using Research and Analysis to Secure the Enterprise

Research and Analysis: Industry Trends
Research and Analysis: Artificial Intelligence
Research and Analysis: Requirements for Contracts
Analyze Scenarios to Secure the Enterprise
Using Research and Analysis - Key Points

Integrating Advanced Authentication and Authorization Techniques

Authentication and Access Control
Authentication Factors and Controls
Authentication Types
Centralized Remote Authentication Services
Deep Dive: RADIUS
Deep Dive: 802.1X
What is Authorization/OAuth2.0
What is XACML
Trusts Models and Kerberos
Trust Models and Kerberos Part 2
Directory Services and LDAP
Hands On: Establishing Peer Trusts
Authentication and Authorization Review Questions
Advanced Identity Concepts and Vocabulary
Identity Federation Methods
Advanced Identity Review Questions
Authentication and Authorization: Key Points

Implementing Security Controls for Hosts

Host Concepts and Vocabulary
Product Evaluation Models - TCSEC
Product Evaluation Models - ITSEC
Product Evaluation Models - Common Criteria
What is a Trusted OS

Security Controls for Mobile Devices

Mobile Deployment Models
Concepts and Vocabulary
Concepts and Vocabulary Part 2
Storage
Concepts and Vocabulary
Concepts and Vocabulary Part 2
Security Controls for Mobile Devices - Key Points

Integrating Assets in a Secure Enterprise Architecture

Integrate Best Practices in Enterprise Security
Technical Deployment Models: What is a Model
Technical Deployment Models: What is Cloud
Cloud Security Services in the Enterprise
Secure Design: Vocabulary and Concepts
Secure Design: Vocabulary and Concepts Part 2
Secure Design: Review Questions
Data Security: Owners, Processors and Sovereignty
Data Security: Data Flow Security
Data Security: Data Remanence
Data Security: Provisioning and Deprovisioning
Data Security: Review Questions
Enterprise Applications: What are They
Enterprise Applications: Directory Svcs, DNS
Enterprise Applications: Directory Svsc, DNS Pt.2
Enterprise Applications: Hands on with DNS RRs
DNSSEC, Zone Transfers and TSIGs
DNSSEC, Zone Transfers and TSIG Part 2
DNSSEC, Zone Transfers and TSIG Part 3
Hands on With DNSSEC
Enterprise Applications: Configuration Management
Enterprise Applications: Review Questions
Integrating Assets - Key Points

Conducting Security Assessments

Security Assessments: Types
Security Assessments: Application Code Review
Going Deeper: Vulnerability Scanning
Going Deeper: Testing Software
Software Testing Types
Software Testing Types Part 2
Logs, Memory and Debugging
Social Engineering
OSINT, Self-Assessments and Teaming
Security Assessments - Review Questions
Vulnerability Scanner (Nikto)
Port Scanner (Zenmap)
Protocol Analyzer (Wireshark)
Network Enumerator (Zenmap)
Password Cracker (John the Ripper)
Using a Fuzzer in Kali Linux
HTTP Interceptor (Burp Suite)
Exploitation Framework (Social-Engineer Toolkit)
Log Analysis in Kali (grep and cut)
OpenSCAP
Reverse Engineering (strace)
Conducting Security Assessments - Key Points

Responding to and Recovering from Incidents

Concepts and Vocabulary
Incident Response Facilitators
Incident Response Facilitators Part 2
e-Discovery
Incident Response Review Questions
What is COOP
CSIRTs and Common Tools
Evidence Collection and Handling
Types of Evidence
Five Rules of Evidence 5 B's
Principles of Criminalistics
Investigation Process
Forensic Analysis of Compromised Systems
What is the Order of Volatility
Responding to Incidents - Key Points
Begin at the Beginning - Confidentiality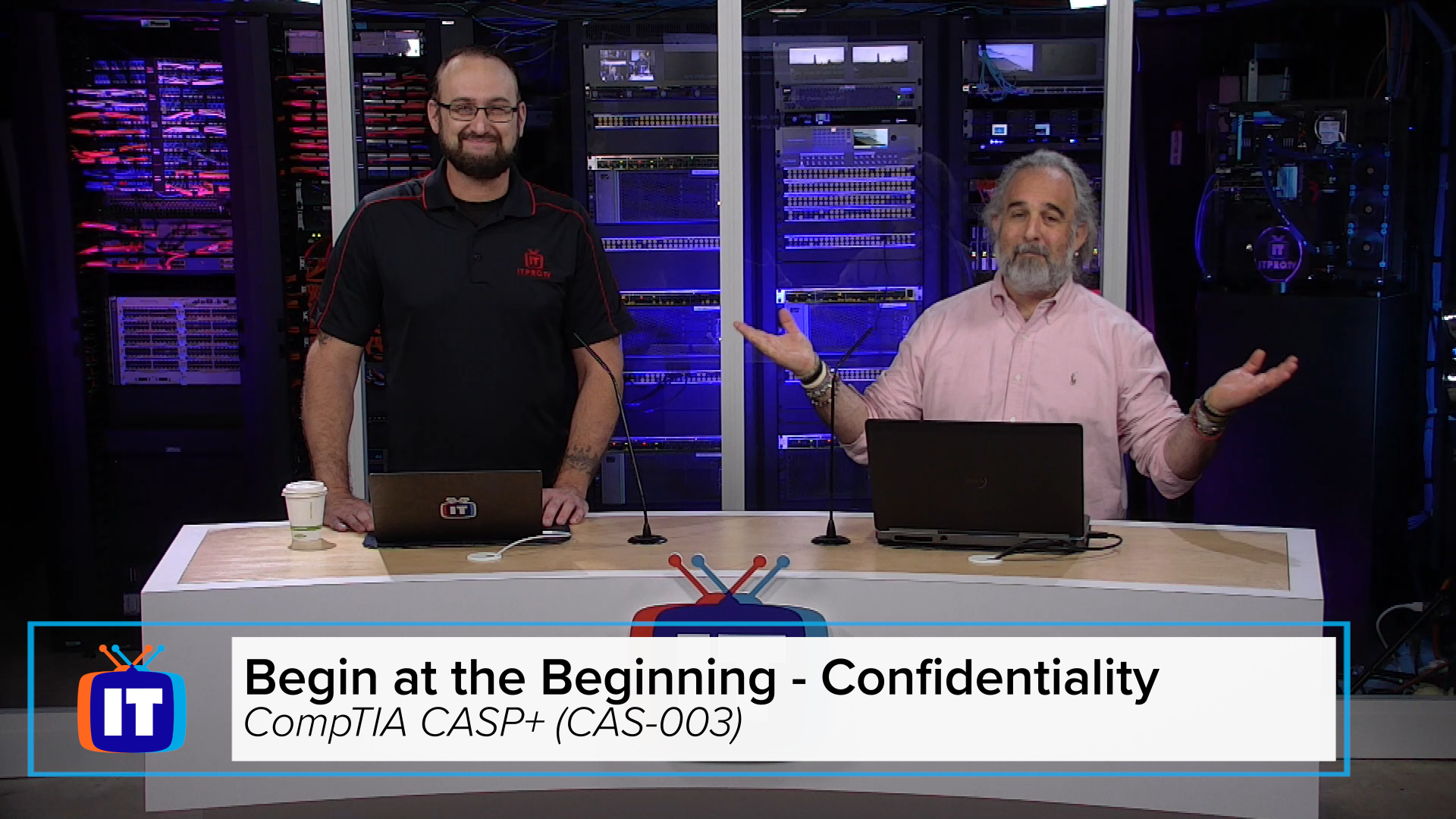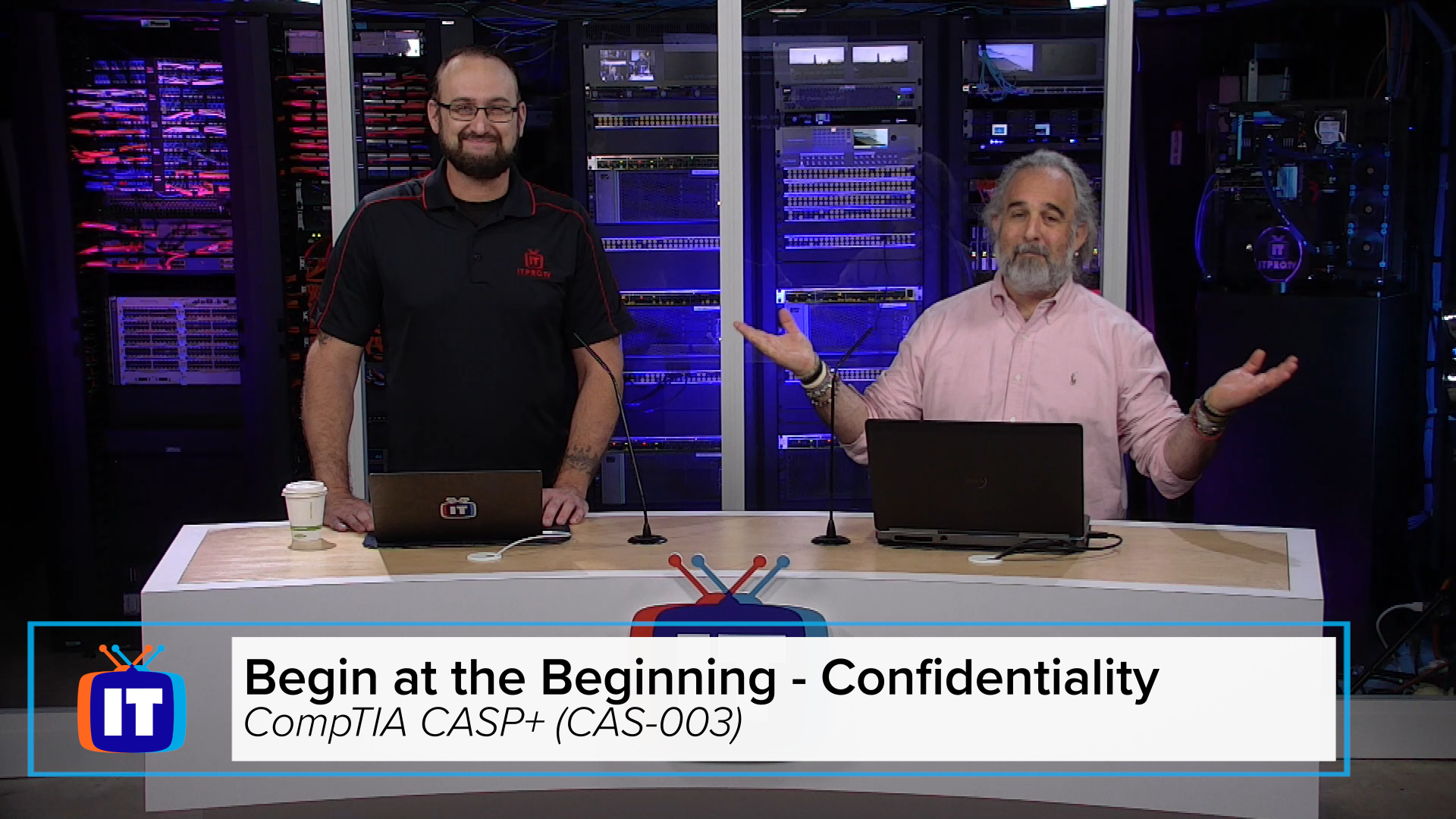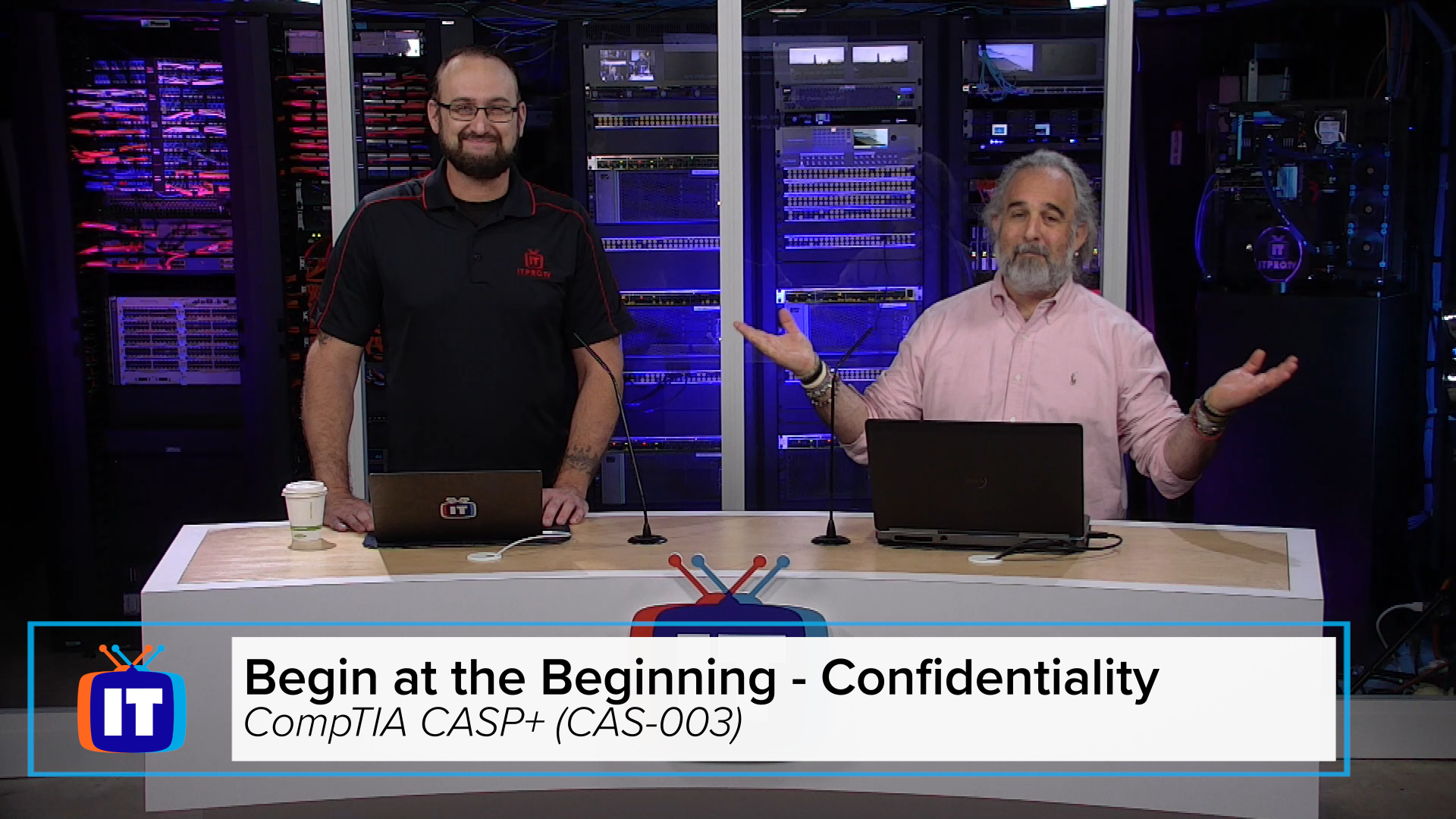 Adam and Wes discuss the foundational concepts of Confidentiality, Integrity and Availability.
Just you? Training a whole team? There's an ITProTV plan that fits.
With more than 4,000 hours of engaging video training for IT professionals, you'll find the courses you and your team need to stay current and get the latest certifications.