CompTIA Server+ (SK0-004)
Planning, Maintaining and Securing Server Equipment28 H 15 M
Official CompTIA online IT training. The CompTIA Server+ certification exam validates that a candidate can secure and maintain a variety of server equipment.
This course has a virtual lab
This course has a practice test
Server Architecture

Overview
Server Form Factors
Server Components
Server Components Part 2
Power and Cooling
Power and Cooling Part 2

Server Administration

Installing a Server OS
Installing a Server OS Part 2
Installing a Server OS Part 3
Installing a Server OS Part 4
Server Roles and Requirements
Administering a Server
Server Maintenance
Server Maintenance Part 2
Server Maintenance Part 3
Server Maintenance Part 4
Asset Management and Documentation
Asset Management and Documentation Part 2
Virtualization

Storage

Primary Storage Devices
Configuring RAID
Configuring RAID Part 2
Storage Technologies
Storage Capacity

Security

Physical Security
Server Hardening
Network Security
Network Security Part 2
Secure Storage Disposal
Logical Access Control
Logical Access Control Part 2
Environmental Controls
Environmental Controls Part 2
Environmental Controls Part 3

Networking

IP Addressing and Services
IP Addressing and Services Part 2
Ports and Protocols
Cable Management
Cable Management Part 2

Disaster Recovery

Disaster Recovery Principles
Backup Techniques

Troubleshooting

Troubleshooting Methodologies
Troubleshooting Hardware
Troubleshooting Software
Troubleshooting Software Part 2
Troubleshooting Software Part 3
Troubleshooting Networking
Troubleshooting Networking Part 2
Troubleshooting Networking Part 3
Troubleshooting Storage
Troubleshooting Security
Troubleshooting Security Part 2
Troubleshooting Security Part 3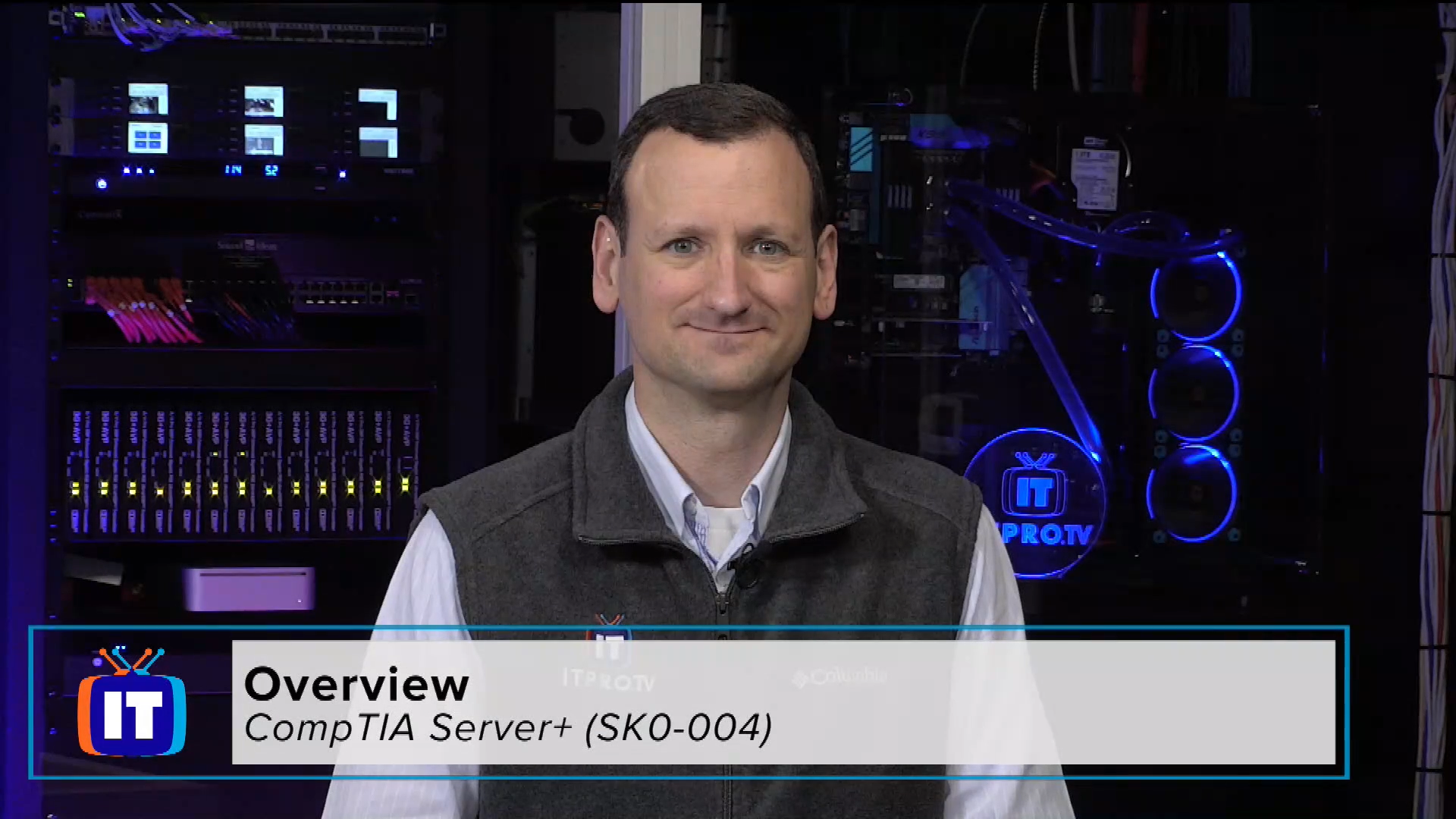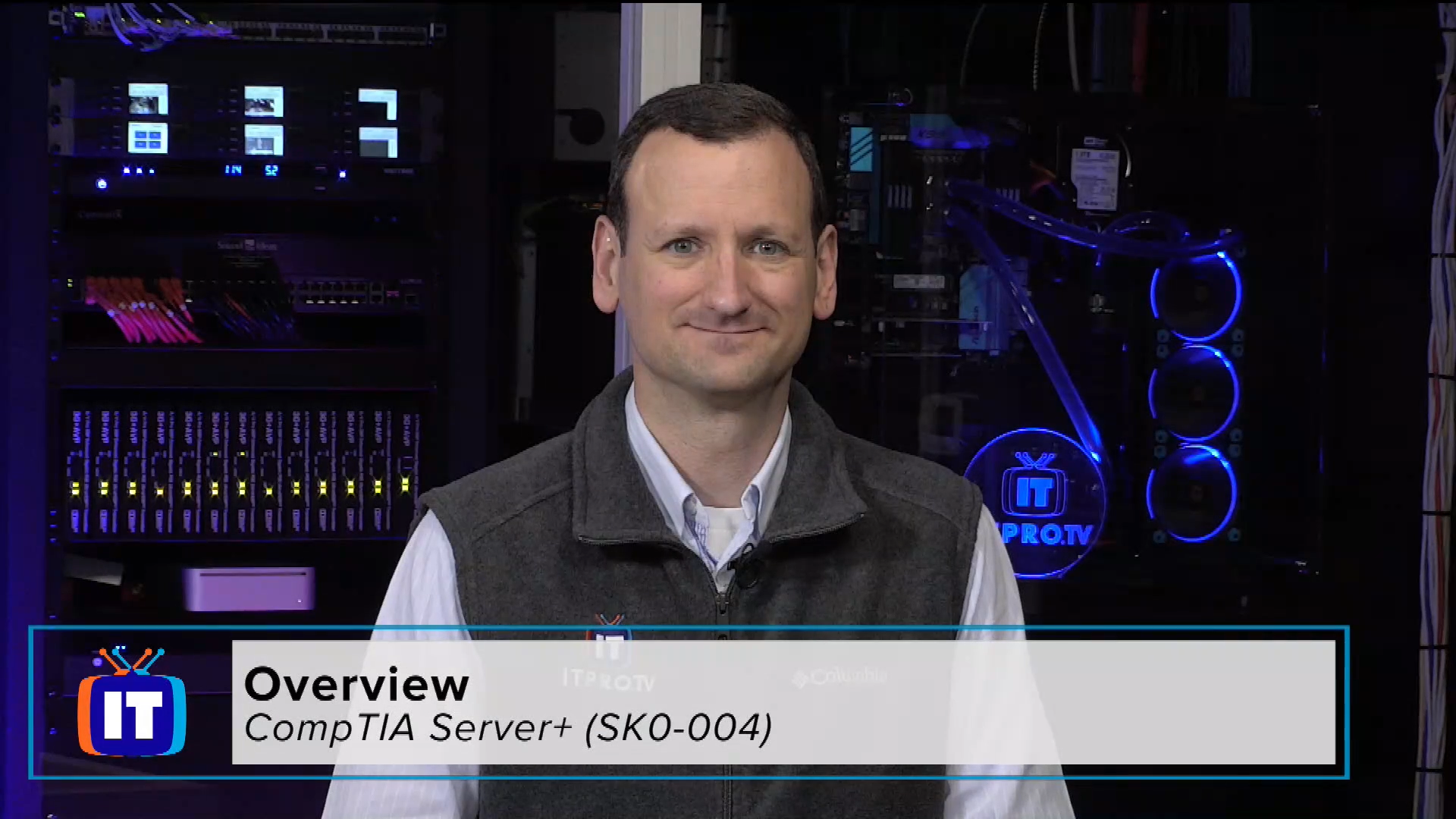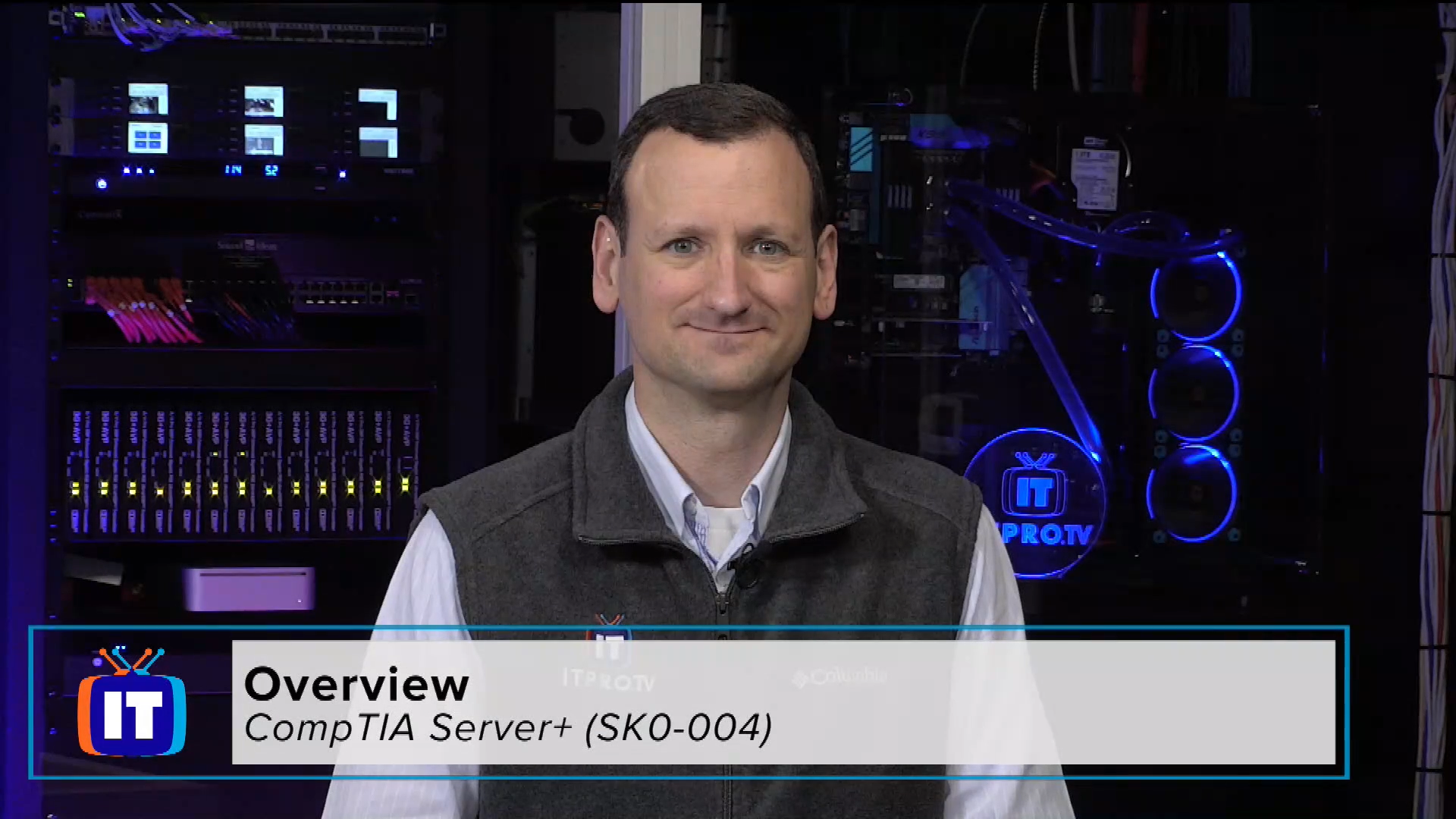 Episode Description
Transcript
The CompTIA Server+ certification validates your ability as an IT professional to plan, secure and maintain a variety of server equipment. CompTIA Server+ is an industry-recognized, vender-neutral credential designed to meet today's and future IT needs. CompTIA Server+ addresses the changing server environment, dealing with the latest technologies and trends, including virtualization, data centers, software-defined networking and network attached storage.
[SOUND] In this video, we're gonna take a look at CompTIA Server+ certification series on ITProTV. We're launching this series to cover the new SK0-004 exam and this is for the CompTIA Server+ certification which is targeted towards anyone who works inside of an IT data center or is looking to work there. In a smaller medium environment, you may only have a handful of servers and supporting them is not much different than supporting a workstation. But once you get into a larger enterprise environment, managing large quantities of servers becomes pretty challenging. And actually doing trouble shooting and warranty repairs and server maintenance, installation really becomes a very different beast than it does with supporting a work station. So we need to understand the differences, understand how we're supposed to handle servers and make sure that they're done in a stable, consistent environment, which is what's required to run an enterprise data center. So let's take a little bit of a look at the exam. First off, the CompTIA Server+ exam is from CompTIA, so it carries the same weight as A+ or NET+, That it tries to give you a vendor neutral approach to managing servers. This is the SK0-004, and if you look on their website, they'll reference the older one, the SK0-003, the previous exam. The previous exam did a great job of covering server technologies but like any technology, they change pretty rapidly, so in 2015 it was updated to reflect the new changes. New changes include just new technologies and advancements as people move towards more cloud-like infrastructure and other technologies have kind of changed the way that we look at servers. The exam itself hasn't change as far as the format. It's still a 100 question multiple choice computer based exam. You can take it Pearson vue, testing centers located around the world. If you ever go to the vue website vue.com, you can do a search for testing location centers that in your vue. They're everywhere so you can usually find them within maybe a 45 minute drive of where you're at. When you take the exam, it is a 90 minute exam. So 100 questions, only 90 minutes. You're expected to know the data, to be able to move through that pretty quickly, less than one minute per question. So you've gotta get that done. But it is scaled where you only need 750 points to pass. So you can get a handful wrong and still be all right. As far as a prerequisite, you don't have to be working in a data center to get a Server+ certification, but they do expect you to at least have the A+ certification. You need to understand hardware components. Understand how a hard drive works, how network adapters work. Understand the basic hardware components of any system. And then we're gonna look at it from the server side of things. So you can learn and get ready for that. The typical target candidate is going to have 18 to 24 months of IT experience or the equivalent of that experience. You might not even working in IT but if you've studying, practicing, doing this as a hobby from home, you may already have the same level of experience, and you'll be ready to move right in. If you find yourself getting overwhelmed with Server+, you can always take a step back and jump down to A +. They don't mention it here but I do recommend Network+ also. If you have A+ and Network+, you'll have a great foundation and none of the topics in Server+ will blow your mind. It's really just enhancing, building on top of those topics that you learned from a work station perspective and moving into the server level. Now from there, the certification exam, itself is $294 USD, if you're in the US. But if you're outside of the US, the pricing is all right here on the webpage. It is just one exam, which is nice. One exam, you pass, and you get your Server+ certification. So a great certification to have. As far as getting ready for the exam, well, there's plenty of content out there like The ITProTV content. And what we do is we cover each of the objectives, and we do it thoroughly to make sure you prepared for that exam. Now the content is broken up into seven domains, each domain covering a different area of server technologies. And you'll see that each one is kind of subdivided and weights a different amount on the exam. So for example, server architecture, which is just general concepts for how server environments are built out, is 12% of the exam. But server administration, keeping the servers running, that's 24% of the exam. It's almost a quarter of the exam right out of that one objective. Storage is another 12%, we've got security beyond that for 13%, networking at 10%, disaster recovery is only 9%, and that's because a lot of IT workers are not involved in the disaster recovery process that we have, security, or information security officers that are handling. And if you're in the ISO type role, or CISO type role, you'll be heavily involved in that, but if you're working in the NOC, you might be responsible for detecting the disaster, but not actually resolving or resuming from it. And then troubleshooting is another 20%, because once our servers are up and running they have a habit of not staying that way. So, we need to be able to troubleshoot, isolate the problems, and get them back up and running and healthy again. So, a distribution here is not very even, right? The bulk of the exam questions are gonna come from server administration and troubleshooting and then the other ones get kind of sprinkled across from there. Now each of these domains is broken up into a ton of topics and if I went over them here this overview would be an hour long. But if you go to CompTIA's website you can download the exam objectives, this list right here. It will show you each one. So for example, server architecture covers form factors, components, cooling and power, all those different things that are inside of the servers and make them go. Server administration, how do we install an operating system? What are the different server roles available, and so on? All of this is broken down, and it is, at first, an intimidating amount of information. But you'll there actually is a bit of overlap between them as you go through and so all starts to kind of snap together but they've divided it up to make it easier to consume. I can focus in on one area. I'm gonna focus just on server maintenance. I'm not worried about installation and disaster. Let's just do maintenance and then as each one goes you learn more and more they build on top of each other and before you know it, you're ready for that exam. I do encourage you to go to CompTIA's website and download the exam objectives. It's a great way to, to just track your own training to make sure. You've learned each of the topic as you go through. Now once you've studied your content, you're ready to take the exam. And if you're an ITProTV subscriber, you've got access to practice exams through Transcender right? We have those available as part of your subscription and we also have practice labs available, where you can fire up servers and actually run through some step by step exercises on Windows and Linux based systems to reinforce the knowledge that you're learning here. Some of the knowledge is hardware based, though. And so during the show we do our best to bring a real server up here on the screen, and actually show you how to perform maintenance, and other activities, on the physical box, cuz you might not have one that's available to you, although you can go on eBay and pick them up pretty inexpensively, or if you work for an organization that already has servers, they may have older ones that you can experiment with and kind of get used to instead of practicing on the production servers which is always dangerous. All right, well if all of that sounds exciting to you and this is what you wanna learn, you're in the right place. We're gonna be tackling it all in the upcoming episodes. Again, if it sounds a little intimidating, don't worry. Reach out to A+, reach out to Net+ first and once you get through those, the rest of this just builds right on top and it's not a big deal. But if you're here to learn about servers, stay tuned because the Server+ episodes are starting coming up next. [SOUND]
Just you? Training a whole team? There's an ITProTV plan that fits.
With more than 5,800 hours of engaging video training for IT professionals, you'll find the courses you and your team need to stay current and get the latest certifications.